A soup so hearty it eats like a stew! Creamy Chicken Mushroom and Wild Rice Soup is ready to eat, start to finish, in just 30 minutes with the help of Minute® Multi-Grain Medley and shredded rotisserie chicken.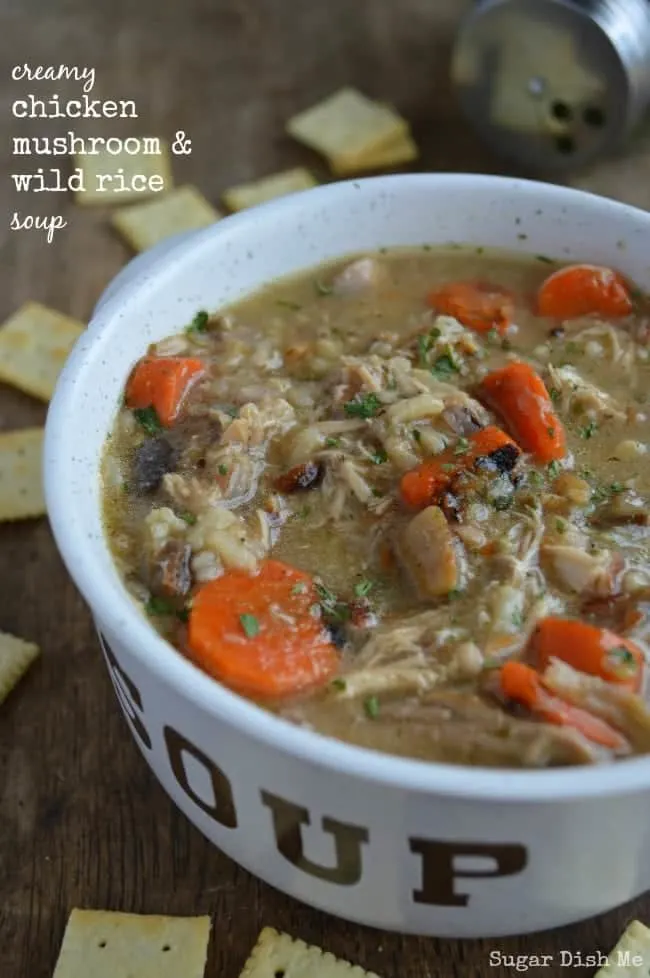 This post is sponsored by Minute® Rice. All photos, opinions, and recipes are my own. Providing you with a little insight on the products I use in my own kitchen helps to keep the recipes coming!
I feel like I just gave you guys a zillion days of dessert. I mean… I haven't shared an actual meal with you since November 25. Seventeen-ish days of sweets!
We need to shut it down for a minute and eat some quinoa or something.
Making an actual meal this time of year is hard.
The sun disappears at 6 pm and takes with it my motivation, leaving in its wake me + a book + the couch and … popcorn. Plus after baking cookies all day I kind of don't feel like cleaning the kitchen again.
For Christmas I would like magical kitchen cleaning elf.
Despite the darkness outdoors and the magnetic pull of the couch though, we still have to eat something besides leftover cake.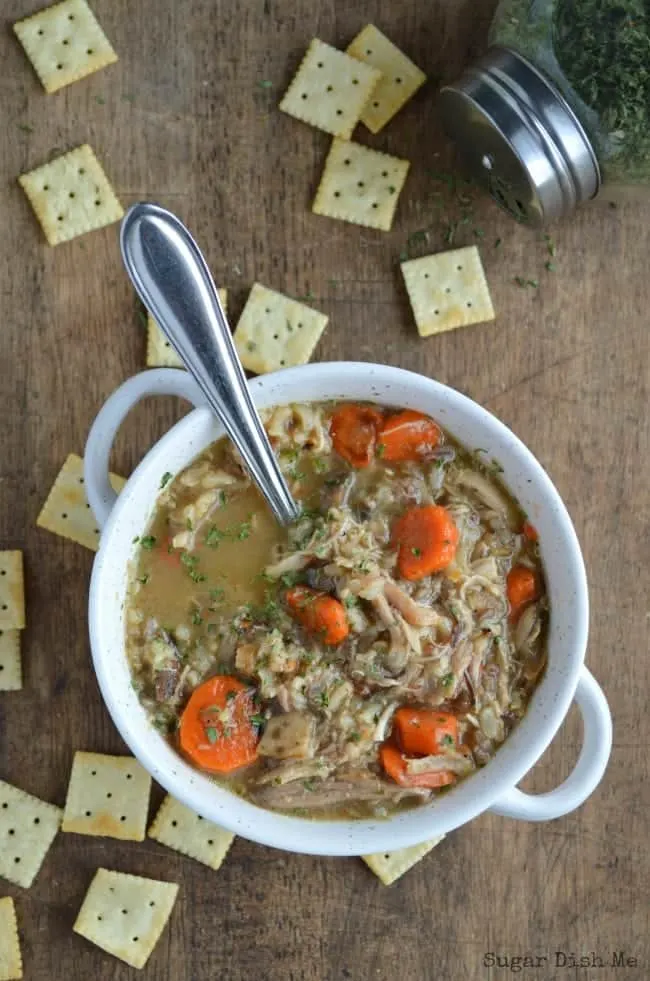 Recently my son, who I guess is paying attention in his health & nutrition class, informed me that we live in a food desert. If you aren't in the know, a food desert is a place where affordable and nutritious food is difficult to obtain. I guess I'd basically agree with that, but most especially what I have learned from living here is that SOUP is difficult to obtain.
Who would have thought?
What I have learned from writing this blog is that you guys love soup. Homemade Fresh Vegetable Soup is the most popular recipe for two years running.
What we are gonna learn today is that this Creamy Chicken Mushroom and Wild Rice Soup is just as fresh and just as easy. Dinner in 30 minutes!!
Which is awesome because then I can return to my couch.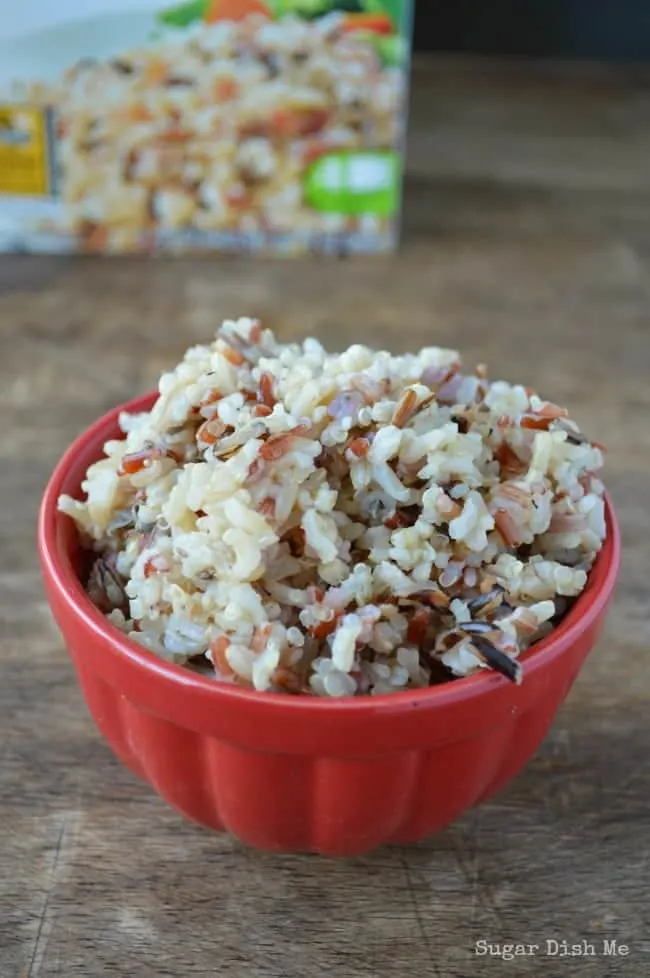 Two things make this 30 minute recipe possible. The first is this Minute® Multi-Grain Medley. It's a blend of 4 whole grains – long grain brown rice, Thai red rice, wild rice, and quinoa. Annnnnd it cooks in 10 minutes. (side note: this is the first time I successfully tricked my children into eating quinoa!!!)
The second thing that makes this crazy fast recipe possible is a rotisserie chicken. Or leftover chicken. You just need some cooked shredded chicken, which I think I nearly always have hanging around. And if I don't, the grocery store does.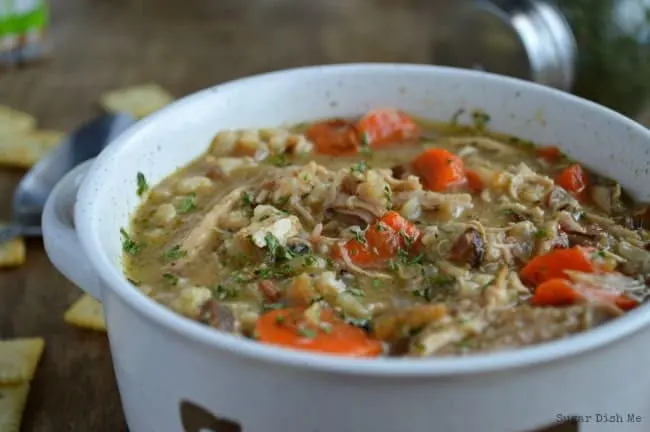 The rest of what's going on here is just fresh veggies, a little chicken broth, and a few herbs for flavor.
Cheap, fast, and cost-effective! Those are the best meals, am I right?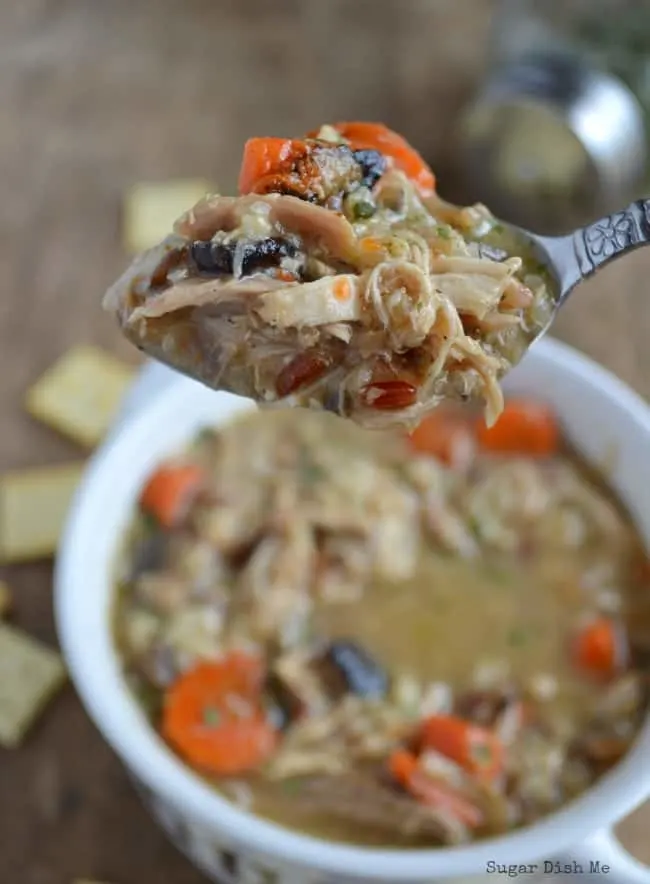 Creamy Chicken Mushroom and Wild Rice Soup
Ingredients
1 tablespoon olive oil
1½ cups carrots, peeled and coarsely chopped (about 4 large carrots)
1 cup onion, diced
8 ounces fresh mushrooms, coarsely chopped
1 teaspoon kosher salt
1 teaspoon dried parsley
½ teaspoon black pepper
½ teaspoon dried thyme
½ teaspoon dried rosemary
½ cup milk
1 quart (32 ounces) low sodium chicken broth
2 cups shredded cooked chicken
2 envelopes Minute® Multi-Grain Medley
water as needed
Instructions
In a 4 quart stock pot, heat the oil over medium high heat. Add the carrots, onion, and mushrooms. Cook for about 5 minutes until the onions are soft and translucent.
Add the salt, parsley, pepper, thyme, and rosemary. Cook for another minute.
Pour in the milk and let is simmer. Pour in the broth and bring it to a boil. Reduce the heat to a simmer and stir in the chicken.
After a few minutes, reduce the heat to medium low and add the Minute® Multi-Grain Medley. Cover the soup and let it cook for 10 more minutes.
If the soup seems more like stew and is too thick, add water and stir it in as needed (with the soup still over heat).
Serve hot.
Visit www.minuterice.com for over 400 other recipe ideas, great for all your busy days!
Check out Minute Rice on Facebook, Twitter, and Pinterest to stay up-to-date on awesome dinner ideas and products to make that part of your day just a little bit simpler.
This is a sponsored post written by me on behalf of Minute® Rice.