So If you've followed Sugar Dish Me for any time at all you know that I rely heavily on coffee. It is my favorite treat. I like it even more than chocolate (because, um, you can actually put chocolate IN coffee… no decision required, really). First thing in the morning, or when I need a little re-charge in the afternoon, or when I tuck into the sofa in the evening to write a little bit or watch something on the TV, I love having my fingers curled around a mug of coffee. I don't necessarily drink it all day like some do. But I love the ritual of making it, I love the smell, I love my red flowerdy mug with the teensy chip in the rim that fits my hands just perfectly.
I also love the baked goods that go with coffee — scones, muffins, donuts — so it would stand to reason that my first batch of cookies this Christmas season is something specifically meant to accompany a cup of coffee: biscotti.
Except I find that the biscotti I've purchased in so many places is kind of disappointing. Yes, it's meant to be dunked in a beverage. But so are Oreos and chocolate chip cookies, and they don't break my teeth when nibbled without dunking. I like my biscotti to have bite at the edges but be slightly soft in the center. Not brownies-that-I-took-out-early-so-they'd-be-half-baked-on-purpose kind of soft, just more like a regular cookie. Does that make sense? Or am I rambling?
Some other cookies I'll be sharing with friends, families, and gaggles of school children this month include The Grinch Stole Christmas Cookies, Peanut Butter Oatmeal No-Bake Chocolate Chip Cookies, Oatmeal Cookies, and Andes Creme de Menthe Cookies.
I also need these York Peppermint Brownies in my life. It's been nearly a year since the last time I made them and they are seriously one of my favorite things.
I'm liking the idea of Raspberry Apple Pie Bars cut into bite-sized little squares or wedges.
And we need to turn out this year's Crafty Cookie Ornaments! I like to commemorate. They are also a fantastic excuse to buy more cookie cutters.
But in between now and ridiculous amounts of baking, I am enjoying this biscotti. With iced coffee (because it's been almost 70 degrees since Saturday).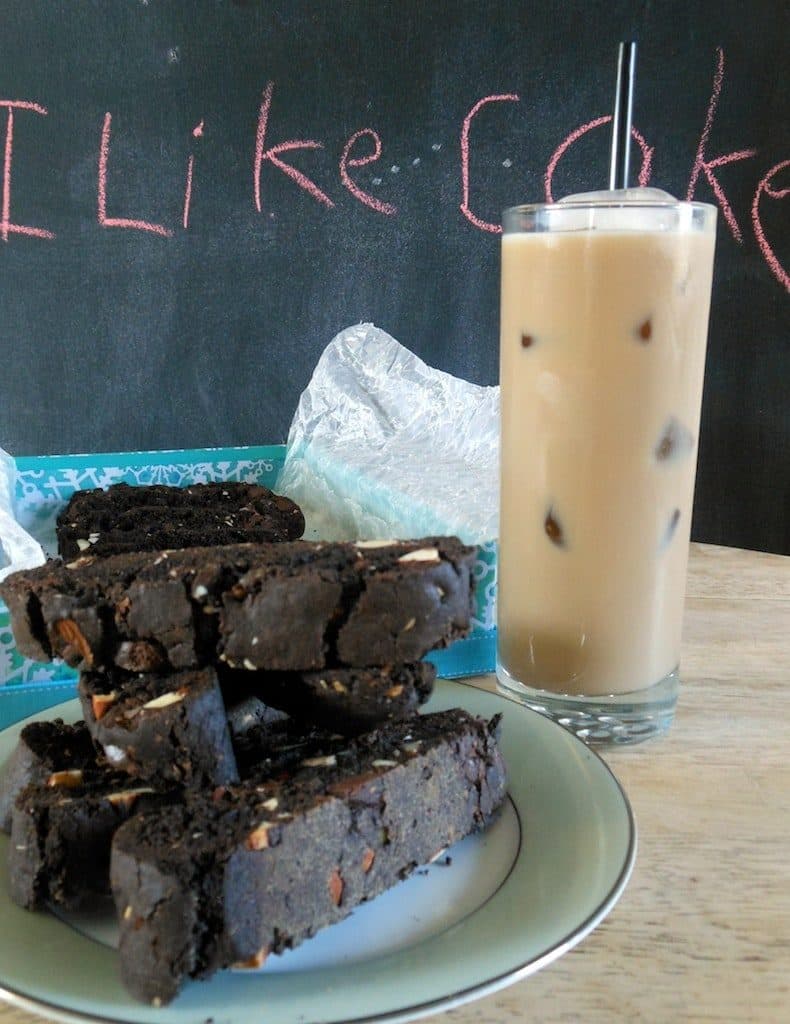 Please note that Evan likes cake. But biscotti is cookies. And he ate these cookies with milk. Happily.

Double Chocolate Almond Biscotti
Ingredients
2 cups all-purpose flour
½ cup unsweetened dark cocoa powder
1 teaspoon baking soda
¼ teaspoon salt
6 tablespoons butter, softened
1 cup granulated sugar
2 eggs
1 cup natural almonds, coarsely chopped
1 cup semi-sweet chocolate chunks, coarsely chopped
Instructions
Pre-heat the oven to 350. Butter and lightly flour a baking sheet.
In a medium sized bowl whisk together the flour, cocoa powder, baking soda, and salt.
In a large bowl beat together the butter and sugar. Add the eggs and beat for another minute. Add the flour mixture and mix until a firm crumbly dough forms.
Stir in the almonds and chocolate chunks.
Form the dough into a slightly flattened log shape. Bake for 25 minutes.
Reduce the oven temperature to 300. Let the biscotti log cool for about 5 minutes and then cut into 1-inch slices.
Bake for another 5-8 minutes, until the center is still slightly soft and the outsides are crisp.
from
THIS
recipe at Martha Stewart
It's holiday cookie time!!! So besides Double Chocolate Almond Biscotti, what are you baking? Post links! Cookies are super exciting.