Fudgy, fluffy scones made with dark chocolate and chocolate chips. Double Chocolate Scones have a brownie-like texture with that perfect scone crust, and make the best partner to any cup of coffee.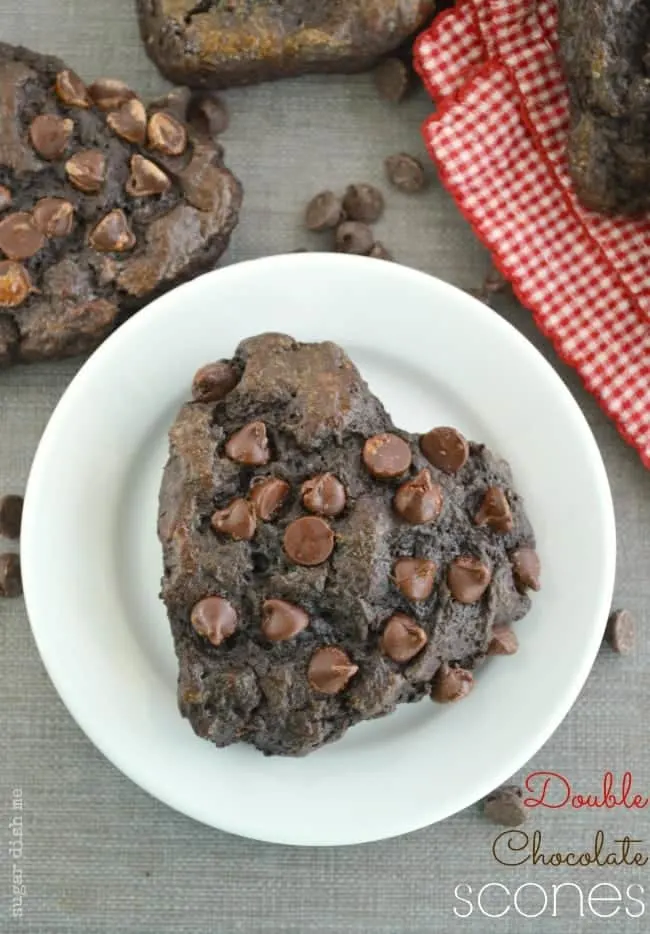 I am certainly in dessert mode lately. There seems to be no breaking my chocolate stride.
And usually chocolate in the morning is not at all my thing. I much prefer savory sausage scrambles, scones, and the old standby avocado toast with a fried egg. Also I am probably the only person in the free world that hates chocolate chip pancakes.
But for some reason, these Double Chocolate Scones are really doing it for me.
It probably helps that I did not have them early in the morning. This was totally an after breakfast pick-me-up kind of thing since a not-so-small puppy named Gertrude totally thinks that 4:20 a.m is like the best time of day ever to get in my face all wiggly happy-like, thumping her tail and sneaking kisses as she tries to make her way onto the bed without me noticing.
It's her [not so] subtle way of telling me that it is time to get uuuuuuuuuuup and let's go outside please and no one cares if it's 20 degrees! Yay walking!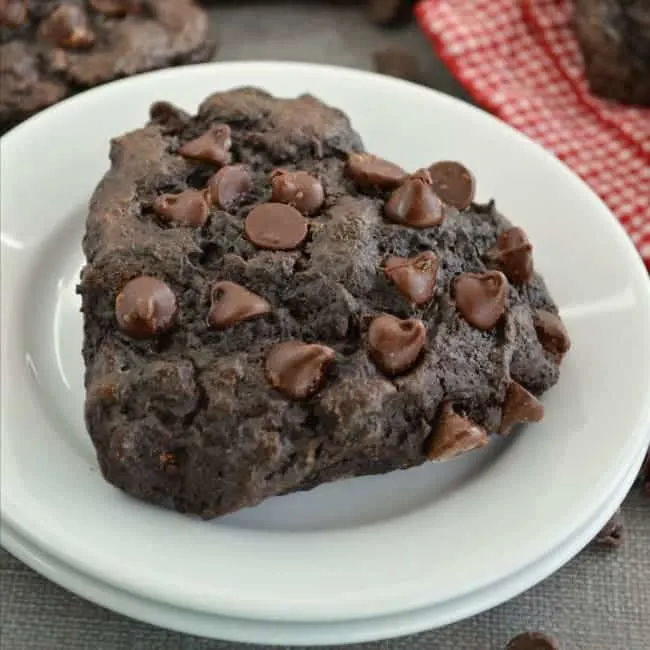 Once Gertrude is up it's all over. Charlie gets up and could basically wake the dead with the noise his droopy face makes when he shakes his head. And Betty, never to be out done, always thinks that this is her cue to jump on my head.
By brunchtime I am totally ready for chocolate.
These scones are VERY chocolatey, but they aren't too sweet. The inside texture is rich and dense like a brownie but the outside has that perfect scone crust that keeps all the tender goodness locked in. It's also covered in chocolate chips.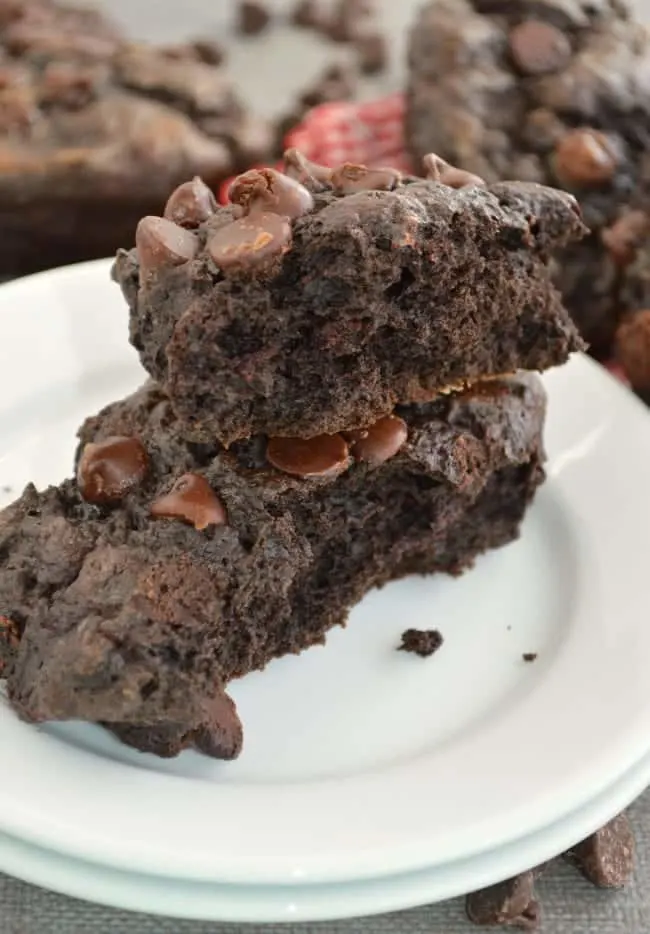 You can cut them into any shape you'd like, but I went with hearts for Valentine's Day. The kids were all over these.
I guess I should maybe take a few minutes to make my other loves some dog treats.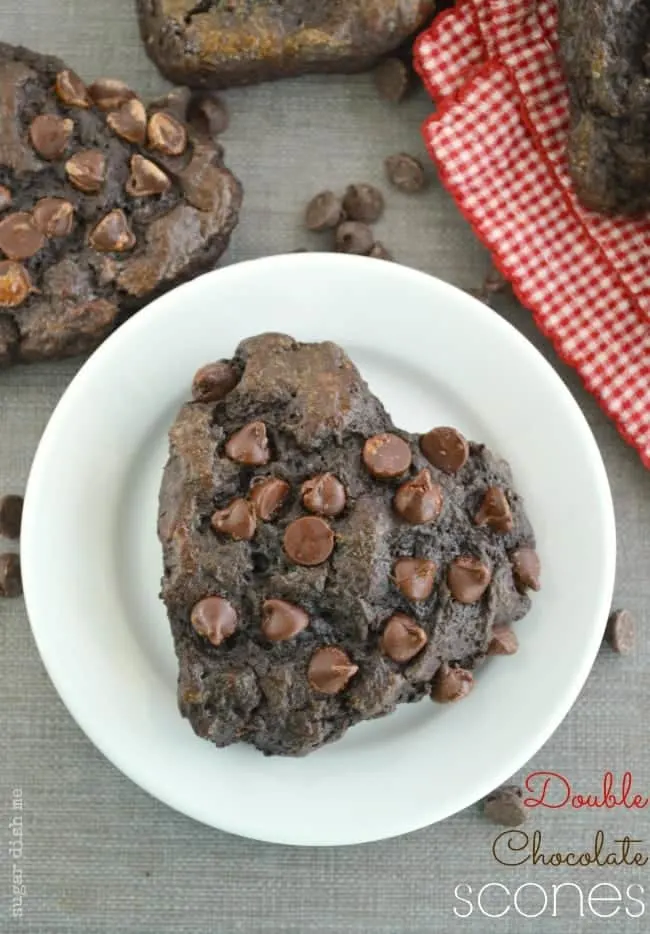 Yield:

14
Double Chocolate Scones
Double Chocolate Scones are dense and fudgey, with the perfect brownie texture inside and loads of chocolate chips!
Ingredients
2 1/4 cups all purpose flour
3/4 cup unsweetened dark cocoa powder
1/2 cup granulated sugar
1 tablespoon baking powder
1/2 teaspoon kosher salt
3/4 cup unsalted COLD butter. plu more to grease the baking sheet
1 - 1/4 cups buttermilk
1/2 cup semi sweet chocolate chips
1 egg + 1 tablespoon water
Instructions
Preheat the oven to 400F and butter a baking sheet or line it with parchment paper.
In a large bowl whisk together the flour, cocoa powder, sugar, baking powder, and salt together.
Cut the butter into the flour using a box grater or pastry cutters until coarse crumbles form.
Add 1 cup of the buttermilk to the dough with a rubber spatula. Only use the remaining 1/4 cup of buttermilk if it seems too dry. You want the dough to come together nicely without having to overwork it.
Turn the dough out onto a floured work surface and pat it out to about 1/2" thickness using floured hands. Scatter the chocolate chips across the top and gently press them into the dough.
I cut my scones with a cookie cutter for the heart shapes. Any biscuit cutters or even a floured glass will also work.
Gently beat together the egg + water and brush it across the tops of the scones before baking.
Place them on the prepared baking sheet about 2" apart and bake for 17 -19 mins. Let them cool for a minute or two before removing to a wire rack to cool completely.
Recommended Products
As an Amazon Associate and member of other affiliate programs, I earn from qualifying purchases.
Nutrition Information:
Yield:
14
Serving Size:
1
Amount Per Serving:
Calories:

243
Total Fat:

13g
Saturated Fat:

8g
Trans Fat:

0g
Unsaturated Fat:

4g
Cholesterol:

40mg
Sodium:

273mg
Carbohydrates:

30g
Fiber:

2g
Sugar:

11g
Protein:

4g