Homemade Brownie Sundaes are a classic dessert that never gets old. Thick fudgy brownies topped with hefty scoops of vanilla ice cream, hot fudge sauce, whipped cream, sprinkles, and nuts are perfect for celebrating.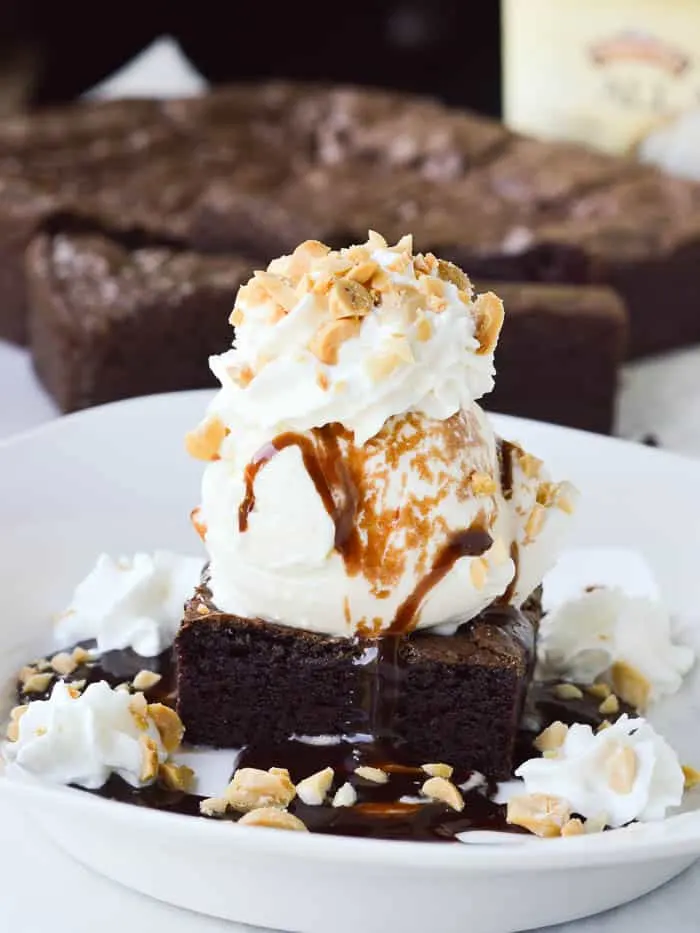 Sugar Dish Me is 8 years old today!
8 years ago I sat down in front of a janky old PC that was definitely a hand-me-down from my brother-in-law, realized that I couldn't start a blog without naming it first, and started randomly typing words in until I hit on something that wasn't already taken. And thus, Sugar Dish Me was born.
I started with my Classic Chocolate Chip Cookies Recipe, and just kept going from there.
8 years is definitely a cause for celebration, and I thought – what better to celebrate with than a homemade brownie sundae?
Brownies are a thing that I am infinitely finicky about. They need to strike the proper balance between cakey and fudgey. Bonus points for the thin wisp of crackly baked batter on top. Can't be too sweet. Salt is important but it should enhance the chocolate and not overpower.
You should want to attack the pan with a fork and go back for seconds.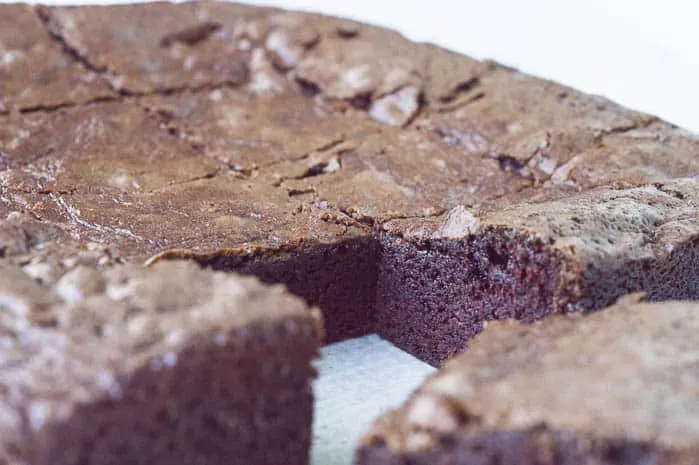 The Best Brownie Sundaes start with The Best Brownies
Here's the part where I tell you what makes the best brownies. Opinions may vary, but trust me when I tell you that I am an aficionado, and that I'd never steer you wrong.
Box brownie mixes (which I love, okay? Like – L.O.V.E.) will have you adjust the number of eggs you are using to yield fudge-like or cake-like brownies. THESE homemade brownies are the perfect mix of both. NO CHOOSING. You can have your cake and eat it, too.
er … brownies
You can make the best brownies with simple pantry staples. I have other brownie recipes that call for special add-ins like espresso powder. My Starbucks Double Fudge Brownies are at the top of that list. This recipe just calls for things that I pretty well always have on hand: butter, sugar, chocolate chips, vanilla, eggs, flour, baking soda, and salt. SO EASY!
The best brownies for sundaes are THICK. They need to be sturdy enough to hold up the ice cream without getting soggy. You also need to be able to get that perfect ice cream : brownie ratio with every bite.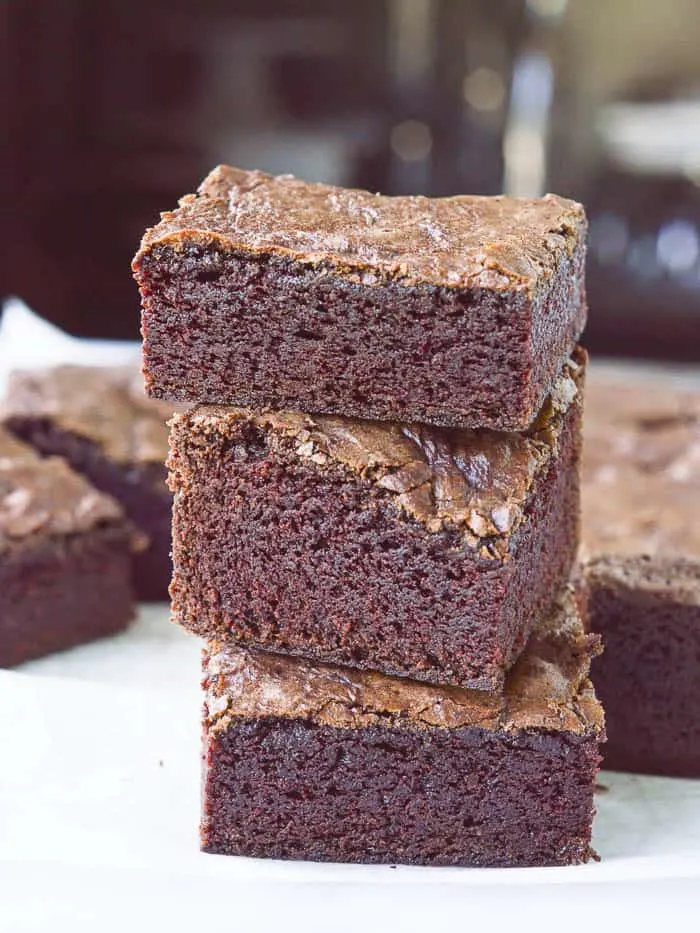 How do you make a brownie sundae, step by step?
Make the brownies. Let them cool, and cut them into squares.
Pick your sundae dish! I love my traditional sundae glasses for ice cream sundaes and milkshakes (see: Shamrock Schnapps Shakes and Bananas Foster Milkshakes), but those aren't the best for brownie sundaes. For brownie sundaes I like a wider dish so that I can nestle the brownie down into the bottom. These are my current faves.
Put a little dollop of hot fudge in the bottom of the dish. Place the brownie on top.
Add a whopping scoop of vanilla ice cream.
Cover the ice cream with hot fudge. I used plain old Smucker's Hot Fudge here. But if you wanna try homemade hot fudge and you haven't scooped the ice cream yet, this Easy Homemade Hot Fudge Recipe is terrific.
Top with whipped cream, sprinkles, and chopped nuts (optional)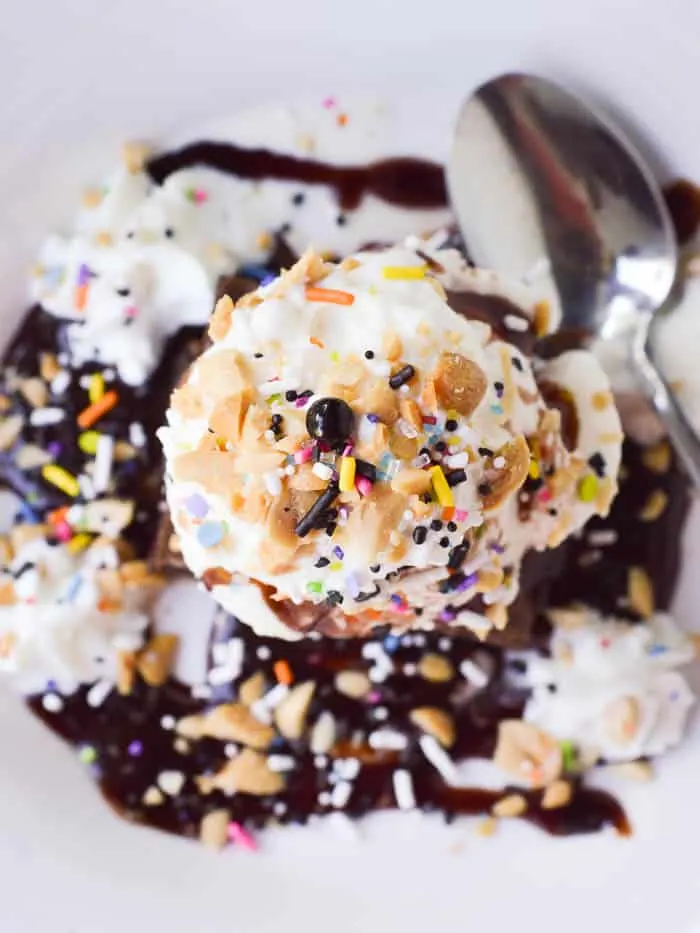 Sprinkles or Nuts?
My answer is definitely both.
I used some REALLY fun sprinkles here. They are from Sweets & Treats Boutique, but you can totally order them via Amazon. The mix is called Sugar Skull. I will ALWAYS add sprinkles if I think I can get away with it.
I also added nuts because you really can't beat a traditional hot fudge sundae with peanuts.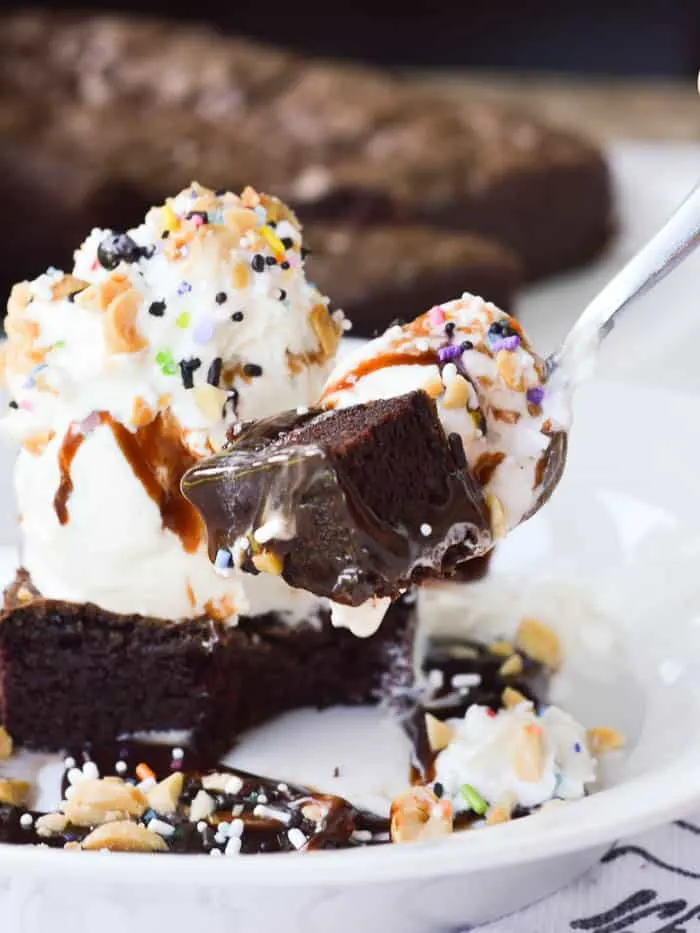 Other Brownie Recipes You Need
Pinot Noir Brownies are dense, ultra-fudgy, frosted, and made with red wine!
Death by Chocolate Brownies are shown here as Halloween-themed (my favorite) but they can be un-decorated and served up as a chocolate-lover's dream brownie any time of year!
Slutty Peppermint Brownies will definitely get around. There's a whole peppermint Oreo in every brownie and the cookie base is made with a hint of peppermint extract!
Brownie Bottom Ice Cream Pie is dreamy. Press your fave brownies into the bottom of a pie plate, top with ice cream, magic shell, and all sorts of sundae goodies, freeze, slice, and serve. SO GOOD.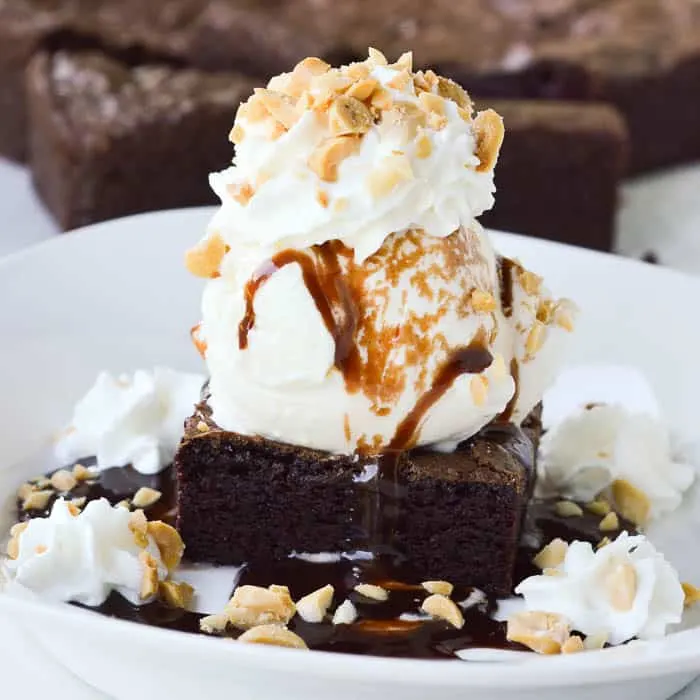 Yield:

12
Homemade Brownie Sundaes Recipe
Homemade Brownie Sundaes are the BEST way to celebrate! Thick fudgy brownies topped with vanilla ice cream, hot fudge sauce, sprinkles, nuts, and whipped cream. A classic dessert that's always in demand!
Ingredients
For the Brownies
1 1/3 cups flour
1 teaspoon baking soda
1 teaspoon salt
4 tablespoons unsalted butter
1 cup granulated sugar
4 tablespoons water
1 (12 ounce) bag semi-sweet (OR DARK!!!) chocolate chips
4 eggs, lightly beaten
2 teaspoons vanilla
For the Sundaes
1 scoop of vanilla ice cream per sundae
2 tablespoons hot fudge per sundae
whipped cream
chopped peanuts (optional) and sprinkles
Instructions
Pre-heat the oven to 325°F. Butter a 9 X 9 baking dish, line with parchment paper, and then butter the parchment paper.
In a medium bowl, whisk together the flour, baking soda, and salt. Set aside.
In a medium saucepan over medium heat, melt the butter and whisk in the sugar and water. Cook until the sugar is dissolved. Take care not to brown the butter.
Remove the saucepan from the heat and stir in the chocolate chips until melted.
Very gradually mix in the eggs, starting with just a little, whisking in completely, and then adding a little more. This lets the eggs temper and not curdle in the warm chocolate. Stir in the vanilla.
Mix in the flour mixture.
Pour the brownie batter into the prepared baking dish and bake for 30-35 minutes. The brownies will puff up in the oven, but they'll fall some when they cool.
Let the brownies cool completely before cutting.
To make the sundaes, add a little dab of hot fudge into the bottom of a sundae dish. Top with a scoop of vanilla ice cream, a few tablespoons of hot fudge, whipped cream, nuts, and sprinkles.
Notes
1 (12 ounce) package of semi sweet chocolate chips is about 2 cups.
You can also use 12 ounces of chopped chocolate.
Recommended Products
As an Amazon Associate and member of other affiliate programs, I earn from qualifying purchases.
Nutrition Information:
Yield:
9
Serving Size:
1
Amount Per Serving:
Calories:

250
Total Fat:

8g
Saturated Fat:

4g
Trans Fat:

0g
Unsaturated Fat:

4g
Cholesterol:

96mg
Sodium:

424mg
Carbohydrates:

38g
Fiber:

1g
Sugar:

22g
Protein:

5g
The nutrition data provided here is ONLY for 1 brownie; calculate the other sundae toppings separately