Funfetti Cake from scratch! This easy recipe gives you fluffy white cake LOADED with sprinkles and covered in a sweet traditional buttercream frosting. This Funfetti Cake recipe is a birthday classic!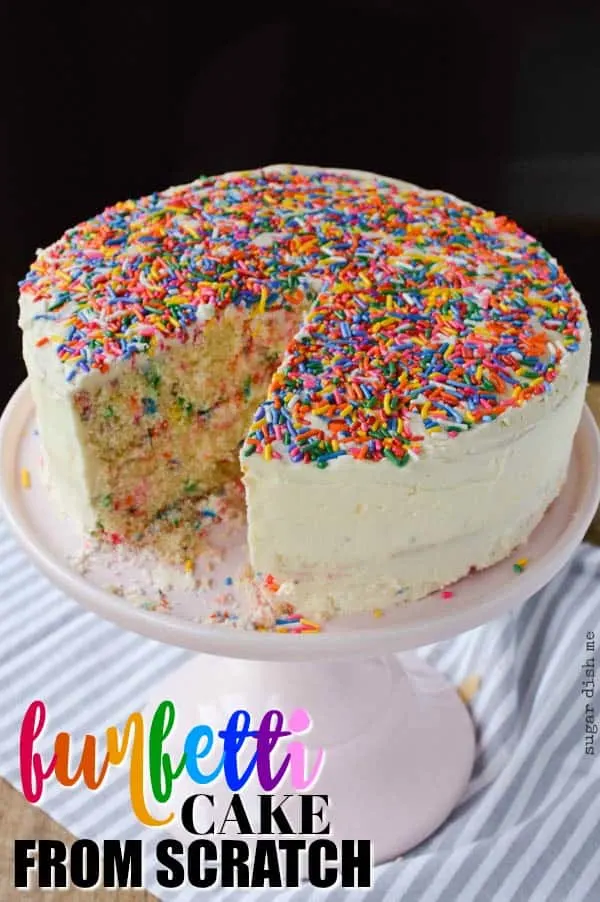 In our family we have always done birthdays the same way, ever since we were small. My mom's kitchen table is where the action is, with only a handful of exceptions to that rule for as far back as I can remember.
I think my 4th birthday was at Burger King. I got a crown. Once my brother got an ice cream truck in front of the house for his birthday.
I only really remember that the ice cream man was scary- like a real life version of how Disney always depicts a butcher, complete with a sloppy white apron, wolfy arm hair, and a gravelly voice. Yikes.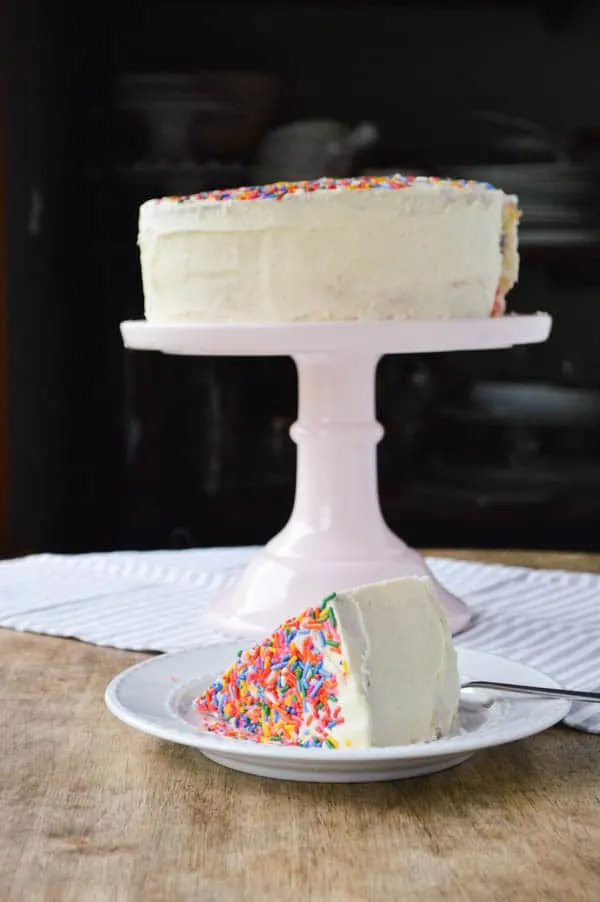 On your birthday you get to choose your meal– this is my littlest brother's favorite part. He likes to use his birthday opportunity to solicit my mom and I for labor intensive things like chicken and dumplings. Can you blame him?
My mom usually ties balloons to your chair.
Everyone brings a present, but gifts aren't the focus. We spend way more time reading the cards; one of my brothers is a funny card buying pro. You have to read his cards out loud; it's sort of an unspoken rule. If you are laughing so hard that you're crying, or if you just can't get the words out, the card gets passed around the table.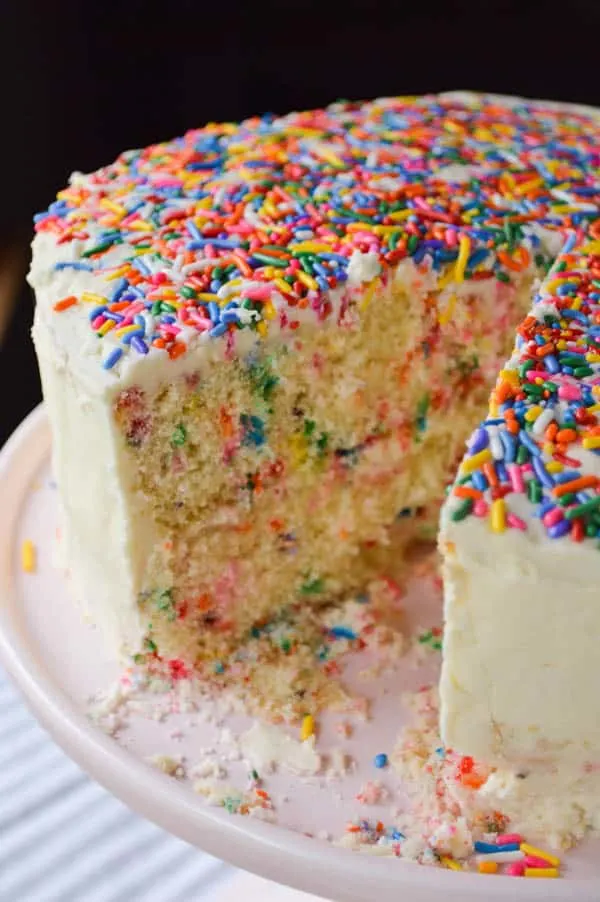 After the meal, the cards, and the presents (Note: at our birthday table you still have to hold up each gift for a photo-op; it doesn't matter if you are 9, 16, 26, or 57) comes the BIRTHDAY CAKE!
My littlest sister always requests cheesecake (a girl after my own heart). My children get sort of complicated with their birthday cake wants and I try my best to accommodate, "I want it to look like a road with hotwheels cars and grass," or whatever they throw at me.
I'll never forget the year my oldest son, Andrew, asked for a store-bought birthday cake. It just about broke my heart.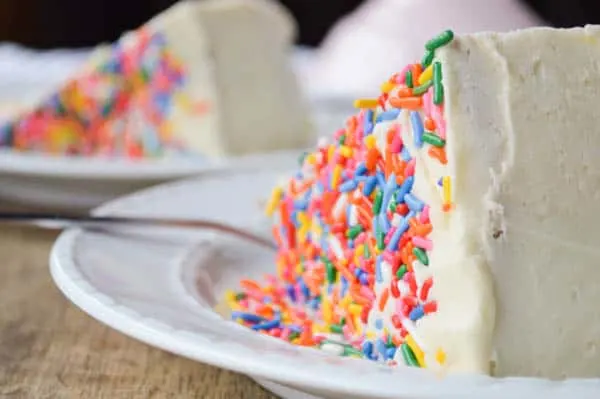 In the end he liked my cakes better.
Cake is a big part of our birthday celebrations. We sing VERY LOUDLY. We take pictures like the paparazzi when you blow the candles out. And when the cake is cut and the ice cream is doled out, we all usually congratulate each other on how moist and delicious the box cake turned out.
Because besides the cheesecake for my littlest sister, we don't usually do birthday cake from scratch.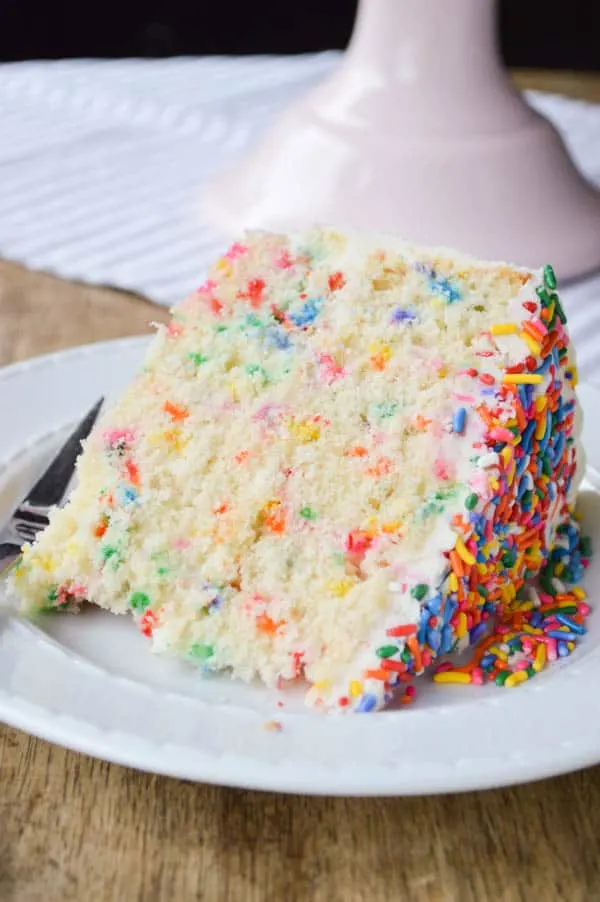 Don't hate on box cake. Pillsbury Funfetti is nothing short of amazing. It is also my sister's favorite.
This year I decided to see how we handled Funfetti cake from scratch. It was actually very simple. And the almond extract smells delicious.
The sprinkles were my favorite part of this whole process. And birthday cake loves to be covered in buttercream frosting.
I loved this cake. The almond extract MADE it. But I think for the next round I may opt for some vanilla pudding in the mix; it lacked some of that box funfetti cake spongy softness.
I used this recipe from The Kitchn— the original recipe is full of helpful links and tips and tricks for things like The Best Way to Divide Cake Batter and Cooked Buttercream.
Happy Birthday, My Sister!
With Love,
From Me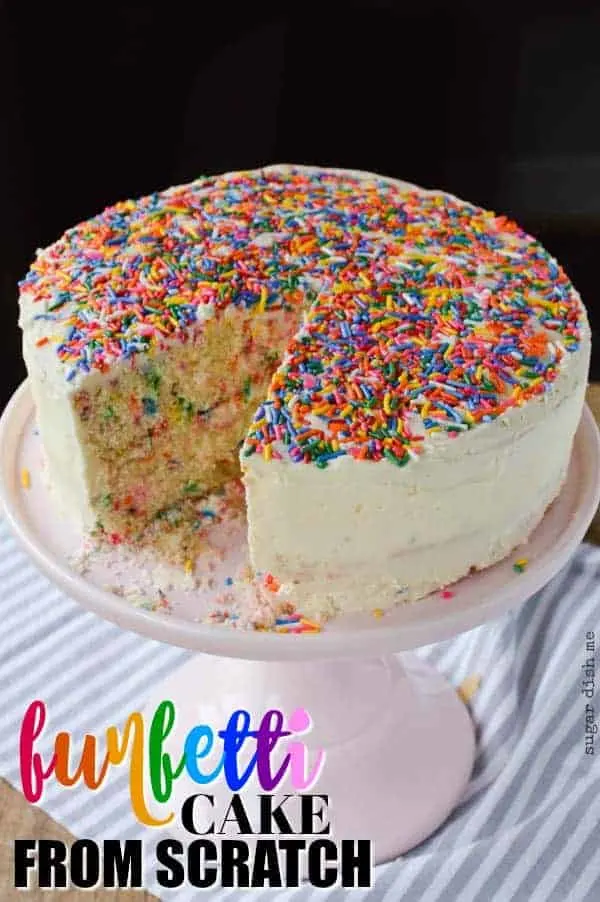 Yield:

10-12
Funfetti cake From Scratch
Funfetti Cake from scratch! This easy recipe gives you fluffy white cake LOADED with sprinkles and covered in a sweet traditional buttercream frosting. This Funfetti Cake recipe is a birthday classic!
Ingredients
4 egg whites
1 cup milk, divided
1 teaspoon vanilla
1/2 teaspoon almond extract
3 cups cake flour
1 1/2 cups granulated sugar
4 teaspoons baking powder
1/2 teaspoon salt
4 tablespoons unsalted butter, softened
8 tablespoons shortening
1/3 cup multi-colored sprinkles (jimmies work best I think)
Instructions
Pre-heat the oven to 350. Butter 2 (9-inch) round cake pans.
In a medium bowl, whisk together the egg whites, 1/4 cup milk, vanilla, and almond extract. Set aside.
In a large bowl whisk together the flour, sugar, baking powder, and salt.
Cut in the shortening and butter until coarse crumbles form.
Add the rest of the milk and beat on medium for 3 minutes, scraping down the sides to incorporate everything evenly.
Gradually pour in the egg white mixture beating for 30 seconds after each addition.
Fold in the sprinkles.
Divide the batter between the two pans and bake for 25-30 minutes.
Cool the cakes completely before frosting.
Recommended Products
As an Amazon Associate and member of other affiliate programs, I earn from qualifying purchases.
Nutrition Information:
Amount Per Serving:
Calories:

0
Cholesterol:

0mg
Sodium:

0mg
Carbohydrates:

0g
Fiber:

0g
Sugar:

0g
Protein:

0g
Layer Cake LOVE!!! Check these out —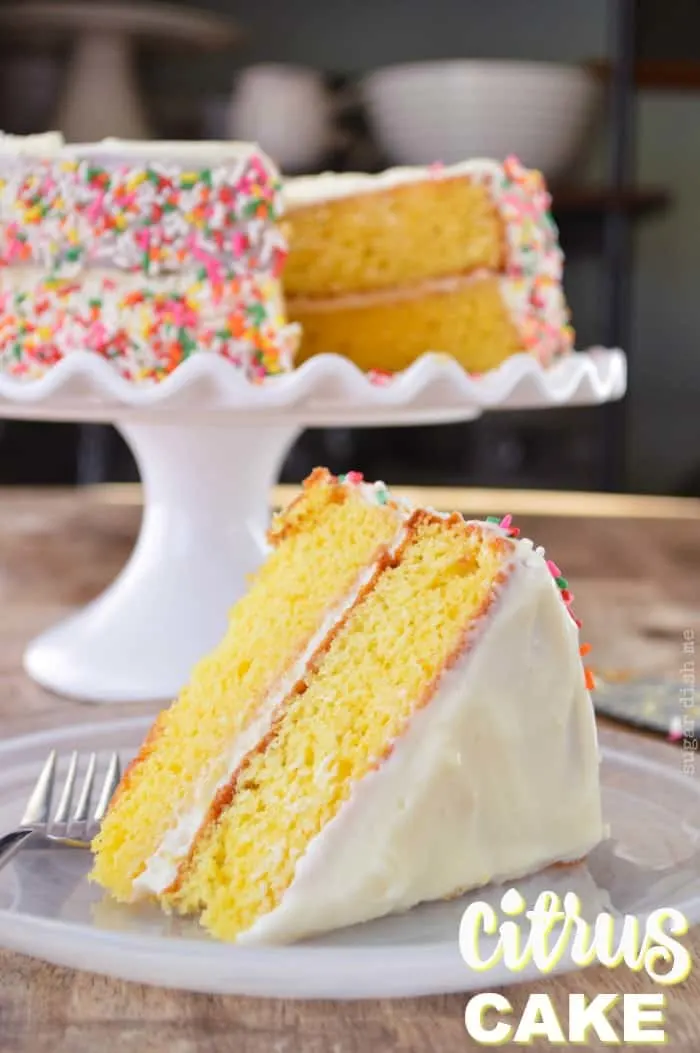 Citrus Cake starts with a box cake mix. It's the best way to use up citrus fruit that might have gone past its prime. Tangerines, lemons, grapefruit, Meyer lemons … all are welcome in this easy citrus cake recipe with cream cheese icing.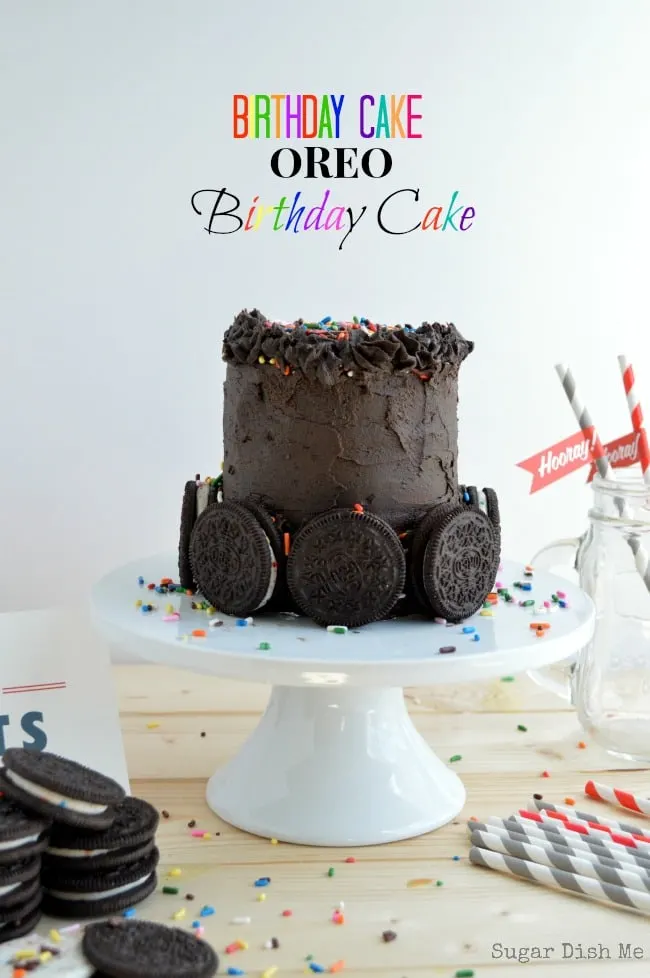 A cookies and cream cake covered in chocolate buttercream, rainbow sprinkles, and Birthday Cake Oreos. Birthday Cake Oreo Birthday Cake is a perfect way to celebrate!