The Biggest Fattest Fluffiest All Butter Biscuits are a testament to buttery, flaky biscuit layers that pull apart better than any biscuits you will ever pop out of a can! I'm going to show you the combo of ingredients plus technique plus tips and tricks that yield amazing biscuits every time!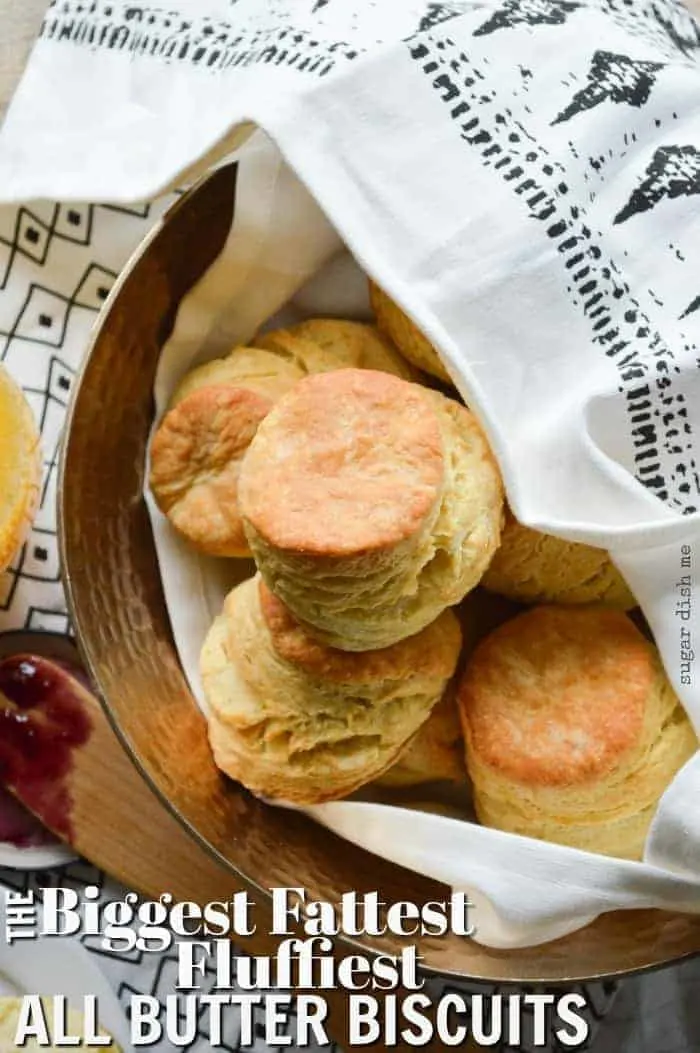 I've talked about biscuits a lot here because for years I COULD NOT MAKE THEM. My ex's (😬) little grandma was a biscuit pro, and I have definitely written about my ineptitude in following her "little a this little a that" grandma directions more than once.
But this time I have really done it. REALLY.
I have made the Biggest Fattest Fluffiest All Butter Biscuits there are. And I am going to teach you how!
Going waaaay back to November 2012, I made these Honey Butter Glazed Whole Wheat Biscuits. They are earthy and so so good, but what I really borrowed from that recipe is the technique.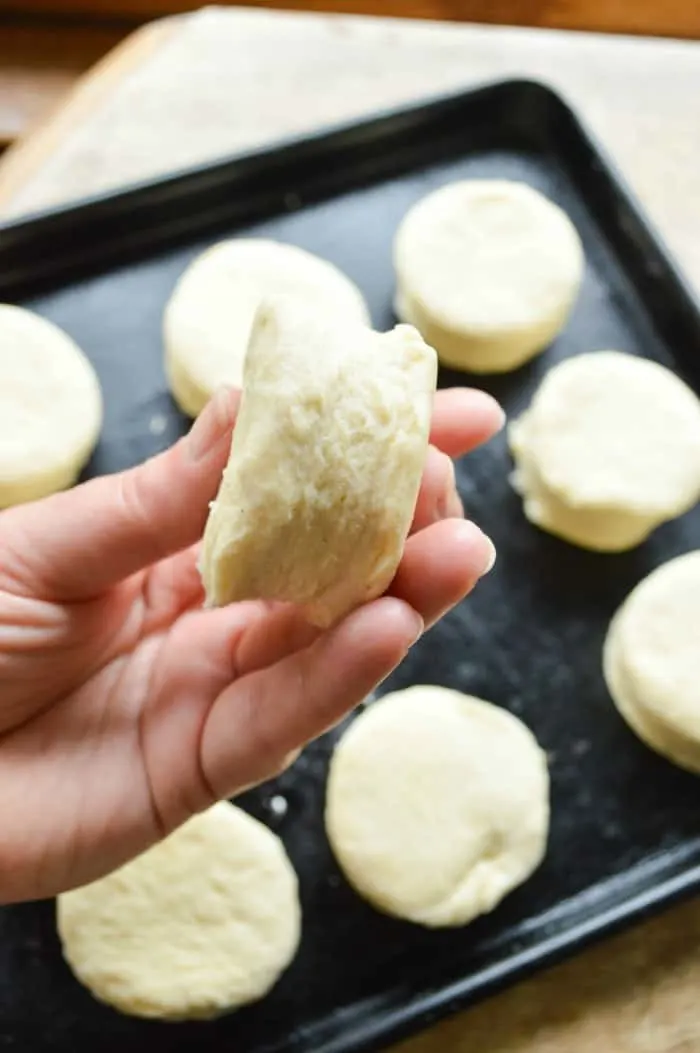 How to laminate biscuits
What makes these the biggest, fattest, fluffiest all butter biscuits is how you pat out the dough. Those flaky layers didn't come from a can!
Laminating is a weird word for what is basically folding a whole bunch of times, but while you're learning to make the best big fluffy biscuits, you might as well pick up a few fancy cooking words.
The process of laminating
Once your ingredients are combined and you have kneaded things in the bowl to pick up any spare dry bits, you are going to turn the dough out onto a WELL FLOURED counter. Flour your hands and pat the dough out into a big 'ol rectangle. THEN!
You are going to fold the short sides of the rectangle in so they meet in the middle. Pat that dough back out into a rectangle and repeat this SIX TIMES. Yes, six.
When you pat the dough out into a rectangle the 7th time, you are ready to cut out your biscuits.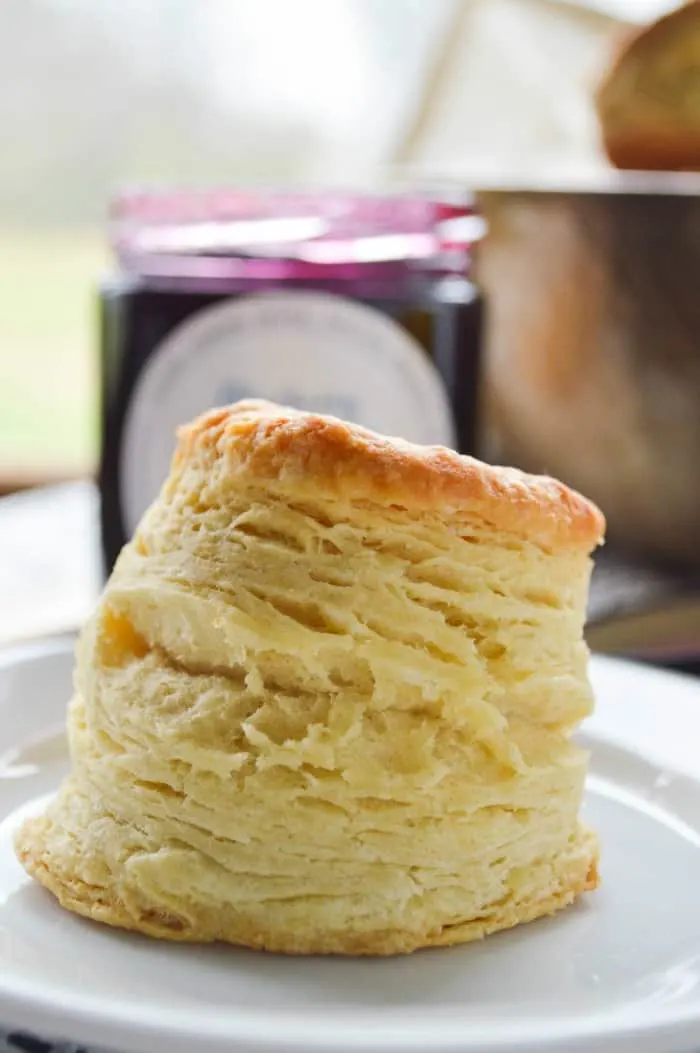 Tips for Getting Flaky Biscuit Layers
First and foremost! You need the ingredients to be COLD. The recipe specifies cold butter because it totally makes a difference. After I cut the butter into the flour mixture I will often stick the bowl in the refrigerator for some extra chill time while the oven preheats and I prepare my well-floured work space.
Don't add all the liquid at once. This recipe calls for 2 cups COLD buttermilk (regular milk will also do! DO NOT use less than 2% fat content though. That makes sad biscuits.). Start by adding just 1 1/2 cups. Combine and see where you are at with texture. Then add the remaining milk a little at a time. This can vary every time you make this recipe depending on how you measure your flour, the humidity in the air, etc. So it's important.
RE-FLOUR. Once you are working through your pat-and-fold process, you will need to keep your flour handy. Scatter a little more under the dough as you work and re-flour your hands. It'll make your biscuit life easier. Promise.
Big fat fluffy biscuits! You can do this.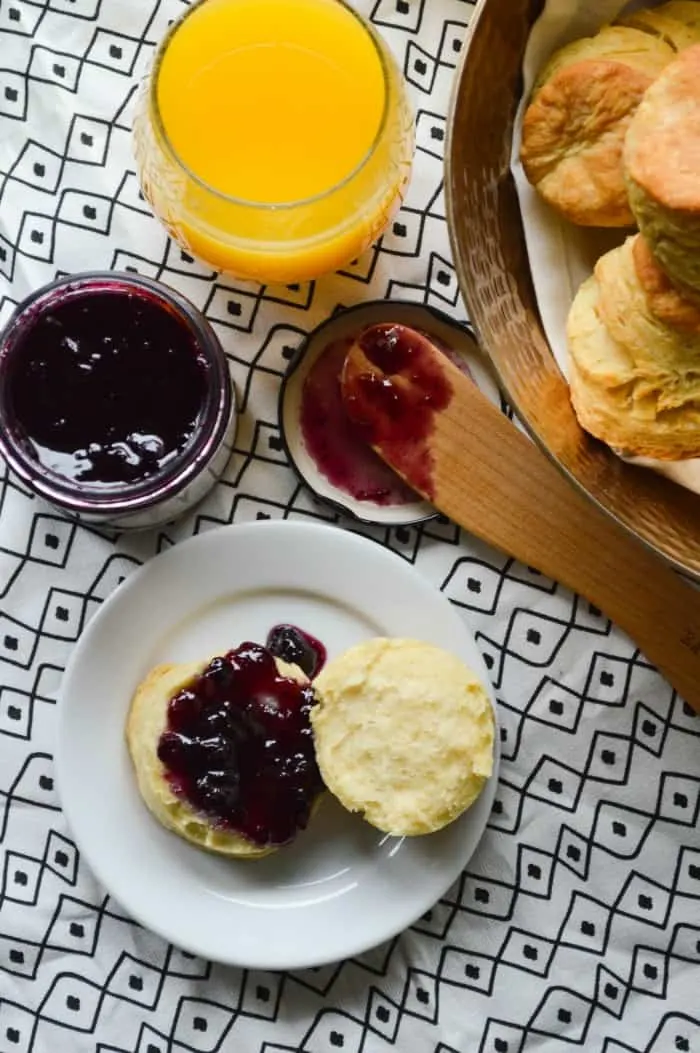 Cutting Biscuits!
I have this set of biscuit cutters . That gives me a whole range of different sizes and I use them for all kinds of different things. Cookies, biscuits, scones, pie crust – all kinds of stuff.
You don't need a fancy cutter though; you can flour a juice glass! I spent a LOT of years with zero kitchen tools and am semi-professional at making it work with no extra anything.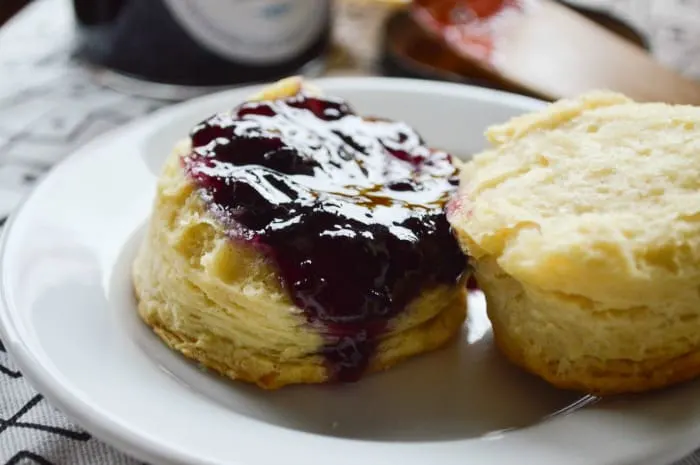 If you are wondering about this dreamy jam … it was made by a friend in Louisville. Beautiful biscuits deserve a beautiful jam or butter, so if you can buy things locally or have jam-friends, these are the perfect vehicle for it. You can also try this easy recipe for Strawberry Butter.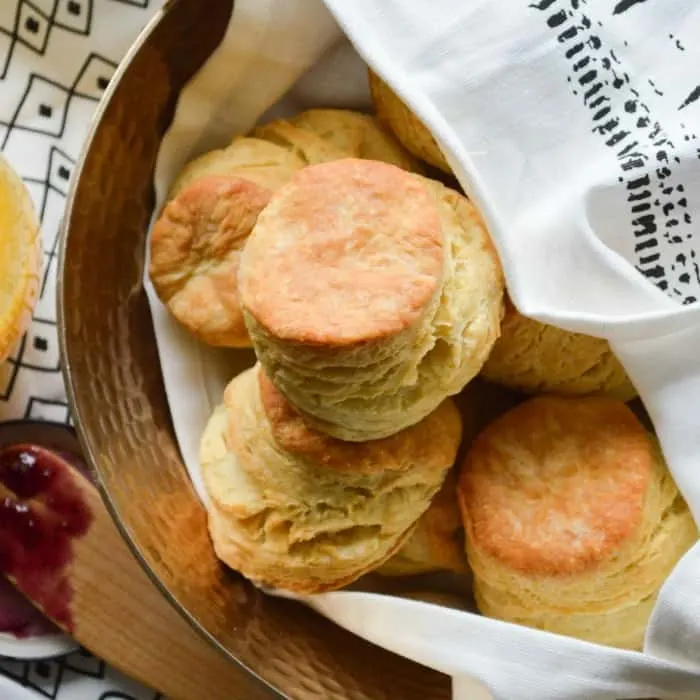 So now you are going to print the recipe for the biggest, fattest, fluffiest all butter biscuits. AND THEN I really hope you'll tag me on Instagram or find me on Facebook and tell me about your biscuit successes. That's pretty much my favorite thing ever.
OH! One more thing. These biscuits are so big fat fluffy that sometimes they are lobbed over sideways when they bake. I kind of love the homemade charm that lends and I am going to split the biscuit to add jam or bacon anyway, so it's good for me. Perfectionists beware ?
I also have other biscuit recipes!
These Apple Biscuits with Honey Butter Glaze are my favorite way to use up bruised apples.
Greek Yogurt Cheddar Biscuits are lower in calorie and are ALSO big and fat and fluffy. If you want to try something that's not all butter I HIGHLY recommend these.
And if you needs something that's just incredibly decadent these Pulled Pork Breakfast Biscuits are your best bet. They were inspired by a giant beautiful item on an Asheville restaurant menu (go to Biscuit Head!), and are so southern and delicious and WORTH IT.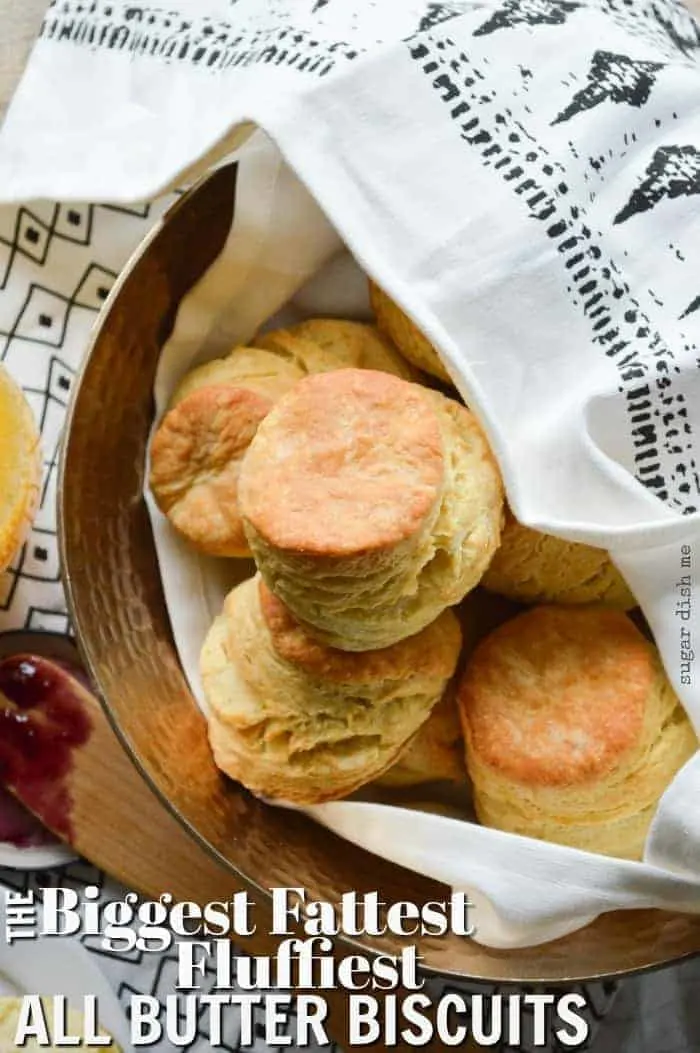 Yield:

16 large biscuits
The Biggest, Fattest, Fluffiest All Butter Biscuits
The Biggest fattest Fluffiest All Butter Biscuits are everything you ever wanted in a homemade biscuit recipe. Flaky tender layers, butter, and perfectly browned tops. The height on these babies is ridiculous.
Ingredients
4 ½ cups all purpose flour, plus more for dusting the surface
1 tablespoon + 1 teaspoon baking powder
1 teaspoon baking soda
2 teaspoons granulated sugar
1 teaspoons salt
1 cup COLD unsalted butter
2 cups buttermilk
Instructions
Preheat the oven to 425°F. Set out an un-greased baking sheet. Lining with parchment paper is optional.
In a large bowl whisk together the flour, baking powder, baking soda, sugar, and salt.
Cut in the COLD butter using a pastry cutter OR a fork OR your hands. Method used is your preference! You'll know it's good when coarse crumbs have formed and if you grab up a fistful it sticks together pretty well.
Gently fold in the buttermilk with a rubber spatula or wooden spoon.
Generously flour a clean work surface and keep your flour nearby to dust your hands and the dough regularly.
Knead the dough a bit in the bowl — it will be VERY wet and sticky!! Just do your best and make sure to incorporate any dry bits from the bottom of the bowl.
Turn the dough out onto your prepared surface, flour your hands, and knead it a few times. It will get easier to work with.
Pat it out into an oblong oval shape that's about an inch thick. Fold the short sides toward the middle. This is what gives your finished biscuits their "layered" texture. Smack the folded dough down and press it back out into the oval shape. Repeat this process a total of 7 times, but on the 7th time, skip the folding and get ready to cut out your biscuits.
Cut your biscuits out into 2 - 2.5" circles. If your size varies the bake time may change.
Space the biscuits an inch or two apart on your prepared baking sheet.
Bake for 20 minutes.
Optional: brush the tops with melted butter as soon as the biscuits come out of the oven.
Nutrition Information:
Yield:
16
Serving Size:
1
Amount Per Serving:
Calories:

244
Total Fat:

12g
Saturated Fat:

7g
Trans Fat:

0g
Unsaturated Fat:

4g
Cholesterol:

32mg
Sodium:

302mg
Carbohydrates:

29g
Fiber:

1g
Sugar:

2g
Protein:

5g