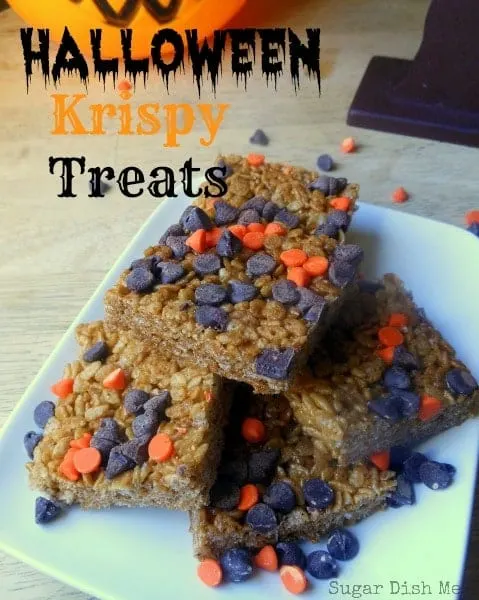 I am taking full advantage of this date to shove a last minute Halloween treat in your face. It's ready in just a few minutes and only takes 4 ingredients.
I love Halloween.
We spent Saturday traipsing through a corn maze, hay riding across a field, and eating super delicious foods. The corn maze was LEGIT. It's 12 acres and somehow it slipped my mind that it was a corn maze in the mountains so I imagined a big flat field. But what I got was a hilly, rocky maze of super tall way-over-my-head corn.
It was awesome. Also awesome: Letting a 13-year-old and 10-year-old navigate you through 12 acres of mountain corn wilderness.
Anyway, as a result of my little excursion I binge-baked on Sunday morning and I have a whole stash of stuff to share with you guys in the weeks to come. But in the meantime you need to finish carving pumpkins, put the last touches on costumes (I need fake fur like nobody's business and can't find it anywhere!), and get your Halloween Krispy Treat on.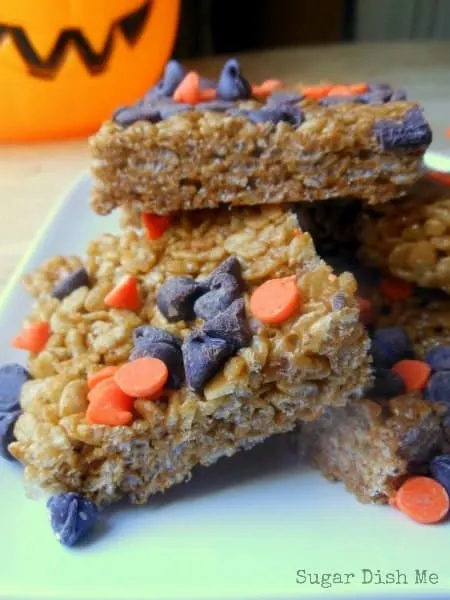 Halloween Krispy Treats
Serves:
1 (9 X 13) pan of treats
Ingredients
3 tablespoons unsalted butter
1 (8 ounce) bag of pumpkin spice marshmallows
5 cups Rice Krispies
1 - 1½ cups semi-sweet chocolate & orange morsels OR semi sweet chocolate chips
Instructions
In a large saucepan melt the butter over medium to medium high heat. Add the whole bag of marshmallows and toss them in the butter.
Let them melt, stirring often with a rubber spatula.
While that's going on, butter a 9 X 13 baking dish. For fatter treats use a 9 X 9.
When the marshmallows have melted down completely and all the lumps are gone stir in the Rice Krispies.
With buttery hands (it helps) press the mixture into the prepared pan.
Press the chocolate chips across the top. Let it cool completely. Slice and serve!
Recipe from
Kraft Jet Puffed