Cheesecake Brownies with Graham Cracker Crust bakes up in just 30 minutes! You can skip over all your cheesecake anxieties with this super simple recipe.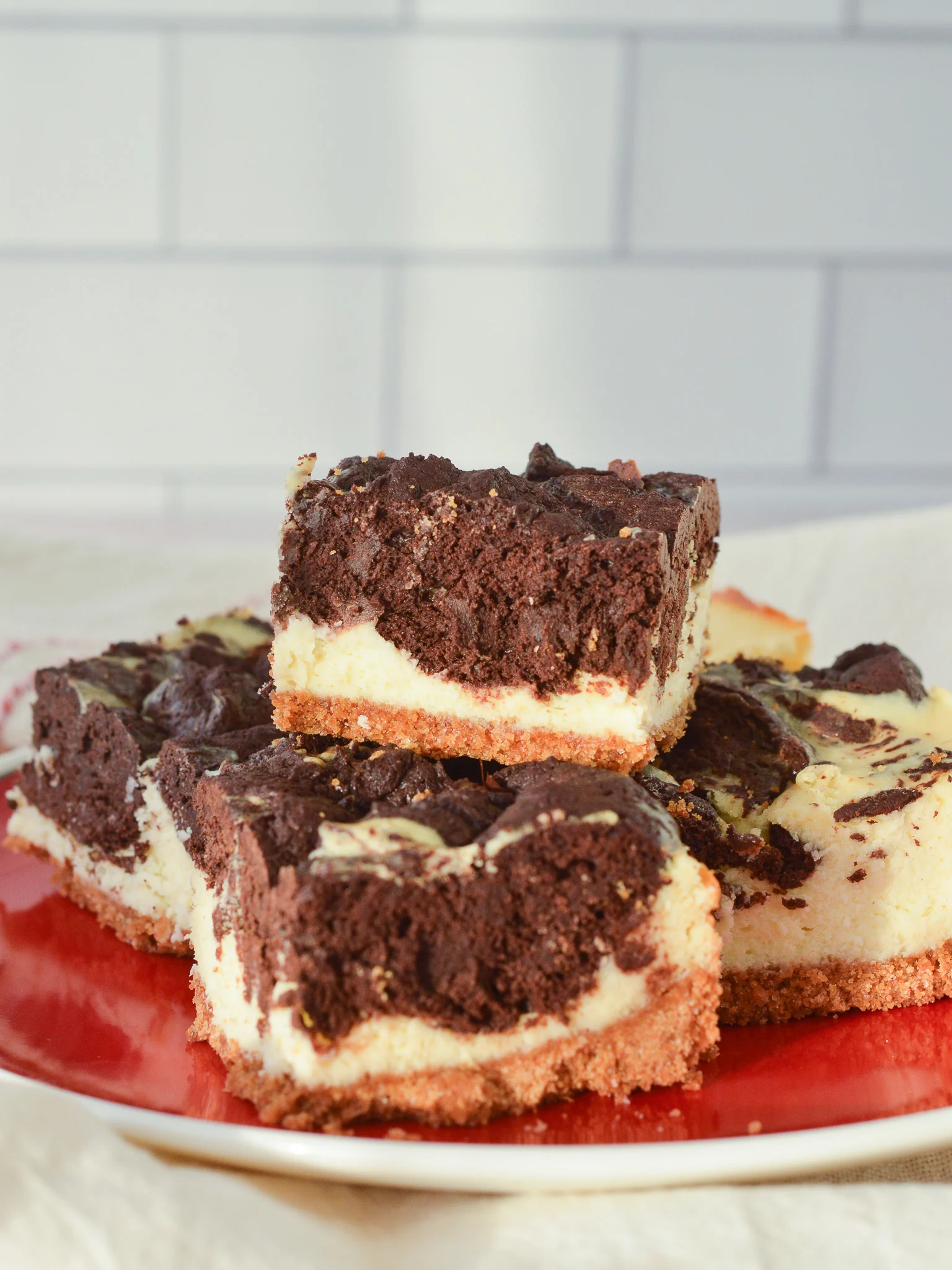 I think it says a lot about where we are in 2021 so far that 1. this is the first dang recipe I have managed to post and 2. it's cheesecake + brownies.
Y'all. I have been doing the most with meal prepping and eating right and working out since like January 4 (My sister is a fitness coach join us! It's fun I swear). There's no new year, new me happening. I still really like Big Fat Fluffy Popovers and will respond in kind to the people that love to troll my comments (you will be eaten by sharks ?).
It just felt really important to preface this Cheesecake Brownie Recipe with a caveat. Because balance.
Anyway, I will always be a carb-loving brownie snob at heart. Sometimes, you just gotta make a pan of Cheesecake Brownies with a Graham Cracker Crust.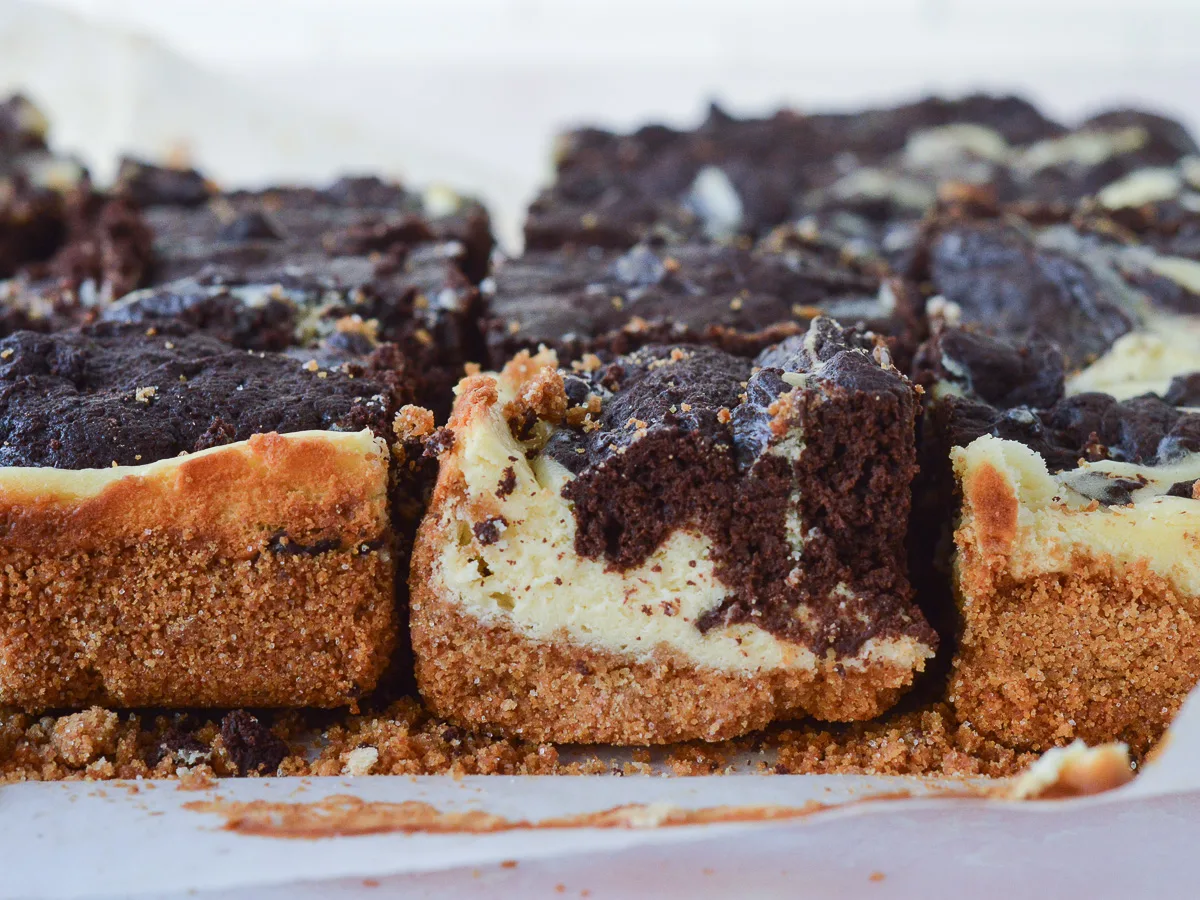 How to Make a Graham Cracker Crust
Usually I go with a shortbread crust in my cheesecake recipes. Bourbon Cheesecake with Boozy Chocolate is probably my favorite to date!
I went with graham crackers here though, because it felt like fun with the brownies.
You know how I am always telling you that you do not need fancy or expensive appliances to make great food? Well it's still true. You don't.
HOWEVER. If you have a food processor, or are looking to add something new to your kitchen appliances, and just WANT a food processor, it will REALLY come in handy for this recipe, as well as any others with a pie crust.
I recommend this Cuisinart 7 Cup Food Processor. This is what I have used for years. It is reliable and gets the job done.
If you are like Beyoncé and need an upgrade, this 14 cup stainless steel version is pretty great.
To make the graham cracker crust using a food processor, you just need to pulse the graham crackers until medium fine crumbs form. Then you will add the sugar and melted butter and pulse just a few times to combine.
Alternately, you can dump more finely ground crumbs into a bowl and mix together the crumbs, sugar, and melted butter together with a fork. This is actually my preferred method. It dirties another dish, but I like when the crumbs are not pulverized into dust. You have to watch that if you mix using the food processor.
IF YOU DO NOT HAVE A FOOD PROCESSOR, you can put the graham crackers into a Ziplock bag, press all the air out and seal, and then crust the graham crackers. It's fun but can take a few minutes, and the crumbs will not be as uniform. Then mix the crumbs with the sugar and melted butter using a fork.
If you like a good shortcut and buy graham cracker crumbs (I never do this because the leftovers always go stale and I have to throw 'em out), you will need 2 cups of graham cracker crumbs.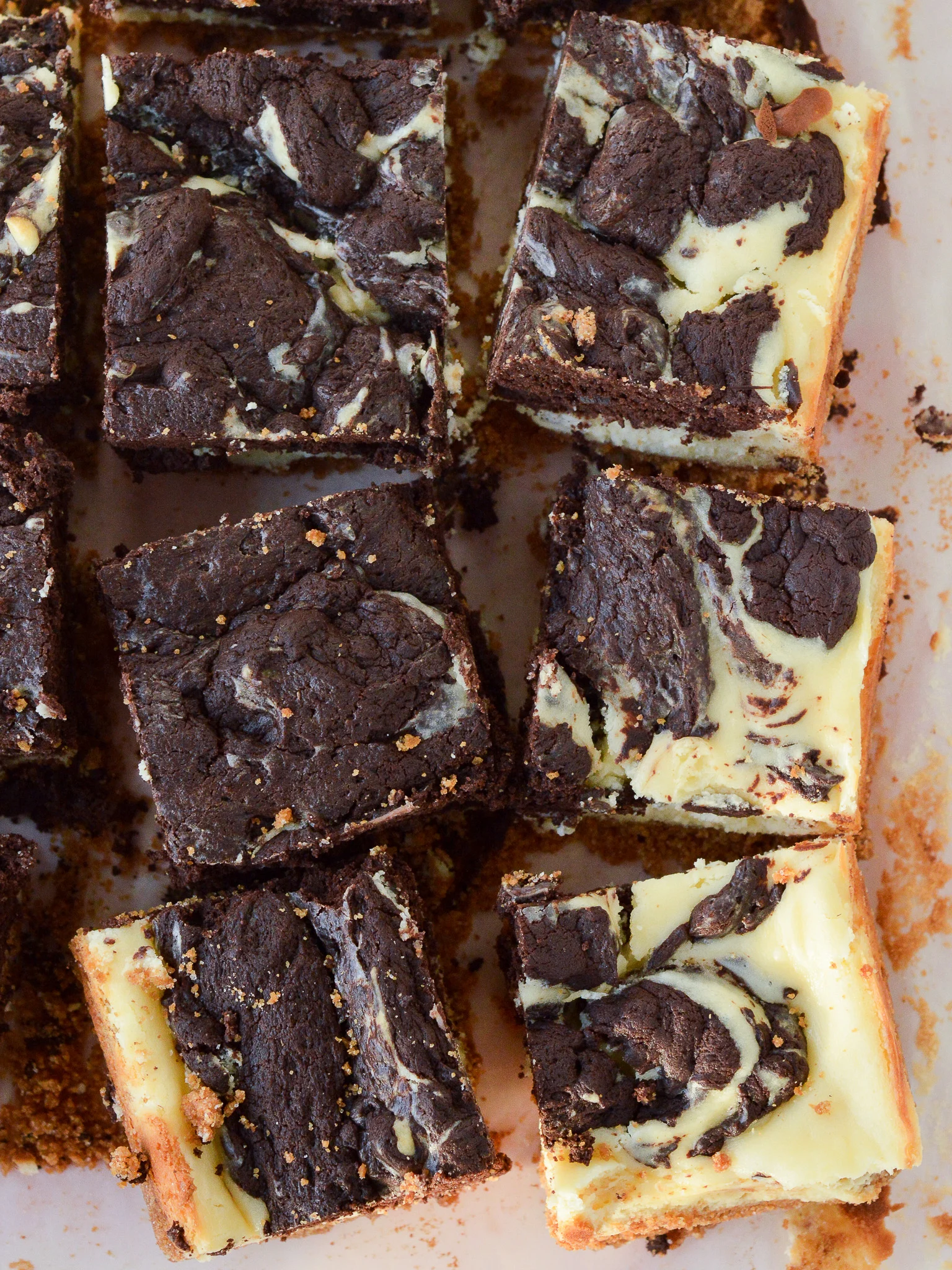 Make the Cheesecake
The cheesecake recipe here originated with a new-to-me blog called Lisa's Dinnertime Dish. A few times a year I trade off with other food bloggers and we cook from each other's sites. In December I made the Best Chocolate Chip Pudding Cookies.
I honestly could have cooked just about anything from Lisa's site! We seem to have very similar tastes when it comes to recipe development. I will FOR SURE be trying her Skillet Beef Strganoff and this Indian Chicken Curry.
GAWD I MISS INDIAN FOOD IN RESTAURANTS. (or all food in restaurants).
Anyway – CHEESECAKE. The cheesecake part of this recipe is stupid simple.
Here are the steps.
Make the crust and press it into your prepared pan. Bake in a preheated oven for 10 minutes.
While the crust bakes, beat the softened cream cheese until fluffy. Add the sugar and beat for 1-2 minutes on medium high. Scrape down the sides of the bowl.
Add the egg (JUST ONE EGG!) and the vanilla. Beat on medium until combined. Scrape down the bowl once more and add 2 tablespoons of flour. Mix until combined and then spread the cheesecake batter over your prepared graham cracker crust.
Make the Brownies
You've got options here. In Lisa's original recipe, she actually does not go the brownie route. She just melts chocolate chips in the microwave, spoons the melted chocolate over the cheesecake batter, and then uses a knife to swirl.
SO EASY.
In my slightly adjusted recipe, I went full-on brownie using an old favorite recipe for the Best Basic Brownies. This old post is embarrassing but the recipe is SOLID.
How to make the brownie batter
Whisk together 2/3 cup flour, 1/2 teaspoon baking soda, 1/2 teaspoon salt. Set aside.
In a saucepan over medium heat, melt 2 tablespoons of butter. Whisk in 1/4 cup granulated sugar and 2 tablespoons of water. Whisk until the sugar is dissolved.
Remove the pan from the heat and stir in 1 1/2 cups semi-sweet chocolate chips until melted.
Then whisk in 2 eggs and 1 teaspoon of vanilla.
Gradually mix in the flour mixture. Then scrape the brownie batter into the center of the pan holding the cheesecake batter.
Use a knife to swirl and spread the batter to the edges of the pan.
BAKE! 30 minutes at 350°F is just about perfect. A pick inserted into the center will come out clean.
Other Brownie Recipes to try
If you love peanut butter, you need to try my Reese's Peanut Butter Cheesecake Brownies. I am not afraid to use a box mix and there's also a whole bag of Reese's Pieces, so if you wanna feel like a brownie hero, those are IT.
If you are just looking for a thick, decadent brownie recipe, I also have just the thing. My Homemade Brownie Sundaes Recipe includes one of my all time favorite from-scratch brownies. It will not disappoint.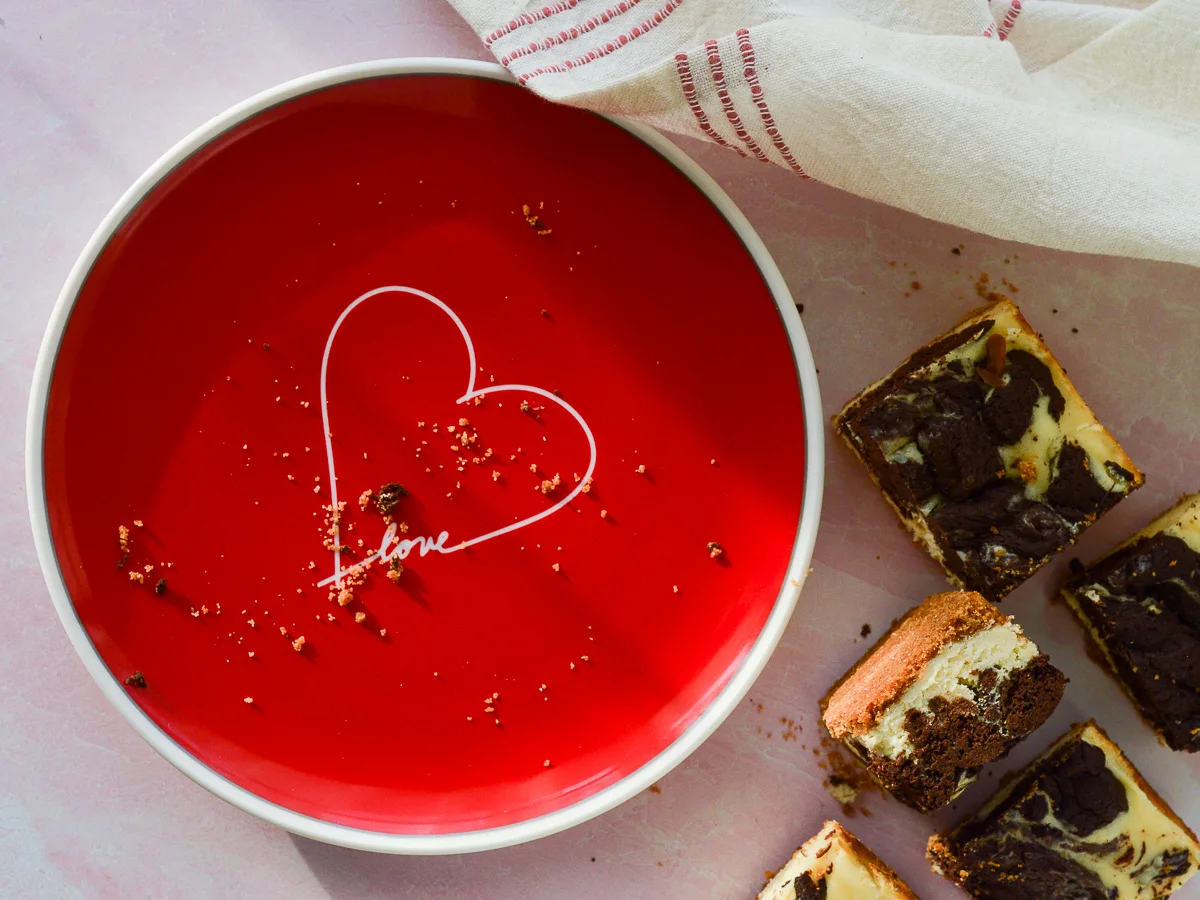 Other Excellent Recipes from this Recipe Swap
I LOVE the variety of recipes chosen when I have the opportunity to cook and share recipes from other blogs. It's super fun, and rest assured these recipes are SOLID. They have all been tested and retested in multiple kitchens! Here are the recipes from this month if you want to poke around and find some other great things to try. (and a great big puffy heart thank you to Michaela at An Affair from the Heart for organizing!)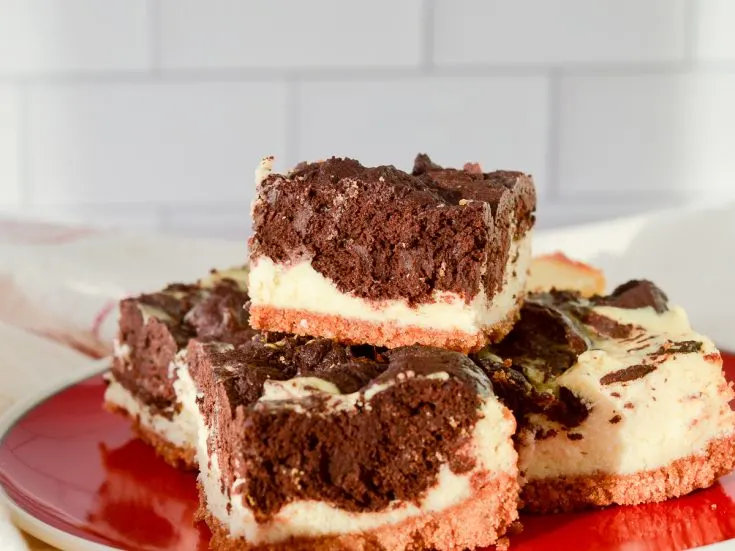 Yield:

12 bars
Cheesecake Brownies with Graham Cracker Crust
Chill Time:
1 hour
30 minutes
The most decadent and easy treat! Make these Cheesecake Brownies with Graham Cracker Crust for any occasion.
Ingredients
For the Graham Cracker Crust
15 whole graham crackers
2 tbsp sugar
1/4 cup butter, melted
For the Cheesecake
2 (8 oz ) pkgs cream cheese, softened
1/2 cup sugar
1 egg, at room temperature
1 tsp vanilla
2 tbsp flour
For the Brownie Batter
2/3 cup flour
1/2 teaspoon baking soda
1/2 teaspoon salt
2 tablespoons unsalted butter
1/2 cup granulated sugar
2 tablespoons water
1 1/2 cups semi-sweet (OR DARK!!!) chocolate chips
2 eggs
1 teaspoon vanilla
Instructions
Preheat the oven to 350°F. Butter a 9X9 baking dish, line it with parchment paper, and then lightly butter (or spray with non-stick cooking spray) the parchment paper. This will make lifting your baked and cooled cheesecake brownies out of the pan super easy.
To make the crust, pulse the graham crackers in a food processor or blender until fine crumbs are formed. Pour the crumbs, granulated sugar, and melted butter. Mix with a fork until everything is well combined. Press the mixture into the bottom of the prepared pan and up the sides.
Bake the crust for 10 minutes. Then set it aside so cool just a bit.
While the crust bakes, in a large bowl, or in the bowl of your stand mixer fitted with the paddle attachment, beat the cream cheese on medium high until fluffy.
Add the sugar and beat until well combined. Then add the egg & vanilla. Scrape down the bowl one more time and then mix in the flour.
In a medium bowl, whisk together the flour, baking soda, and salt. Set aside
In a saucepan over medium heat, melt the butter and whisk in the sugar and water until the sugar is dissolved
Remove the pan from the heat and stir in the chocolate chips until melted. Beat in the eggs and vanilla. Gradually mix in the flour mixture.
Scrape the brownie better into the pan on top of the cheesecake batter. Gently swirl with a knife and be sure to spread the batter out to the edges.
BAKE for 30 minutes.
Let the cheesecake bars cool completely and then refrigerate for at least an hour before cutting to serve.
Recommended Products
As an Amazon Associate and member of other affiliate programs, I earn from qualifying purchases.
Nutrition Information:
Yield:
12
Serving Size:
1
Amount Per Serving:
Calories:

300
Total Fat:

12g
Saturated Fat:

5g
Trans Fat:

0g
Unsaturated Fat:

6g
Cholesterol:

64mg
Sodium:

320mg
Carbohydrates:

44g
Fiber:

1g
Sugar:

24g
Protein:

4g