The biggest fattest fluffiest popover recipe you'll ever find. These popovers are light and airy, CRAZY easy to make (like you actually won't believe it), and are probably my very favorite vehicle for butter.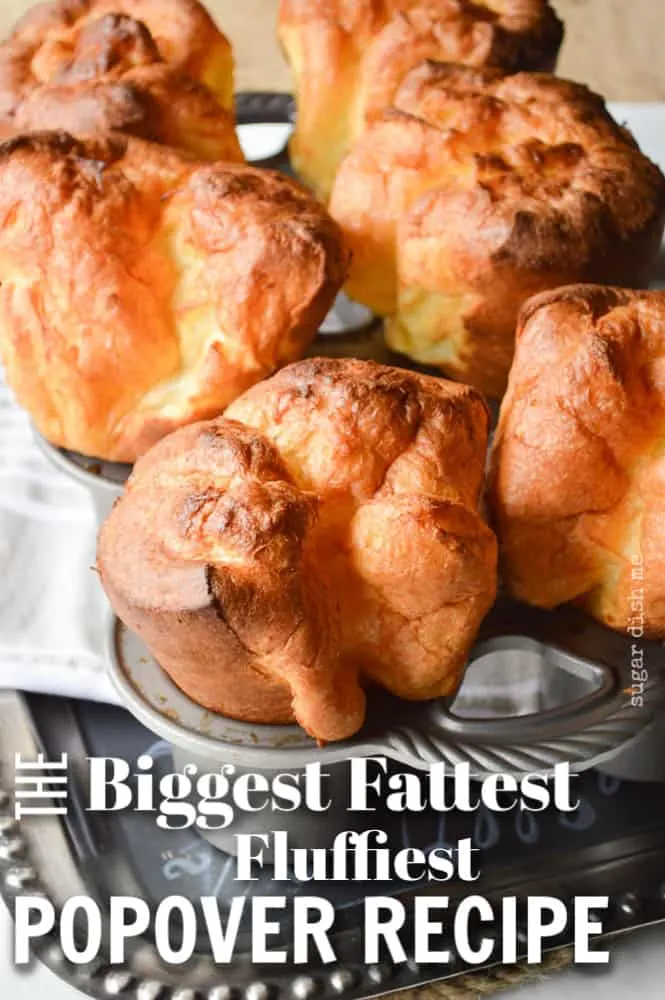 CLICK HERE TO PIN THIS RECIPE AND SAVE FOR LATER
THIS is a bucket list recipe! I have always wanted to make popovers. So I decided to try my hand at making you the biggest fattest fluffiest popover recipe, and I DID IT.
When I made the Biggest Fattest Fluffiest All Butter Biscuits, you guys went a little bit nuts about 'em. I mean really, what's better than big 'ol fluffy carbs? I am with you on that. Giant Cinnamon Rolls were also a hit. This popover recipe is right there in the realm of giant delicious carbs that will make people think you are some kind of baking phenom, but popovers are UNCOMPLICATED. I promise.
This recipe is also a little bit dear to my heart. There's a story attached. Haters of food blog stories feel free to scroll on down.
Anyway. I've been wanting to make popovers FOREVER. They are eggy and intriguing. The insides pull apart in thin, almost spongy layers like magic. They fluff up like nobody's business. And they are probably my most favorite vehicle for butter and homemade blackberry jam.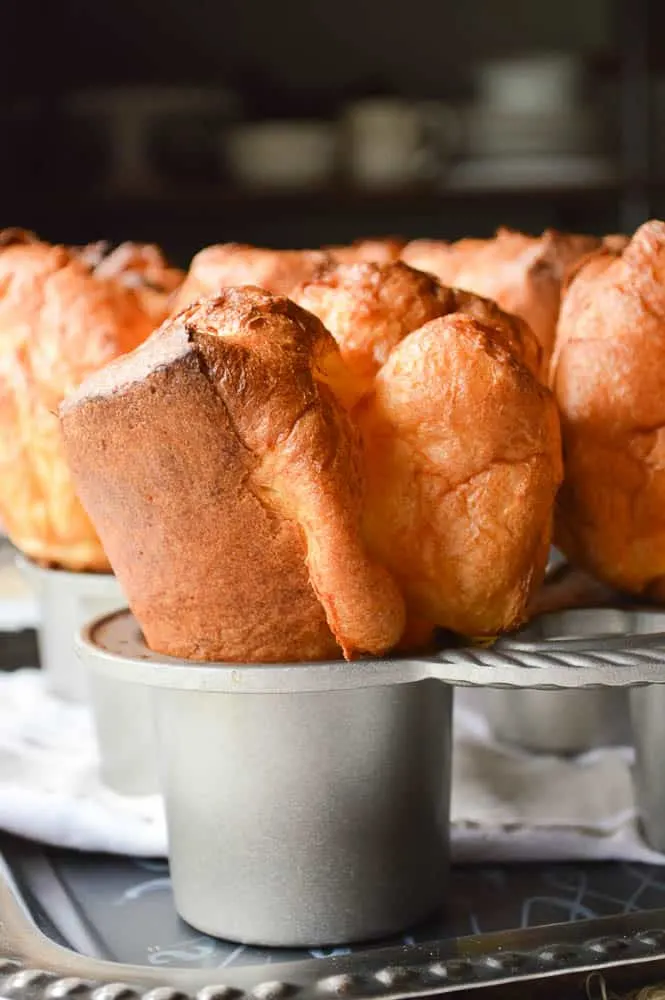 The Story.
When I was a kid we would drive to southern Illinois to visit my grandparents a few times a year. I loved those trips, and recently made the drive again with my mom. I still love a good road trip, though this most recent one was much less chaotic than the trips of my youth, where my parents would load up a station wagon full of children and dogs, drive all night, and inevitably lose a suitcase somewhere in Indiana.
Anyway, while in Illinois, my dad would always pick a day to drive across the river to St. Louis to visit his brother. Since I'm the oldest kid, he'd take me with him.
Those trips always felt a tiny bit magical. We'd go to the fanciest shopping mall to get a Christmas present for my mom that we definitely COULD NOT afford. (my dad was ever an optimist)
We'd go to the St. Louis Museum of Art and wander for HOURS. I still get goosebumps when I see a painting by Monet.
And on every trip, we'd go to the Zodiac, the restaurant at the top of Neiman Marcus, and eat the biggest, fattest, fluffiest popovers with strawberry butter, in a sea of white table cloths and crystal wine glasses.
It was the fanciest thing I'd ever experienced.
To fully appreciate this story though, we need to talk about how outside the norm all of this was.
My mom was a waitress. And as soon as I was of age, I was, too. My dad worked in sales – mostly car dealerships – and was always trying to catch a break. JUST ONE MORE CAR to hit the sales goal and actually bring home a paycheck. Both of my parents worked crazy long hours and we had zero fancy things. Most days we had just enough groceries for that one day. We always had enough, but just barely.
So going to art museums, and eating in fancy restaurants, and buying gifts that my dad would probably be paying off for the entire rest of the year – it all felt so extraordinary.
That's what popovers are for me. Completely extraordinary.

Making Big Fat Fluffy Popovers is EASY
The thing of it is though, they are NOT extraordinary to make! Popovers require just a few pantry staples.
eggs
milk
salt
flour
butter
THAT'S IT!
Hopefully you have most of these things on hand pretty much any day of the week. If you DO need to run out and buy these ingredients though, none will waste away never to be used again like that spice you bought that one time for that thing you found on Pinterest.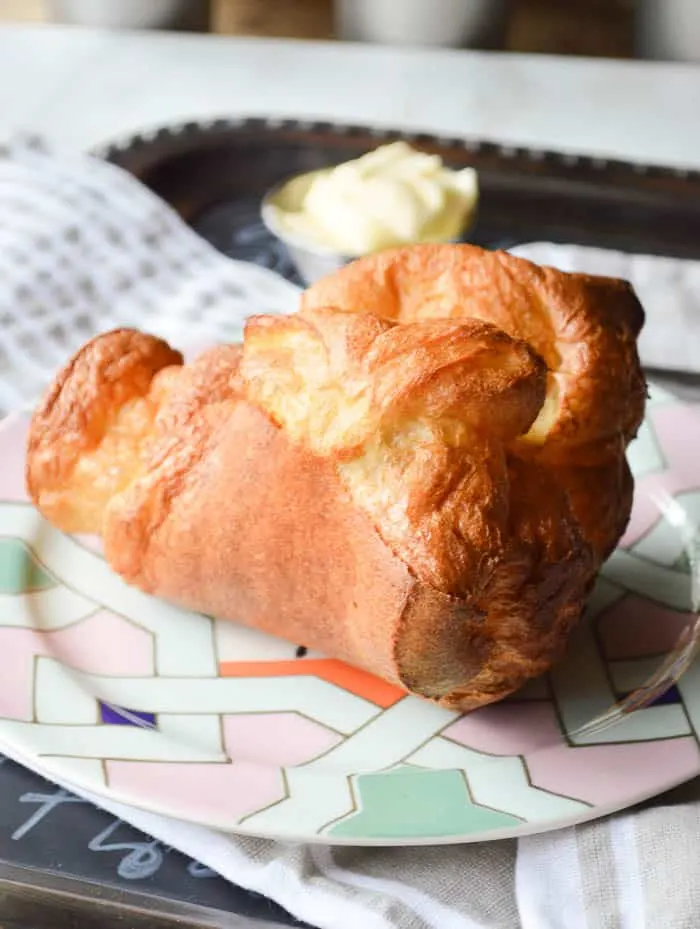 Tools Required
You DO need a couple of tools to make this recipe successful, though, and that's as fancy as we will get.
A good whisk
Now listen. I am not usually one to tell you to go out and buy a thing. Here at Sugar Dish Me the goal is always easy and requiring just what you have on hand. And you CAN make popovers using a regular muffin tin. But they won't be the biggest fattest fluffiest popovers.
For the popovers to be sky-high, you'll want the pan. Trust.
Elbow Grease
Is that a thing people still say? I feel like it's a grandma phrase. But this recipe calls for some serious whisking, so get your arm muscles ready. Also why is it called elbow grease when your elbow does none of the actual work ?
Whatever you call it, you are gonna wanna get ready to stir.

Bake, Serve, EAT WARM
Whether you are using the recommended popover pan or you are going with a muffin tin, you are going to bake the popovers on higher heat for 20 minutes and then reduce the heat for the last little bit of baking.
In my humble opinion, popovers are best served warm. Carb-lover that I am, I will definitely not turn down a room-temperature baked good, just so we are clear about that. But these big fat fluffy popovers smeared with soft butter and / or sweet jam, will bring you like next-level breakfast-brunch happiness.
Eat Popovers With …
I love this cranberry butter, especially in cranberry season! Frozen cranberries work well, too
Bacon Butter! YEP. There's a scone recipe here, too. But bacon butter is as amazing as it sounds.
soft butter and a sprinkle of kosher salt. YOU CAN'T BEAT IT.
Other Favorite Big Fat Fluffy Recipes
Does it get any better than fluffy frosted Lofthouse Cut Out Cookies at Christmas? Really these cut out cookies are great any time of year – swap out those cookie cutters and get to decorating.
Homemade Fluffy Pancake Mix is a long-time reader favorite! This tried and true quick mix for pancakes makes mornings easy.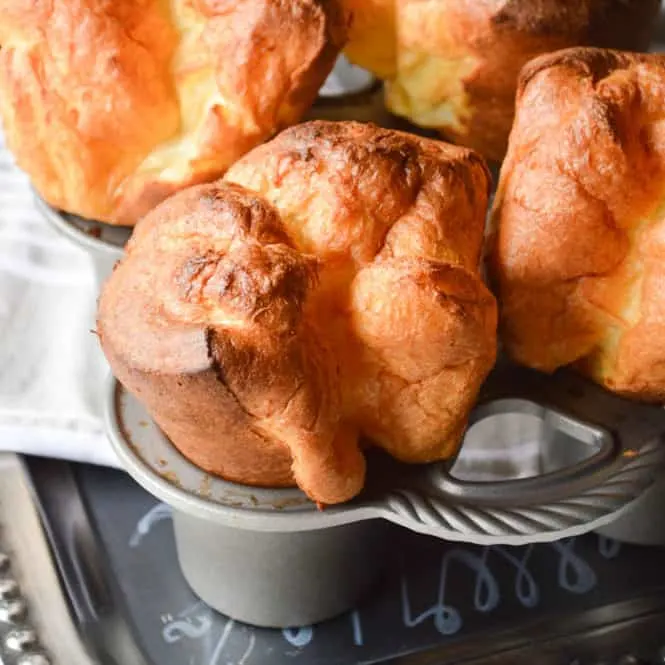 Yield:

makes 6 BIG Popovers
The Biggest Fattest Fluffiest Popover Recipe
The Biggest Fattest Fluffiest Popover Recipe is SO easy! Just a few pantry staples and a really great pan turn out the biggest, fattest, fluffiest popovers ever!
Ingredients
4 large eggs
1 1/2 cups milk
3/4 teaspoon salt
1 1/2 cups all purpose flour
3 tablespoons melted butter
Instructions
Warm the eggs by placing them UN-CRACKED in a medium bowl and cover with hot water (as hot as your tap will go). Let them sit for 10 minutes.
Preheat the oven to 450°F and move the oven rack to a low position (to prepare for huge popovers!). Grease the popover pan thoroughly inside each cup as well as around the top edges.
With your whisk, beat together the eggs, milk and salt until they are combined. The yolks should be completely blended in.
Add the flour and whisk until the mixture is frothy and all large lumps are gone. Then quickly stir in the melted butter.
Divide the batter between the prepared popover cups. They should be about 3/4 of the way full.
Bake the popovers for 20 minutes and then reduce the heat to 350°F. Bake for another 10 or 15 minutes. The popovers will be very golden brown.
My preference is to serve immediately and enjoy them warm!
Notes
Do not top off the cups! ONE POUR to 3/4 full. Topping off can prevent a full rise.
If you can help it DO NOT OPEN THE OVEN!
If your popovers are getting dark too quickly, you can move one of your oven racks up to the top and place a baking sheet on it to shield your popovers from the direct heating elements.
Recommended Products
As an Amazon Associate and member of other affiliate programs, I earn from qualifying purchases.
Nutrition Information:
Yield:
6
Serving Size:
1
Amount Per Serving:
Calories:

244
Total Fat:

10g
Saturated Fat:

5g
Trans Fat:

0g
Unsaturated Fat:

4g
Cholesterol:

144mg
Sodium:

390mg
Carbohydrates:

27g
Fiber:

1g
Sugar:

0g
Protein:

10g