Coffee Braised Pot Roast is a slow cooker recipe that will totally rock your socks off. This easy pot roast recipe will impress the coffee lovers in your life; it's loaded with flavor and requires very little work!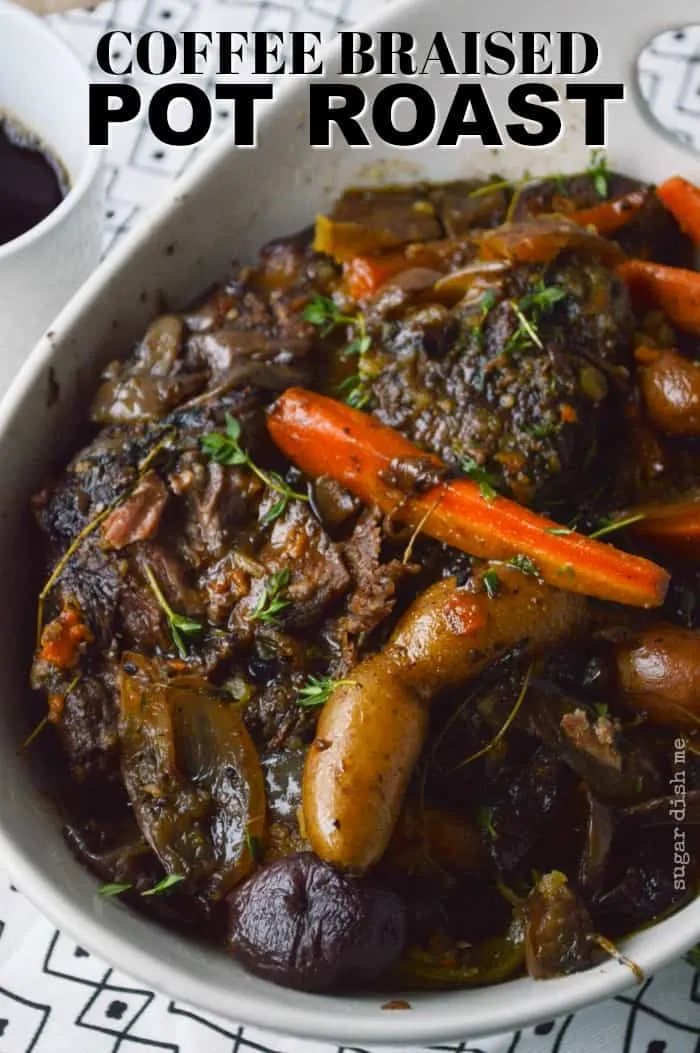 I'm calling 2018 the year of the post makeover. This was originally published in January, 2012, when I had only been blogging for 4 months! The recipe is solid. In fact, I think this is my very favorite pot roast recipe! So I took some time to update the ridiculous text here (sometimes I really don't know what I was thinking when I read what I wrote #embarrassing), add some actual photos so you know what you are making, and insert a printer-friendly recipe card.
As far as the recipe though? I did not change a thing. Coffee Braised Pot Roast! Get some.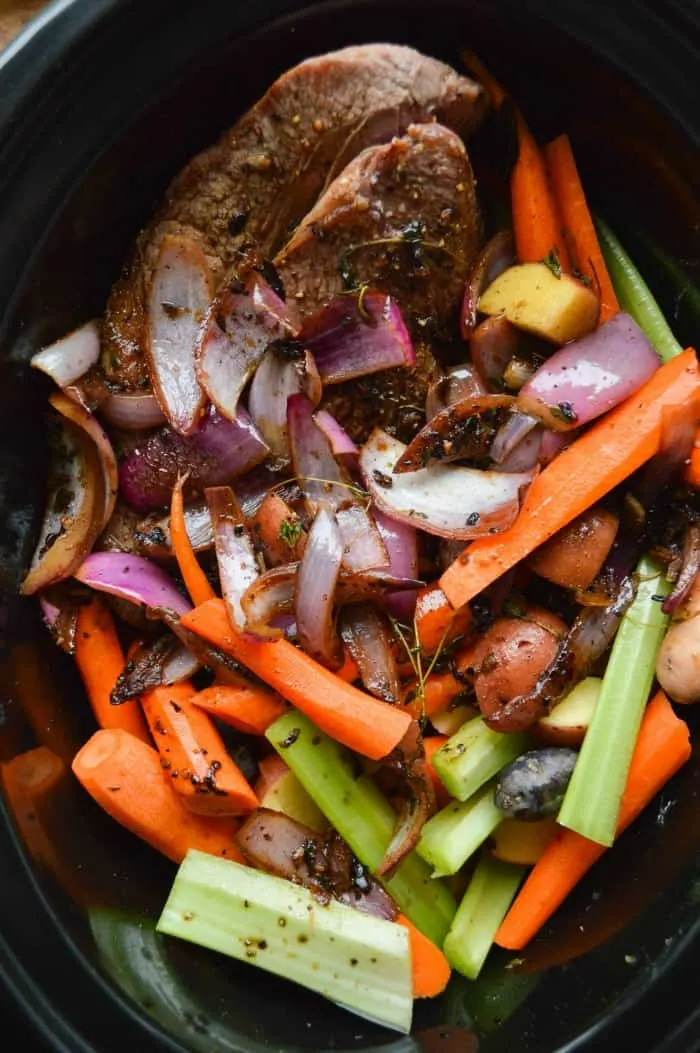 ORIGINAL EMBARRASSING TEXT; PROCEED WITH CAUTION.
I'll admit that I have an unreasonable relationship with coffee. It's my sidekick. Coffee wakes me every morning. It keeps my fingers warm while I clutch my mug, wishing this old house had better insulation (2018 edit: trailer. We were renting a single wide trailer while we saved up to buy a house. Just thought we should keep it real here.). Coffee keeps me company while I write. It wakes my sleepy head up early every day and occasionally gives me a sweet, iced pick-me-up in the afternoon.
A tall cup of joe is a great excuse to loaf around a cozy coffeehouse with my sweetheart and a newspaper (another edit: who is this person writing this article? I have literally never read a newspaper in a coffeehouse. Definitely waxing poetic here), and then buy the little guys fancy hot chocolate. It's a great companion in the car (so long as your car dancing does not spill it) and a welcome distraction when you need to wander from your desk and be off task for a few.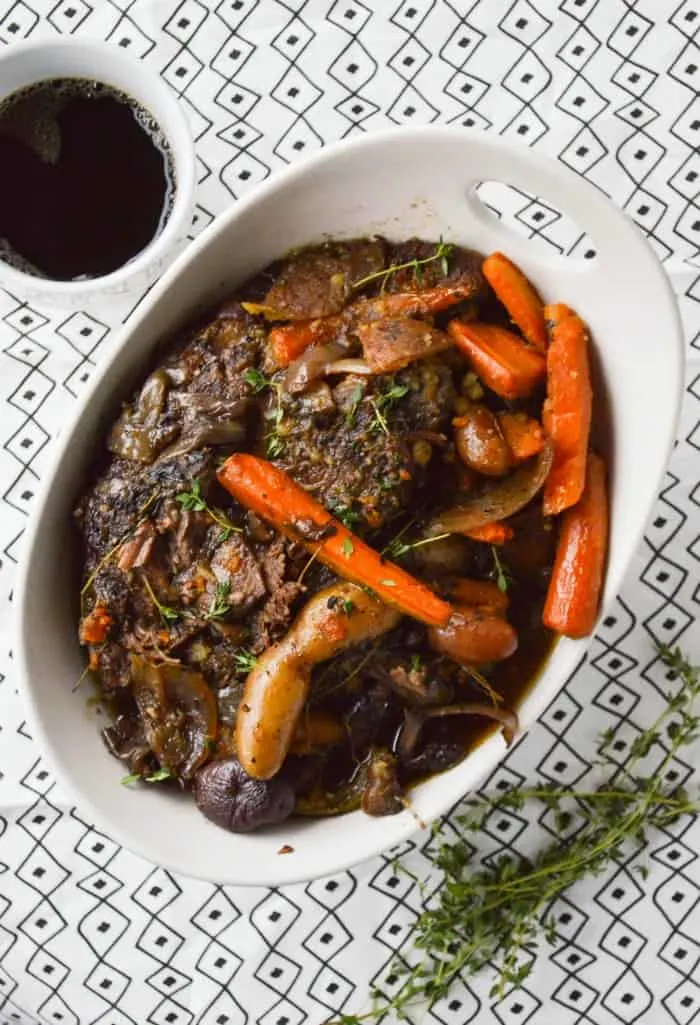 Coffee can accompany whipped cream, add ooomph to your Sour Cream Fudge Cake, flavor ice cream, and braise beef.
Yep. It's awesome. And it's also my scapegoat.
I don't need a lecture on the perils of caffeine dependency. We all have our vices. But coffee does tend to provide me with a most reasonable explanation for my sometimes out of turn behavior. Not paying attention? Not enough coffee. Talking too much? Too much coffee. I have a short fuse. I blame the coffee.
(another edit: I deleted like a whole swath of text here. Because it was this whole big story about going to the grocery store and 2018 me decided that it was both irrelevant and slightly rant-ey. If you really want to read the deleted text you can email me and I will pass it along, but really … it was cringey.)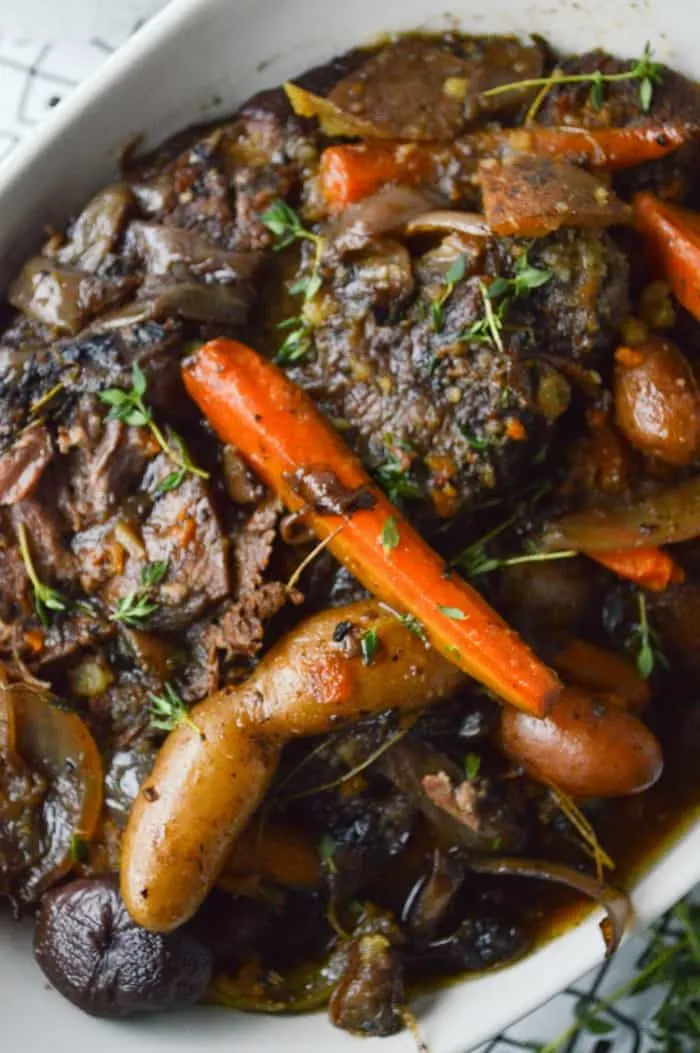 RETURN TO PRESENT DAY.
Dear readers that have stuck with me for 6 whole years while I have made a fool of myself on the internet: I assume it's because you like the food, but also, I love you.
Anyway.
This Coffee Braised Pot Roast Recipe is kind of a coffee-lover's dream. The flavor is rich and the coffee sort of boosts all of the other things in the pot. Being totally honest, it was YEARRRSSSS before I could make a decent pot roast. My mom has all the Midwest meat and potato skills, but I missed the boat. When I was originally testing this recipe I was THRILLED when it turned out to but ultra tender and all the delicious things you want a pot roast to be.
Other things I learned from my mom: How to make From Scratch Stew Beef. That's a favorite recipe from my childhood and I just adore it. We called it "beef n rice".
Heat a little oil and sprinkle all sides of a 3 or 4 pound beef chuck roast with coarse ground black pepper and kosher salt. Over medium high heat, brown all sides of the roast and then remove it to your slow cooker. Saute onions in the drippings left in the pan until they are golden brown. Then add garlic, thyme, a little kosher salt, more coarse ground black pepper and onion powder.
Add coffee and balsalmic vinegar and then bring it all to a boil. Reduce the heat and simmer for a minute. Then add all of it to the slow cooker with the beef roast.
Add potatoes if you like, and then cover and cook on high for 5 hours or on low for 7-8 hours. Halfway through tuck carrots and celery in with the roast, recover and continue cooking.
When the roast and vegetables are done, remove them to a plate for serving and ladle the drippings into a saucepan. Skim the fat off the top and over medium heat wisk in the cornstarch (you can add a little of the broth in a cup and mix it with the cornstarch until it's smooth to keep the lumps out of your gravy- then pour this into the remaining drippings on the stovetop).
Coffee Braised Slow Cooker Pot Roast
Ingredients
A 3-4 pound beef chuck roast
kosher salt, to taste
black pepper, to taste (I'm partial to freshly ground or coarse)
2 teaspoons vegetable oil
2 onions, very coarsely chopped
4 cloves of garlic, finely minced
1 teaspoon dried thyme
1/2 teaspoon kosher salt
1/2 teaspoon black pepper
1/2 teaspoon onion powder
3/4 cup strong coffee
2 tablespoons balsalmic vinegar
3 cups of potatoes, cut into "two-bite" size pieces
3 stalks of celery, trimmed and cut into sticks
7 carrots, peeled and cut into sticks
2 tablespoons of cornstarch
To Make
Heat the vegetable oil in a large skillet over medium heat. Season all sides of the beef chuck roast with the kosher salt and coarse ground pepper and then brown it in the skillet. Remove it to the slow cooker. Add the onions to the skillet and saute until soft and golden. Then add the garlic, thyme, kosher salt, onion powder, and black pepper. Cook for another couple of minutes and then por in the coffee and balsalmic vinegar. Bring to a boil. Reduce the heat and simmer for another minute and then empty the contents of the skillet into the slow cooker. If you are using potatoes, add them now. Cover and cook on high for 5 hours or low for 7-8 hours. In the middle of cooking, add the carrots and celery. When the roast is done remove it to a plate. Ladle the drippings into a saucepan and wisk in the cornstarch until it's thickened over medium heat. Serve the roast with the gravy.
And have coffee after dinner.
Recipe adapted from Eating Well.