This recipe for Classic Oatmeal Raisin Cookies is perfectly chewy with a slightly crisp edge, a hint of cinnamon, and loads of plump raisins. It's the cookie recipe you remember from childhood!
These cookies are the devil.
I cannot stay away from them. These are the cookies that sit on the counter and convince me that 7 am oatmeal raisin cookies with coffee should definitely be a thing. After two days of "breakfast cookies" I literally shoved the cake plate at my kid and said 'please take these away from me'. They are so good that I needed to physically remove them from the property. ?
Before we get into the nitty gritty of this recipe, I will say that I LOVE RAISINS IN COOKIES AND I AM NOT SORRY ABOUT IT. There's a whole raisin hating community campaigning for chocolate chip oatmeal cookies, and those are GOOD, don't get me wrong, but here we are celebrating the classic combination of raisins, old fashioned oats, plenty of butter, and a hint of cinnamon.
How do you make the best oatmeal cookies from scratch?
This is a super simple recipe. These cookies mix up in one bowl and the dough doesn't require any refrigeration. No waiting! Just mix, bake, and eat.
Ingredients
1 cup (2 sticks) unsalted butter, softened
1 cup packed light brown sugar
1/2 cup granulated sugar
2 eggs
1 1/2 teaspoons vanilla extract
1 1/2 cups all purpose flour
1 teaspoon baking soda
1/2 teaspoon salt
1 teaspoon cinnamon
3 cups old fashioned (rolled) oats
1 cup raisins
1/2 cup chopped walnuts or pecans (optional)
These are mostly pantry staples, so hopefully you have most of these things handy. Normally, with simple recipes, I like to emphasize that quality ingredients make all the difference, but really, aside from my hope that you'll use real butter and vanilla, you can go all the way bargain discount with this recipe and the cookies will still be just as delicious.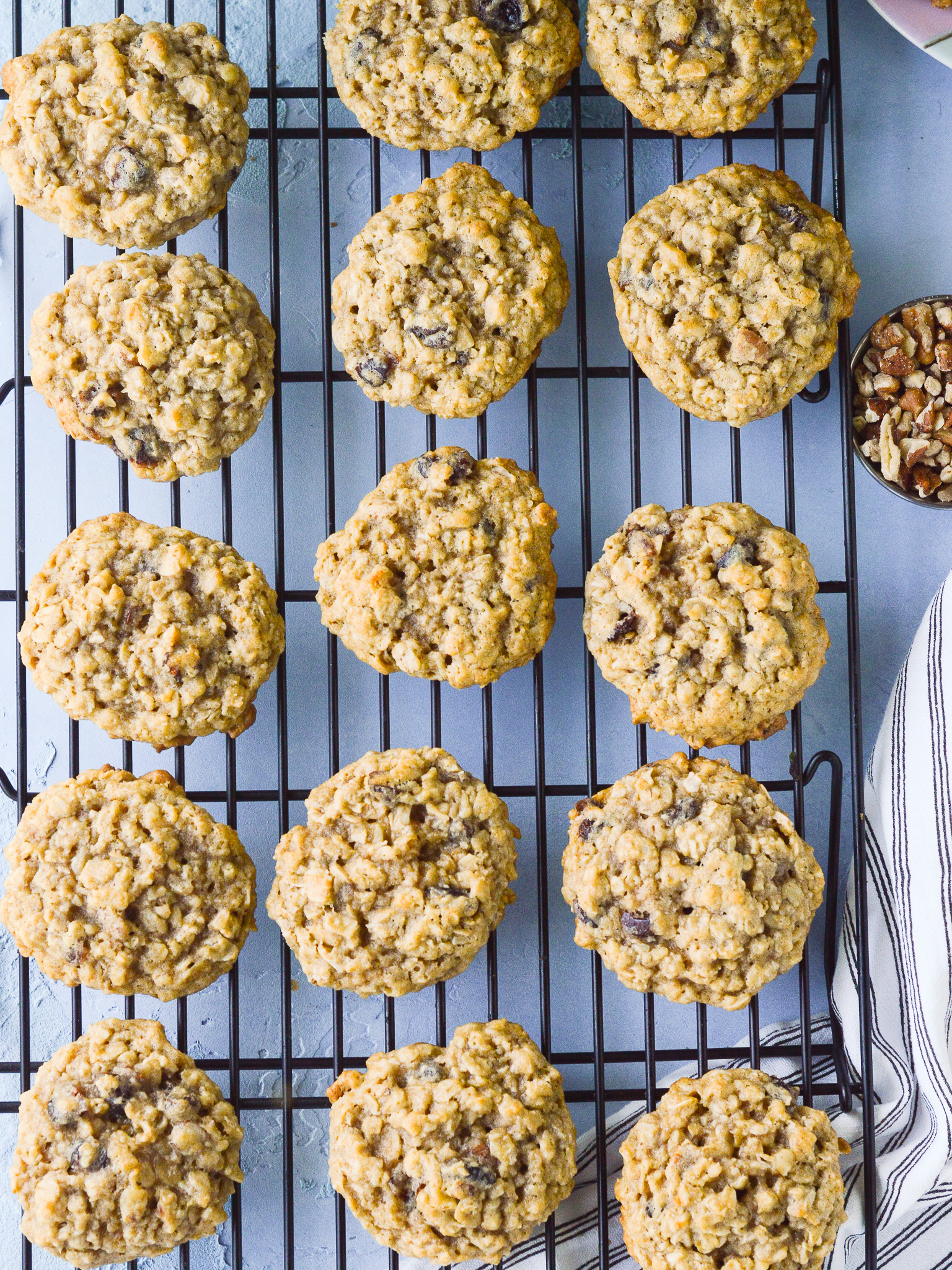 Can you substitute quick oats for rolled or old-fashioned oats?
Yes! In this recipe, quick-cooking oats and old-fashioned or rolled oats are interchangeable. Old Fashioned Oats are what you can see in the images here. They are a little more hearty and rustic; the shape of the oats are large and flat. Quick Cooking Oats are milled a little more, so they have a more uniform appearance.
Tip: You can pulse old fashioned oats in the blender or food processor to turn them into quick cooking oats.
My Favorite Tools for Making Cookies
I am a champion of cheap baking and will be the first person to tell you that you can TOTALLY make amazing cookies without a bunch of fancy ish. All you really need is a working hand mixer, a bowl, and a cooke sheet. But if you are looking for things to add to your kitchen that will make baking simpler / more fun / more efficient, these are my faves.
Classic Oatmeal Raisin Cookie Instructions
You can make these in one bowl, and they are pretty fuss-free. The detailed instructions are below (and they are printable!) but the basics are as follows.
Preheat the oven and line your baking sheets.
Beat the butter and sugar until smooth and fluffy.
Add the eggs and mix until combined. Scrape down the bowl and mix in the vanilla.
Toss in the flour, baking soda, and salt. Mix until combined.
Add the oats. Mix. Scrape down the bowl, and mix until combined.
Stir in the raisins and nuts (if you're using nuts).
Portion into 1″ dough balls and place on the prepared baking sheet 2″ apart.
Bake for 10-12 minutes. Cool for a few minutes before removing to a wire rack to cool completely.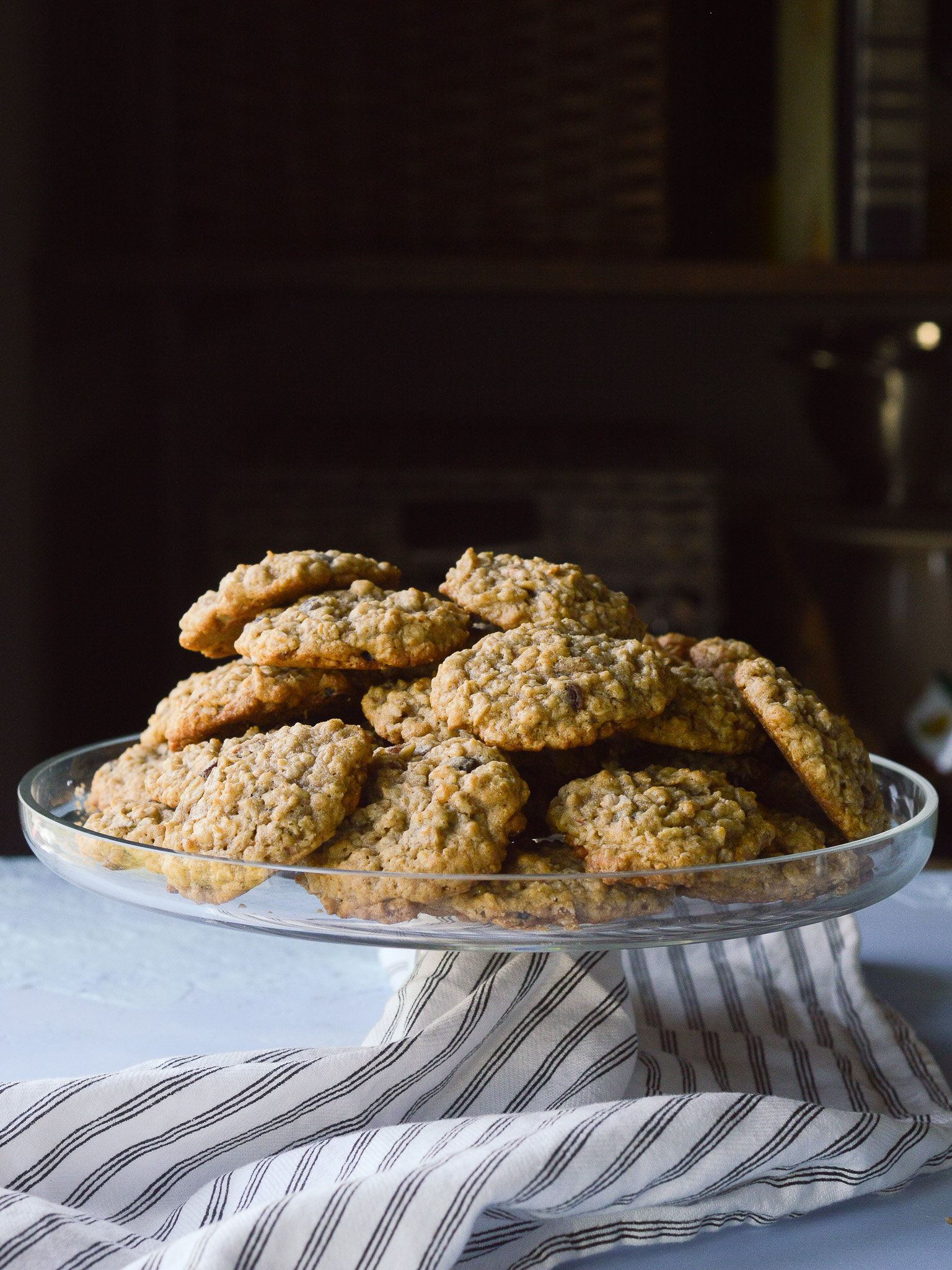 Are Oatmeal Cookies healthy?
LOL.
There are probably healthy-ish oatmeal cookie recipes in the world, but these are not it. There are two whole sticks of butter here, so despite the old fashioned oats being good for your heart, all that butter and sugar DEFINITELY negates anything resembling health food.
These Oatmeal Raisin Cookies are a treat.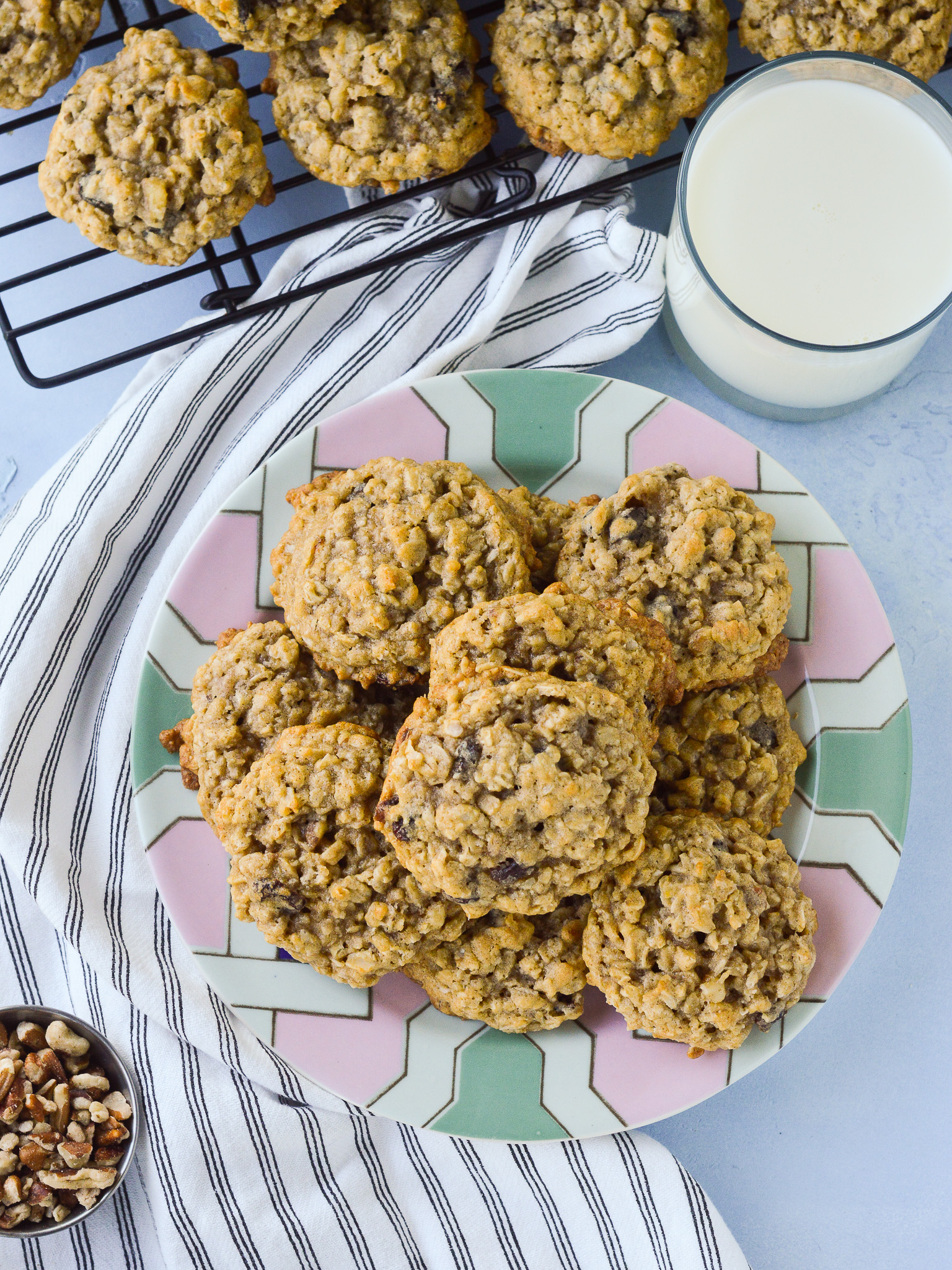 Other Recipes To Try
Yield:

36
Classic Oatmeal Raisin Cookies
This classic recipe for oatmeal raisin cookies turns out the best chewy cookies with a hint of cinnamon and a slightly crisp edge. This is a no-fail recipe that mixes up in just one bowl and bakes in just 10 minutes. No chilling, no waiting, just awesome cookies.
Ingredients
2 sticks of butter, softened
1 cup of packed brown sugar
1/2 cup sugar
1 1/2 teaspoons vanilla
2 eggs
1 1/2 cups all purpose flour
1 teaspoon baking soda
1/2 teaspoon salt
1 teaspoon cinnamon
3 cups of old fashioned oats– you can use the quick cooking oats, but I like the texture of the old fashioned better
1 cup raisins
1/2 cup chopped walnuts or pecans ***totally optional, but reeeeally good***
Instructions
Preheat the oven to 350.
Beat together the softened butter and sugars.
Then blend in the vanilla and eggs until smooth.
Mix in the flour, baking soda, cinnamon, and salt.
Abandon your hand mixer for a nice wooden spoon and stir in the oats, raisins, and nuts (if using).
Spoon about a tablespoon per cookie onto an ungreased baking sheet and bake for 10-12 minutes (they will not look done when you take them out- also the "puff" up in the oven and then settle as they cool).
Let them cool on the cookie sheet for 1-2 minutes before cooling completely on a wire rack.
Recommended Products
As an Amazon Associate and member of other affiliate programs, I earn from qualifying purchases.
Nutrition Information:
Yield:
36
Serving Size:
1
Amount Per Serving:
Calories:

158
Total Fat:

7g
Saturated Fat:

4g
Trans Fat:

0g
Unsaturated Fat:

3g
Cholesterol:

24mg
Sodium:

111mg
Carbohydrates:

21g
Fiber:

1g
Sugar:

11g
Protein:

2g