While we all marvel at the summer weather before the first day of spring (this is at least my third post on the topic; read more here and here) I am honing my skills at cooking without turning the a/c on. It's MARCH for crying out loud! I should still be sporting a light jacket with my flip flops, not kicking off the covers and sprawling across the bed while I'm trying to sleep.
I have thrown all the windows open and am refusing to turn the air on. In March. Because that's wrong.
It's very nice in here in the morning- I have yet to add a pile of ice cubes to my morning coffee cup- so I have decided that the morning is when I will be cooking dinner. For those that cannot be home to cook in the morning, this can all be done the night before. When it's hot outside you can still be friends with your crock pot.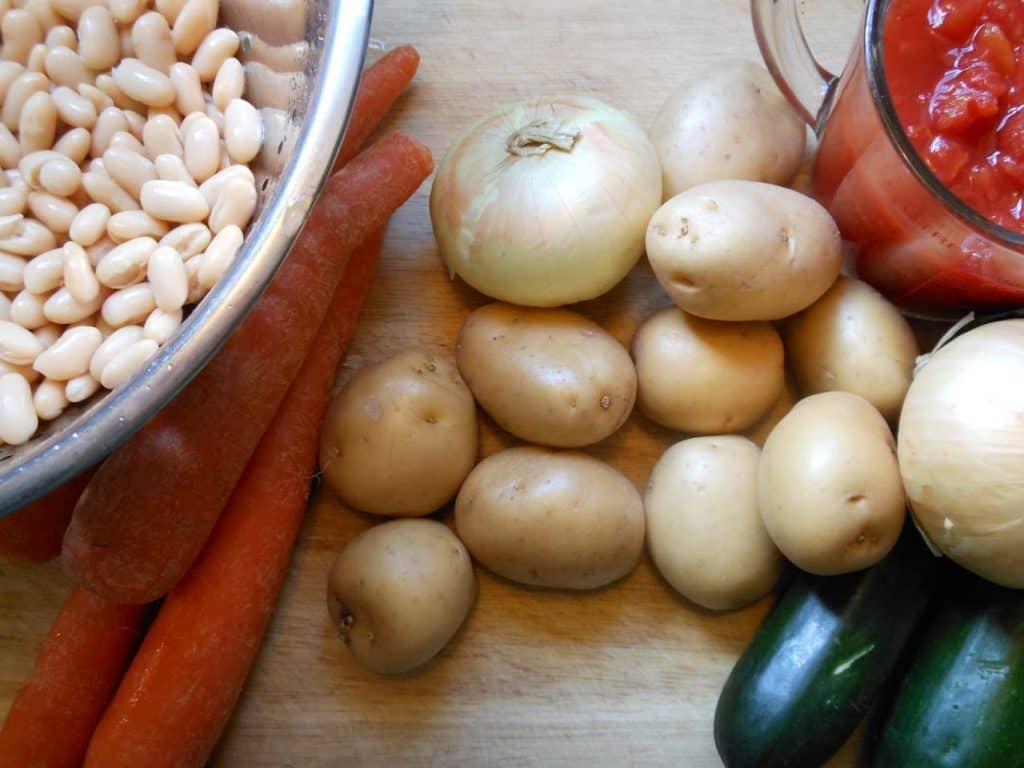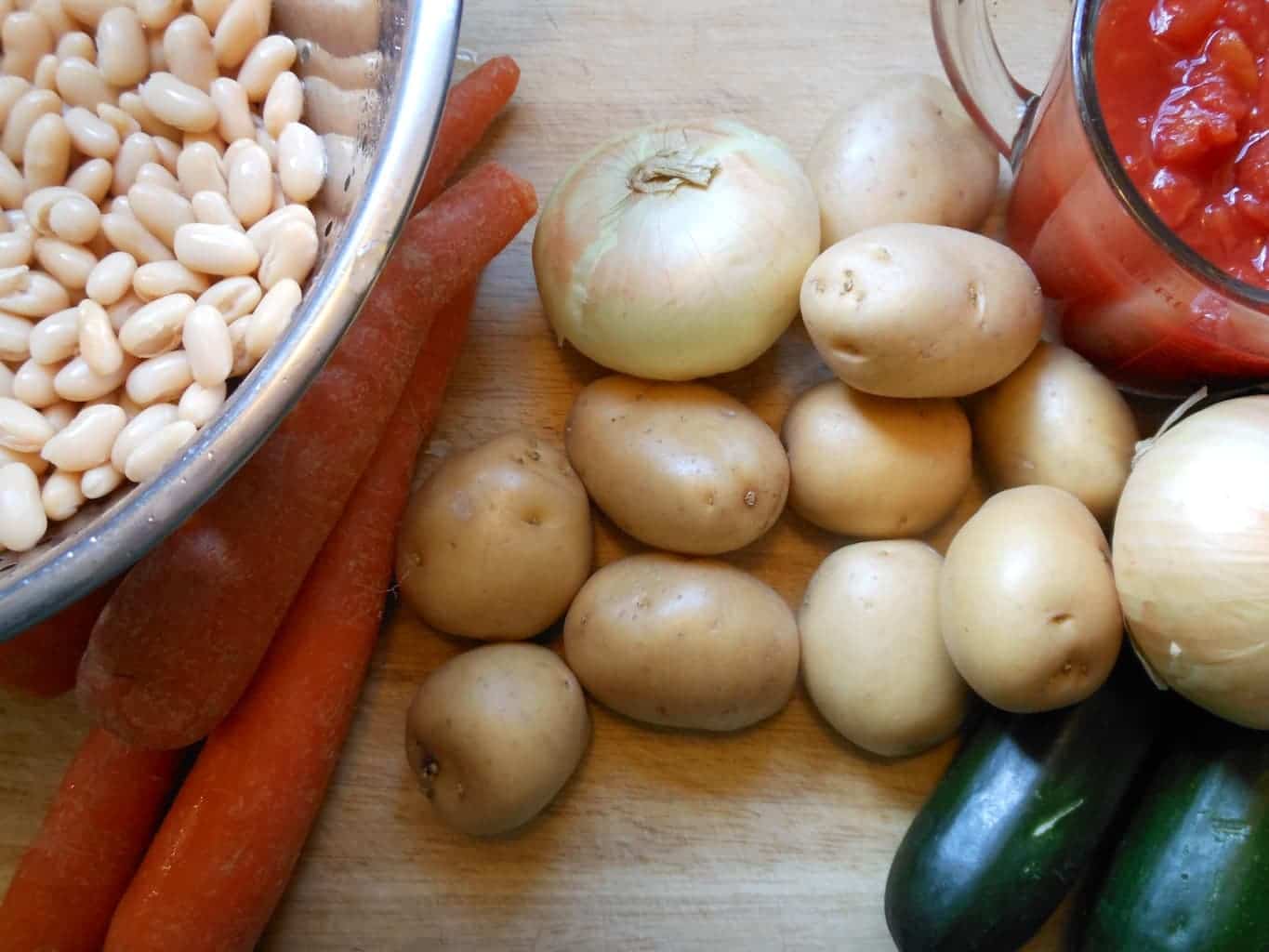 I found this recipe for Soupe Au Pistou (translation: a delicious pile of vegetables with a dollop of pesto on top) in the March 2012 issue of Family Circle magazine. Coarsely chop up carrots, gold potatoes (you need a variety that will hold up), onions, and zucchini. You could also add yellow squash or fresh green beans: draw your inspiration from what's fresh and plentiful when you're out and about.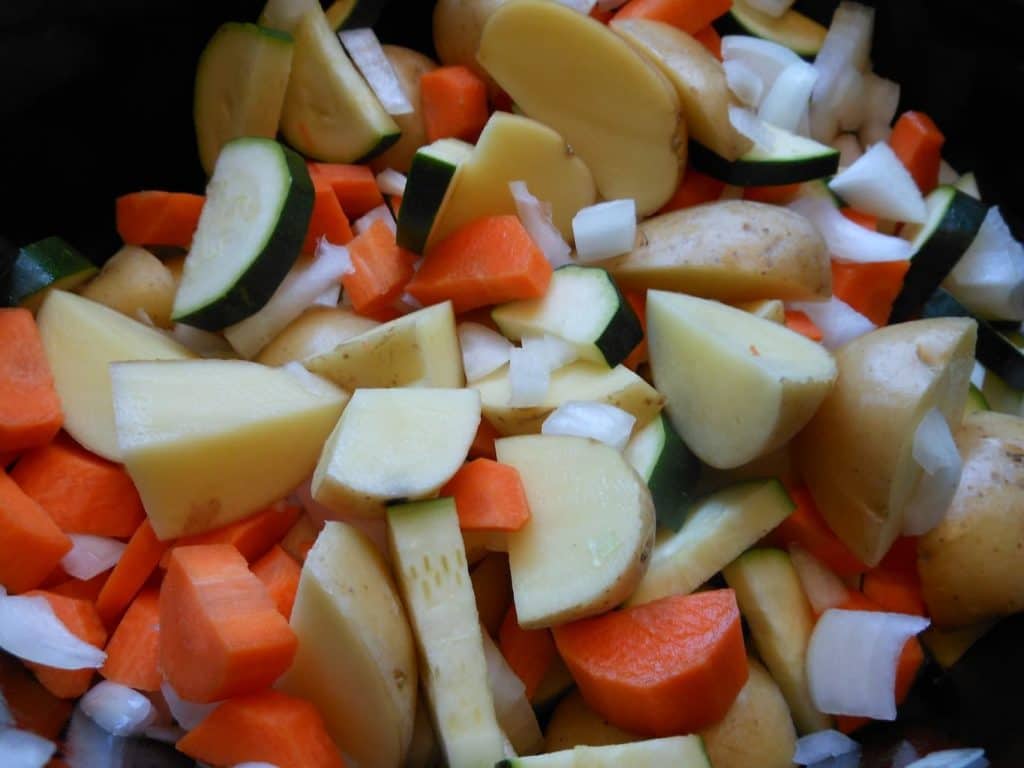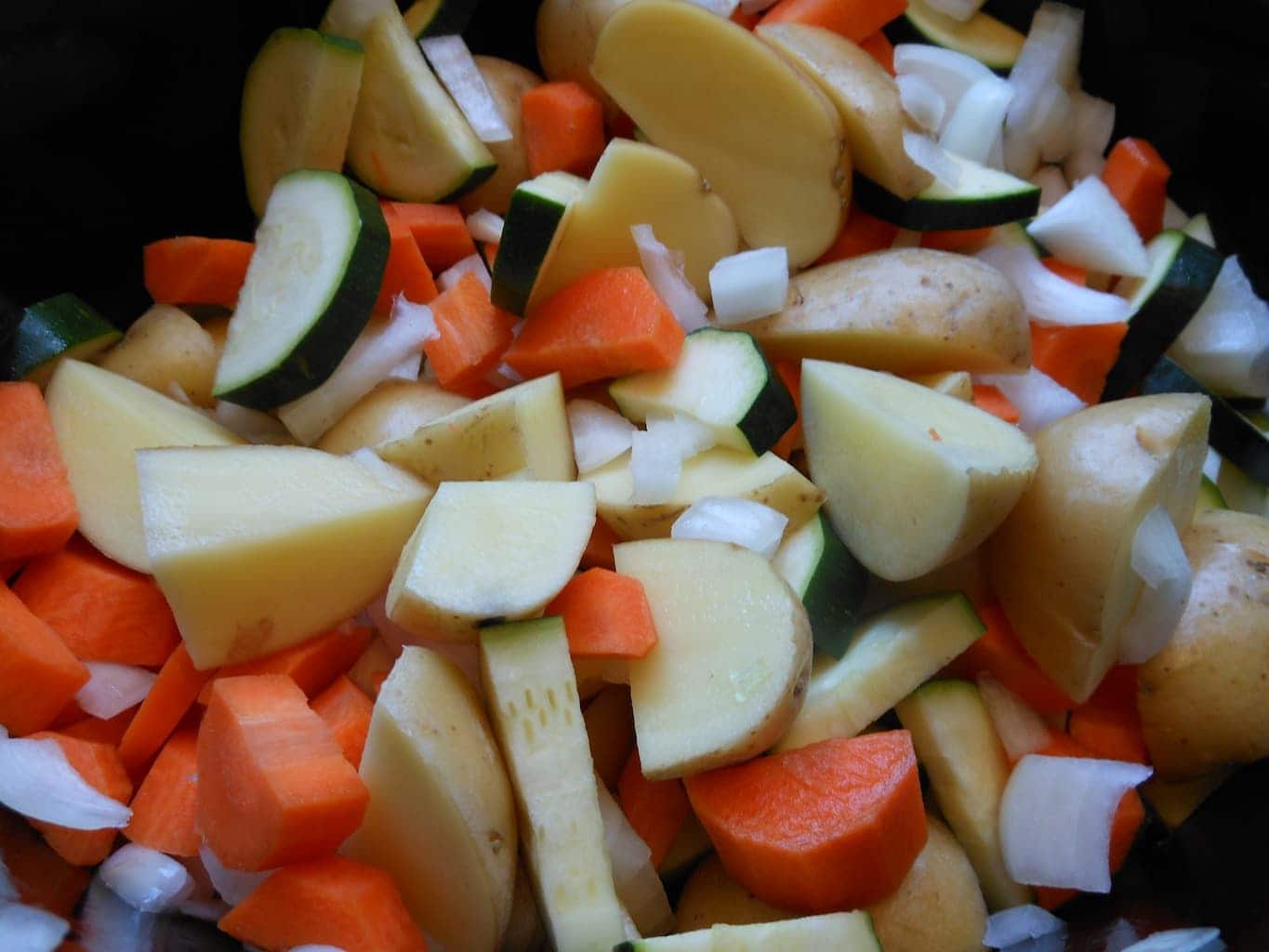 Stir in a can of your favorite diced tomatoes,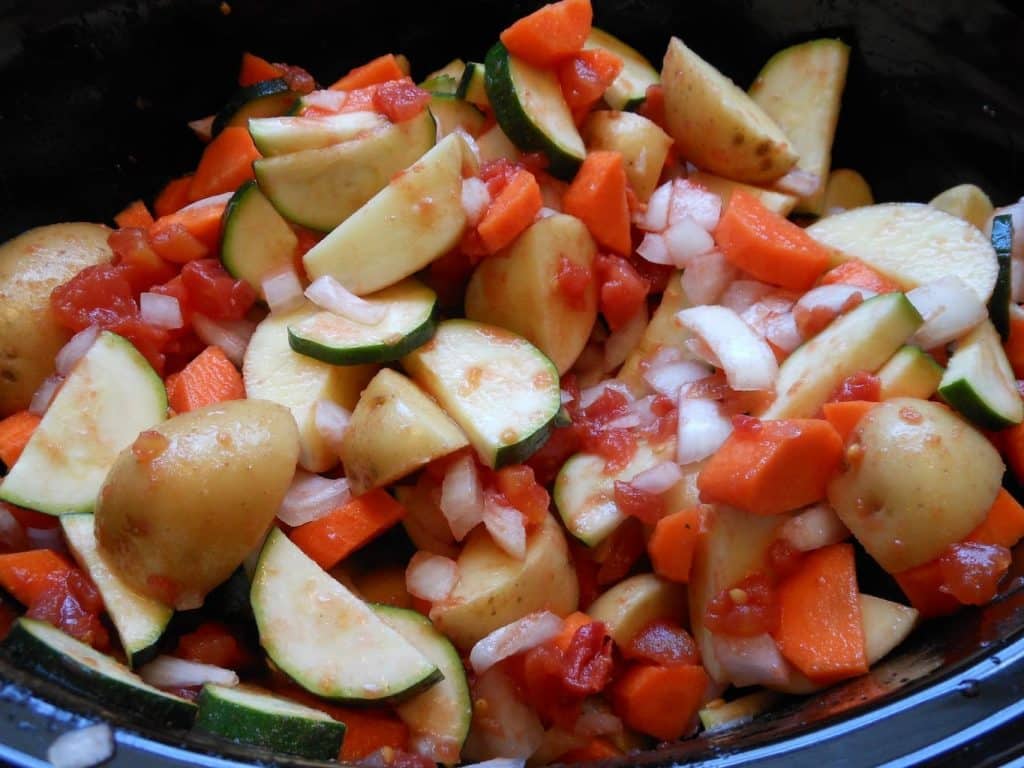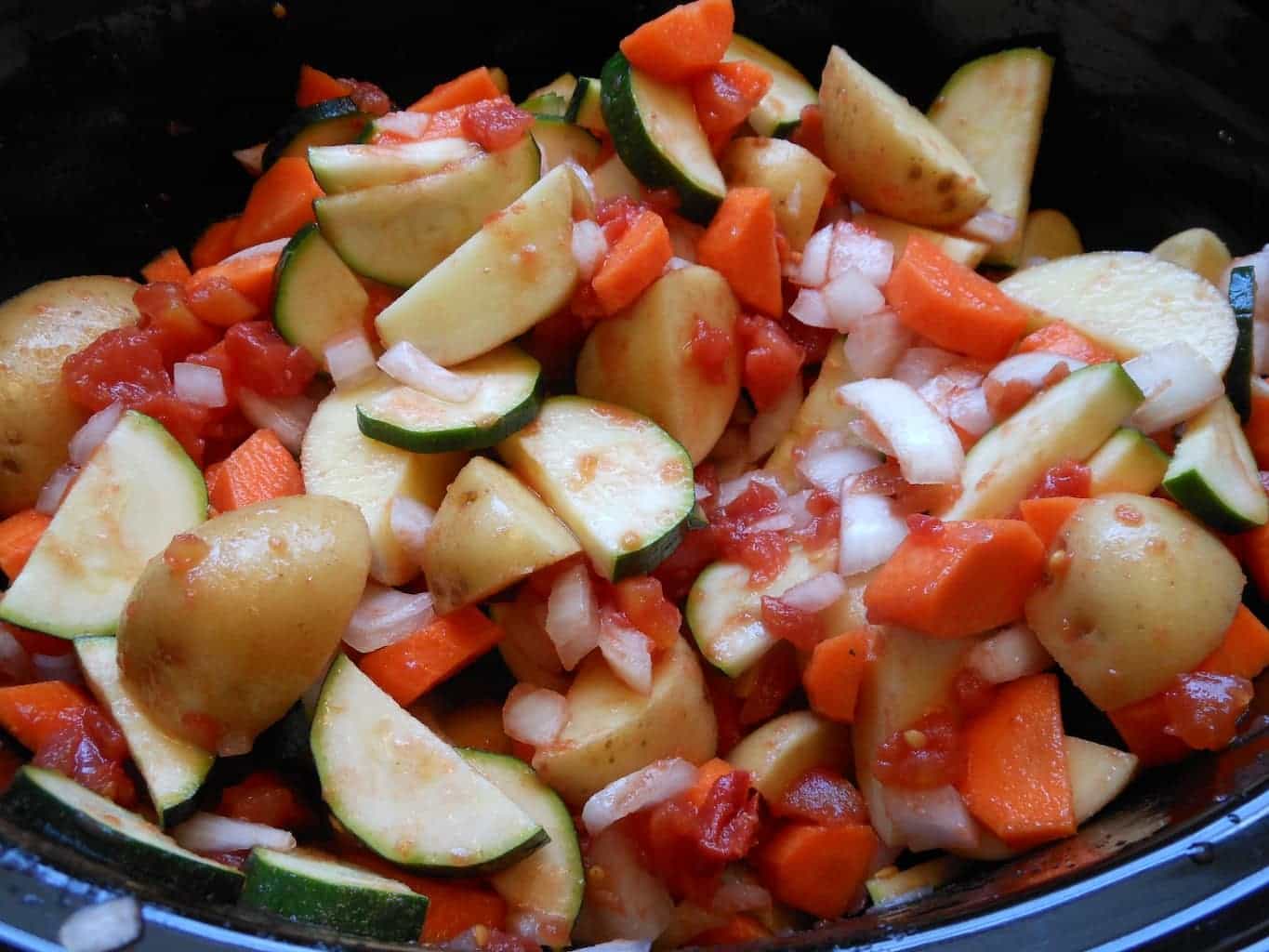 Season with kosher salt and coarse ground black pepper according to your taste and pour in 8 cups of water. Put the lid on and cook on low for 8 hours. Thirty-ish minutes before your soup is done, add one cup of uncooked soup-ey pasta (I used ditalini; I couldn't find any alphabet or stars) and two 15 ounce cans of white beans.
Asparagus is my favorite spring vegetable. Trimmed and cut into two-inch pieces, if I were using asparagus, I'd add it now (because no one likes asparagus that's mushy).
Replace the lid and continue slow-cooking for that last thirty minutes until your pasta is tender. Serve with a generous spoonful of pesto on top (you can purchase pesto already prepared or use your favorite recipe). Hot soup, cool house.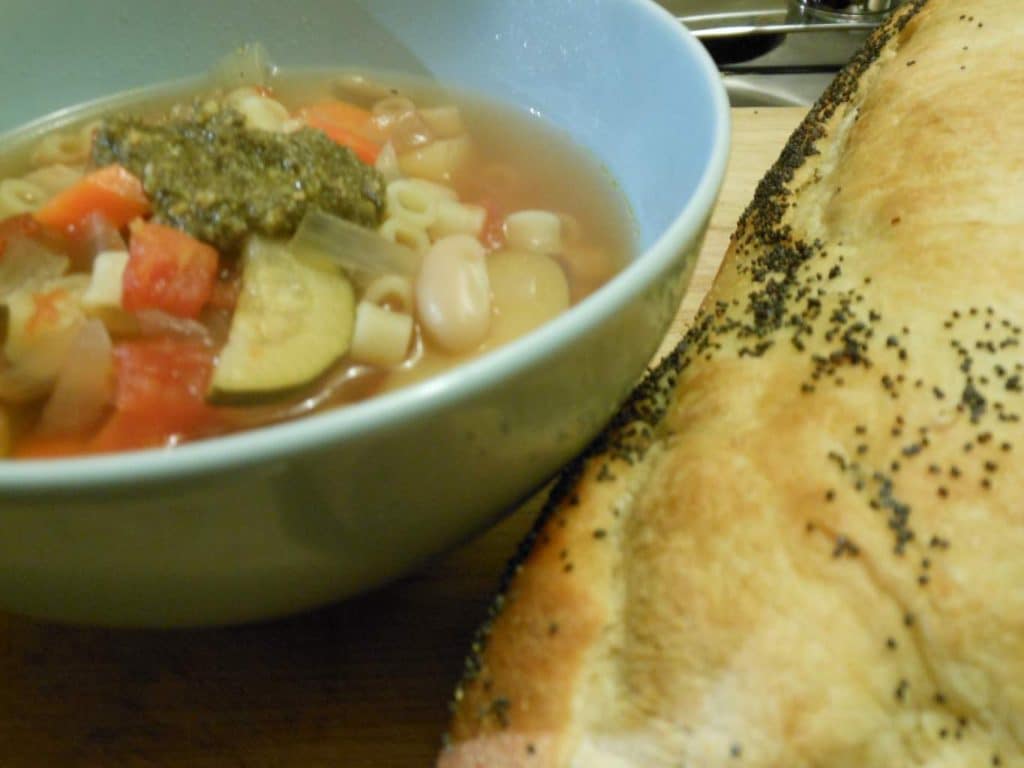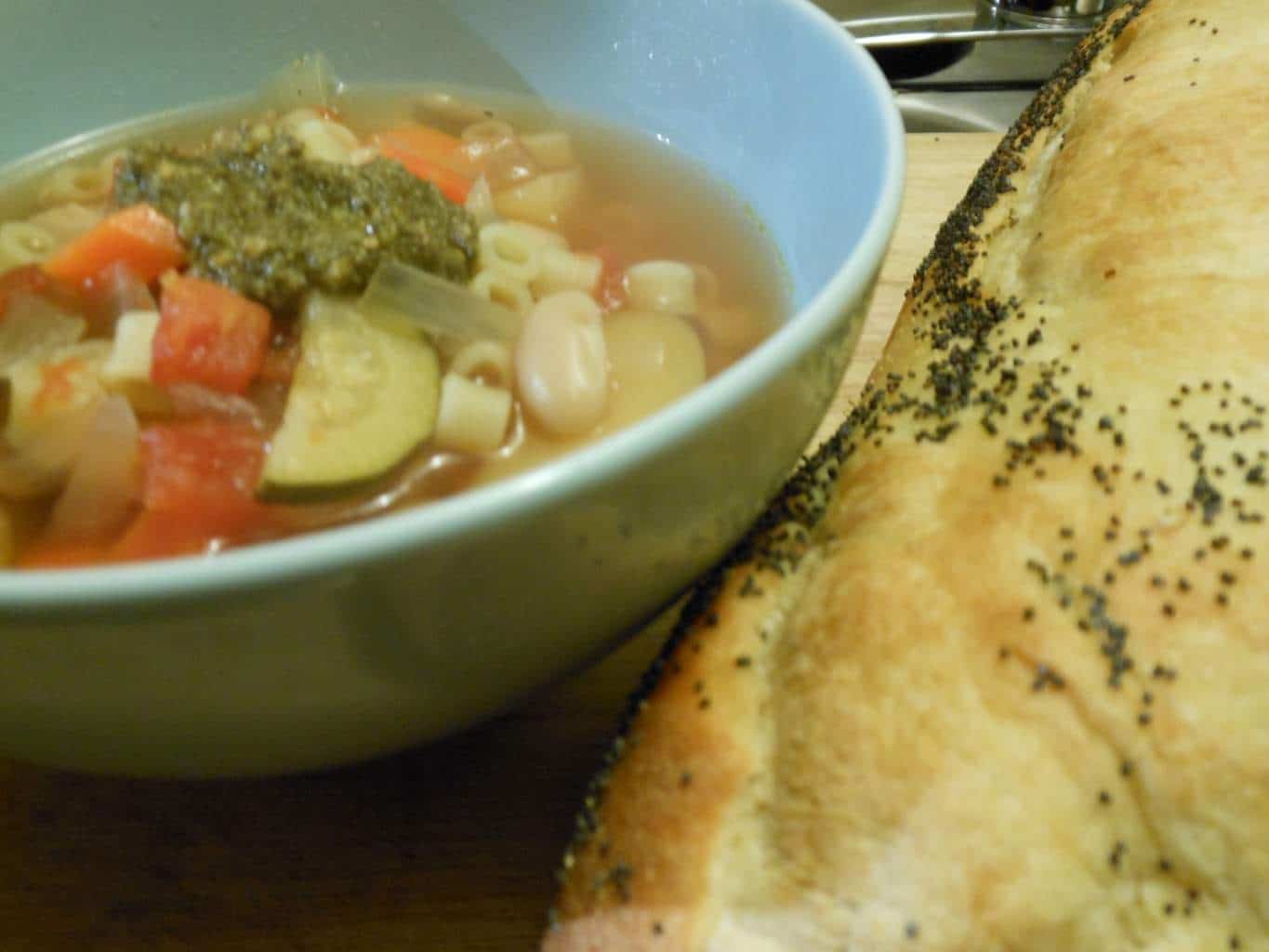 For a delicious (and simple) homemade pesto recipe CLICK HERE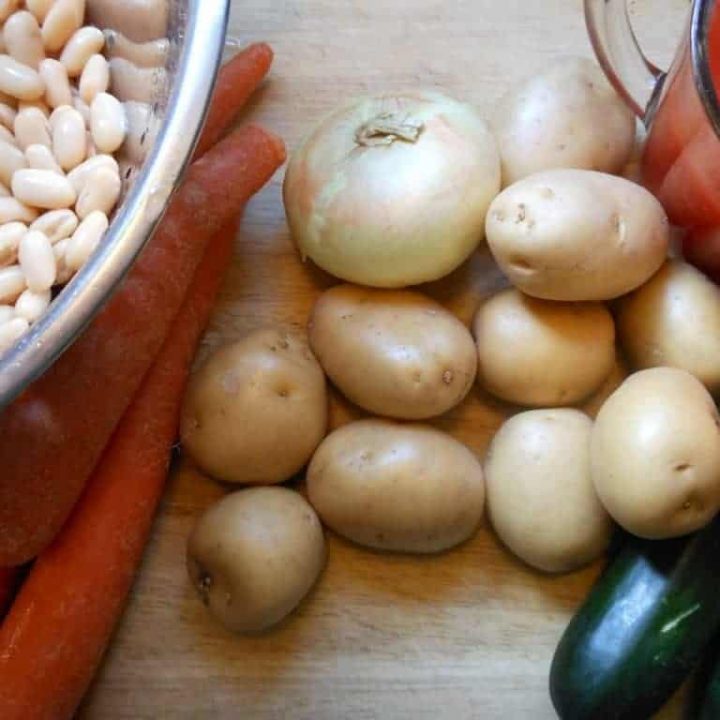 Slow Cooker Vegetable Pesto Soup
Yield: 6-8

Prep Time: 10 minutes

Cook Time: 8 hours

Total Time: 8 hours 10 minutes

Slow Cooker Vegetable Pesto Soup is great all year round! Fresh summer veggies, white beans, and a dollop of pesto for a delicious vegetarian soup that won't heat up your house!
Ingredients
4 medium carrots peeled and coarsely chopped
4-5 cups of peeled and chopped boiling potatoes (I used Honey Gold)
2 medium onions, chopped
2 zucchini, cut in half lengthwise and then sliced into half-moons
1 can of your favorite diced tomatoes
salt and pepper to taste
8 cups of water
2 cans drained and rinsed cannellini beans (really any beans would do)
1 cup of dry soup-ey pasta (I used ditalini)
pesto- prepared or purchased ahead of time and added according to your taste
Instructions
Add carrots, potatoes, onions, zucchini (along with any other veggies that hold up in a slow cooker; squash, fresh green beans...) and canned tomatoes to the crock of a large slow cooker.
Salt and pepper to taste. Stir until all the veggies are well combined.
Pour in 8 cups of water, cover and slow cook for 8 hours on low.
About 30 minutes before the soup is done, add in the pasta, beans, and any other "soft" veggies you like (asparagus). Re-cover and continue cooking for that last thirty minutes
Serve this veggie soup with a big spoonful of pesto on top!
Recommended Products
As an Amazon Associate and member of other affiliate programs, I earn from qualifying purchases.
Nutrition Information:
Yield: 12 Serving Size: 1
Amount Per Serving: Calories: 418Total Fat: 4gSaturated Fat: 1gTrans Fat: 0gUnsaturated Fat: 3gCholesterol: 2mgSodium: 405mgCarbohydrates: 85gFiber: 12gSugar: 9gProtein: 15g


(from Family Circle, March 2012)