This Copycat Mellow Mushroom Pizza Dough yields the perfect blend of crisp and chewy pizza crust. It's my favorite from-scratch pizza dough recipe!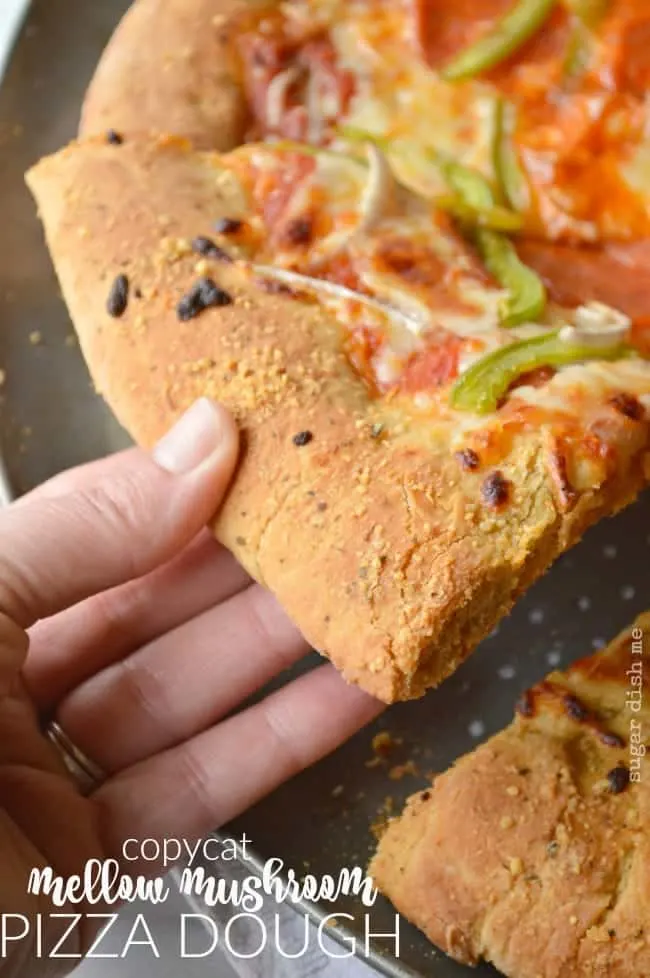 FIRST. Do you know about the Mellow Mushroom? The first time I had Mellow Mushroom Pizza was in Boone, NC when I was in high school. Since then I have been obsessed. So of course I had to make a copycat Mellow Mushroom pizza dough recipe.
They say the secret is spring water in the dough – like it says that right on the box. BUT *I* say the secret is the molasses that feeds the yeast. Obviously I'm just guessing because they never gave me their pizza dough recipe, but the molasses are what made the biggest difference for me here at home with texture, flavor, and color.
Now I just need to bribe Chad to build me a pizza oven.
So. If you are looking for a fast pizza dough recipe, you need to check out my 10 Minute Pizza Dough. It's terrific.
If you have some time to languish over traditional dough, THIS IS THE ONE YOU WANT.
Actual active time is only a few minutes of kneading. The rest of the time is spent with the dough rising; you can walk away.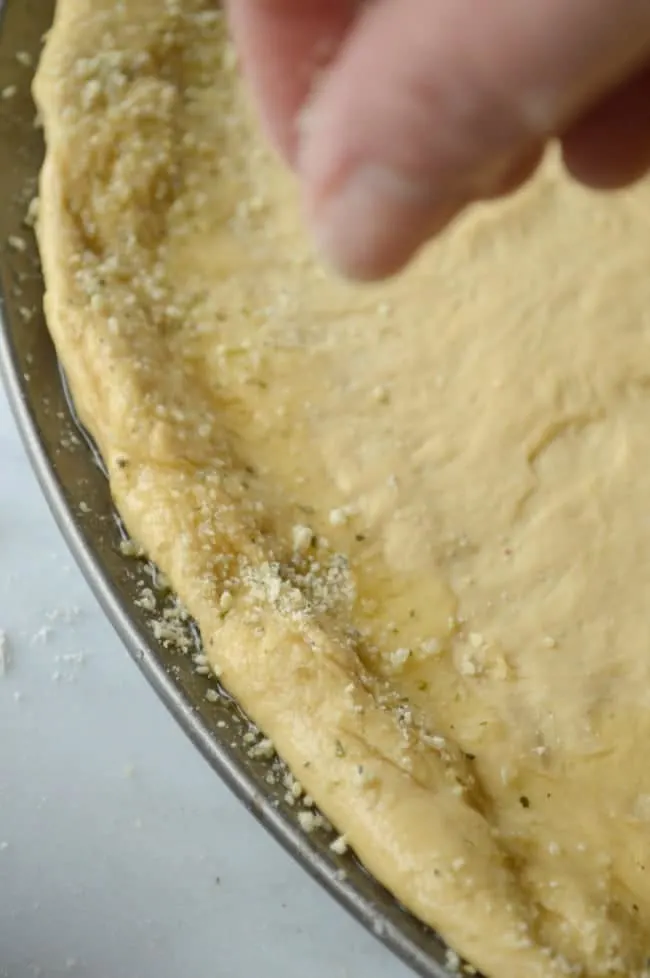 This pizza crust can handle a HEAP of toppings (check this Pulled Pork Pizza Recipe), but is also perfect for minimal classic pizza toppings (my kids are obsessed with pepperoni and black olives).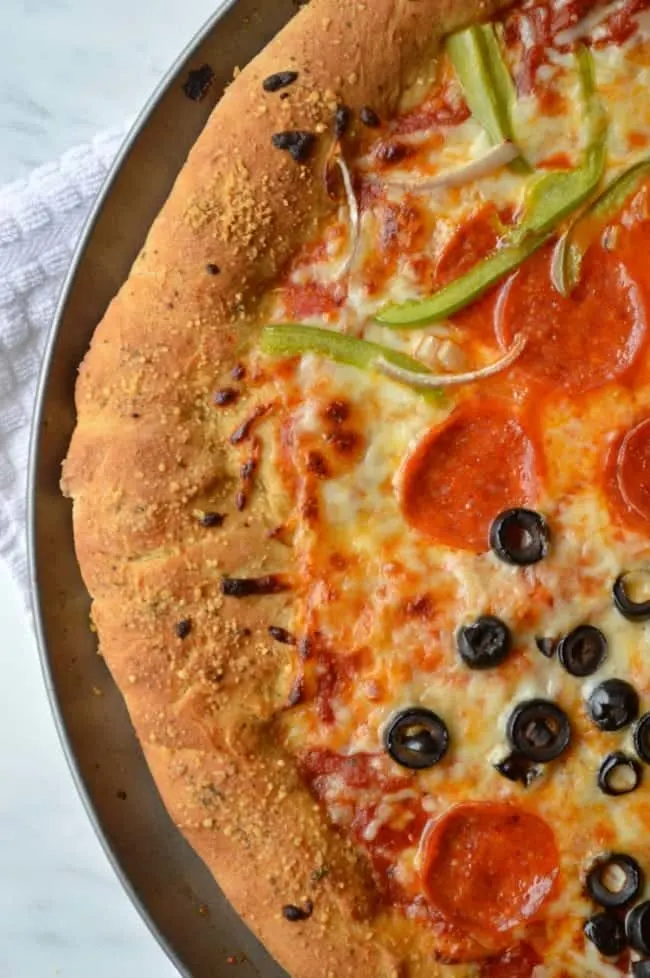 If you have a pizza stone, USE IT. Pizza stones turn the outside of your pizza crust the perfect amount of crisp. If you DON'T have a pizza stone, don't fret. You can use a regular baking sheet or I like to use this Pizza Pan ( the holes in the pan make for a nice crisp bottom crust).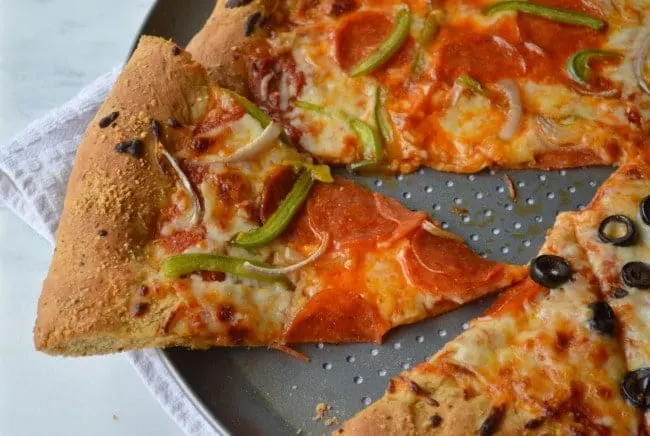 Homemade pizza LIKE A PRO!
This Homemade Pizza Sauce Recipe from my friend Nicole over at Or Whatever You Do is also a total winner! Delicious homemade pizza sauce to add to your Copycat Mellow Mushroom Pizza Dough. Pizza skillzzzzz.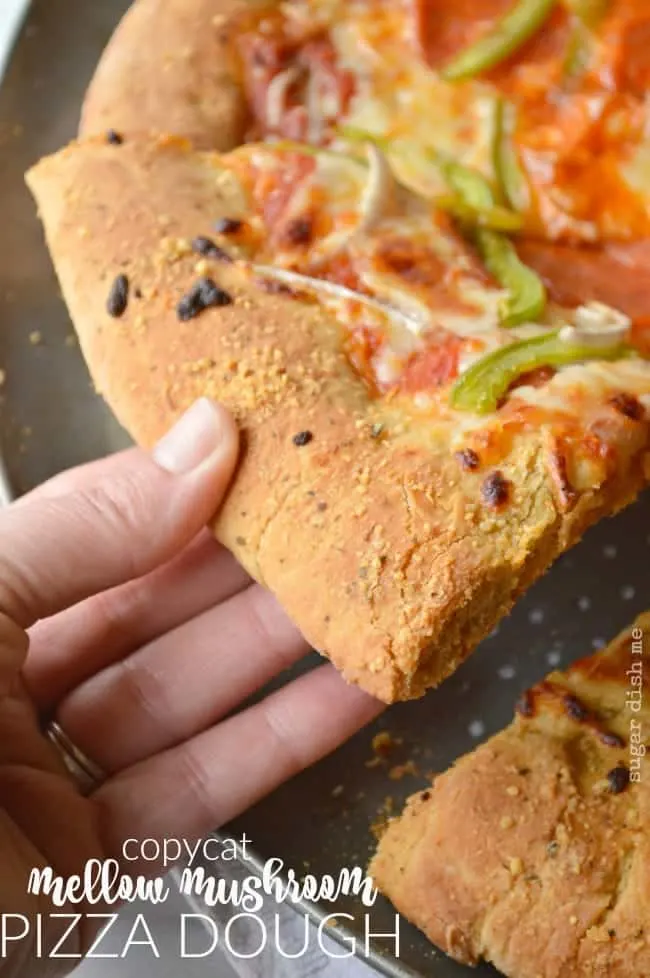 Yield:

2 pizzas
Copycat Mellow Mushroom Pizza Dough
Total Time:
2 hours
17 minutes
This Copycat Mellow Mushroom Pizza Dough yields the perfect blend of crisp and chewy pizza crust.
Ingredients
1 ½ cups warm water (check your yeast package for exact temperature recommendations)
2 tablespoons molasses
4 ½ teaspoons active dry yeast (2 (¼ ounce) packets)
3 ½ cups all purpose flour (plus more for your work space)
2 teaspoons salt
1 tablespoon olive oil (plus more to brush on the crust before baking)
2 tablespoons grated Parmesan cheese
Instructions
Stir together the warm water and molasses until the molasses dissolve (I like to do this in a liquid measuring cup). Add the yeast and let it sit for about 2 minutes.
If you have a stand mixer, go ahead and add the flour and salt to the mixer bowl and start it on low using the dough hook attachment. If you are working without a stand mixer, quickly whisk together the flour and salt. Pour the wet mixture into the dry mixture. Add the olive oil.
Again, if you are using a stand mixer, let it continue on low for about 5 minutes. If you are working without a mixer, stir together all the ingredients and then knead in the bowl with your hands for 5-7 minutes.
With floured hands, form the dough into a ball and place it in a lightly greased bowl. Cover with a kitchen towel and let it rise in a warm place for 2 hours (it should at least double in size). ***See Note***
To make the pizza, preheat the oven to 525F. NOT BROIL. If you are using a pizza stone, be sure to preheat it with the oven. Scatter a little flour or cornmeal on your pizza peel (if using) or onto your baking sheet. Stretch half the dough to your desired shape. Brush the crust with olive oil and sprinkle it with grated Parmesan cheese. Top as desired.
Bake the pizza for 6- 7 mins.
Recommended Products
As an Amazon Associate and member of other affiliate programs, I earn from qualifying purchases.
Nutrition Information:
Yield:
16
Serving Size:
2
Amount Per Serving:
Calories:

122
Total Fat:

1g
Saturated Fat:

0g
Trans Fat:

0g
Unsaturated Fat:

1g
Cholesterol:

1mg
Sodium:

280mg
Carbohydrates:

24g
Fiber:

1g
Sugar:

2g
Protein:

4g
If you love making pizza at home you should also try…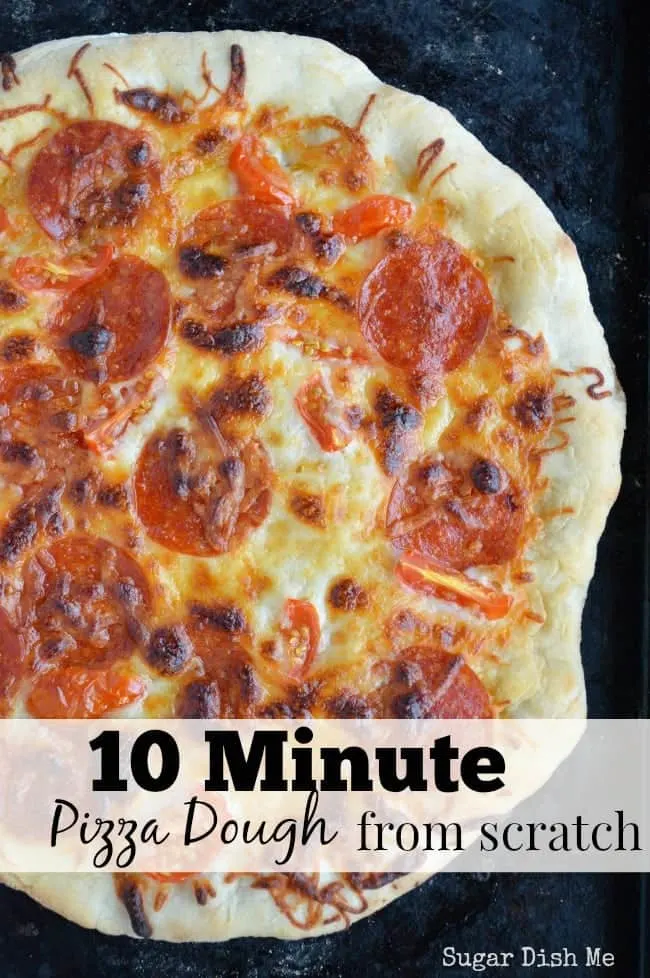 10 Minute Pizza Dough from Scratch