The best summer produce scattered on top of whole milk mozzarella, pistachio pesto, and my favorite pizza crust. Summer Vegetable Skillet Pizza is a great way to use up your garden or farmer's market haul!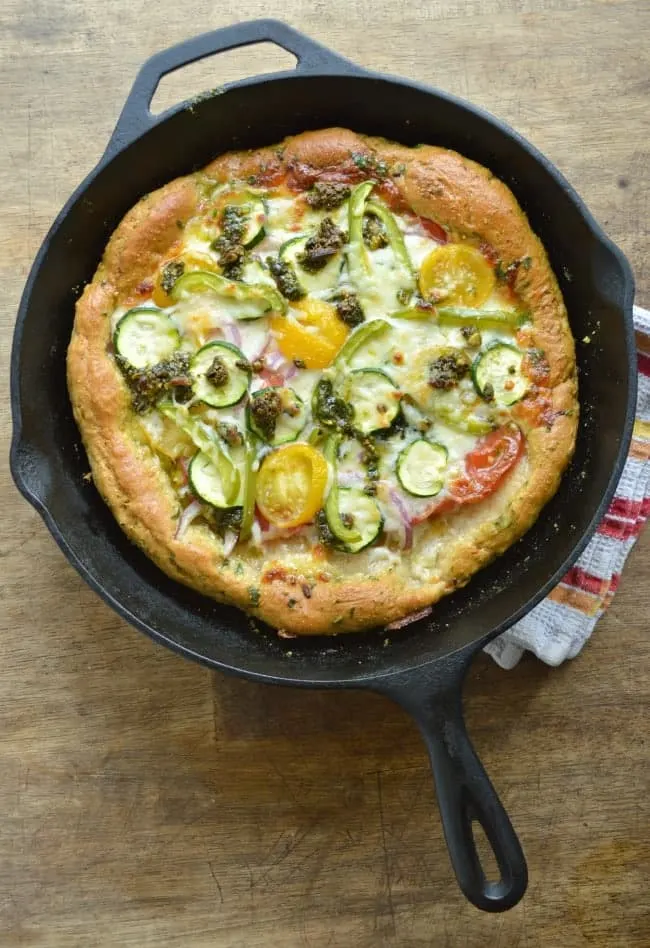 The only thing we don't have at our new house (besides a pool, I mean) is a garden. I have herbs in pots everywhere and flowers stuffed into every available patch of dirt, but we have yet to find a great spot for a vegetable garden. The raised bed we had planted was the only redeeming quality of our old place.
But I am still obsessed with all the summer vegetables. And pizza is still my favorite vehicle for delivery.
I married a couple of recipes here – it's fun to build on favorites from years past. I used the technique from my Buffalo Chicken Skillet Pizza recipe, and the crust from my Pulled Pork Pizza Recipe. Cooking pizza in a skillet makes it happen FAST, and the pizza crust?! Well. It definitely deserves a post all it's own. I'll get to it one day, but for now you have to trust me that it is THE BEST HOMEMADE PIZZA CRUST EVER.
I don't say that lightly.
It's a Mellow Mushroom Copycat Pizza Crust which, if you have ever had a Mellow Mushroom pizza, you know full well why I am making such a big deal about this right now.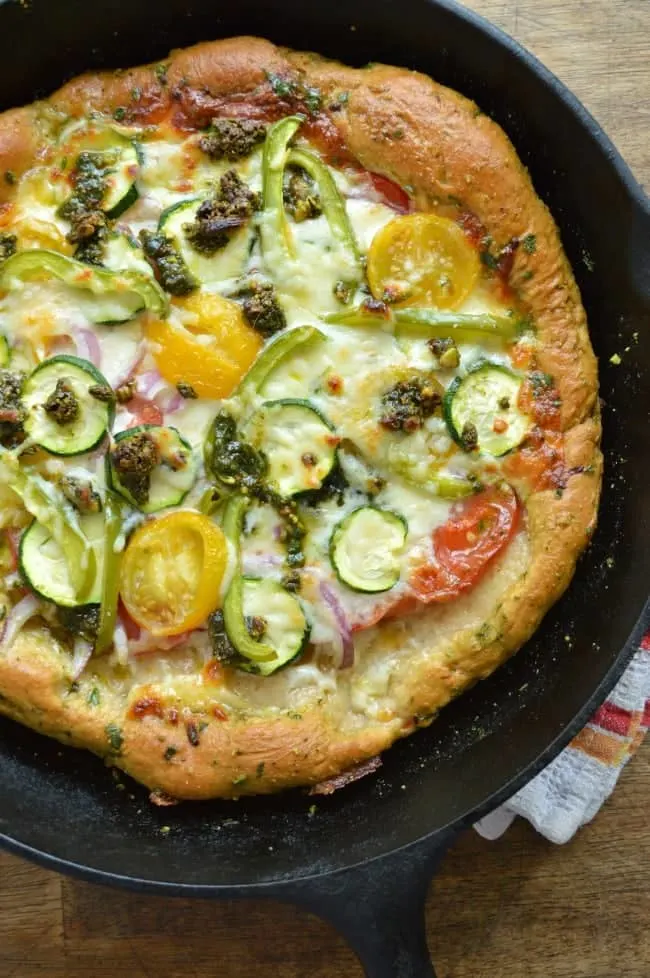 But I didn't stop there!
I also made pesto. Pistachios, all the basil I could trim off the plants I have strewn all over the place, olive oil, and a little Parmesan cheese. I didn't use any tomato sauce; just the fresh pesto and big thick slices of heirloom tomatoes.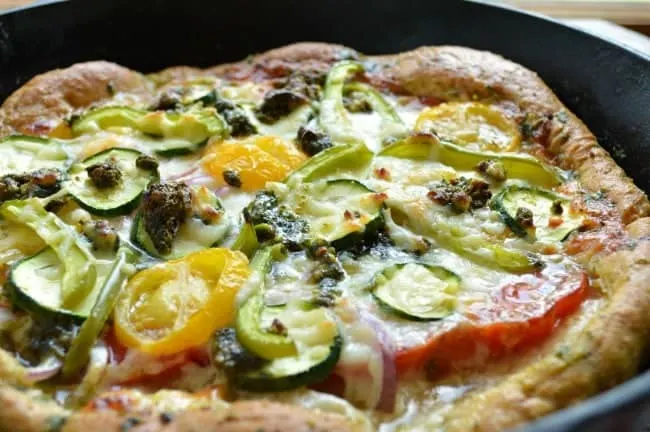 My pizza is also loaded with yellow tomatoes, bell peppers, red onions, zucchini, and whole milk mozzarella cheese. I 'd say use whatever you have way too much of! Squash? Do it. Broccoli? Yes. Sweet corn or eggplant or asparagus? Yup.
Summer Veggie Skillet Pizza has all the good stuff.
Summer Vegetable Skillet Pizza
My favorite pizza crust loaded with fresh summer vegetables, whole milk mozzarella, and pistachio basil pesto. Note that prep time includes time for the dough to rise; to save time you can use a prepared refrigerated pizza dough.
Ingredients
For the Crust:
1 ½ cups warm water (check your yeast package for exact temperature recommendations)
2 tablespoons molasses
4 ½ teaspoons active dry yeast (2 (¼ ounce) packets)
3 ½ cups all purpose flour (plus more for your work space)
2 teaspoons salt
1 tablespoon olive oil
For the Pesto:
⅓ cup shelled pistachios
2 cups fresh basil leaves
2 cloves garlic
¼ cup grated Parmesan cheese
¼ cup olive oil (or enough to help the pesto move in the food processor)
salt & pepper to taste
For the Pizza:
1 large heirloom tomato, cut into thin slices
8 ounces whole milk mozzarella
½ cup zucchini, thinly sliced
½ cup red onion, thinly sliced
½ cup bell peppers, thinly sliced
½ cup yellow tomatoes, thinly sliced
Instructions
To make the pizza dough, stir together the warm water and molasses until the molasses dissolve (I like to do this in a liquid measuring cup). Add the yeast and let it sit for a few minutes while you work on other things.
If you have a stand mixer, go ahead and add the flour and salt to the mixer bowl and start it on low using the dough hook attachment. If you are working without a stand mixer, quickly whisk together the flour and salt. Pour the wet mixture into the dry mixture. Add the olive oil. If you are using a stand mixer, let it continue on low for about 5 minutes. If you are working without a mixer, stir together all the ingredients and then knead in the bowl with your hands for 5-7 minutes.
With floured hands, form the dough into a ball and place it in a lightly greased bowl. Cover with a kitchen towel and let it rise in a warm place for 2 hours (it should at least double in size). ***See Note***
To make the pesto, place all the pesto ingredients in your food processor and drizzle in the oil, pulsing until the pistachios are crushed, the basil and garlic are finely chopped, and it all comes together.
Heat the oven to 525F (NOT broil) with your 10-12" cast iron skillet inside. When you are ready to cook, you will need to work fast so make sure to have your pesto handy and your vegetables prepped.
Take your hot skillet from the oven. Shape half your pizza dough into a circle that will fill the bottom of the skillet and come halfway up the sides.
Spoon pesto onto the dough. Layer with the large heirloom tomato slices, then the cheese, then the sliced zucchini, onions, bell peppers, and yellow tomatoes.
Drizzle with a little more pesto and bake for about 8 minutes. The Crust will rise and turn a pretty golden brown, the veggies will look roasted, and the cheese will be melted.
When you take the pizza from the oven, brush the crust with more pesto. Slide the pizza from the pan to slice and serve.
Repeat with the remaining dough and pizza toppings.
Notes
1. If you only want to make 1 pizza, the dough will keep in an airtight container in the refrigerator for up to 4 days. You can also freeze the dough.
2. This makes a pretty good bit of pesto! Save leftovers for use on pasta, bruschetta, potatoes, soups, and roasted vegetables!
3. Feel free to use a prepared refrigerated dough to save time!
4. Use any vegetables you have in excess!
If you are looking for more ways to use up summer veggies…