Jalapeño Popper Flatbreads are the cat's meow! Er … the dog's bark. No. That's annoying. Jalapeño Popper Flatbreads are my carb-happy way to enjoy all the awesome flavors in a jalapeño popper. Makes a lot. And there's bacon! Share it with friends.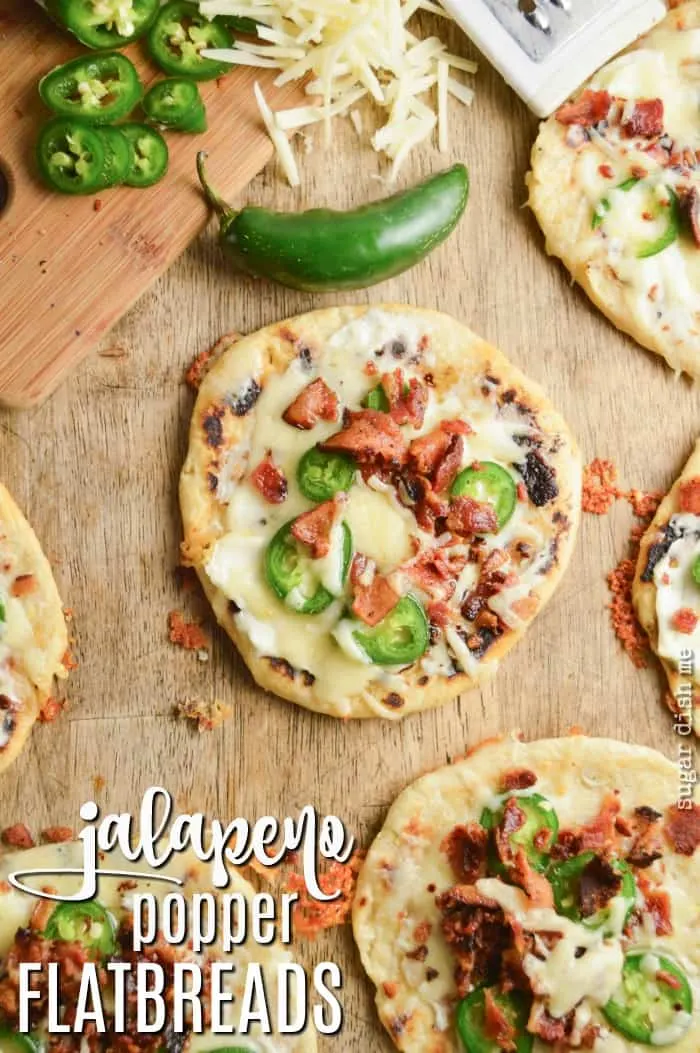 Update January 2018! Sometimes I forget about my old recipes and I go back and remake them because…
a. I want to re-test and make sure I wasn't totally off my rocker in 2013 (when I originally made these flatbreads),
b. to re-photograph because sometimes old recipes are awesome but LOOK 100% embarrassing, and c. because it's fun to re-share nearly 5-year-old recipes with readers that have jumped in here since then.
I can tell you that I loved these just as much this time, and everyone that ate them did, too! Making my own flatbread was fun [for me] but if you just wanna tackle the actual toppings part, scroll down for some easy shortcut recommendations.
Here's the original copy that I wrote way back in June 2013:
Summer has commenced in North Carolina and it is HOT. Sticky suffocating why-don't-I-have-my-own-pool kind of heat.
Yesterday Evan turned the hose to the "garden shower" setting and then just stood under it for like 5 solid minutes. If anyone drove by here they might have thought that I bathe my kids in the yard. But whatever. It's hot.
And because it's so hot (you see everyone that complained it was still cool in May? I KNEW summer was going to smack us in the face with all its might, no matter the mild spring) I had mostly decided that I would not be cooking for the next 3 months. We can live on strawberries and lettuce, right?
Yeah that's not right.
My resolve to never cook until August lasted about 15 minutes. It ended right about the time that I found a handful of jalapeno peppers ready to be picked on my plants in the garden.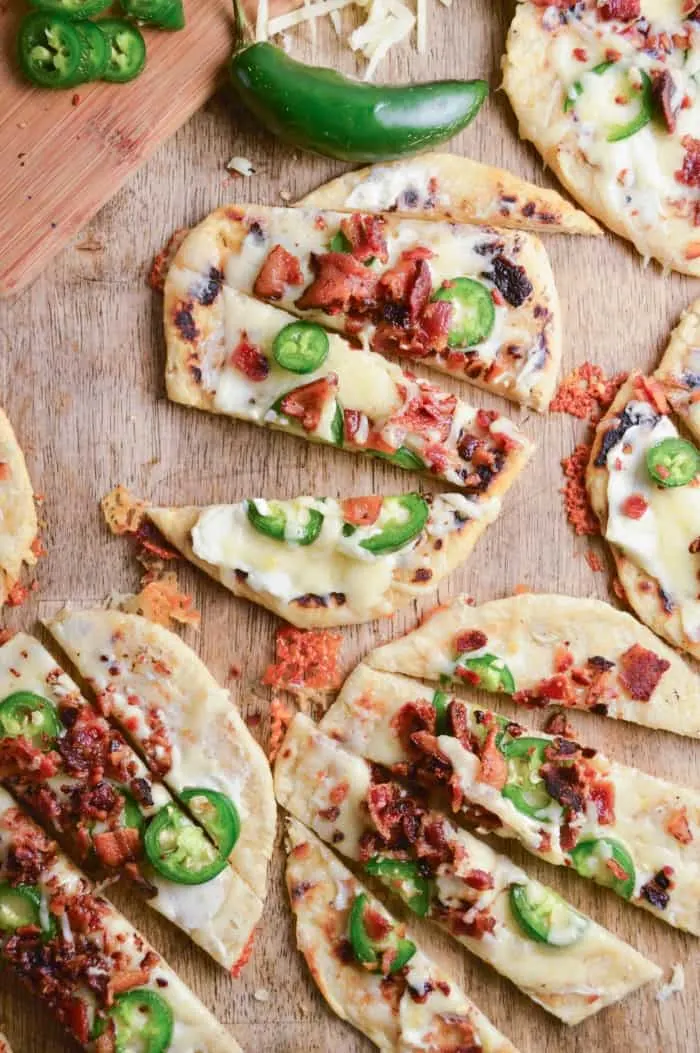 Enter The Jalapeno Popper.
I flipping love jalapeno poppers. But like, I don't fry things. And since I have only just acquired a really good air fryer, I am usually just making jalapeño popper FLAVORED things like this Roasted Jalapeño and Bacon Mac n Cheese (highly recommend).
These Jalapeño Popper Flatbreads are easyyyyyy, and they are great for a meal or a party or when you want a pile of snacks in your face to pair with a solid lazy binge TV day.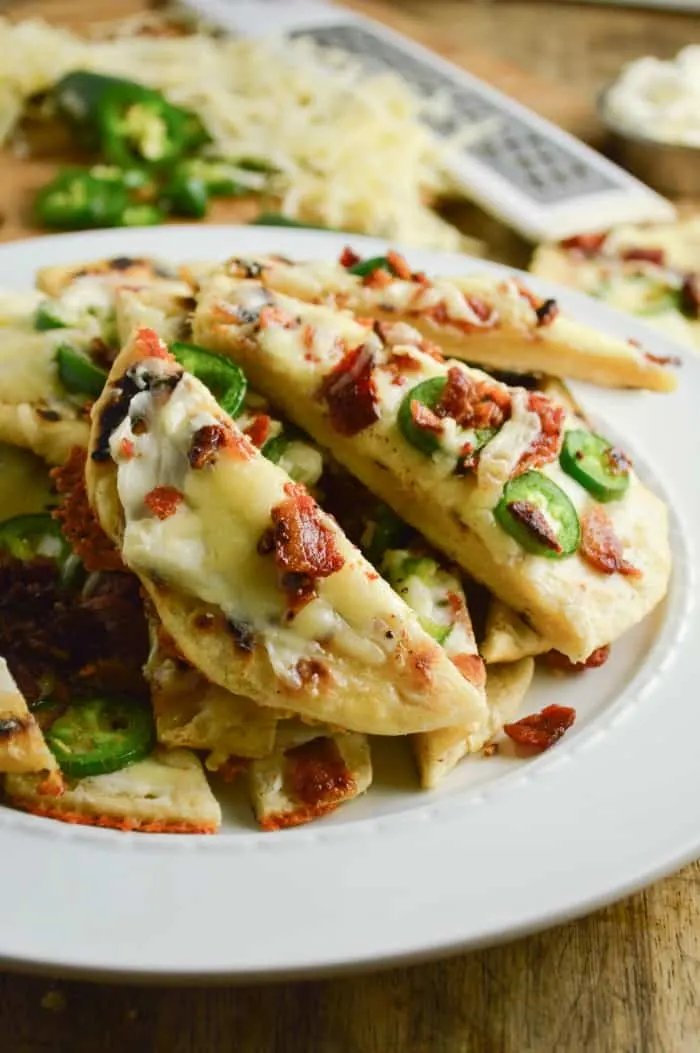 Cream cheese with a hint of onion, sharp white cheddar, shaved Parmesan, crumbled bacon bits, fresh sliced jalapenos, and crispy panko breadcrumbs.
I also got a little crazy and made my own flatbread. I mean, you don't have to make your own, but given my aversion to driving to the grocery store before I cook and the ease of the recipe, not to mention their total awesome deliciousness, I'm really glad I did. If you are not feeling crazy, buy the flatbread.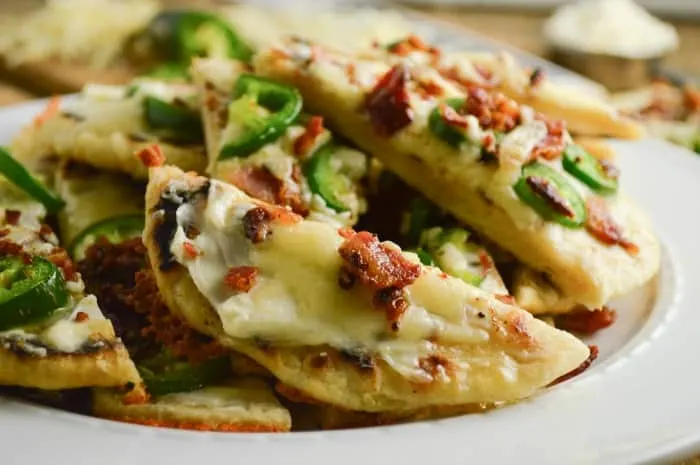 Jalapeno Popper Flatbreads are fast, full of cheese, and that awesome jalapeno crunch and spice. Eat them!
And then stand under the hose for 10 minutes to cool off.
Shortcut! Buy flatbread. I love Stonefire (and no, they don't pay me to say that), but you can also cheat and use pita bread if your grocery store is feeling lame with no flatbread options.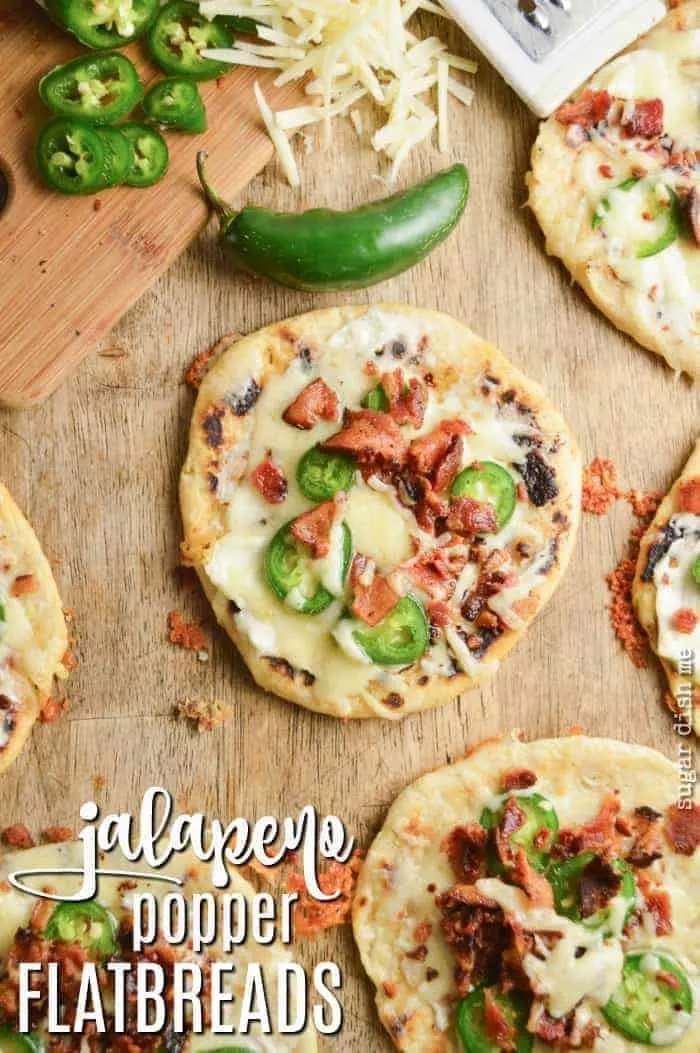 Yield:

6 flatbreads
Jalapeno Popper Flatbreads
Crisp little flatbreads covered in seasoned cream cheese, sharp cheddar cheese, shaved Parmesan, crumbled bacon, sliced jalapeno peppers, and toasty panko breadcrumbs. A perfect appetizer or a meal!
Ingredients
6 small (4" diameter) flatbreads OR 3 larger flatbreads cut in half
Flatbread Ingredients
1 3/4 cup all purpose flour
3/4 teaspoon salt
1/4 teaspoon baking powder
1/4 cup vegetable shortening
3 cloves garlic, finely minced
1/2 cup hot water
Jalapeno Popper Toppings
4 ounces cream cheese, softened
1/2 teaspoon onion powder.
4 ounces shredded sharp white cheddar
2 ounces shaved Parmesan
2 pieces of bacon, cooked and crumbled
3 large jalapenos, sliced
Instructions
To make your own flatbreads, whisk together the flour, salt, and baking powder in a large bowl. Cut in the shortening and minced garlic and mix everything together with your fingers until coarse crumbs have formed. Pour in the hot water and stir to combine.
Turn the shaggy dough out onto a cutting board or clean counter top and knead for about 3 minutes until a soft ball of dough forms. You can add more flour if your dough is too sticky. Place the dough ball back in the bowl and let it rest for about 20 minutes.
Heat a large DRY skillet to medium high -- cast iron is best but non-stick works just fine. Divide the dough into 6 equal pieces and flatten each piece into a thin circle about 1/4- 1/8" thick. Cook the flattened dough in the heated skillet, 1 minute per side and then an additional 30 seconds or so on the 1st side. Set the cooked flatbreads aside to cool slightly.
Pre-heat the oven to 450. If you have a pizza stone USE IT!! If not a baking sheet is fine.
Beat together the cream cheese and onion powder. Spread it over the top of each flatbread.
Top each with the shredded cheddar, shaved Parmesan, crumbled bacon, and jalapeno slices. Place the flatbreads on your pizza stone or baking sheet
Bake for 4-5 minutes, just until the cheese melts and the flatbreads start to crisp.
Slice and serve.
Notes
Please note that if you are making the flatbreads from scratch you need to allow yourself about 45 minutes of extra preparation time-- about 6 or 7 minutes to make the dough, 20 minutes to let the dough rest, and 15 minutes or so to cook the flatbreads in the skillet. It IS a little extra work but the homemade flatbread is SOOOOO worth it.
Nutrition Information:
Amount Per Serving:
Calories:

0
Cholesterol:

0mg
Sodium:

0mg
Carbohydrates:

0g
Fiber:

0g
Sugar:

0g
Protein:

0g
The
Homemade Garlic Flatbread
is from About.com. I was skeptical but wanted something quick with simple ingredients that I knew I would have on hand and this fit the bill. It came together quickly and easily on the first try. The dough was super easy to work with and the flatbreads were totally delicious.
Do you love easy appetizers? You should also try…