If you love garlic and buttery shrimp, this Shrimp Scampi Flatbread is for you! A quick, simple recipe that is packed with buttery garlic flavor and melty mozzarella cheese.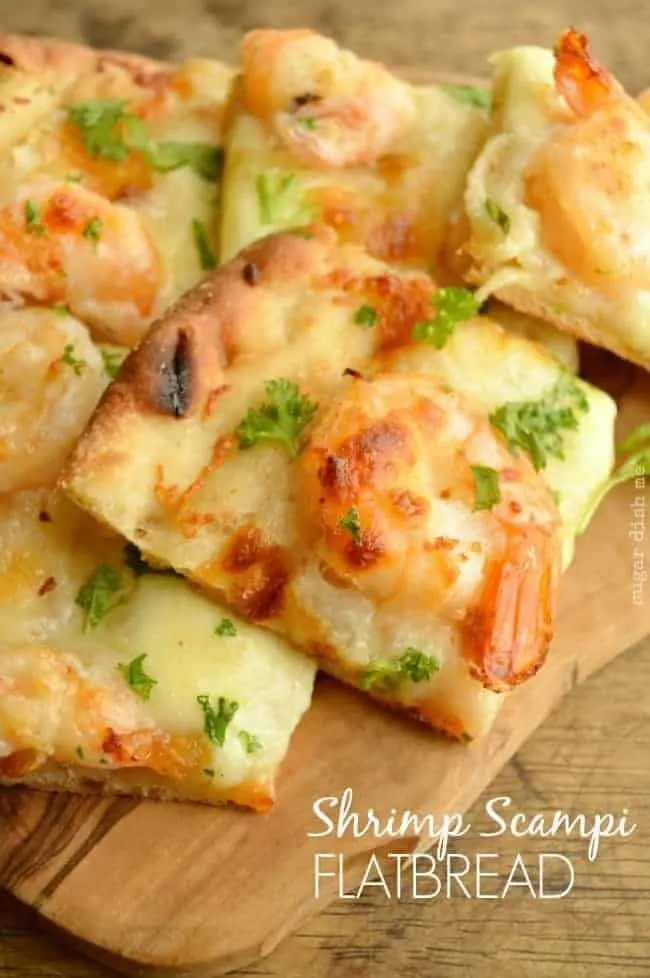 In just a little more than 24 hours it is going to be 2016.
I feel like an old lady saying "Where did the time go?" But seriously though — where did it go?
2015 has been a pretty great year — BUSY to say the least, but pretty doggone fantastic. I started this year off with a variation of burgers (Breakfast Burgers with Maple Sriracha Aioli to be exact) so I thought I'd end it with a variation of pizza. You can never EVER go wrong with burgers or pizza.
Another great thing to come out of 2015 was Shrimp Scampi Dip. You guys went bonkers for that cheesy happiness. So I let those flavors live on in this Shrimp Scampi Flatbread.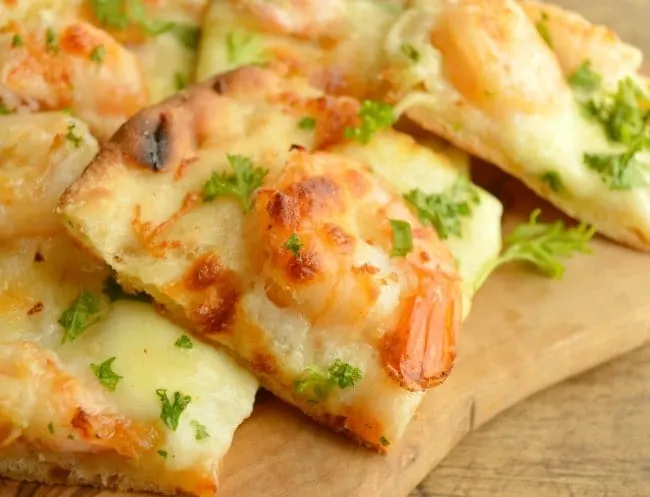 You are basically making this Quick Garlic Shrimp, but with more butter. More butter is winning.
A quick mention on the flatbread — I used Stonefire and I LOVE them. They make naan, mini naan, pizza crusts, and pita chips! And they did not pay me one dime to tell you this (although occasionally a big box of flatbread shows up at my house and I do quite like that).
Seriously though — I can make my own flatbread, but once you find a good store-bought brand you can roll with, you kind of have to. It takes this recipe from labor intense to EASY, super quick, and something you can throw together 5 minutes before people show up.
One of these days you'll have to remind me to tell you about the gift exchange we hosted before Christmas. Talk about needing food ready fast — OMG. I nearly lost my cool.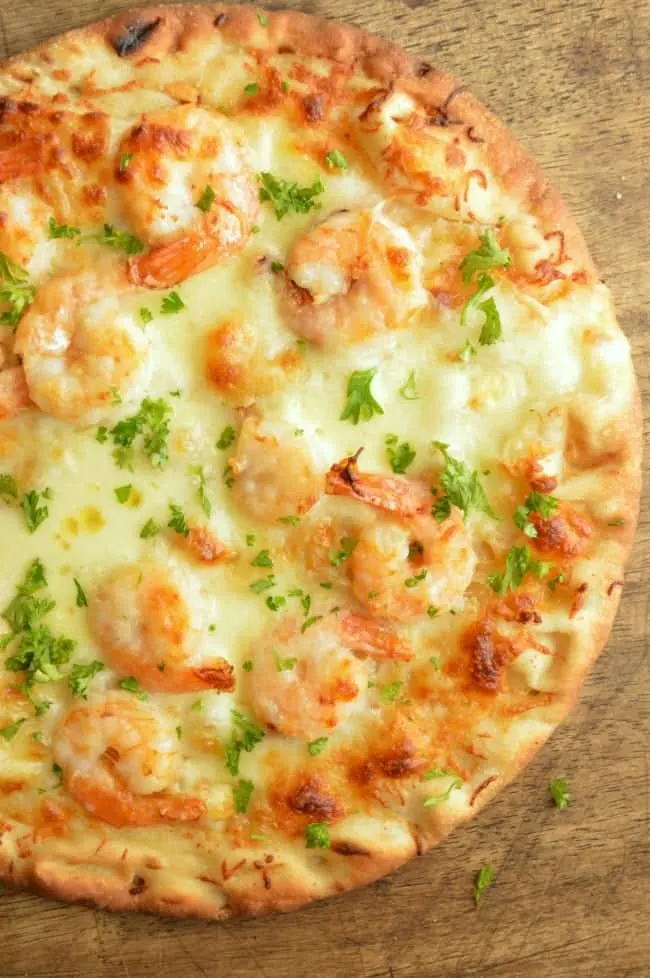 Anyways.
This is your party appetizer for the coming season. Parties, game days, Wednesdays, days where garlic and butter need to be found in abundance — this flatbread recipe will be here to save you.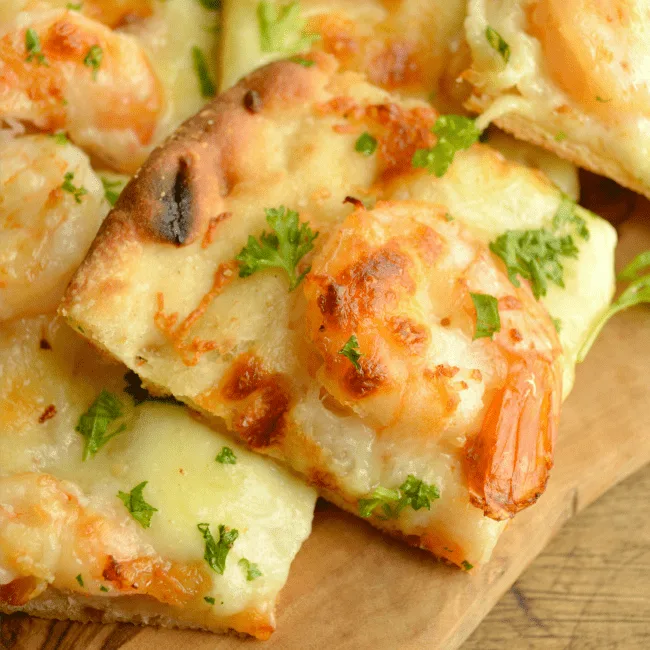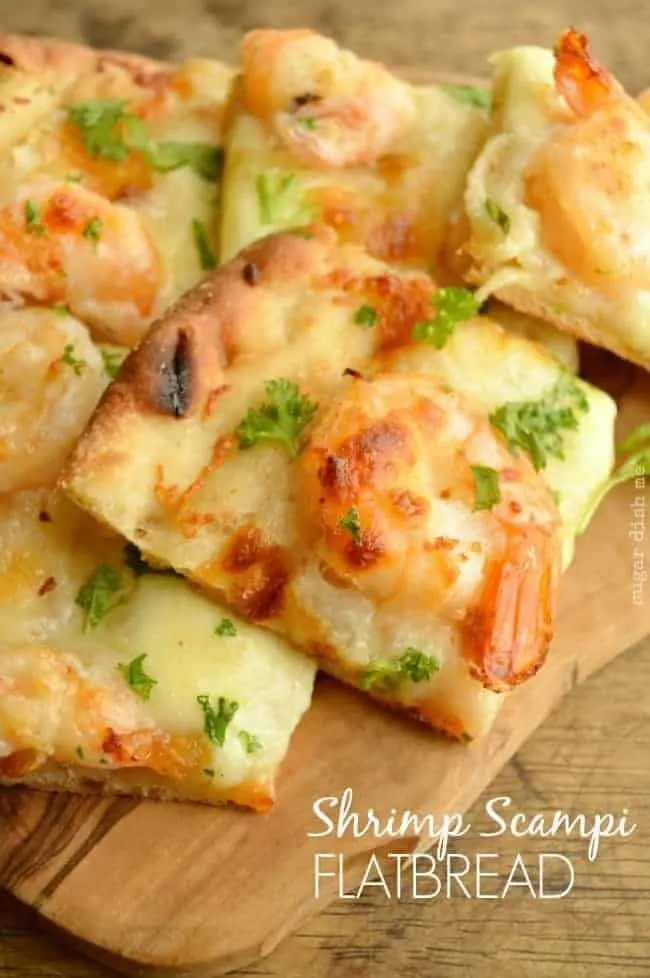 Yield:

serves 6
Shrimp Scampi Flatbread
Ingredients
3 tablespoons butter
1 teaspoon olive oil
8 ounces raw shrimp, peeled & deveined (I used 31-50 count)
3 cloves garlic, finely minced
½ teaspoon kosher salt
¼ teaspoon crushed red pepper flakes (more to taste)
1 teaspoon fresh lemon juice
1 8-9" flatbread (or thin pizza crust)
4 ounces Italian cheese blend, shredded (I used a blend of mozzarella, Romano, and Parmesan)
Instructions
Preheat the oven to 425. (see note)
Melt the butter and heat the olive oil in a medium saucepan. Add the shrimp, garlic, salt, and pepper. Cook over medium high heat, stirring occasionally, until the shrimp is pink and the garlic is fragrant, being very careful not to burn the garlic (about 5 minutes). Toss with the lemon juice.
Tilt the saucepan to the side so that the liquid pools. Spoon it onto the flatbread and brush it so it mostly coats the crust, making sure to hit the edges (this will help it brown).
Sprinkle the cheese over the top and then place the shrimp. I like to tuck them into the cheese so it holds them in place.
Bake for 7-9 minutes (or check your flatbread package for time instructions.
Notes
Be sure to check your flatbread packaging for cooking temperature recommendations. They will vary from brand to brand, and will also vary based on whether or not you are using flatbread that is frozen vs. thawed.
Nutrition Information:
Amount Per Serving:
Calories:

0
Cholesterol:

0mg
Sodium:

0mg
Carbohydrates:

0g
Fiber:

0g
Sugar:

0g
Protein:

0g
If you love Shrimp Scampi, you will definitely love these…