My kids are cereal junkies which can be kind of annoying because cereal is now about $5,000 a box (so maybe I'm exaggerating and it's $5 a box but that still seems grossly overpriced). Sometimes I catch them looking all guilty around 4 in the afternoon (which seems to be the magical snack hour right before I cook dinner) and then I spy a bowl in the sink with a splash of milk and remnants of oat clusters floating around… these dudes are not stealthy.
Afternoon cereal binges annoy me. I know that I should be picking my battles, but if we eat all the cereal at 4 in the afternoon then there is none for the morning. And that means I have to be a short order cook at 6 am when really all I wanna do is refill my coffee. Also– I would like to point out that the 3/4 cup suggested cereal serving size is pretty much manufacturers wishful thinking because if these guys could fill up a mixing bowl and pour milk over it they would definitely do that.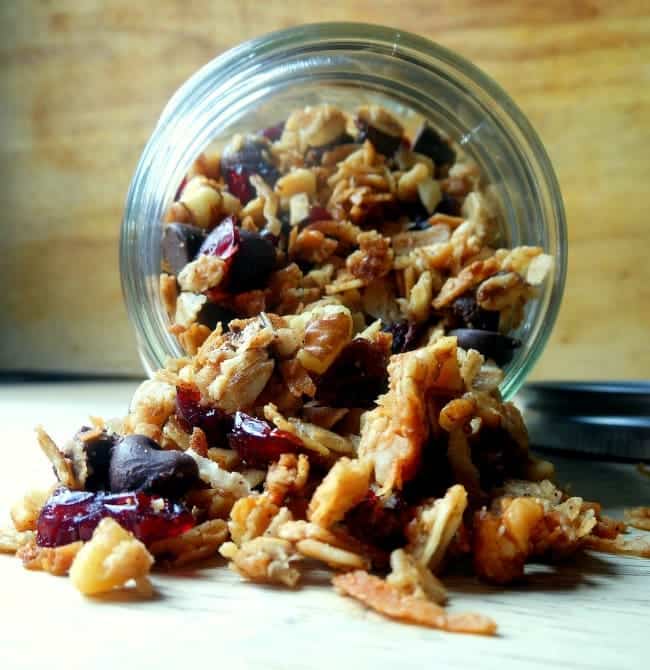 All of this is to say that granola is a cereal/snack cure-all. It's cheap. It makes A TON. It is more than acceptable to eat a handful dry in the middle of the afternoon when you need carbs. You can add dried apricots and apples to it which means that your children won't touch it and you can keep it all to yourself.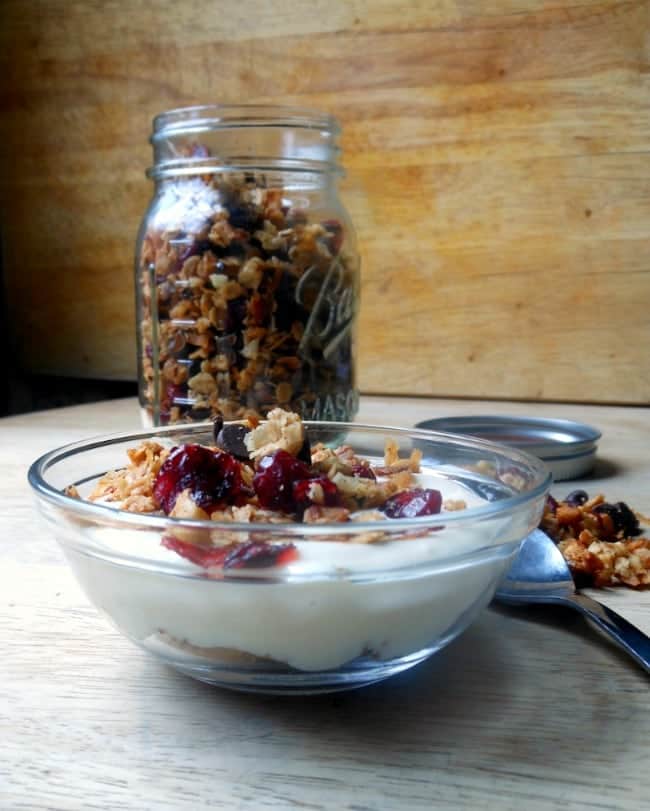 When I was little I used to LOVE those little packets of Maple and Brown Sugar Quaker Instant Oats. I mean LOVE. We didn't have them often because, let's be real here, you need at least 2 packages to equal a normal sized bowl of oatmeal and with 5 kids in the house a box of instant oatmeal lasted about .325 seconds. So when we knew that oatmeal was stuck down behind the Cheerios in the lower cabinet it was like a breakfast race to get to it first (maybe the cereal addiction is genetic?).
All this time later maple + brown sugar is still one of my favorite flavor combinations… I mean brown sugar anything is pretty much IT, but when combined with maple and especially with oats you seriously can't go wrong.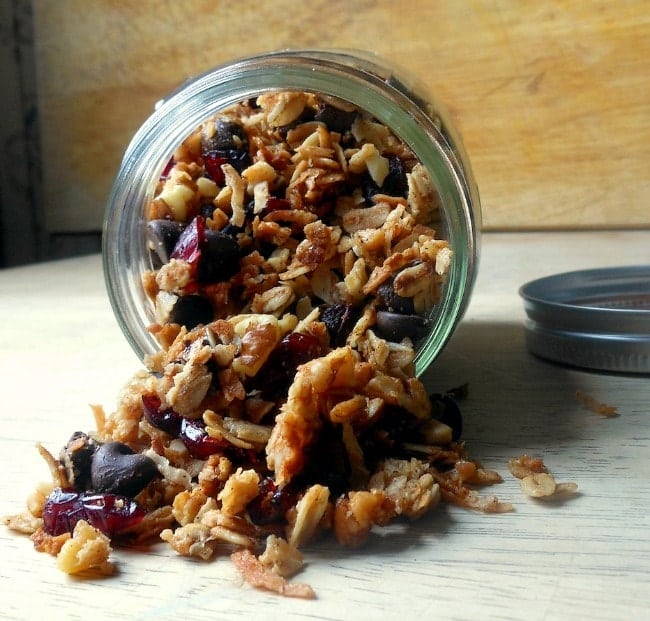 So THIS granola is a really basic recipe that you can pretty much do whatever you want to with. It calls for ingredients that are usually stuffed in the pantry and don't require a shopping trip. I like to add dark chocolate chips to the snack variety for those sweet tooth cravings. But I only add a little dried fruit to the stash I save for mornings and milk. You can add more nuts, seeds, M & M's– It's your granola. Do what you want. The recipe I'm sharing here is just a guideline for what's pictured. Go get yourself a big box of old fashioned oats and go nuts.

Maple and Brown Sugar Granola
Ingredients
3 cups old fashioned oats
¾ cup chopped natural almonds
¾ cup chopped walnuts
1½ cups shredded coconut (sweetened or unsweetened-- it's up to you)
1 teaspoon cinnamon
½ teaspoon kosher salt
½ cup natural maple syrup
½ cup oil (sunflower, coconut, or vegetable)
2 tablespoons light brown sugar
1 egg white, beaten well
1 cup dried cranberries, raisins, or other fruit **optional; see note**
½ cup semi-sweet or dark chocolate chips **optional; see note**
Instructions
Pre-heat the oven to 300.
in a large mixing bowl combine the oats, almonds, walnuts, coconut, cinnamon, and salt.
In a small saucepan, heat the maple syrup, oil, and brown sugar just until it simmers and the sugar dissolves.
Pour the liquid over the oat mixture and stir to evenly coat.
Add the egg white. Stir again.
Spread the granola evenly across a sided baking sheet; I pat mine with a wooden spoon to make a solid layer.
Bake for 30 minutes. Stir the granola around, turn the ban and bake for another 30 minutes.
Remove the pan from the oven and let it cool completely.
When you go to remove the granola from the pan make sure you have a work space cleared. Use a wooden spoon or a fork to sort of scrape it; it shouldn't stick to the pan but it will come off in those clustery granola clumps.
Stir in the chocolate chips, dried fruit, etc.
Store in an air tight container.
Notes
Add whatever you like! Pictured here are chocolate chips and dried cranberries because that's what I had on hand at the moment but you can add anything you want!! Dried apricots, pineapple, apples, banana chips, chocolate chips, peanut butter chips, sunflower seeds, pumpkin seeds, M & M's-- the possibilities are endless!!
Based on the
Better Granola Recipe
from
BonAppetit