Fast and totally refreshing! These easy Mason Jar Margaritas are assembled over ice right in the jar – just pour, shake, and drink! This recipe is for Pineapple Margaritas in a Mason Jar which makes them even better.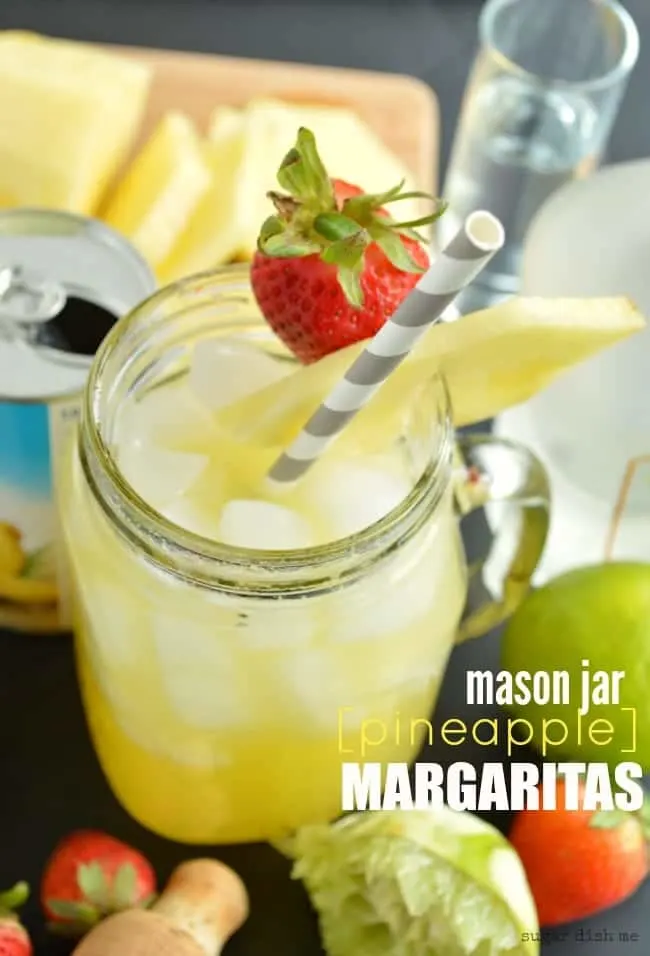 How on earth could we celebrate a whole week of tequila without making margaritas?!!! We can't. Duh.
So I decided to share 2 of my favorite margarita things with you.
1. How to make an awesome margarita without any bar tools — just a mason jar and a lid.
2. Pineapple Margaritas which are my current favorite vehicle for tequila.
I do not have bar tools. It seems like one of those grown up things that I maybe should have acquired by the age of 34 (ack!), but I have to say that they have never been high on my list of must-haves. We don't make a ton of mixed drinks at home — it's much easier to just uncork a bottle of wine and call it an evening.
Margaritas are different though! Margaritas are a drink you should definitely definitely make at home.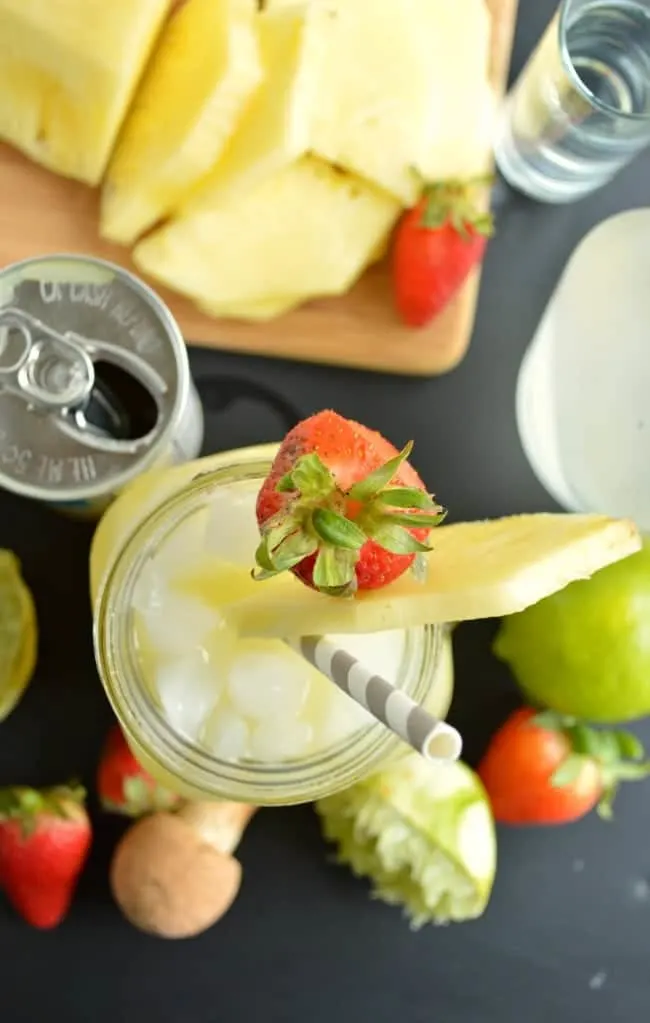 A basic margarita follows this easy formula: 2 ounces tequila + 1 1/2 ounces Cointreau + 1 – 2 ounces lime juice
That is a recipe you need for your life.
[socialpug_tweet tweet="A Basic Margarita is just 2 oz Tequila + 1 1/2 oz Cointreau + lime juice" display_tweet="A Basic Margarita is just 2 oz Tequila + 1 1/2 oz Cointreau + lime juice" style="1″]
But. I like things a little sweeter. So normally to sweeten a margarita you'd add some simple syrup (a fancy name for sugar water). To make simple syrup you just heat 1 part sugar + 1 part water until the sugar dissolves. But we aren't doing that today .
Because pineapples.
A couple months ago I had dinner with my family at this awesome place that serves the best shrimp tacos I have ever had anywhere. My brother ordered a pineapple margarita and after stealing more than a few tastes for market research, I had to attempt to make it happen at home, albeit simplified and slightly less … chic. Or something.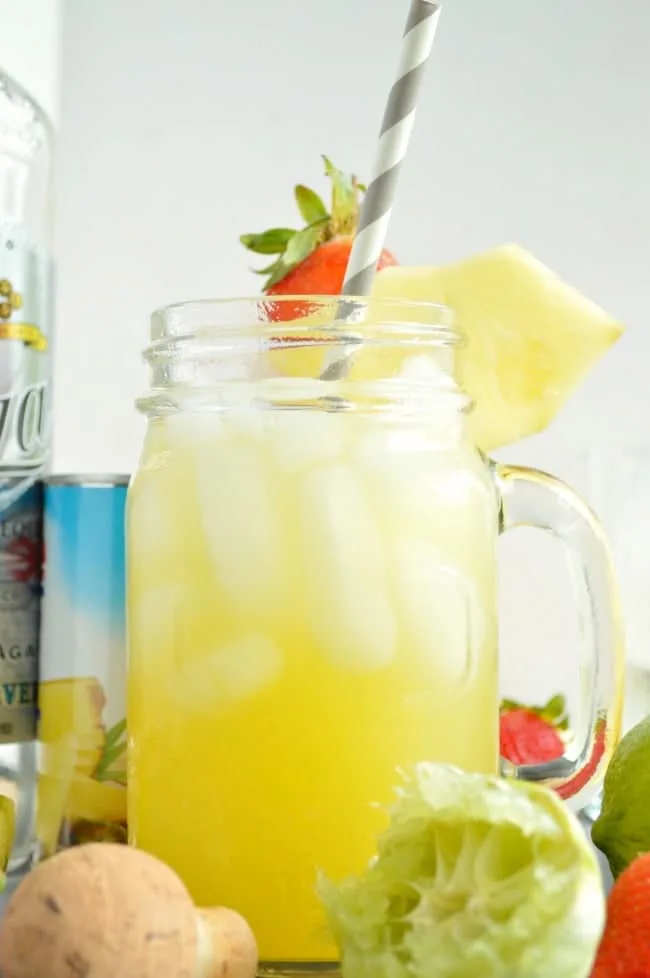 It seriously does not get any easier than this. No fancy shaker. No strainer. No blender. I am a little sad I could not logistically figure out how to salt the rim, but all you have to do is pour, shake, and drink. Which I think more than makes up for it.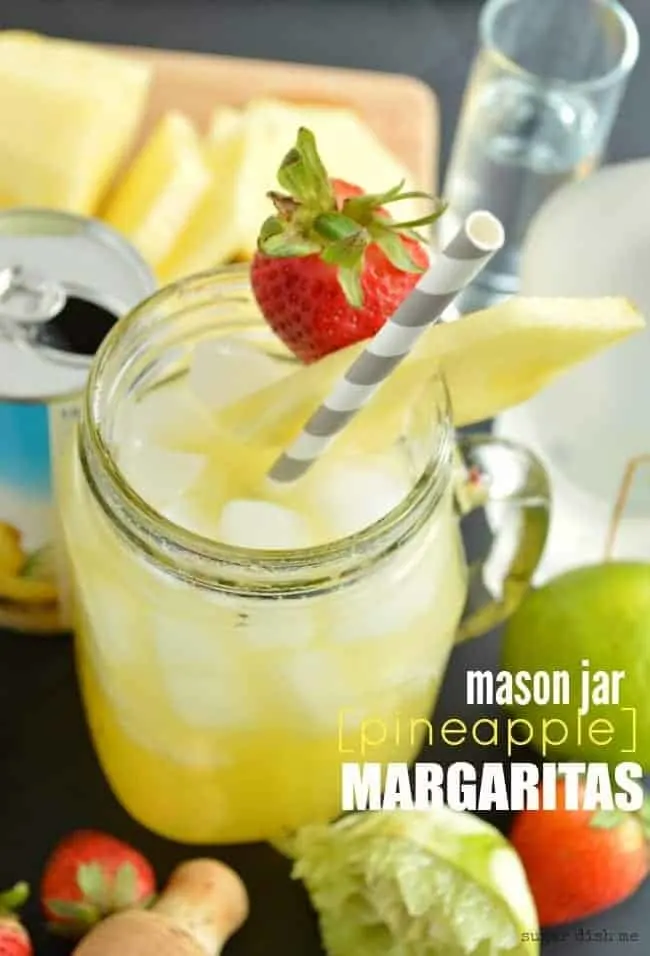 Yield:

1 drink
Mason Jar Margaritas
Mason Jar Margaritas are the perfect cocktail for picnics and barbecues! Just toss all the ingredients in a mason jar, shake, and drink. The pineapple juice makes these a little bit sweet - you'll love 'em.
Ingredients
2 ounces Patron Citronage Orange Liqueur
1 1/2 ounces blue agave/silver tequila
juice of 1 lime
2-4 ounces pineapple juice (depending on your preference for sweetness and the size of your glass
Instructions
Fill a mason jar with ice. (I used an 8 ounce mason jar jug with a handle). Pour the ingredients over the ice. Screw on the lid, shake well, and serve.
Garnish with strawberries, pineapple slices, and lime wedges if you'd like.
Nutrition Information:
Yield:
1
Serving Size:
1
Amount Per Serving:
Calories:

496
Total Fat:

0g
Saturated Fat:

0g
Trans Fat:

0g
Unsaturated Fat:

0g
Cholesterol:

0mg
Sodium:

7mg
Carbohydrates:

45g
Fiber:

1g
Sugar:

36g
Protein:

1g
Do you love Tequila? Don't miss the rest of the Tequila Recipes Featured This Week!