An easy recipe for tequila shrimp piled high with a sweet and spicy pineapple pico de gallo. Tequila Shrimp Tostadas are quick, simple, and so fresh!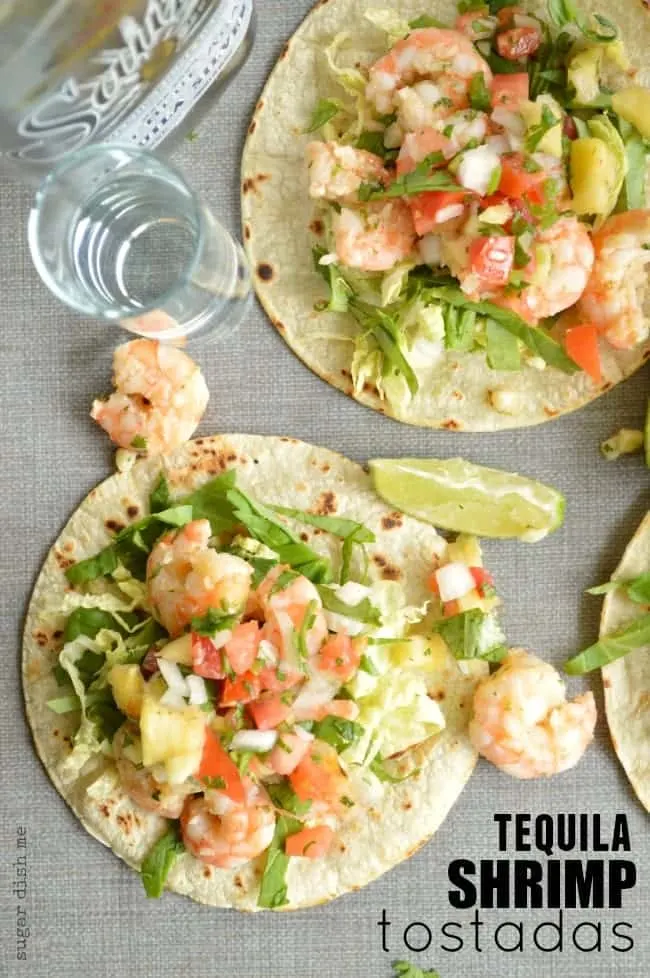 Tequilaaaaaaaaaaaaaaaaaaaaaaaaaaaaaaaaaaaaaaaaaaaa!!!
yes.
So guess what? I put booze in the food. Again. And I have a partner in crime. Tanya, my favorite person in food blogging ever in the history of my far-away-friend world, and I decided that this week needed a little oomph. Because spring break is over and we are heading towards summer full speed ahead.
But also because a few weeks back we were both just kind of like "EH."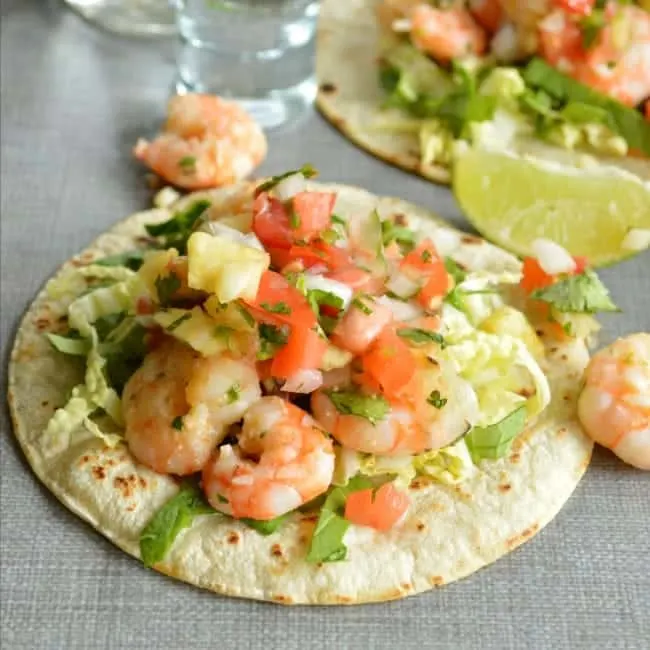 Not super motivated to be creative. Definitely feeling the drag of the daily grind. And sometimes – sometimes – this awesome-ass job that allows all kinds of freedom and creativity, can attack you with a bunch of tasks that you want to run away from.
Like on the days that you look at your inbox and your eyes go crossed because there is no way possible to type that many responses. Or when a bunch of losers on Facebook leave comments on your Chicken and Sweet Potato Tacos like "EW," or "No Way," or "This is just gross."
Can we just state for the record that that is pretty freaking rude? I think Hamburger Helper is gross but I don't go around typing it on photos of Hamburger Helper.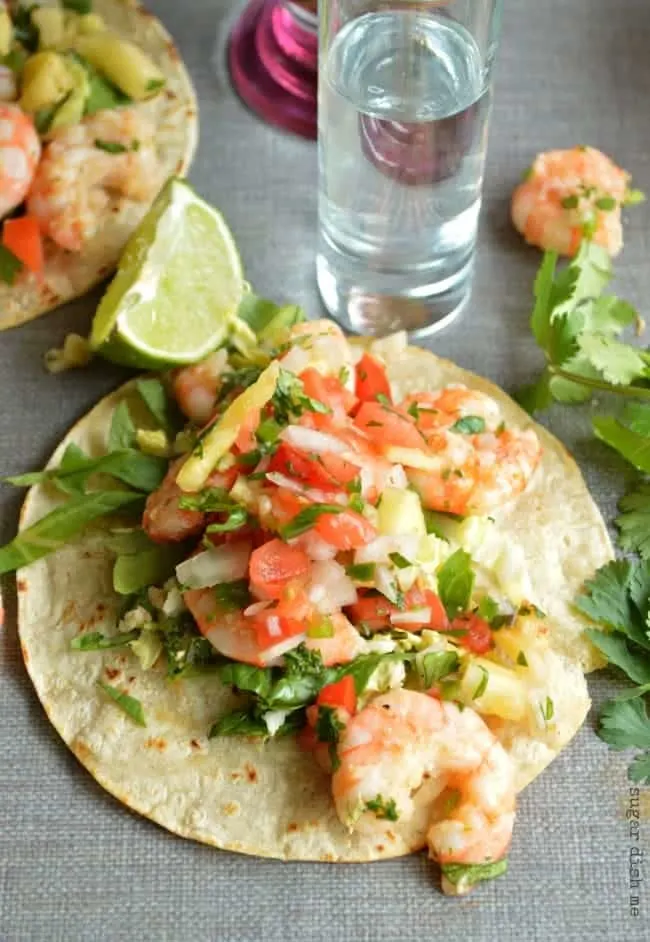 Anyway, Tanya and I decided that the answer to some of our daily drags was definitely tequila.
Then we put together a whole week of tequila recipes, just in case the "EH" thing is an epidemic. Or just in case you love tequila. I am starting things off with these Tequila Shrimp Tostadas. Tanya made you a Tequila Key Lime Bundt Cake.
Gah so good, I know.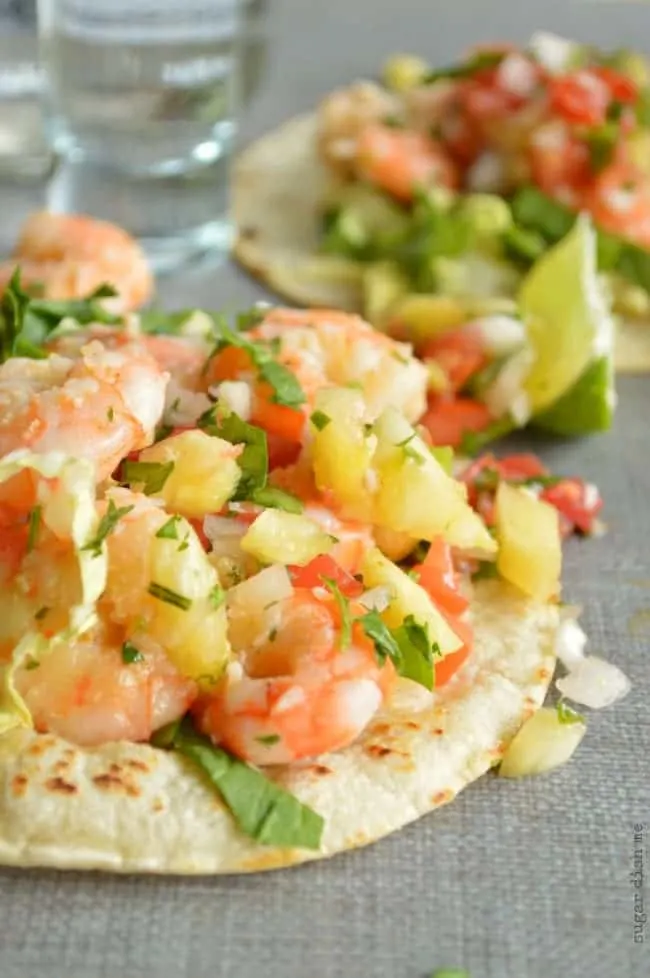 Tequila Shrimp is like the easiest thing you will ever make. It takes about 5 minutes and is loaded with flavor. I would have been satisfied just eating it out of the pan with a fork, but I thought maybe offering you guys a meal you could serve would go over better.
So I took 2 minutes to toast a few tortillas and then piled the whole thing high with pineapple pico de gallo. The last time I made something similar was with these Pulled Pork Sliders. Pineapple is so fresh and fruity and perfectly balances any heat.
Make extra. Eat it with chips. You won't be sorry.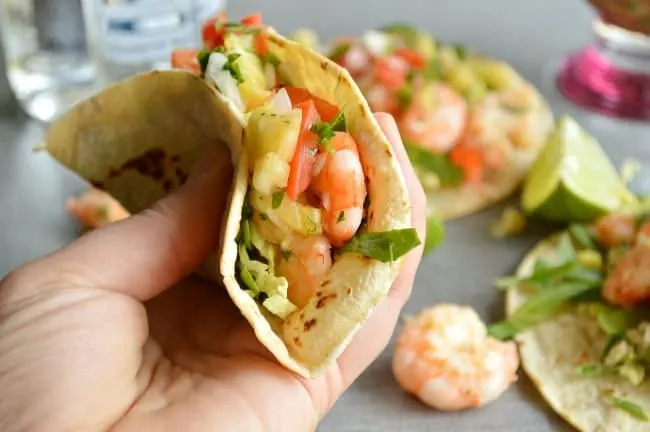 P.S. Is this how you eat your tostadas? Tostadas turned tacos. Whatever, it works.
Love Shrimp? You should also try …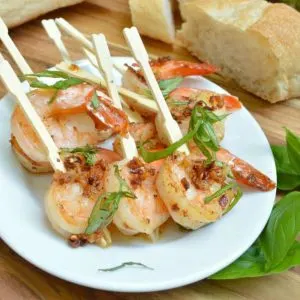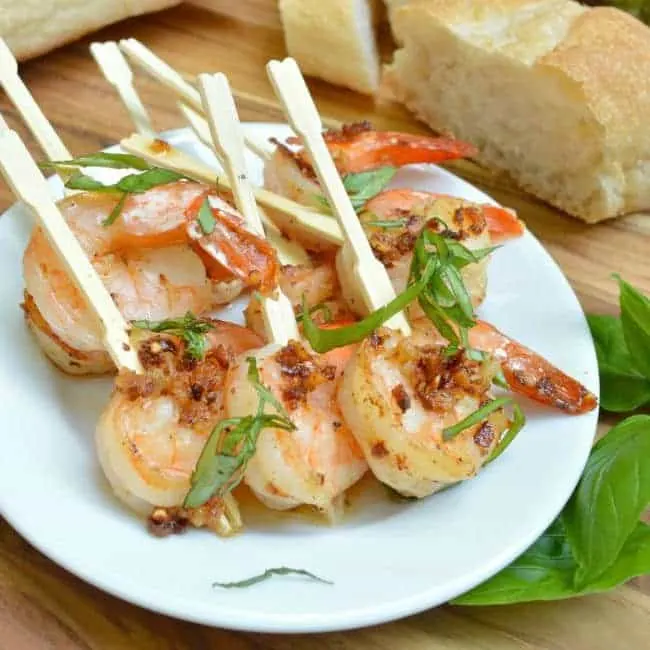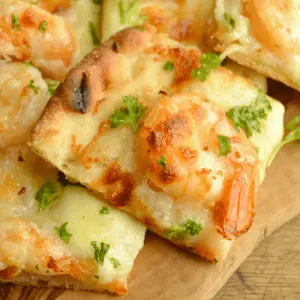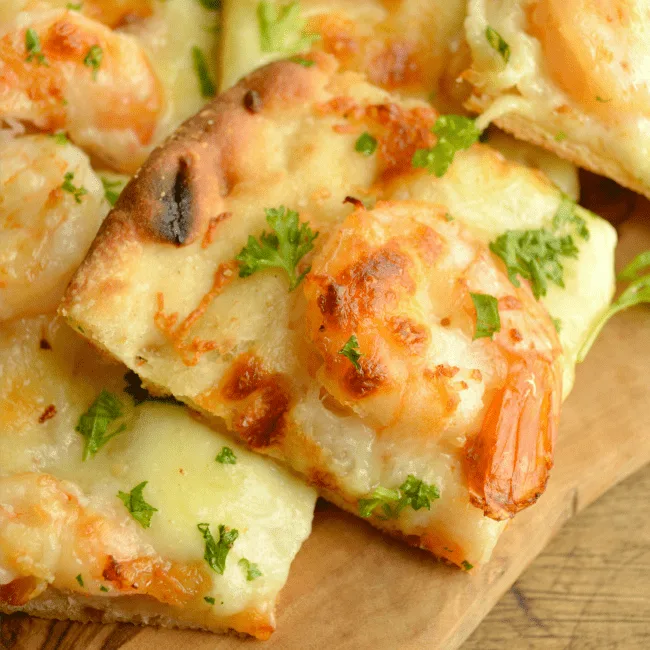 Quick Garlic Shrimp is ready in 7 minutes! Loaded with garlicky goodness. Shrimp Scampi Flatbread is one of the most popular shrimp recipes on this site! It's also quick and super delicious.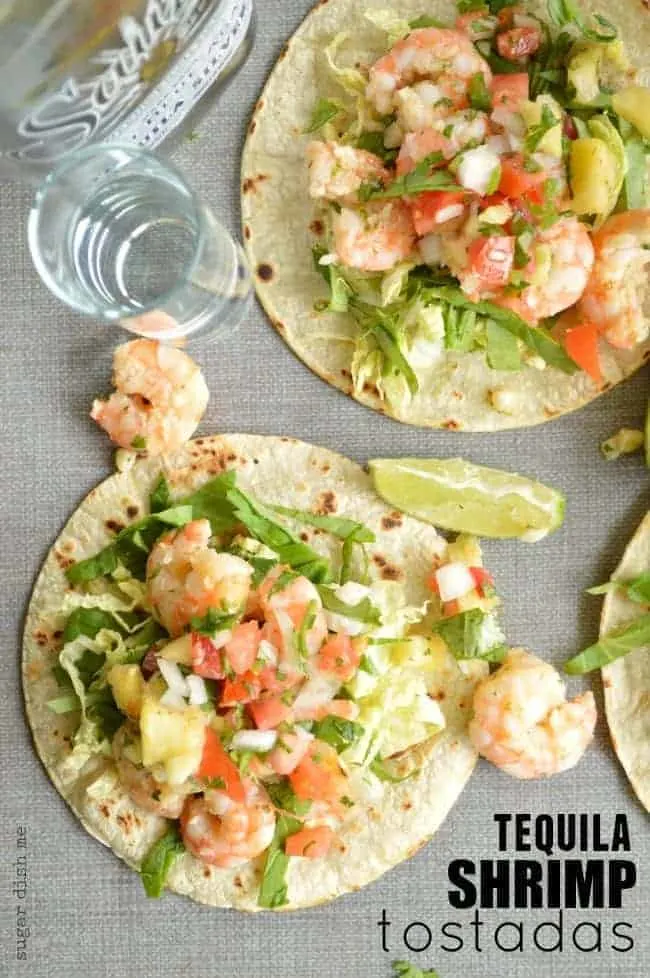 Yield:

serves 6
Tequila Shrimp Tostadas
A super simple, fast, fresh recipe. Fresh shrimp is cooked with garlic and tequila, and then hit with a squeeze of lime. Served with a sweet and spicy pineapple pico de gallo, this is a perfect colorful recipe that will carry you through the dreariest of days.
Ingredients
For the Pineapple Pico:
1/2 cup diced Roma tomatoes
1/2 cup diced fresh pineapple
1/4 cup diced onion
some are not)
3 tablespoons red wine vinegar
1/2 teaspoon kosher salt
1 tablespoon olive oil
1/4 cup chopped cilantro
juice of 1/2 a lime (the other half; 1 lime total needed for the shrimp + pico)
For the Shrimp
2 teaspoons olive oil
1 pound fresh shrimp, peeled and de-veined (I used 31-40 count)
1/8 teaspoon kosher salt (more to taste)
1 1/2 ounces tequila
juice of 1/2 a lime
For the Tostadas
6 small tortillas (flour or corn)
1 cup shredded Napa cabbage (optional)
3 cloves garlic, very finely minced
Instructions
Heat the oil in a medium skillet. Over medium heat cook the garlic for only about 30 seconds -- careful not to let it brown. Add the shrimp, sprinkle it with the salt, and cook it until it is bright pink. Pour the tequila over the shrimp, raise the heat to medium high, and continue cooking until you get just a slight caramel color on the side of the shrimp touching the pan. Total cook time will only be about 5 minutes.
Squeeze the lime juice over the shrimp.
To make the Pineapple Pico, toss together the tomatoes, pineapple, onion, and jalapeno. Drizzle the red wine vinegar over the fruits and veggies, sprinkle with the salt, and toss to coat. Add the oil and cilantro, squeeze in the lime juice, and toss again.
Toast the tortillas in a small skillet -- I use a dry skillet. 30 seconds to 1 minute per side is sufficient! It's like making quesadillas without the cheese.
If you are using the Napa cabbage, pile a little on top of each toasted tortilla. Then add the shrimp and spoon the pineapple pico over the top.
Nutrition Information:
Amount Per Serving:
Calories:

0
Cholesterol:

0mg
Sodium:

0mg
Carbohydrates:

0g
Fiber:

0g
Sugar:

0g
Protein:

0g