Fast and fresh! Eat Your Greens Linguine is loaded with all the good greens you can find. Asparagus, peas, parsley, spinach, and anything else you can cram in there to meet your green needs.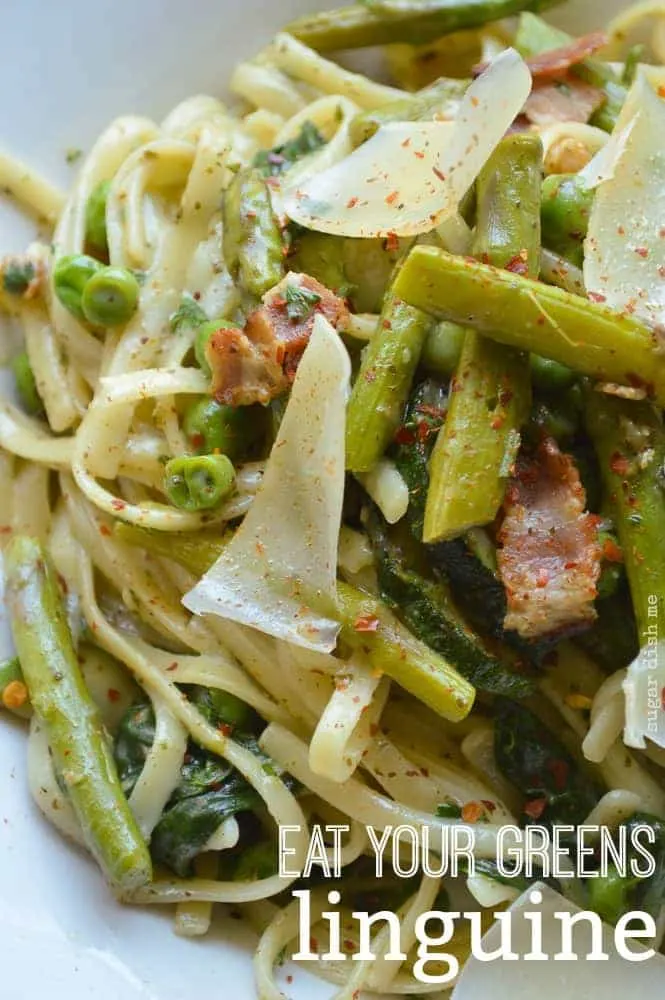 This was almost a Fast Food Friday Recipe. Which I definitely owe you more of. I promise that as we head full speed ahead into the school year (I know – bananas, right?) I will crank out a few more of those crazy easy meals. In the meantime, let's talk Eat Your Greens Linguine.
You know those days where you feel like you just really NEED to eat something green?
No?
Just me?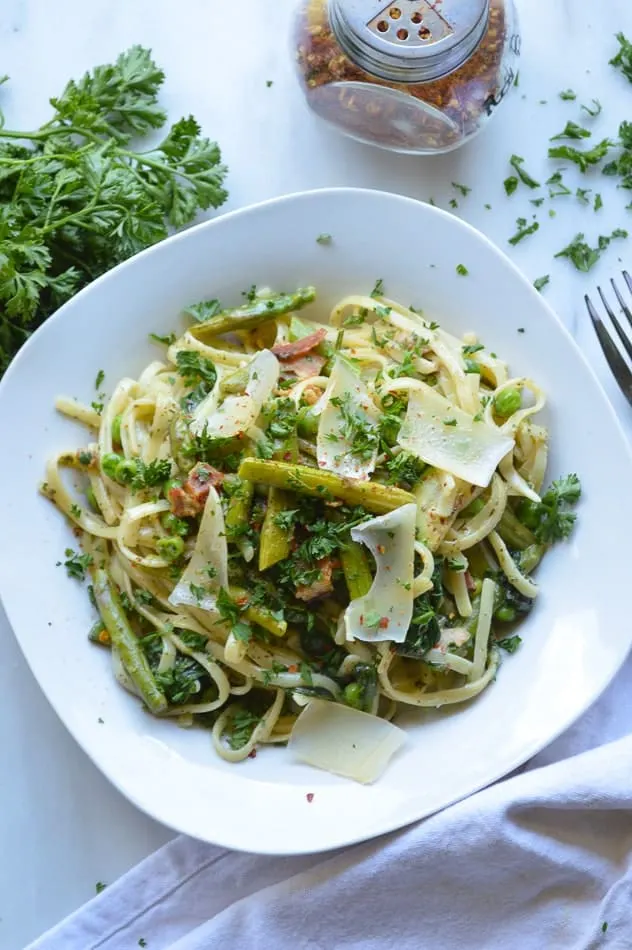 Just pretend for a second we are on the same page.
Because VEGGIES.
Anyway, for all the produce that's available in the summer, after surveying my fridge last week I realized that I had A LOT of fruit and not much else. And while I love nothing more than a good Peach Berry Crumble, I was feeling iron deficient or something. So I went to the store and bought everything green that struck my fancy.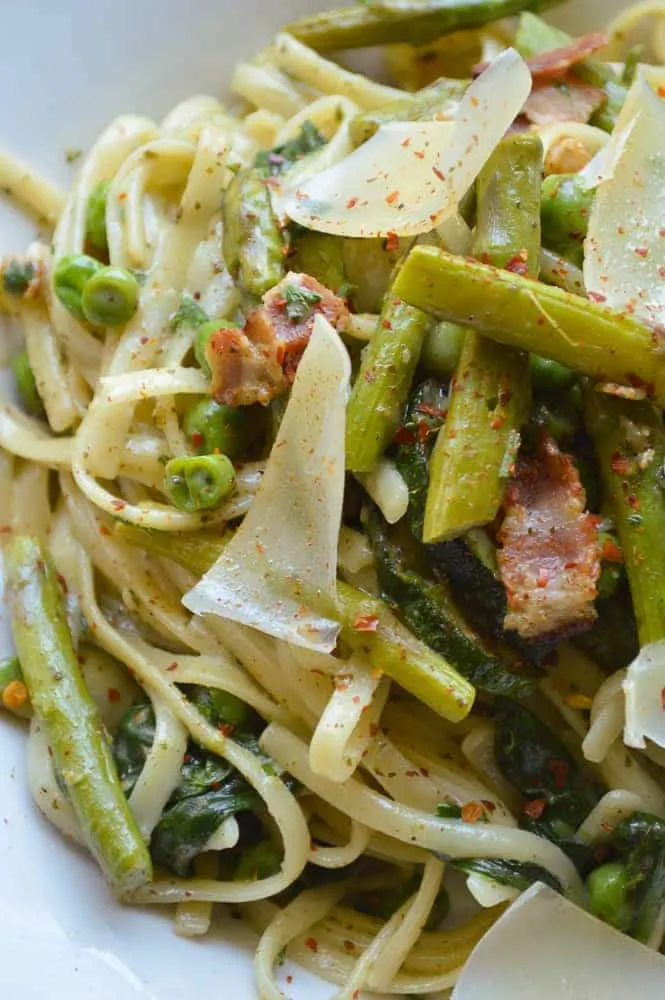 Pictured here you'll see I used spinach, asparagus, peas, zucchini and tons of parsley. I made this again since we annihilated these leftovers and I also added in shaved Brussels sprouts and sliced broccoli.
You'll notice I added bacon because DUH. Bacon. But you could very easily leave that out for a vegetarian dish. The sauce here is super simple; it's made with a little heavy cream and some reserved pasta water. Plus cheese.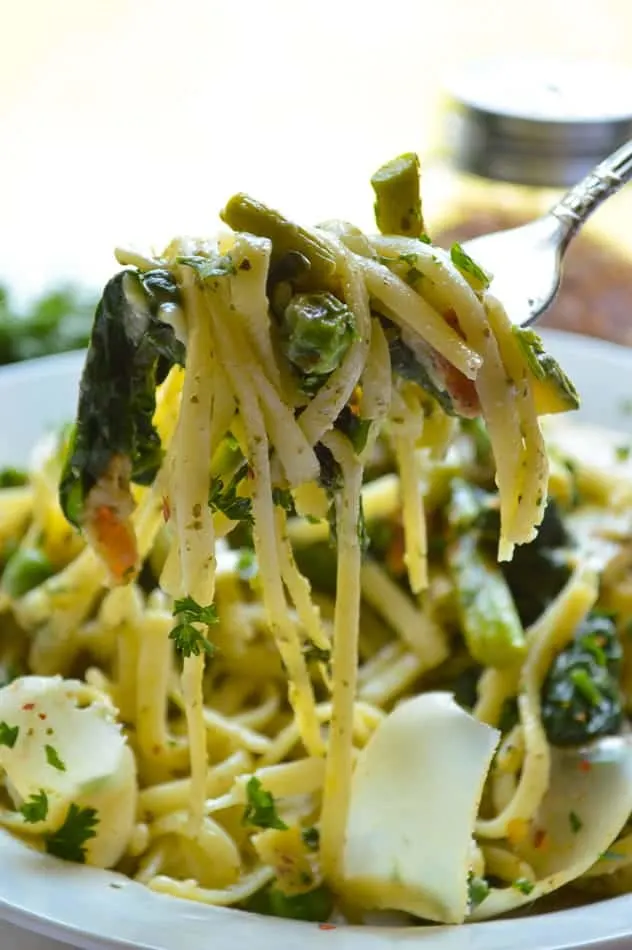 Finished with a little crushed red pepper and even more cheese, this Eat Your Greens Linguine is one of my new fave weeknight recipes.
Note: this would also work great with fettuccine or spaghetti, buccatini, or ever pappardelle.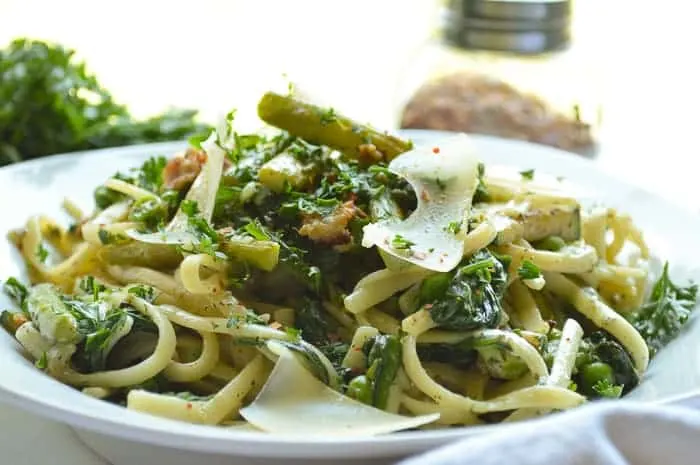 Are greens and pasta your thing? Try these: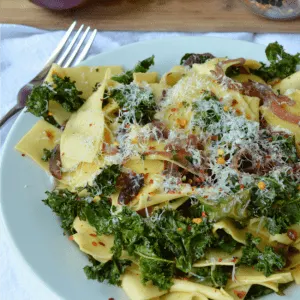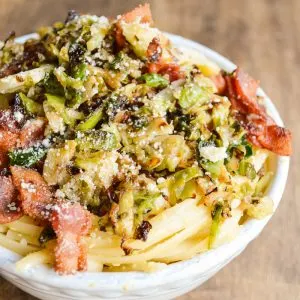 Pappardelle with Caramelized Onions and Crispy Kale is EASY. Wide flat noodles, caramelized onions that are the perfect amount of sweet and crushed red pepper for a hint of spice. Ready in just 30 minutes!
Linguine Carbonara with Bacon and Crispy Brussels Sprouts is comfort food at its very best. This easy 30 minute meal (yes! Another one!) also includes my best tip for making a terrifically rich carbonara sauce.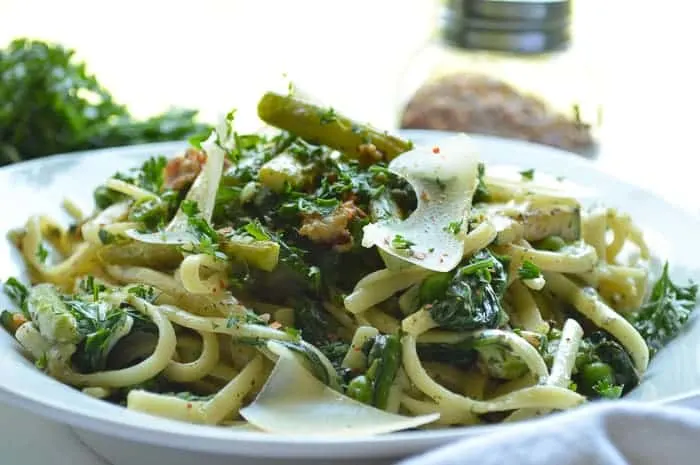 Yield:

serves 4-6
Eat Your Greens Linguine
Eat Your Greens Linguine is a fresh, fast, veggie-ful meal that's perfect for busy evenings when you are craving some veggies.
Ingredients
12 ounces linguine
8 ounces bacon, chopped
2 cloves garlic, minced
1 bunch fresh asparagus, trimmed and cut into thirds
1 medium zucchini, sliced
1/2 cup heavy cream
2 cups peas (fresh or frozen)
8 ounces fresh spinach
1/2 cup grated Parmesan
1/3 cup chopped fresh parsley
garnish with crushed red pepper flakes and shaved Parmesan (optional)
Instructions
Cook the pasta according to package instructions taking care to salt the water. Reserve 2 cups of the pasta water before draining. Set the drained pasta and asparagus aside in the strainer.
Cup the bacon slices into 1" pieces. Add the bacon to the pot you used for the pasta and cook until crisp. Remove the bacon pieces to a paper towel to drain. Leave only about 2 tablespoons of bacon grease in the pan and add the garlic. Cook over medium heat for only about a minute, taking care not to let it burn.
Add the asparagus pieces and zucchini to the pot and cook for about 3 minutes. Pour in the cream and let it come to a gentle simmer. Then add the peas and spinach and toss to coat.
Add the pasta back into the pot and mix everything together, adding in the pasta water a little at a time to continue cooking the veggies and combine it all (you may not need all of the water; just add it until everything is saucy and not sticky).
Stir in the bacon, Parmesan cheese and fresh parsley.
Serve warm and garnish with crushed red pepper and shaved Parmesan cheese.
Notes
If you opt not to use bacon, use 2 tablespoons olive oil in its place to cook the veggies.
Nutrition Information:
Yield:
6
Serving Size:
1
Amount Per Serving:
Calories:

502
Total Fat:

28g
Saturated Fat:

13g
Trans Fat:

1g
Unsaturated Fat:

13g
Cholesterol:

81mg
Sodium:

1128mg
Carbohydrates:

34g
Fiber:

5g
Sugar:

5g
Protein:

28g