Peanut Butter and Jelly Thumbprint Cookies come together quickly with just 4 ingredients! Perfect for packing school lunches and afternoon snacks.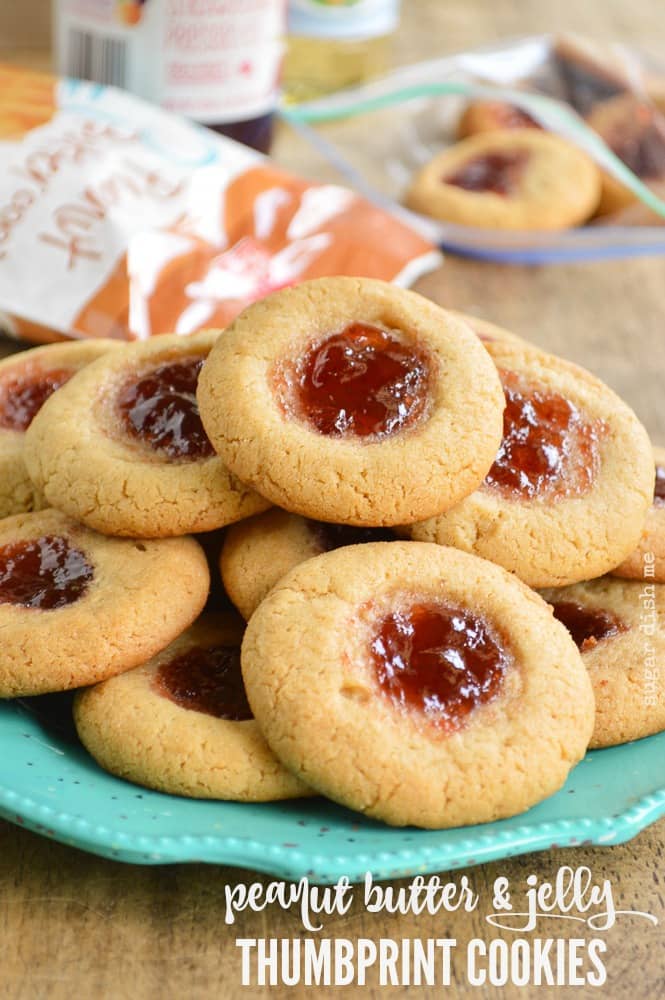 This post is sponsored by Harris Teeter. All opinions, photos, and the original recipe are my own.
HOW DID WE GET HERE?!!? All the way to Back-to-School, I mean. I'm feeling a little confused about just exactly WHERE my summer went.
We have definitely arrived, though. Back to eating dinner before 9 pm (summer days get away from me y'all), back to actually grocery shopping instead of just buying a bunch of fruit and cereal and seeing how far that gets us, back to schedules and school buses, and peanut butter and jelly.
To make things even weirder, my kids are both going to be in HIGH SCHOOL. Like what in the actual…
It's pretty crazy.
I still pack their lunches, though. Every day. Without fail. I've made a lot of peanut butter and jelly sandwiches in my day, and this year probably won't be much different.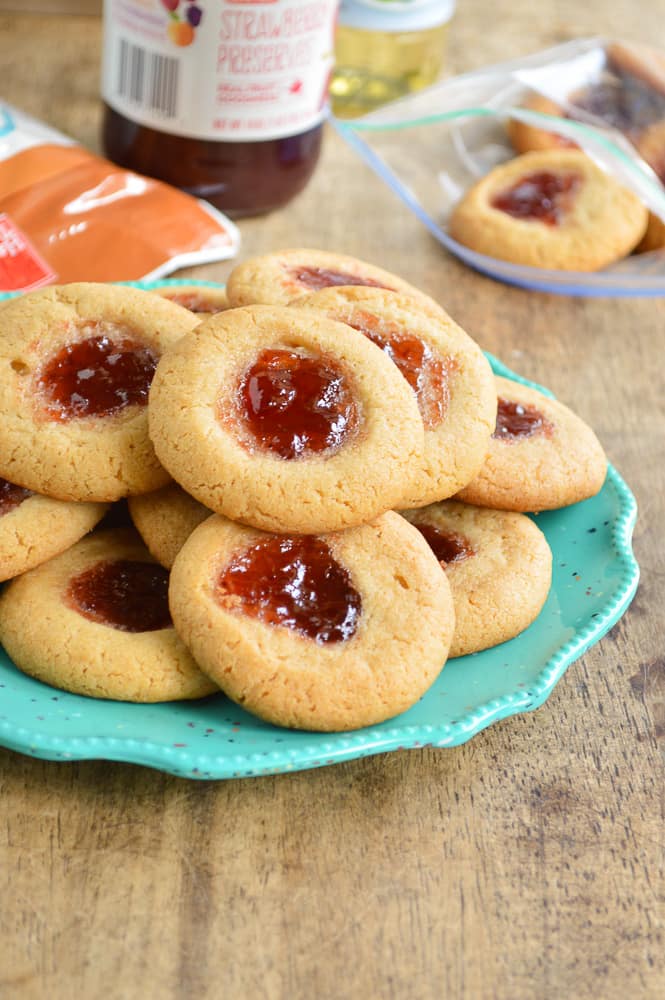 I'm going to let you in on a little secret: I adore grocery shopping. I love the grocery store and all the wonderful things it holds. I like finding new products, I like wandering the aisles with no direction, I like looking at all the freshly baked breads and produce… The grocery store is my jam, y'all. I could spend all day there (which is why Chad refuses to go with me).
Once you start actually buying all the things you need though (not just the stack of magazines you found at the checkout counter + the mini eggplants you bought because they are cute), it can get easy to go under really quickly. Especially once you factor in my love of grocery shopping + that back-to-school list.
SO. To help myself out (and leave room in my budget for fancy coffee), I buy store brand things! I'm fickle though, because I am really not interested in sacrificing quality. My guys know when I purchase substandard cereal.
But I never get resistance with Harris Teeter brands. HT Traders and HT Organics offer tonsssss of lunchbox goodies, pantry staples, weird stuff on your school supply list (like the teacher that requested the 8 oz. pump hand sanitizer), and essential items to make actually cooking easier.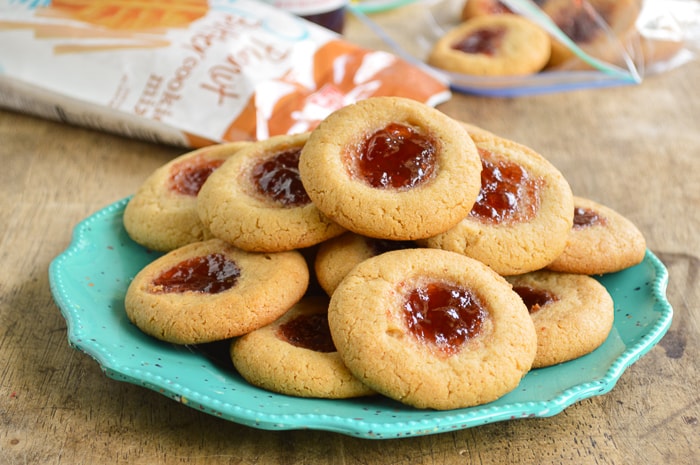 I even made you the easiest 4-ingredient 20-minute recipe with some of my fave HT Traders finds. Peanut Butter and Jelly Thumbprint Cookies!
Are you excited? Definitely get excited.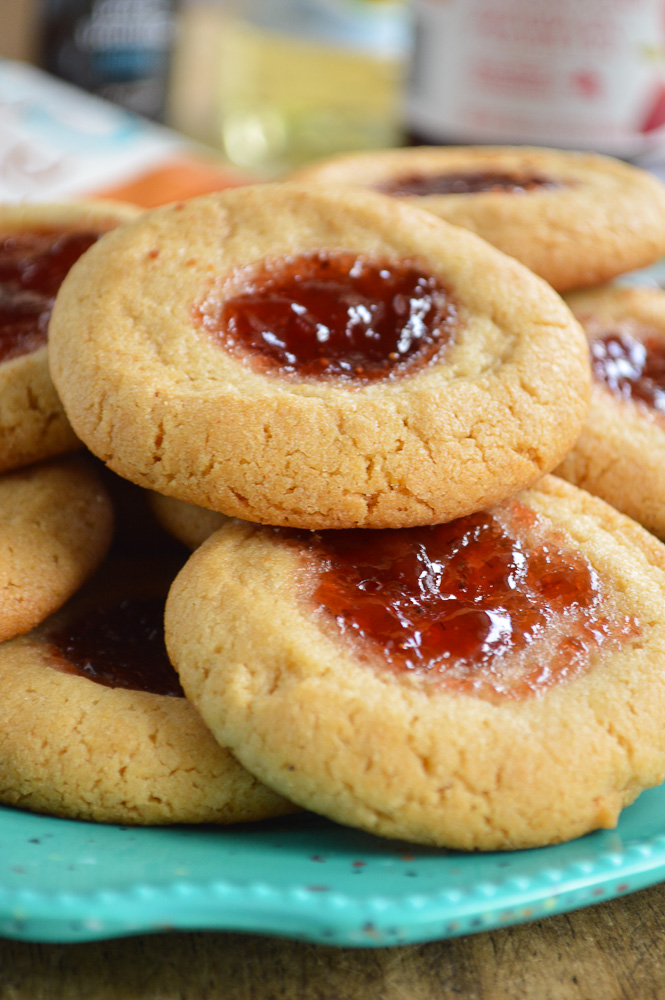 Other things to get excited about include this $50 Gift Card that I'm giving away! If you need to put a dent in some back to school shopping, or if you just need a bunch of pints of HT Traders Cookie Dough and Brownies ice cream, I got you covered.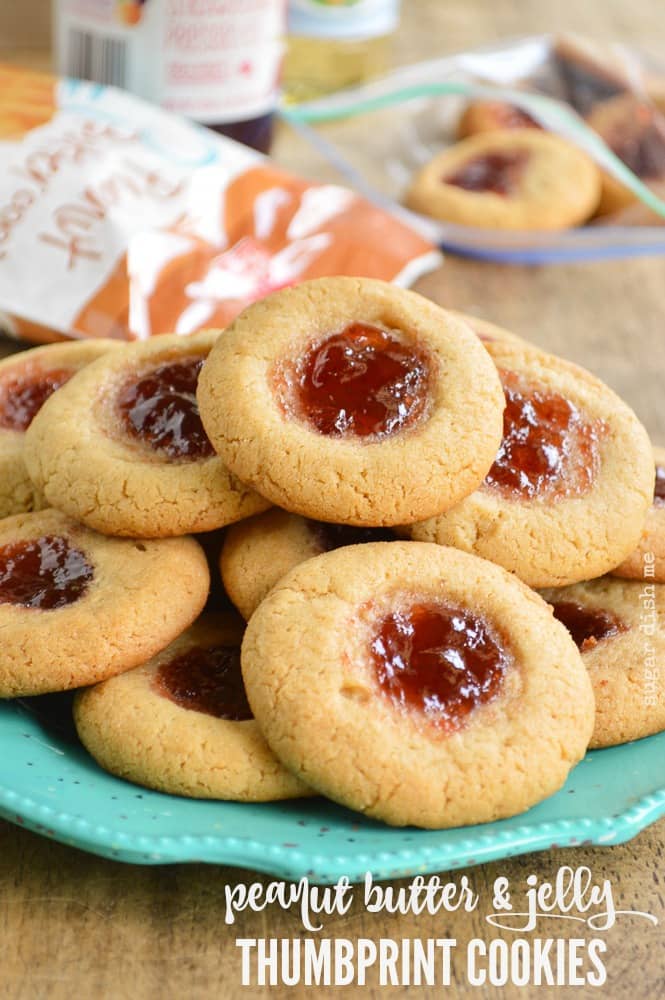 Yield:

about 36 cookies
Peanut Butter and Jelly Thumbprint Cookies
These Peanut Butter Jelly Thumbprint Cookies need just 4 ingredients and 20 minutes! The perfect little lunchbox staples.
Ingredients
1 (17.5 ounce) package Peanut Butter Cookie Mix
1/3 cup oil
1 large egg
1 teaspoon vanilla extract - OPTIONAL *see note*
1/2 cup strawberry preserves
Instructions
Preheat the oven to 375°F.
In a large bowl mix together the peanut butter cookie mix, oil, egg, and vanilla (if using) until combined. Roll the cookie dough into 1" balls and place them 2" apart on an ungreased cookie sheet.
Gently press your thumb down into the center of each little ball of dough to make a bell. Spoon 1/4 teaspoon of the strawberry jam into the well you made in each cookie.
Bake for 10 minutes. Let the cookies cool for 3-4 minutes before removing to a wire rack to continue cooling.
Notes
These thumbprint cookies are fine without the vanilla extract. It's totally optional. But I would like to note that I bought HT Traders Madagascar Bourbon Vanilla Extract and OMG it was delicious
Recommended Products
As an Amazon Associate and member of other affiliate programs, I earn from qualifying purchases.
Nutrition Information:
Yield:
36
Serving Size:
1
Amount Per Serving:
Calories:

37
Total Fat:

2g
Saturated Fat:

0g
Trans Fat:

0g
Unsaturated Fat:

2g
Cholesterol:

6mg
Sodium:

7mg
Carbohydrates:

4g
Fiber:

0g
Sugar:

2g
Protein:

0g
Okay so gift card…
a Rafflecopter giveaway
If you love Peanut Butter you also need to try…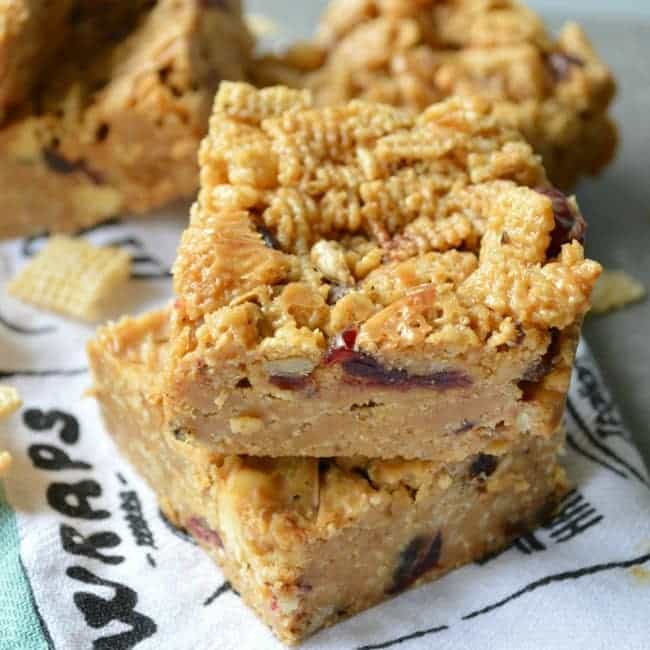 Peanut Butter Honey Cereal Bars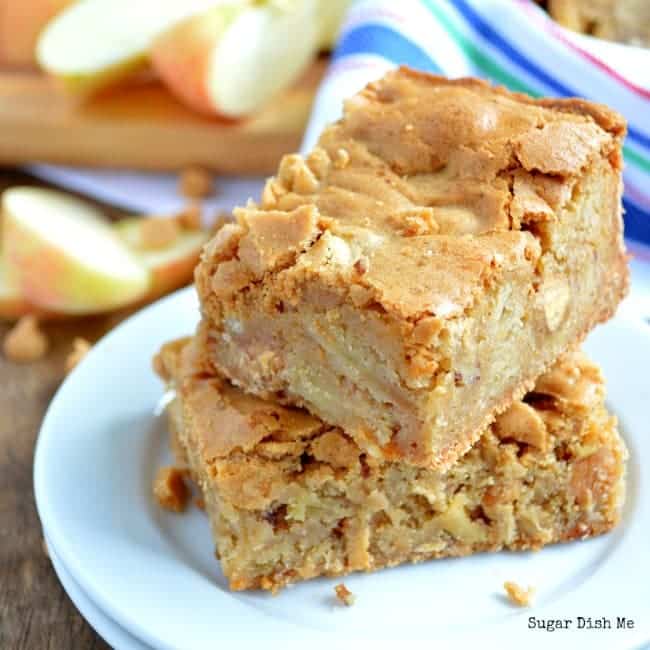 Chewy Apple Peanut Butter Bars