Pretzel thins dipped in colorful candy melts and covered in sprinkles. These Pretzel Dippers are perfect to customize for every holiday! Dip them in peanut butter for the best snack ever.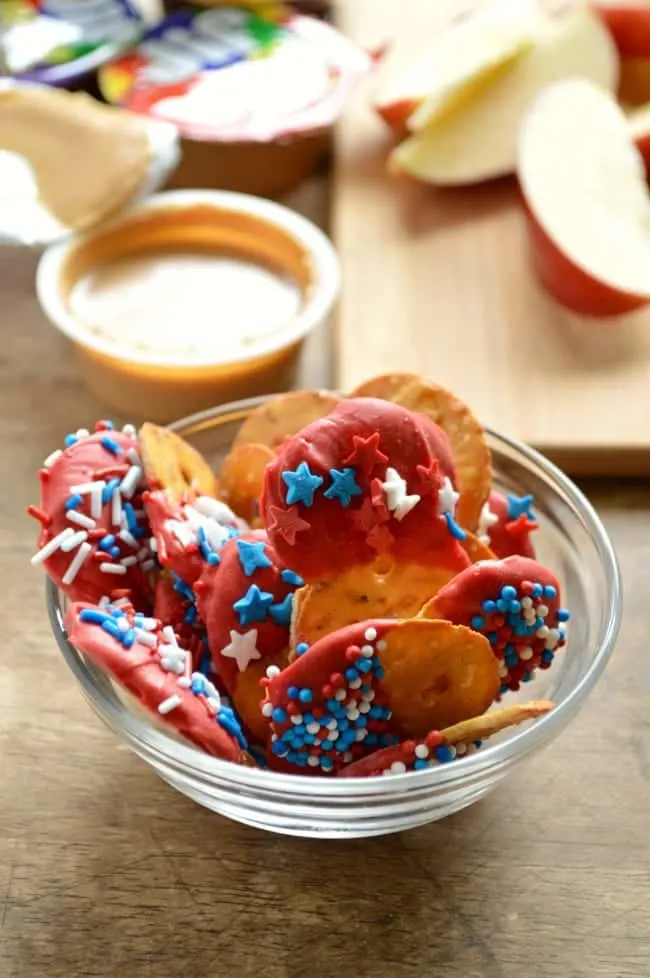 This post is sponsored by Jif! All opinions, photos, and the original recipe are mine. Sharing products with you from brands I love helps me keep the lights on and stay stocked with all the sprinkles.
I will be the first to admit: I am a snacker.
I will never be happy with just 3 square meals. It is so much more fun to have room for a few little fun bites here and there. I'm pretty good about snacking on fruit; if it's here I will totally eat it. I don't even want to tell you how many seedless watermelons I've knocked over in recent weeks.
Pretzels are also pretty high up on my snack list, but in my humble opinion, pretzels as a snack are a little bit sad without one crucial thing: PEANUT BUTTER. I am not above putting the spoon in the peanut butter jar, but honestly, if you lug around a jar of peanut butter wherever you go, people will look at you weird. #fact
But I have recently discovered the little single serving Jif To Go cups. They will fit in lunch boxes! You can take them to the pool! I can put peanut butter in my purse and no one will think I am weird.
Okay maybe that's stretching it a little.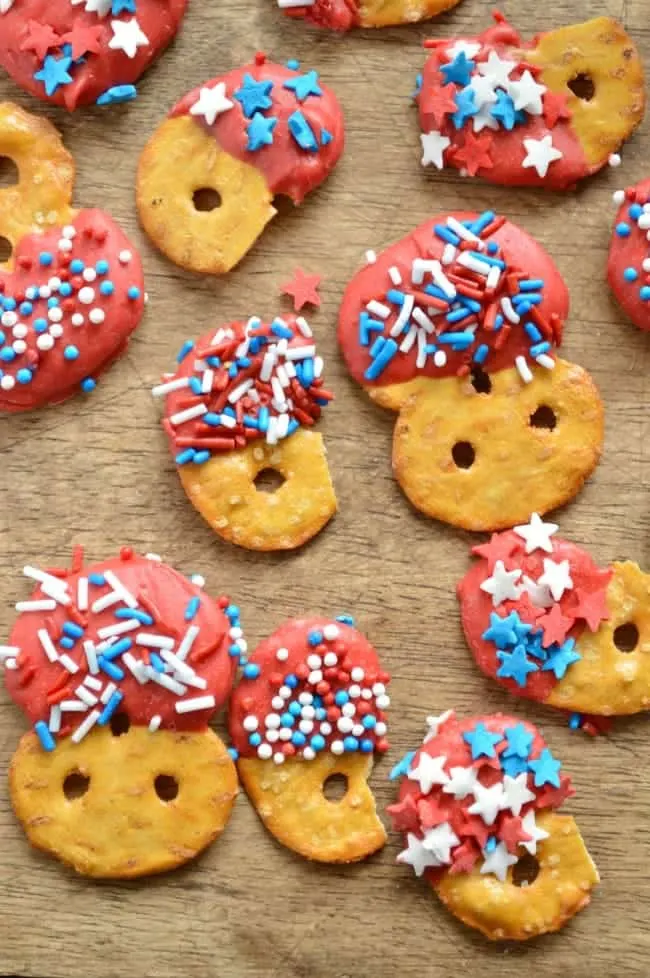 Anywho.
This weekend for the 4th we will be hitting up as many fireworks shows as time will allow, which means I need to have a car full of snacks on the ready for 3 days straight. I thought these Patriotic Pretzel Dippers would be a super fun snack – and they are the perfect thing to dip in the little single-serve peanut butter cups. This barely qualifies as a recipe, but if you are anything like me, you are pretty well checked out this week — it's all about minimal effort over here!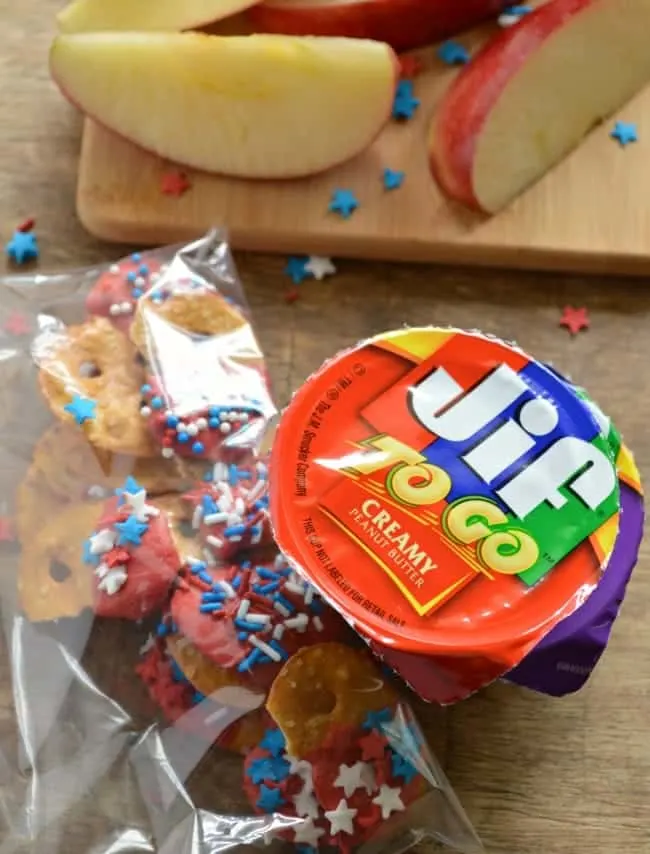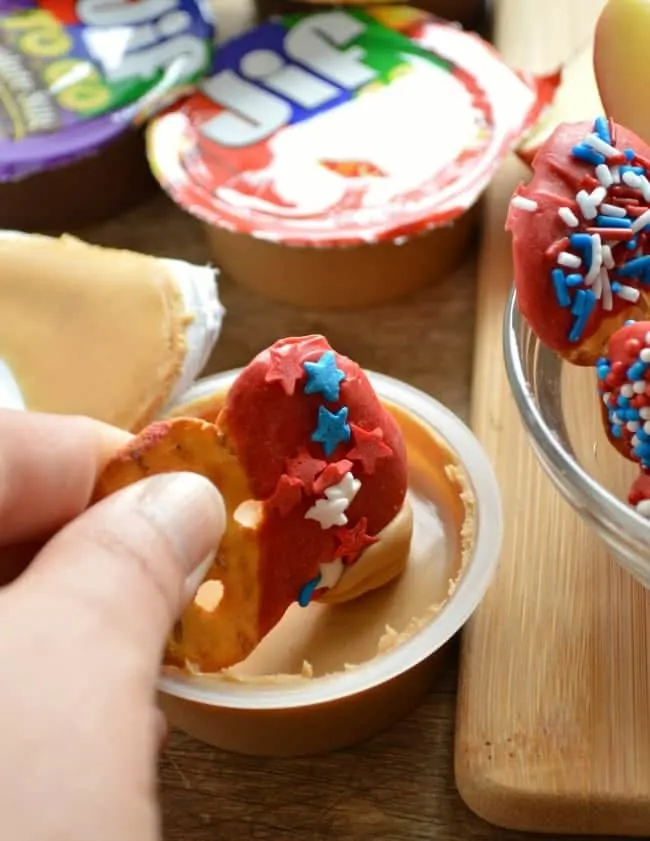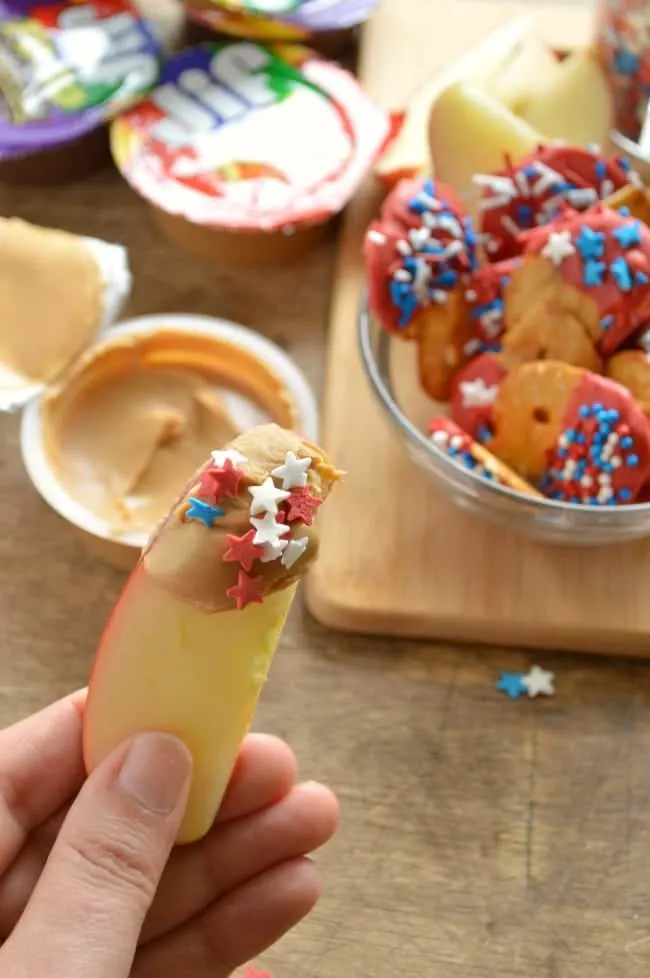 Apples + Jif To Go Peanut Butter + Sprinkles is also a way you could go here. I'm always up for sprinkles.

Pretzel Dippers
Pretzel thins dipped in festive candy melts and then covered in sprinkles. Change up the colors to suit any holidays
Ingredients
2 cups pretzel thins
½ cup candy melts
sprinkles (see note)
**you will also need wax paper**
Instructions
Lay a piece of wax paper over a baking sheet and measure out your pretzels.
Melt the candy melts according to the package directions for either the stove or the microwave. Make sure to stir frequently as you heat the candy melts.
Dip the pretzel thins into the melted candy, shake off any excess, and then add sprinkles.
Let them cool completely before removing from the wax paper.
Notes
1. When shopping for sprinkles to use here you can opt for jimmies, nonpareils, and shapes! Colored sugar sprinkles and sparkles don't work very well with the candy melts.
A Few Details…
Jif To Go Dippers are available in Creamy Peanut Butter or Chocolate Silk Peanut Butter Spread. Each cup contains 1.5 ounces and you can buy them in packs of 3 or 8!
Jif To Go is sponsoring an initiative I can really get behind via the 2015 "Kick It" Tour and a campaign initiative called Halftime Heroes. They are partnering with Christine Rampone, the U.S. Captain of the Women's National Team (and a mama of two!) to help raise $25,000 for the Boys and Girls Club of America. From now through August 9, 2015, you can visit the Jif tent for samples at any of the Kick It Tournaments and take photos with your Jif To Go samples using the hashtags #JifToGo and #PromoEntry . Jif will donate $1 to the Boys and Girls Club of America for every entry, up to $25,000. (find a Kick It Tournament in your area HERE)
Bonus!!
To win a Jif Prize Pack including a branded sport bag, water bottle, soccer ball, and an assortment of Jif To Go products just for you, share this post in any social media account you'd like and leave a link to your share in the comments. Giveaway open from 9 am EST 7/1/2015 through 9 am EST 7/7/2015.