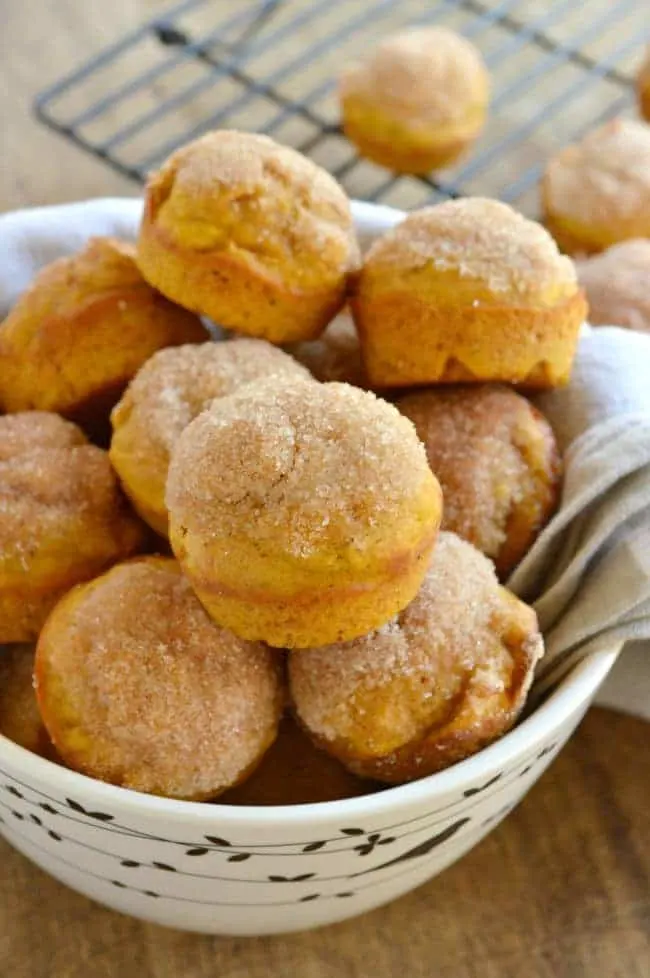 I have barely begun to scratch the surface of the complete awesomeness this season has to offer.
You are probably about to be inundated with fall things here over the next few weeks, so if you aren't into it, look away (but please don't, though, okay? because I would miss you. and you would miss out on donuts).
So let me tell you what keeps happening to me every single time I wander over towards Pinterest.
I go there for a specific reason, like to find a stowed away recipe or to pin one of my recent posts, and I should only be there for like ONE MINUTE. Or less. Except I get sucked into the Pinterest vortex which starts me on a recipe for sweet potato pasta with crispy kale topping (by the way, completely amazing), and before I'm done I've decided to make some crazy craft thing, have followed like 10 more boards or people, or both, and have wandered onto some blog somewhere and am reading through 42 recipe posts mentally tabulating when I could possibly have time to make all of these things?
And then I decide for the 43,000th time that I'm going to learn how to sew.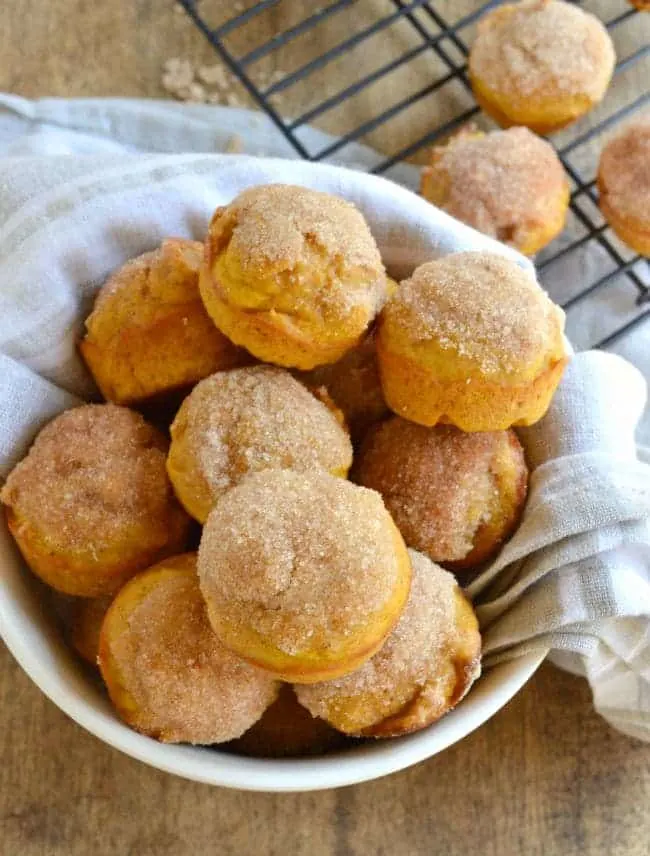 And then I remember that sewing is a terrible idea because I am pretty much no good at it.
To be fair, I'm pretty sure that this is completely the point of Pinterest. I know it's why I pin my stuff. I have lofty high hopes that someone will wander here all zombie-like from too much Pinterest and get stuck reading for an hour. If you did that then leave a note, please. I'll be able to mark that off of my list of accomplishments. Thanks.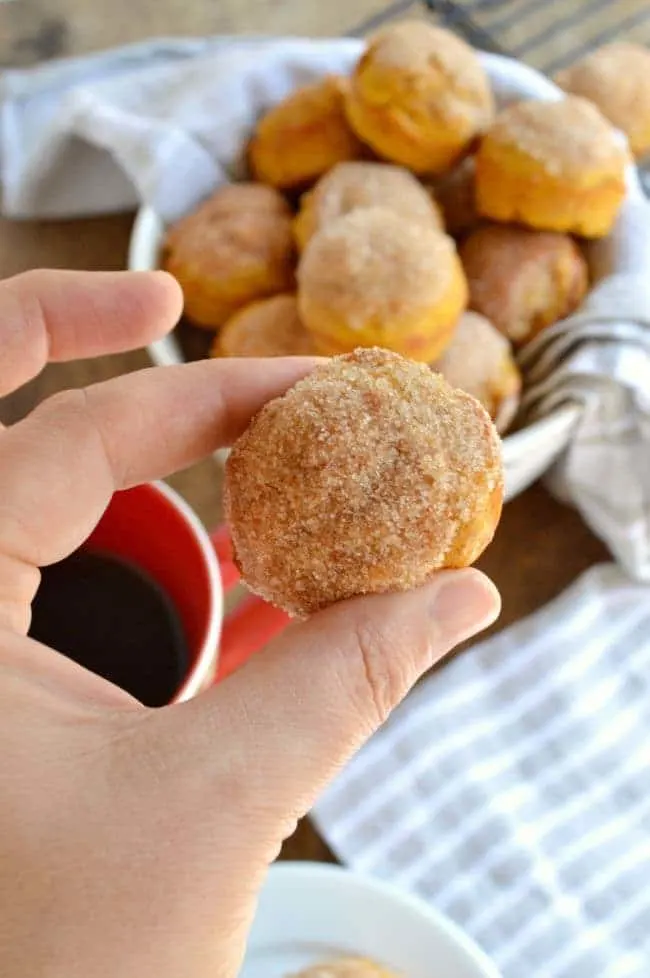 This morning I laid off of Pinterest completely. I didn't even go near it.
The result was ohhhhh so lovely. And tasty. And doughnutty.
Pumpkin Donut Mini Muffins with a Cream Cheese Drizzle and Crushed Pecans to go with my coffee.
I told you: fall things.
Donut holes- make them happen! And you know what? You don't actually have to abstain from Pinterest. Because from start to finish– clean up and everything– this recipe took me all of 45 minutes. That leaves you the whole rest of the day to wander aimlessly around the internet.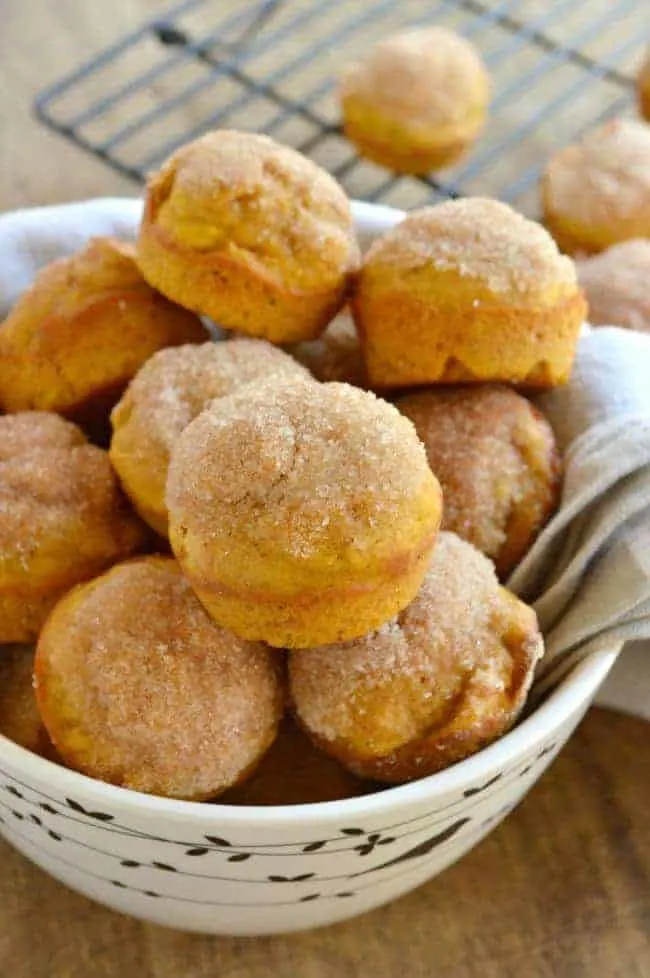 Yield:

24
Pumpkin Donut Mini Muffins
Pumpkin Donut Mini Muffins are super simple little doughnut mini muffins loaded with pumpkin spice flavor. You can top them with either the cream cheese drizzle plus chopped pecans OR with melted butter and cinnamon sugar. They are awesome little fall treats either way!
Ingredients
1 1/4 cups all purpose flour
1 teaspoon baking powder
1/2 teaspoon salt
1/2 teaspoon pumpkin pie spice
1 egg
1/2 cup pureed pumpkin
1/2 cup packed light brown brown sugar
1/3 cup buttermilk
2 tablespoons unsalted butter, melted
1 teaspoon vanilla extract
For the Cream Cheese Glaze:
4 ounces cream cheese, softened
1/4 cup unsalted butter, softened
1 cup powdered sugar, sifted
1/2 teaspoon vanilla extract
2 tablespoons heavy cream (or milk; milk works)
1/2 cup pecans, very finely crushed (optional)
For the Cinnamon Sugar Topping:
2 tablespoons melted butter
3 tablespoons granulated sugar
1/2 teaspoon cinnamon
Instructions
Pre-heat the oven to 425. Spray a mini-muffin pan with non-stick cooking spray.
In a medium bowl, whisk together the flour, baking powder, salt, and pumpkin pie spice.
In a large bowl, whisk together the egg, pumpkin, brown sugar, buttermilk, butter, and vanilla.
Add the dry mixture to the wet mixture, and stir until just combined. Spoon the mixture into the prepared pan, filling each cup just 2/3 full.
Bake for 7-9 minutes. The donut muffins will spring back to the touch; insert a pick into the center to check for doneness.
Let them cool for 1-2 minutes in the muffin pan and then move them to a wire rack to cool completely.
If you are using the cream cheese glaze, beat together the cream cheese and butter. Sift in the powdered sugar, and then beat it in until smooth. Add vanilla and then heavy cream, starting with just 1 tablespoon until you reach your desired consistency. Using a small ziploc bag (or pastry bag) with the corner snipped off, squeeze the glaze across the tops of the doughnut mini muffins. Sprinkle with the pecans.
If you decide to go the cinnamon-sugar route, dip the top of each doughnut mini muffin in the melted butter. Mix up the cinnamon sugar and then dip the buttered dount muffin in the cinnamon sugar.
Nutrition Information:
Yield:
24
Serving Size:
1
Amount Per Serving:
Calories:

163
Total Fat:

8g
Saturated Fat:

4g
Trans Fat:

0g
Unsaturated Fat:

3g
Cholesterol:

26mg
Sodium:

110mg
Carbohydrates:

21g
Fiber:

0g
Sugar:

14g
Protein:

2g
(donut holes adapted from
THIS
recipe at Rachel Cooks, glaze adapted from Bon Appetit, March '08)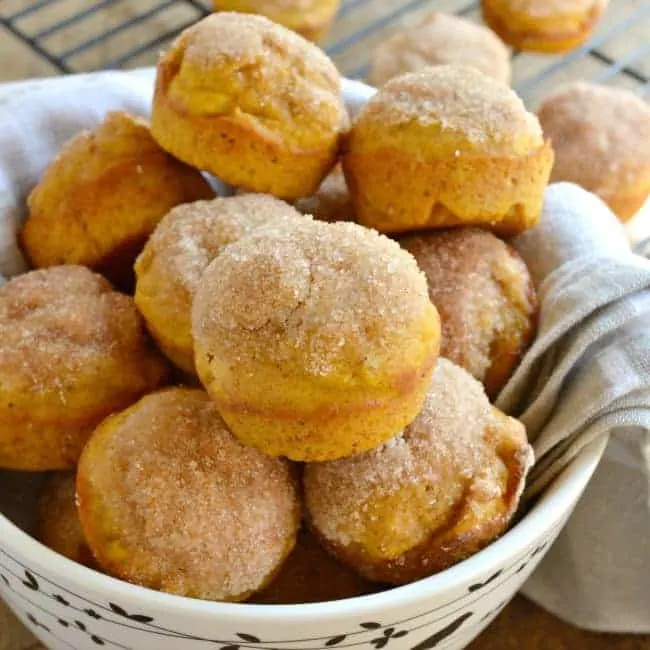 If you love pumpkin recipes, you should also try…