This quick, Easy Brussels Sprout Hash is perfect for any meal. Filling, healthy, and low carb this dish works as a side, a breakfast, or a main dinner dish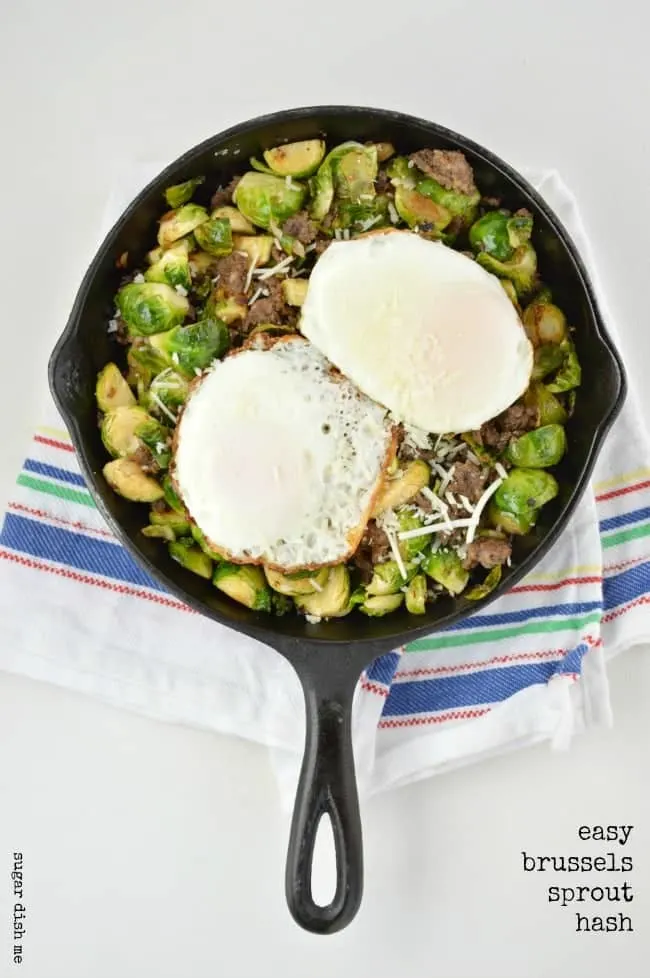 This meal in 3 words: EASY. FILLING. DUHLISHUS.
This is food I can get behind. My other half though? He was not sold and I was sufficiently shocked, although I guess I get it. I was definitely 30 before I decided eggs were an acceptable dinner. In my head eggs had their place, which was before noon or after midnight.
Vegetables are the opposite, existing only after noon and before midnight (with the exception of quiche or western omelets; so many weird food rules!!! I know.).
So anyway, I made this a minimum of 4 times before actually getting around to sharing it, and all 4 times Chad politely declined, citing reasons like, "It's too early for Brussels sprouts," or, "I don't want eggs for dinner," or, "Where are the cheeseburgers?"
He would almost always rather have cheeseburgers.
But I am trying to tell you that this Easy Brussels Sprout Hash is where it's at. No matter what time of day it is. Add a thick slice of crusty bread for that egg and you have a 24-hour-a-day win.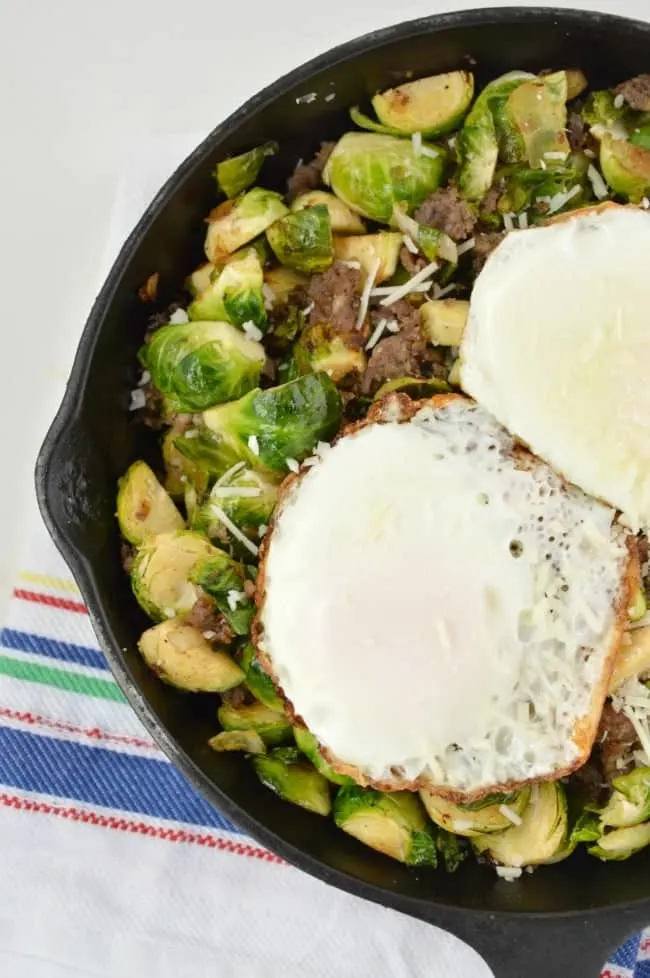 The crumbled breakfast sausage is perfect with the Brussels sprouts. Do you love Brussels sprouts? Gosh I do.
And then there are the eggs. I fried these. Over medium in just a little olive oil with a sprinkle of sea salt and crushed red pepper.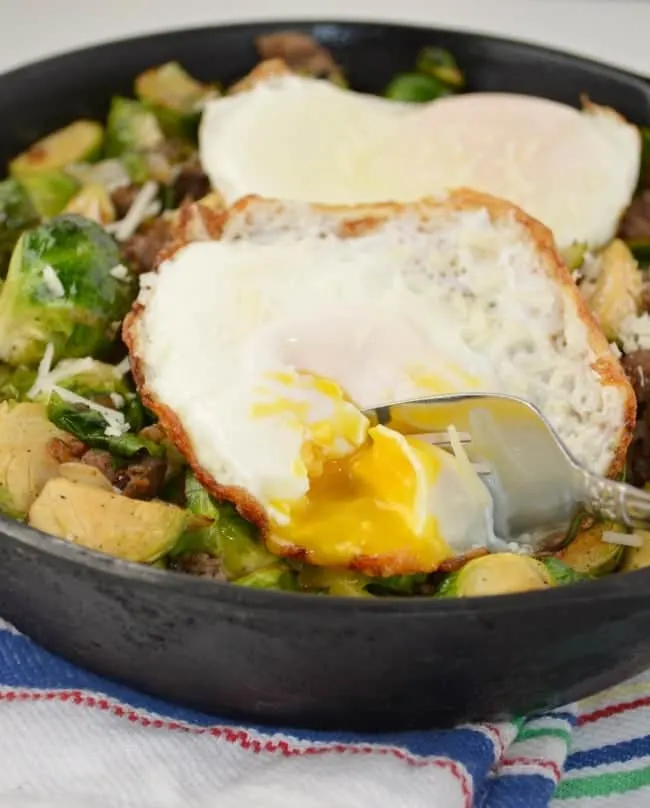 Served just like this I absolutely adore this meal for breakfast, lunch, or dinner. Leave off the eggs and you have a fantastic side dish. And as I'm typing this I'm feeling like polenta would be a nice creamy base. You could serve this at a brunch!!!
Isn't brunch the best?
Quick and Easy Brussels Sprout Hash
Crumbled sausage and pan seared Brussels sprouts come together to make a super simple and versatile dish that can serve as a meal or a side any time of the day.
Ingredients
½ pound breakfast sausage
½ medium onion, chopped
1 pound Brussels sprouts, washed, patted dry, and cut into halves or quarters
kosher salt and crushed red pepper to taste
4 eggs (optional)
Instructions
In a large skillet cook and crumble the sausage over medium high heat until it's browned and cooked through. Remove it to a plate lined with a paper towel. Drain all but about a tablespoon of the grease from the skillet.
Add the onions to the skillet and cook for about a minute, until they are fragrant and translucent. Then add the Brussels sprouts.
Continue cooking for 6-8 minutes. You want the Brussels sprouts to be bright green and tender; some of the edges will be a little toasty and brown from the pan. Stir the cooked sausage back in.
Sprinkle with the kosher salt and crushed red pepper to taste.
If you are serving this with eggs you can start cooking them 1-2 minutes before the Brussels sprout hash is done. An over medium fried egg will only take about 3 minutes to cook.