Blueberry Biscuit Bombs are unbelievably simple, tasty little treats that are perfect for breakfast, brunch, or dessert. Flaky biscuits are stuffed with cream cheese and blueberry pie filling for a biscuit bomb your guests will swoon over.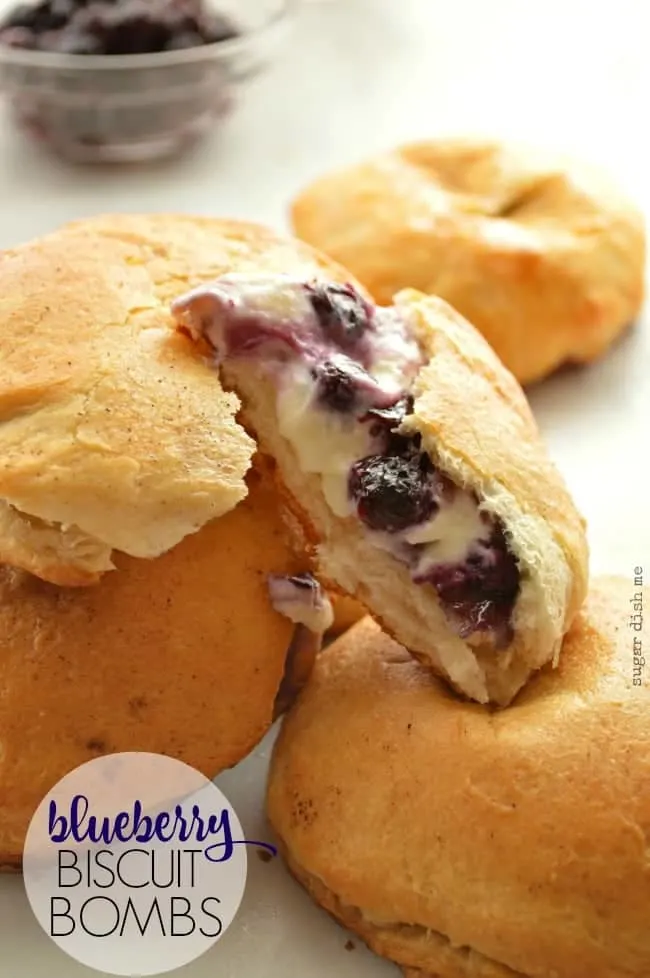 Biscuit Bombs go back to 2015 for me when I made these Peach Pie Biscuit Bombs (after one of my insane summer produce-buying sprees). I have a habit of buying way too much of everything, and then panic ensues when I realize that the peaches are starting to bruise and soften, and I can't eat half a peck by myself.
Blueberries are not much different. I buy too many with smoothies in mind, decide that hauling the blender out from under the sink is annoying, and then start to freak out when I see that one fuzzy green blueberry in the carton indicating that I have probably pressed my produce luck. I do promise I didn't make y'all blueberry biscuit bombs with moldy berries, though. I picked those out.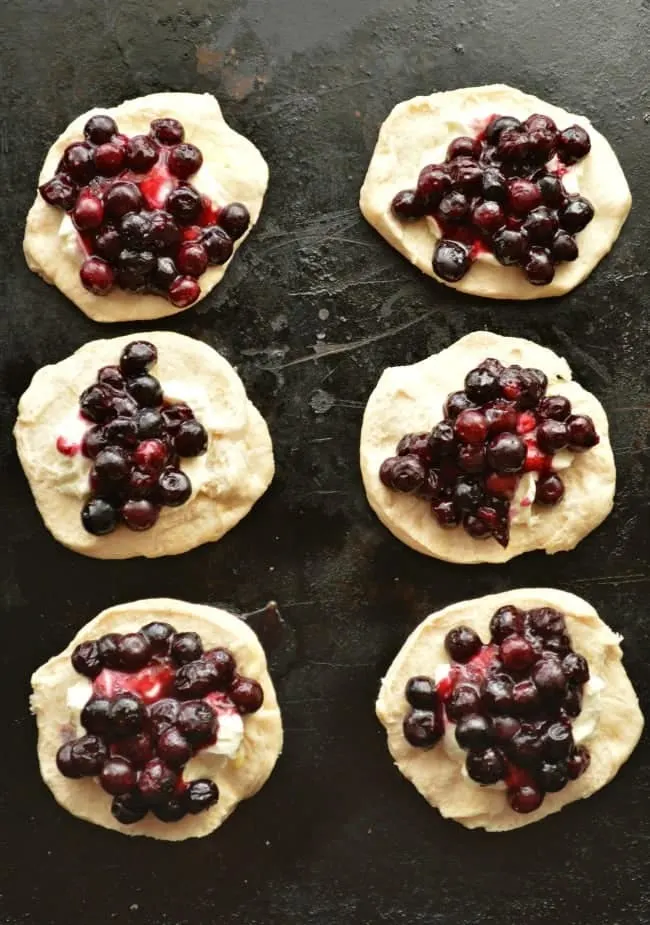 Anywho. The concept here is simple. Stuff the flaky layers of refrigerated biscuits full of fruit, bake, brush with browned butter because DUH that makes everything better, and enjoy.
The love affair with breakfast bread dough that comes from a can continues. It's not been long since we made this Apple Cinnamon Breakfast Braid or this Christmas Morning Monkey Bread (which you can totally make on days that aren't Christmas).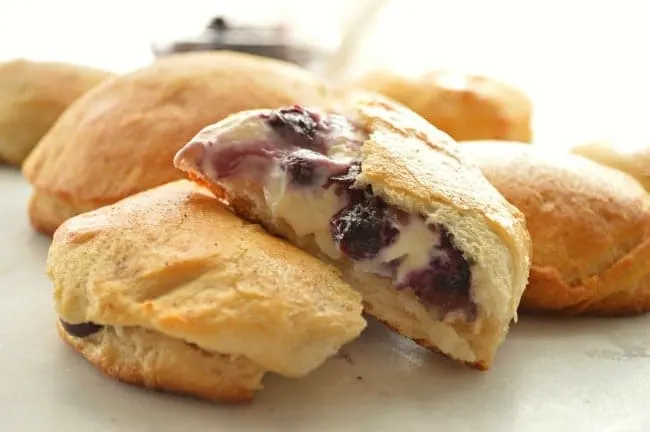 I tested these like seven ways from Sunday [brunch] so there are notes for a few shortcuts including store-bought pie filling, uncooked blueberries, frozen blueberries, and unsweetened cream cheese. OH THE SACRIFICES I MAKE FOR YOU GUYS. The moral is that they were delicious every single way.
Also! They keep very similar to a cheese danish or pastry (side note: please try this Apple Walnut Danish recipe!). You don't need to refrigerate them if they aren't all snatched up hot off the baking sheet. A ziploc bag'll do!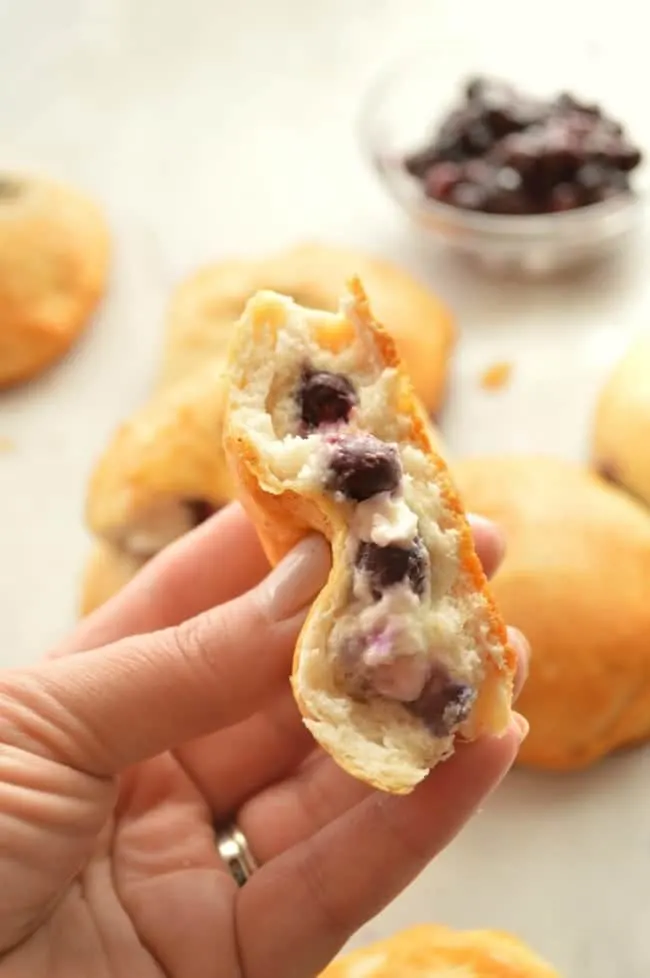 Love Blueberries? You should also try…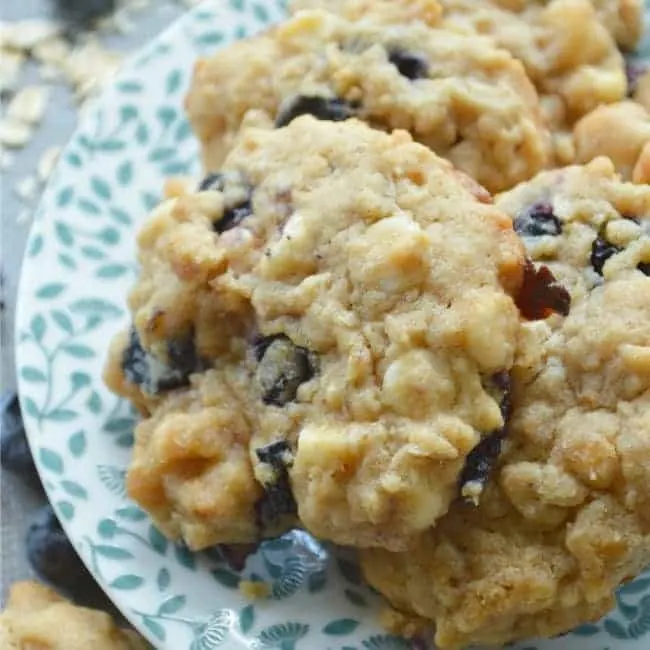 White Chocolate Blueberry Oat Cookies