A no-bake treat made of Snickers Ice Cream bars, chocolate pudding, chocolate graham crackers, and whipped topping. This Snickers Icebox Cake is a totally indulgent celebration!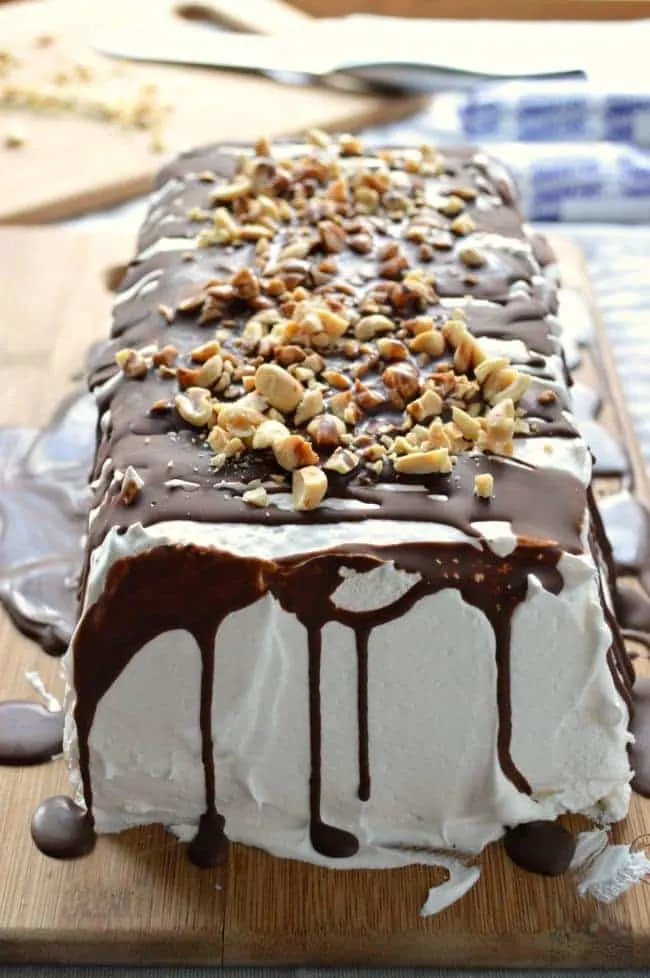 This post is sponsored by Mars Ice Cream! We are working together to celebrate July, National Ice Cream Month! Original recipe, photos, and opinions are my own. There really is no disputing my love for ice cream.
This cake is a celebration.
You can tell just by looking at it, right?
A cake with no baking!!!! That's all the reason you need to throw a party. But in the summer I have lots of reasons to celebrate.
School is out! No carpool line!! My birthday is in June. #partytime Summer months are perfect for vacations (even though we haven't taken one because we went to Disney in February). You can swim and grill and eat dinner at 8:30 p.m. on a Wednesday. We have 3 birthdays in July!!! My mom, Chad's mom, and… CHAD.
Chad's birthday is tomorrow.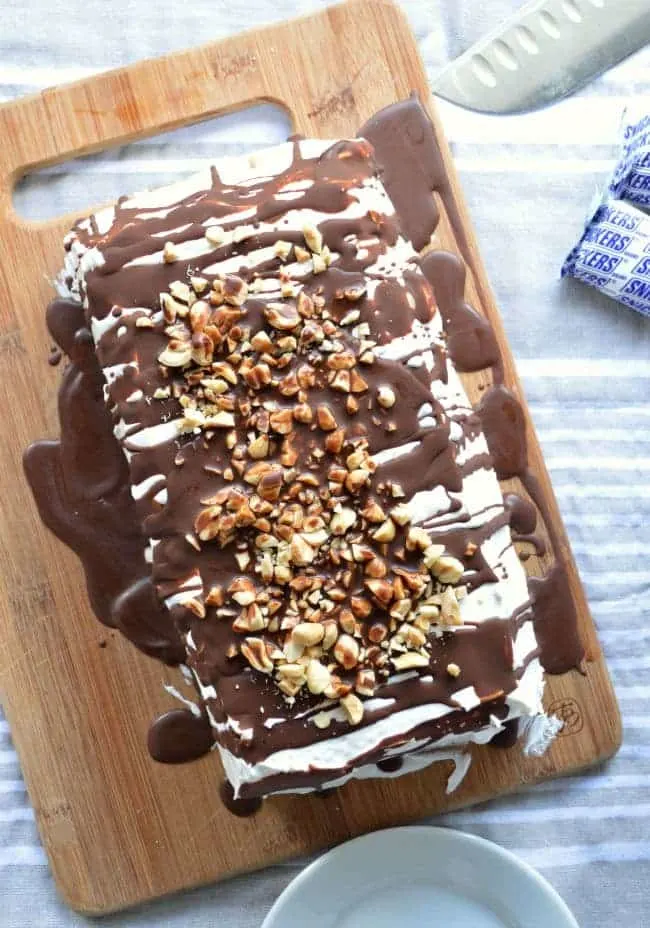 Time to celebrate!!!
Celebrations in our family are never complete without ice cream. And my other half? He should be the official Snickers Bar spokesperson. If you know the story of how we met, you should also know how many days that story involved Chad raiding the ice cream case at my work for Snickers Ice Cream Bars so that he could have an excuse to talk to me.
So a Snickers Icebox Cake made sense.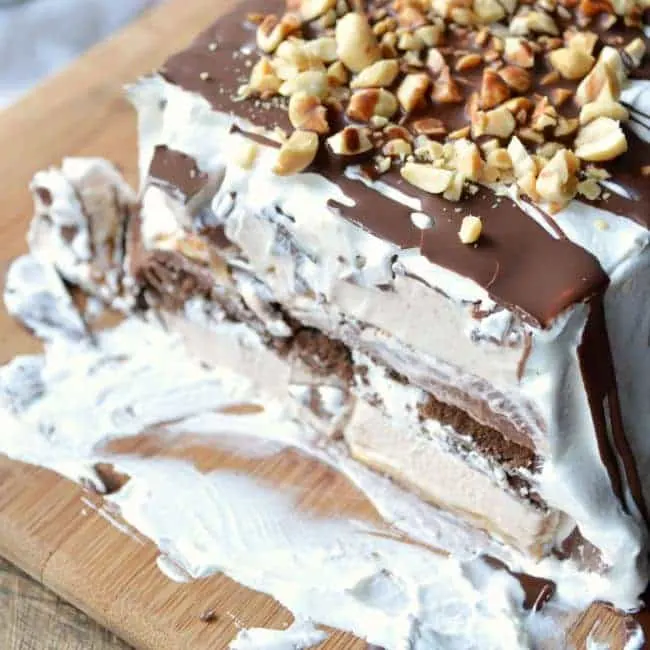 This is THE EASIEST way to make a summer cake.
You're just going to line a loaf pan with whipped topping, layer in all the Snickers Ice Cream Bars you can fit without breaking the chocolate coating on the outside (about 7), add more whipped topping, some chocolate graham crackers, a layer of chocolate pudding, and MORE Snickers Ice Cream Bars!
I also made this homemade magic-shell-kinda-deliciousness that gets drizzled all over the top with chopped peanuts.
Freeze.
Slice.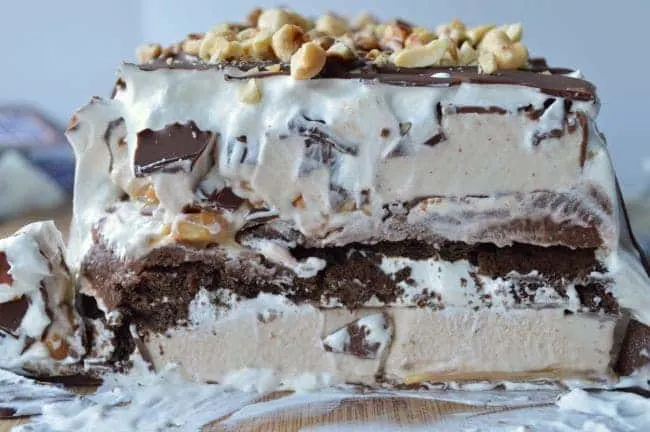 EAT.
And Happy Happy Birthday to My Sweet.
Snickers Icebox Cake
A no-bake delight! This icebox cake is made with layers of Snickers Ice Cream Bars, chocolate pudding, chocolate grahams, and whipped topping. Totally awesome and indulgent. Note that prep time includes 1 hour to freeze.
Ingredients
16 ounces of whipped topping, thawed
12-14 Snickers Ice Cream Bars
4 chocolate graham crackers
1 (3.4 ounce) package instant chocolate pudding
1¾ cup whole milk
1 tablespoon coconut oil (OR vegetable shortening)
2 ounces good quality dark chocolate, chopped
¼ cup coarsely chopped peanuts
* you will also need parchment paper for lining your pan; plastic wrap will also work but not quite as well *
Instructions
Line a 9 X 5 or 8 X 4 loaf pan with parchment paper. You will want the parchment to hang over the edges of the pan, so I like to cut it in strips. One to go across long ways and one to go across. You'll need one more piece to wrap the bottom when you freeze.
Spread whipped topping across the bottom of the pan and up the sides. Unwrap enough Snickers Ice Cream Bars to line the bottom of the pan. They are just the right size to line 6-8 up horizontally and get a nice snug fit. Spread more whipped topping on top of the bars.
Lay your graham crackers across the whipped topping. You will need to break the ends off to make them fit. It's okay if they overlap.
Whisk together the instant chocolate pudding mix and the milk until smooth, about 1 minute. Let it set up and thicken in the refrigerator for about 5 minutes. Then spoon the pudding over the top of the graham crackers.
Add a second layer of Snickers Ice Cream Bars and then spread more whipped topping over the top. Place that last piece of parchment paper across the top.
Freeze for at least 1 hour.
Turn the cake out onto your serving plate and spread the remaining whipped topping all over the outside to make a pretty frosting.
To make the magic shell topping, melt the coconut oil in a small skillet. Remove from heat and stir in the chopped chocolate until smooth. Let it cool completely and then drizzle it over the frozen cake. Top with chopped peanuts.
I like to re0freeze this for a little while longer to get prettier slices but it's ready to eat at this point! Slice & serve.
Notes
1. You can use whipped topping OR homemade sweetened whipped cream (if you are feeling industrious). DO NOT use prepared whipped cream from a can. it won't work and you will be sad.
2. The number of Snickers Ice Cream Bars required will depend on the size of your loaf pans. I used a 9 X 5 loaf pan, so my cake used 14 bars.
3. Don't try to use low fat milk in your pudding. It will make the center of your cake icy instead of creamy.
4. You WILL have leftover pudding. There's no way around it. But I live in a world where leftover pudding is a really good thing.
5.This cake is easier to slice with a hot knife! Run your knife under hot water , dry it and then cut the cake.
Learn more about Snickers Ice Cream Bars HERE.