These soft cake-like chocolate cookies make the perfect base for fluffy marshmallow frosting. Slimeball Hi Hat Halloween Cookies are such a fun way to celebrate!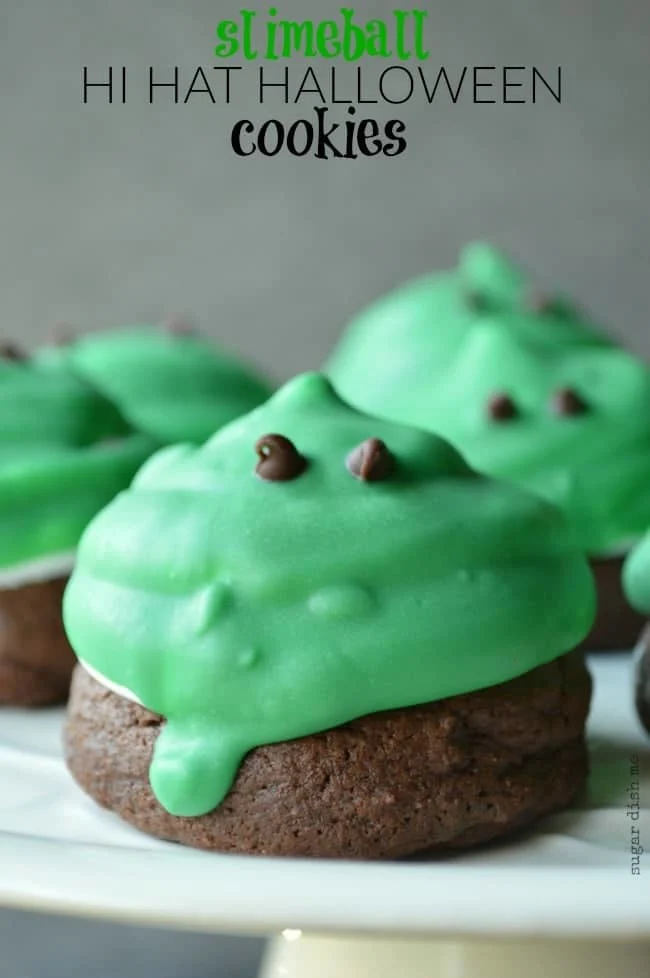 Thanks to Dixie Crystals for supporting this year's #TheHalloweenProject ! We were provided with Dixie Crystals sugar and a few goodies to share this year's treats with you, but as always, all opinions, photos, and original recipes are my own.
My Halloween game is usually much stronger, but like everything else lately, my wedding being situated right smack in the middle of September has shuffled my priorities a bit. No complaints from me on that! But we do have some Halloween catching up to do. So I made us some cookies.
Slimeball Hi Hat Halloween Cookies to be exact.
I wanted to do something Ghostbusters-inspired, but when I started dipping these cookies, and they started settling down, I noticed they looked a little more like Jabba the Hut. Which is okay, too. Two notorious slimeballs make for great Halloween cookie inspiration. Slime is also great for Halloween inspiration.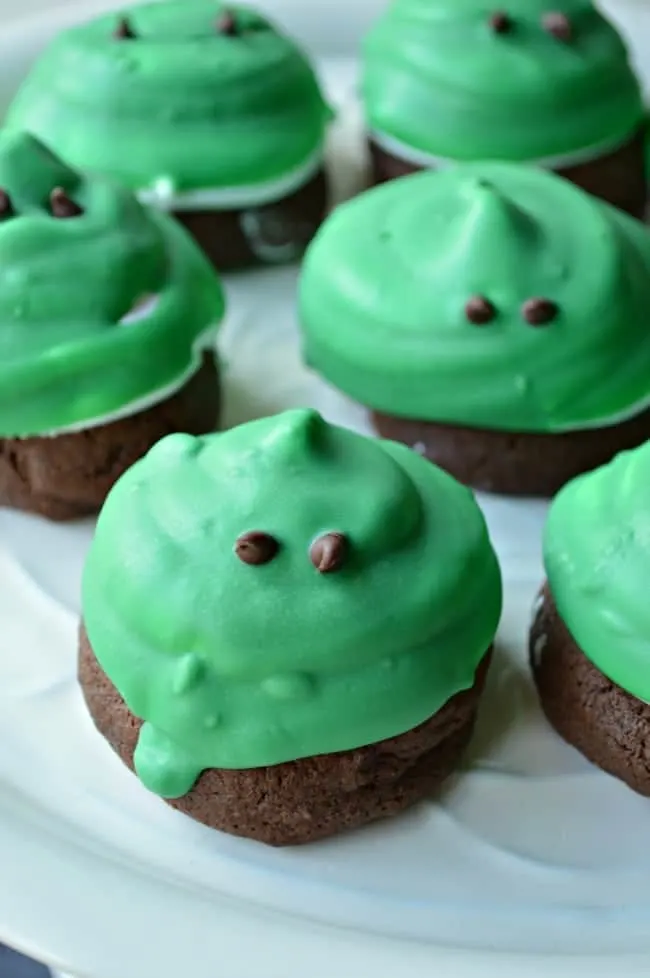 I've never made Hi Hat anything before now, and I was a little intimidated going in. That marshmallow topping precariously dipped in chocolate looked daunting. Nerve-wracking. Right? It ended up being really easy though; surprisingly easy! and fun. Although SUCH a mess. Probably I'm just a mess maker, but if you could have seen me piping this homemade marshmallow fluff topping, you would have laughed.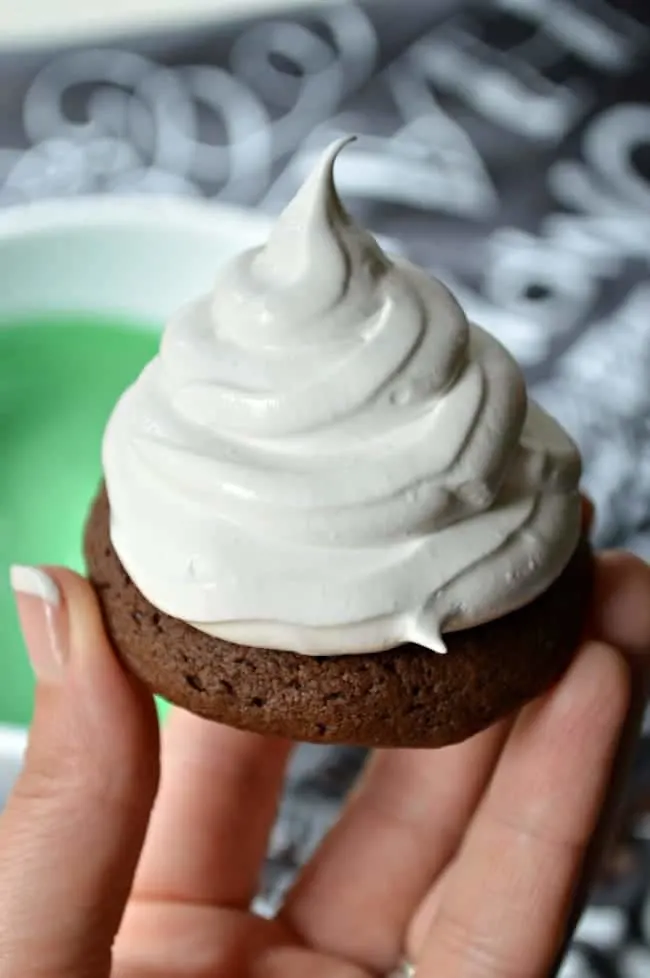 A lot.
Anyway. The marshmallow frosting is DREAMY. It only takes a few ingredients, and a mixer. A stand mixer would be my recommendation because it's the easiest (you can turn it on and walk away), but if you only have a hand mixer that will work, too. I used Martha Stewart's recipe for the frosting because in my research it seemed to be the most reliable. I've had a lot of failures with Martha recipes over the years ( a lot of them just do not work), but this one didn't disappoint.
The cookie base is just a basic chocolate cookie recipe. They are a little bit cakey which I loved with the frosting because traditionally a hi hat topping would be found on a cupcake. You can add chocolate chips or chunks to the batter if you like.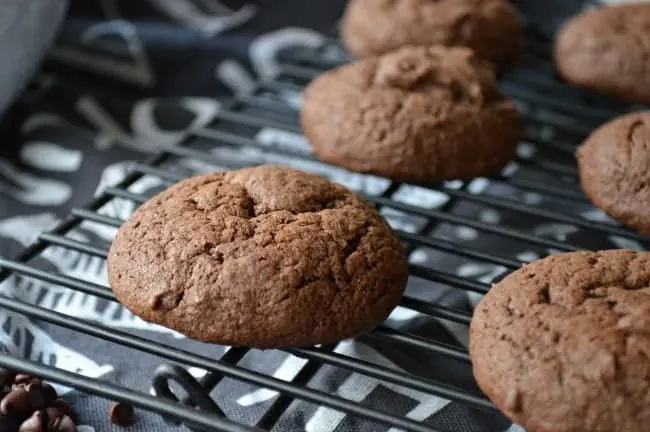 And… don't be scared! You can do this Hi Hat Cookie thing.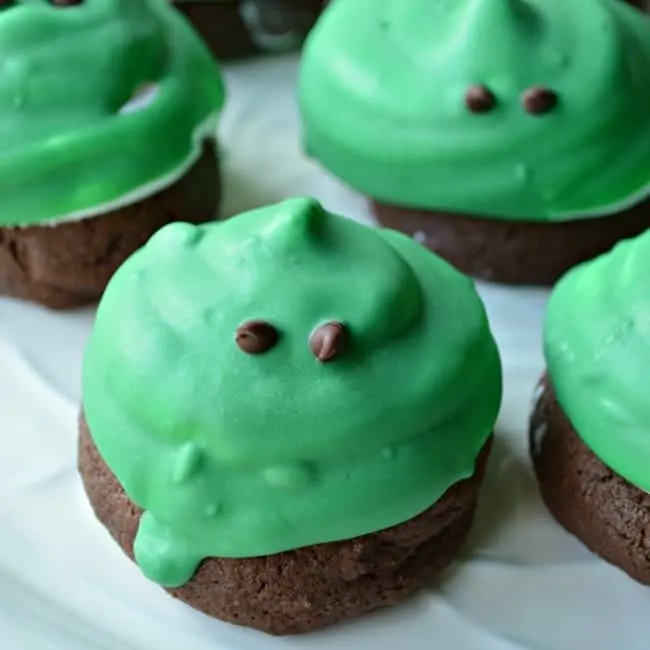 Yield:

24 cookies
Slimeball Hi Hat Halloween Cookies
Slimeball Hi Hat Halloween Cookies are SO MUCH FUN! Cake-like chocolate cookies are topped with homemade marshmallows and then dipped in a green chocolate candy coating. These cookies look like little slimeball Halloween monsters!
Ingredients
For the Cookies:
2½ cups all purpose flour
1 teaspoon baking soda
¼ teaspoon salt
¾ cup dark unsweetened cocoa powder
1 cup unsalted butter, softened
1 cup Dixie Crystals sugar
1 cup packed brown sugar
2 eggs
2 teaspoons vanilla
For the Hi Hat Frosting:
2 1/2 cups Dixie Crystals sugar
6 large egg whites, room temperature
1/2 cup water
1/2 teaspoon cream of tartar
1 tablespoon pure vanilla extract
For the Chocolate/Candy Coating:
8 ounces green candy melts
4 tablespoons coconut oil
mini chocolate chips to make eyes
Instructions
TO MAKE THE COOKIES
Pre-heat the oven to 350°. Line a baking sheet with parchment paper.
Whisk together the flour, baking soda, salt, and cocoa powder and set aside.
In a large bowl beat the butter and sugar until smooth. Add the eggs one at a time, then the vanilla.
Gradually add in the flour mixture.
Drop the cookies by rounded tablespoons onto the prepared baking sheets. Bake for about 10 minutes; the center will still be soft.
Let the cookies slightly cool on the cookie sheet before removing to cool completely on a wire rack.
TO MAKE THE FROSTING
Combine sugar, egg whites, water, and cream of tartar in the [heat proof!] bowl of a stand mixer Mix until foamy. Remove the bowl from the stand mixer and place it over a pan of
barely simmering water and whisk by hand until the sugar is dissolved and the mixture is warm to the touch (3 to 5 minutes). Put the bowl back on the stand mixer and with the whisk attachment, beat on high speed until the frosting forms stiff peaks (12 to 16 minutes) Add vanilla and beat until combined.
Transfer the frosting to two large pastry bags fitted with 1/2-inch round tips. (this is seriously the trickiest part) Pipe a spiral of frosting into a 2-inch-high cone shape, using about 1/3 to 1/2 cup frosting per cookie. Transfer the cookies to a baking sheet, and refrigerate while preparing the green chocolate coating.
In a small saucepan, melt together the candy melts and coconut oil over medium heat, stirring until smooth. If you want to scrape the coating into a bowl that is deeper than the pan you are using that can be helpful; it just needs to be tall.
Holding each cookie upside down, dip each in the chocolate/candy coating to coat the frosting, allowing excess to drip off. Transfer to a baking sheet filled with a wire rack. I had best results working in small batches and refrigerating immediately.
Recommended Products
As an Amazon Associate and member of other affiliate programs, I earn from qualifying purchases.
Nutrition Information:
Yield:
24
Serving Size:
1
Amount Per Serving:
Calories:

372
Total Fat:

13g
Saturated Fat:

8g
Trans Fat:

0g
Unsaturated Fat:

4g
Cholesterol:

36mg
Sodium:

103mg
Carbohydrates:

62g
Fiber:

1g
Sugar:

47g
Protein:

4g
Hi Hat Frosting Recipe from Martha Stewart
Follow #TheHalloweenProject in social media for awesome Halloween posts from this year and last!
If you LOVE Halloween…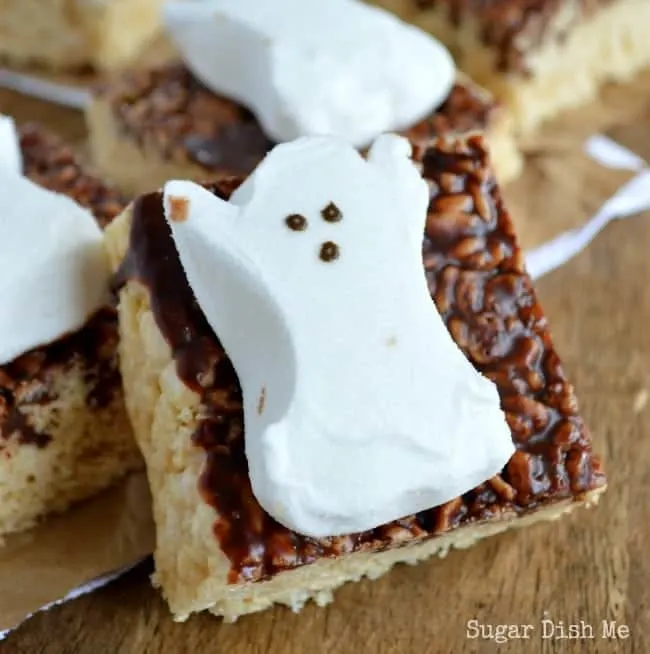 Spooky Halloween Krispy Treats