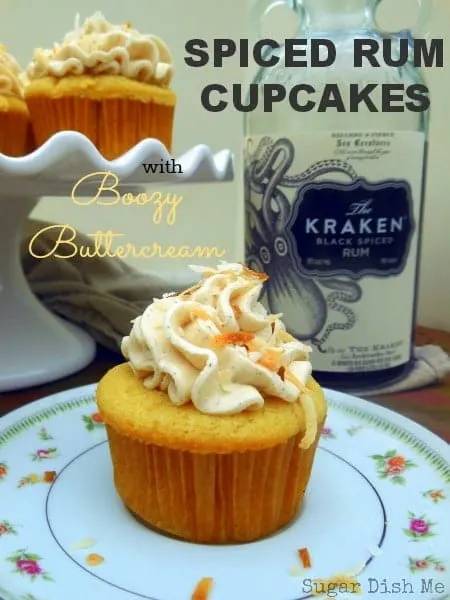 I think offering up a boozy treat on Fridays should be a tradition. Last week it was Apple Cider Sangria. This week I put like half a bottle of rum into some cupcakes.
I mean, the week is long.
Take a break.
I think I would like to take a break except I keep acquiring little creatures to take care of. There is Norma Jean, who is actually the most low maintenance out of everyone except for the fact that she steals my water glass at least once a day. Little Lucy Girl has a major breakdown every time I leave the house. She is a freaker-outer. Gidget thinks she needs to sleep right in my face every night and while she's really cute and snuggly, it kind of keeps me awake.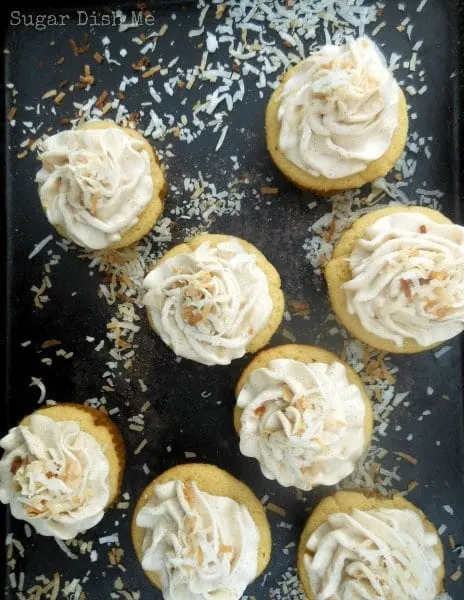 In the last week or so though, my really [un]cool neighbors seem to have acquired some more pets they can't take care of. One kitty and two more kittens that have figured out I'm a super nice bleeding heart so while I'm sitting here working they climb up on my chairs out on the porch and peek in the window at me.
Nothing like three little kitty faces peeking in your windows to distract you.
Of course they're hungry.
And of course I feed them.
And of course Lucy does back flips and acts like she has never ever seen a cat before whenever we go outside. It's all very exciting.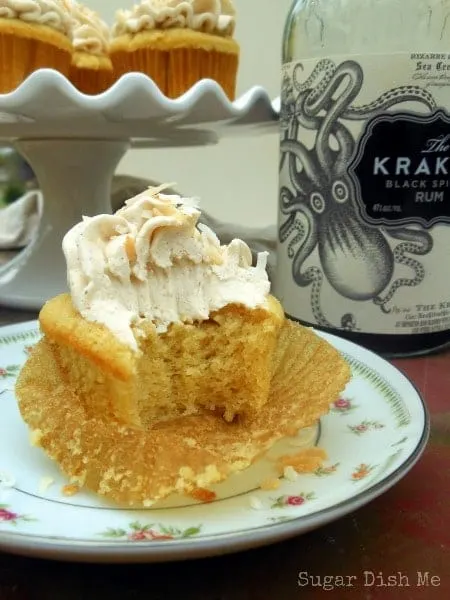 Also exciting: This month's Spiked Recipe Challenge! These cupcakes are my entry. I should win, right? Just agree.
These soft little buttery cupcakes are loaded with spiced rum — The Kracken Black Spiced Rum to be specific. I am totally seduced by cool labels. But the lady at the liquor store also recommended it for the strong spiced flavor. She was right! It's delicious. I took it a step further and boozed up the buttercream which was a really great idea so I'll be doing that again. Butter. Sugar. Rum. YES.
Make these cupcakes and have a great weekend!

Spiced Rum Cupcakes with Boozy Buttercream
Buttery soft rum cupcakes topped with sweet cinnamon boozy buttercream - a rum lover's treat!
Ingredients
For the Cupcakes:
½ cup unsalted butter, softened
1½ cups granulated sugar
3 tablespoons + ½ cup oil, divided
1¾ cups all purpose flour
¼ cup cornstarch
4 teaspoons baking powder
1 teaspoon kosher salt
1 (3.4 ounce) package instant vanilla pudding
4 large eggs
¾ cup milk
¾ cup spiced rum (I used The Kracken Black Spiced Rum)
1 tablespoon vanilla
For the Boozy Buttercream:
1 cup unsalted butter, softened
5 cups powdered sugar
½ teaspoon cinnamon
½ teaspoon salt
3 tablespoons spiced rum
¼ cup sweetened flaked coconut to garnish
Instructions
Preheat the oven to 325. Line a standard muffin pan with paper liners.
In a large bowl beat the butter and sugar until fluffy. Add the 3 tablespoons of oil and beat until it's combined.
Add the flour, cornstarch, baking powder, kosher salt, and instant vanilla pudding to the bowl. Beat -- the mixture will form coarse buttery crumbs.
Crack the eggs into a medium bowl and whisk them lightly to break the yolks. Add the remaining ½ cup oil, milk, rum, and vanilla.
Whisk to combine and then add the wet ingredients to the dry. Beat until smooth.
Portion the batter into the prepared muffin cups. I use a ¼ cup measure and fill them mostly full -- about ¾ of the way.
Bake for 18 - 20 minutes or until a pick inserted into the center comes out clean.
Let the cupcakes cool before frosting.
To make the frosting whip the butter with a whisk attachment. Add the powdered sugar a cup at a time. After 3 cups add the cinnamon and salt. Beat to combine. Add the last 2 cups of frosting and the rum. If you like a thinner frosting add more rum. (**see note**).
To toast the coconut scatter the sweetened flaked across a baking sheet and place it in the preheated oven after you take out the cupcakes. It only needs 3-5 minutes max. Watch it closely and remove it as soon as some of the coconut is golden.
Frost the cupcakes and sprinkle each with a little toasted coconut.
Notes
To pipe the buttercream as shown you'll need a little more than the recipe calls for. Increase the frosting measurements by adding another ½ cup butter, 1½ cups powdered sugar, and another tablespoon or two more of rum (to your desired consistency). You can also increase the cinnamon by adding another ½ teaspoon.
Cupcakes are adapted from this
Rum Cake Recipe
at
Always Order Dessert