Spinach and Feta Scones are made with fresh sauteed spinach and crumbly feta cheese for a savory treat with a tender crumb.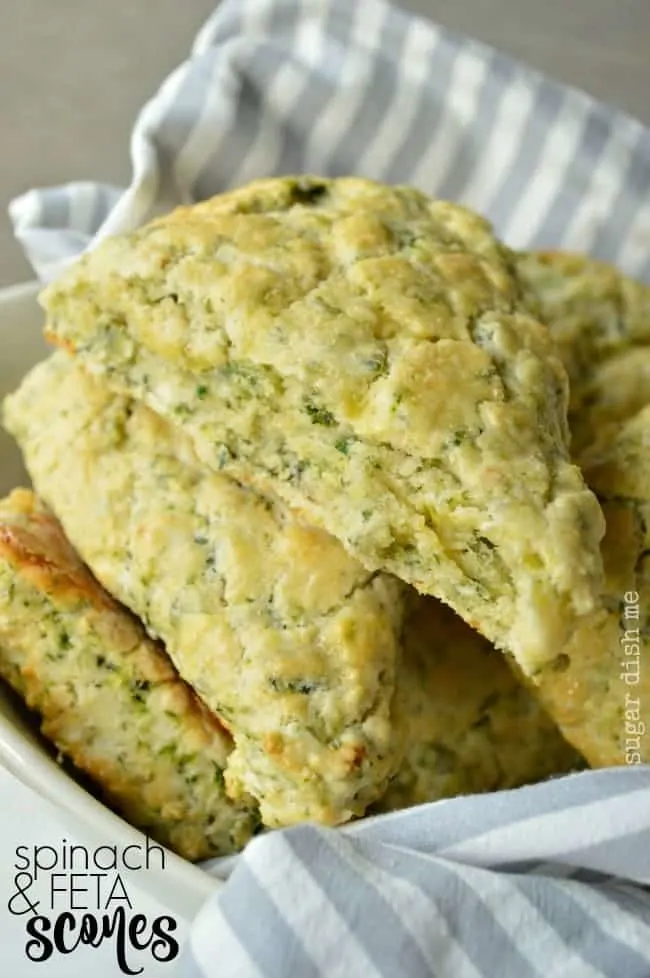 Oh hey, scones. It's been awhile!
I get a little carried away with brunch recipes in the spring. Those Croque Monsieur Rolls jump-started things and now we have Spinach and Feta Scones.
This is a basic recipe that I use often, changing the add-ins up depending on my mood. There are a few really crucial tricks to making awesome scones, and they are the same tricks we use for making awesome biscuits (like these Apple Biscuits with Honey Butter Glaze).
COLD INGREDIENTS. Work the dough as little as possible.
It's really not more complicated than that.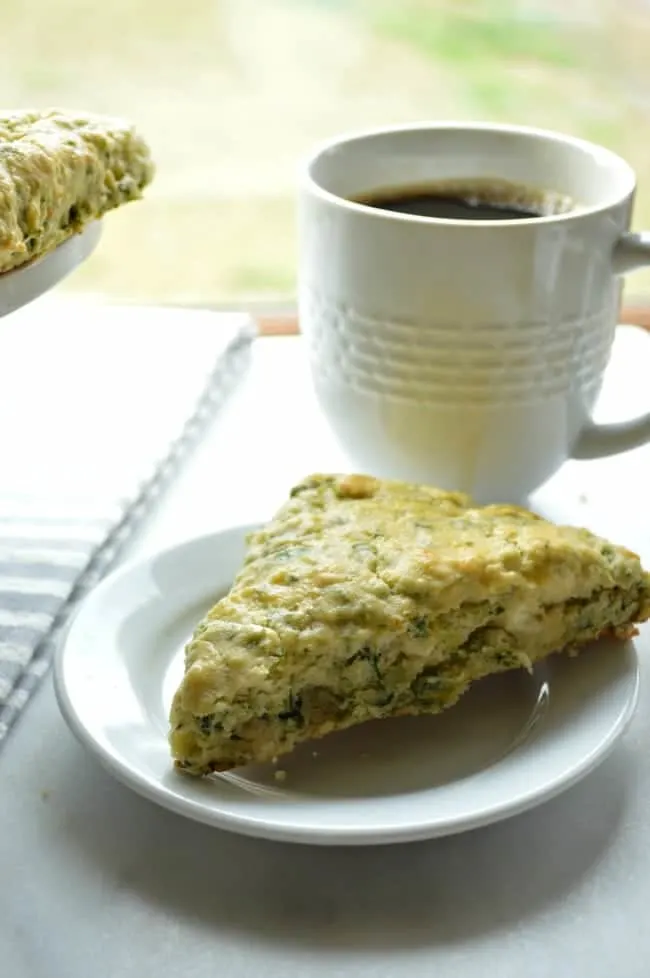 Cold ingredients and only working the dough until the ingredients just come together yields tender, flaky buttery scones. That's a skill you can take to the bank. Seriously — being the person that knows how to turn these out has never let me down.
I used to sell these scones to a local coffee shop here where I live, and I still get requests for them (note: if you tote these to the hair salon for your 9 am appointment they WILL offer you mimosas).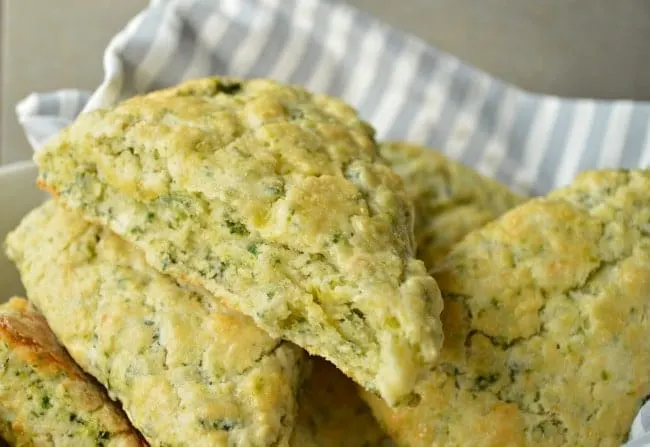 The spinach is sauteed ahead of time and then chopped so you don't end up with strings of spinach between your teeth. The feta is worked into the flour with the butter so you get a little bit of salty, creamy cheese in every bite.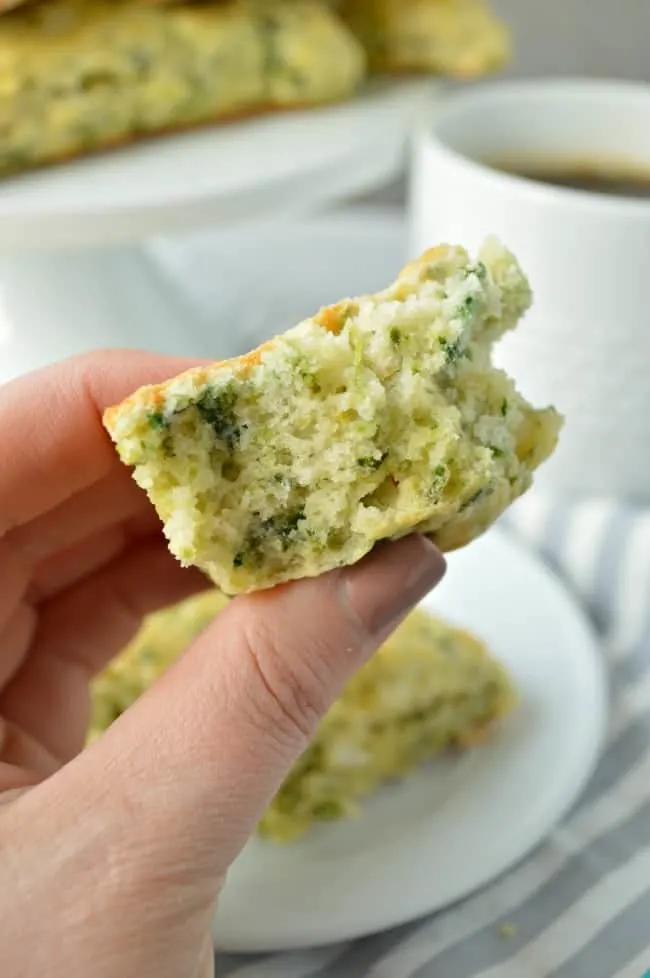 I really prefer these served warm, but they keep at room temperature for a couple of days. They are perfect with coffee and if you are looking for things to pass around the brunch table, they are pretty freaking perfect. Sometimes I make them small like with these Spring Onion Scones with Cheddar and Bacon Butter. Either way – you'll totally love 'em.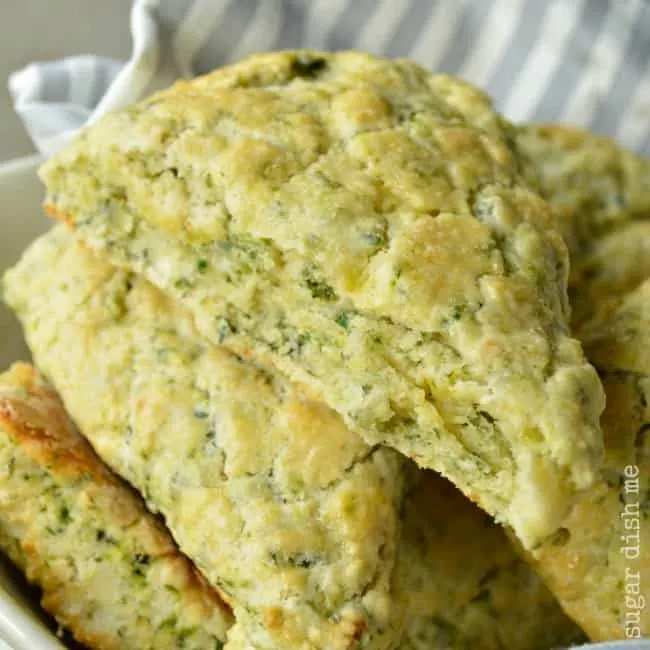 Yield:

12
Spinach Feta Scones
Spinach and Feta Scones are savory scones at their best! Tender and buttery, made with fresh, sautéed spinach and crumbled feta cheese
Ingredients
3 cups All-Purpose Flour
1 tablespoon Baking Powder
1 teaspoon Salt
1/4 teaspoon Crushed Red Pepper Flakes, Optional
6 ounces Fresh Spinach
1 tablespoon Olive Oil
1/2 cup Crumbled Feta Cheese
1/2 cup Unsalted Butter, Extremely cold or frozen
1 cup Milk, Cold
1 Egg
1 tablespoon Water
Instructions
Preheat the oven to 375°F and line a baking sheet with parchment paper or a silicone baking sheet.
In a large bowl whisk together the flour, baking powder, salt, and red pepper flakes.
In a medium skillet add the spinach and olive oil. Cook until the spinach is mostly wilted. Remove to a cutting board and chop. Add the chopped cooked spinach to the flour mixture and work it in with your hands until it's evenly incorporated. Work the feta cheese in the same way.
Using a pastry cutter or a cheese grater, cut the butter into the flour. Work it in with your hands until coarse crumbles about the size of a pea are formed.
You can chill for a few minutes at this point or go ahead and pour in the milk. Gently work the milk into the dough until it just comes together.
Turn the dough out onto a floured surface, knead two to three times, and then pat it out to about 3/4" thick. Cut the dough into 20-24 2" circles and place them on the prepared baking sheet.
Whisk together the egg and water and brush the tops of the scones with the egg wash. Bake for 20 minutes.
Recommended Products
As an Amazon Associate and member of other affiliate programs, I earn from qualifying purchases.
Nutrition Information:
Yield:
12
Serving Size:
1
Amount Per Serving:
Calories:

228
Total Fat:

11g
Saturated Fat:

6g
Trans Fat:

0g
Unsaturated Fat:

4g
Cholesterol:

43mg
Sodium:

385mg
Carbohydrates:

26g
Fiber:

1g
Sugar:

0g
Protein:

6g
Love Scones? You should also try…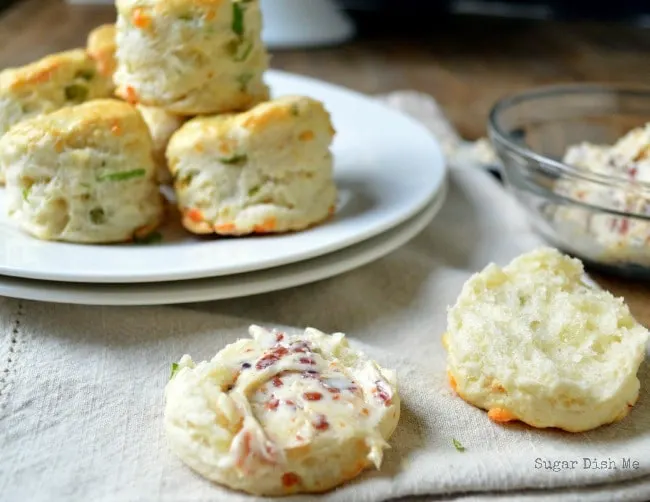 Spring Onion Scones with Cheddar and Bacon Butter