Apple Biscuits with Honey Butter Glaze are tender and slightly sweet; the perfect way to start your fall day!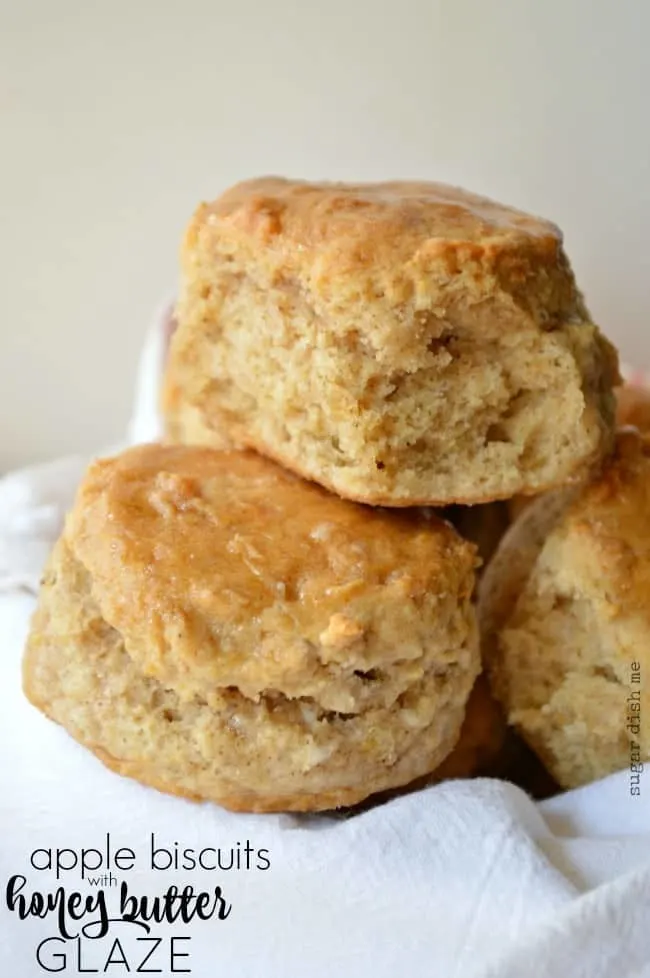 I can't think of a better way to start a fall Saturday.
Fluffy biscuits studded with fresh apples that are just the right amount of sweet. Shining sun, crunch leaves, and yesterday we actually had to use the fireplace! That was a big damn deal for me.
There is an air vent in the floor right next to my desk and so even on the most scorching days of the North Carolina summer, sometimes I freeze when I'm sitting here. We have still had some pretty warm days lately (80°!!!) and so I have yet to move our central air thermostat into the "off" position. I just bump the temp setting up enough that it only comes on every now and then, and we enjoy the lighter power bill (this adult talk is ultra interesting, I KNOW).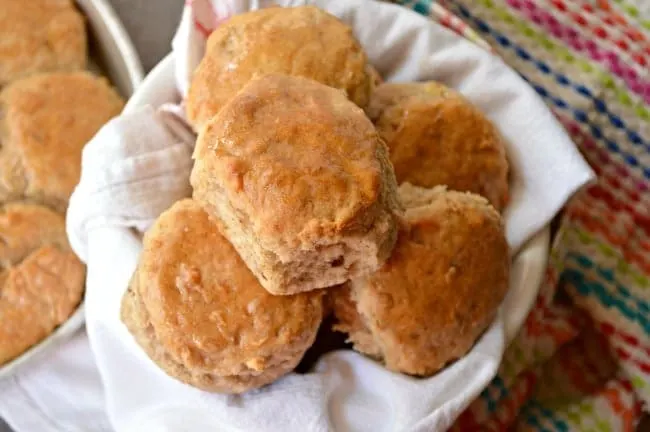 So anyway, yesterday was chillier than it has been lately and I was freezing over here at my desk, so I got really excited because the fireplace is ALSO right next to my desk (my desk is basically the best location in the house, in case you hadn't gathered that much yet).
Here's the part where we have to account for the fact that I have two teenage boys, though.
I went down the hall to turn OFF the thermostat for the AC so that I could turn ON the gas logs without confusing it. And that's when I realized that the reason I was freezing my ass off at my desk is not because it's finally a normal fall temperature outside. I'm freezing my ass off because one of these boys decided to turn the air down to SIXTY TWO DEGREES.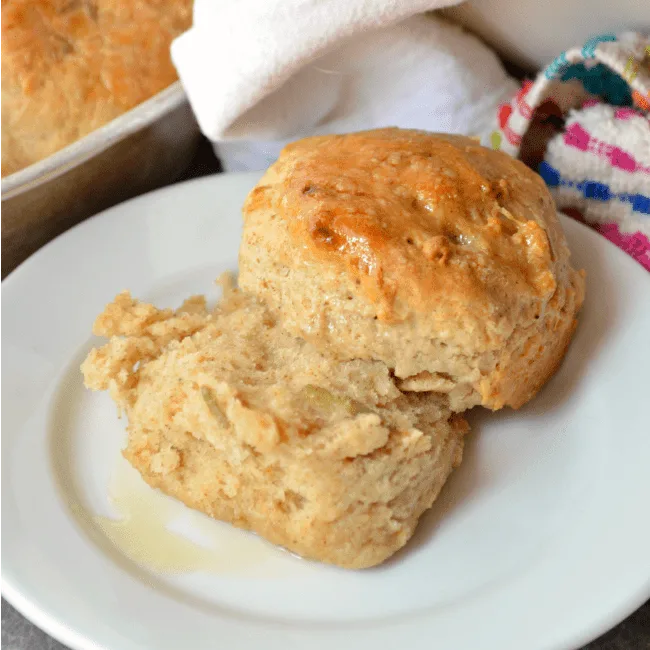 Because it was hot when they came in from playing outside or something >insert massive eyeroll<
Then yesterday I got a call from some survey lady that wanted to talk to me about the 'green home initiative' … I referred her to my teenagers.
And got back to my biscuits.
A few tips on this biscuit dough: it's WET. Like you will be really annoyed with me for about 60 seconds kind of sticky dough mess wet. It's a really simple recipe – even if you are not well-versed in the art of biscuit – but please, for the love of all things good, keep a flour canister handy. Second tip: the folding and then smacking down process laid out for you in step 7 is crucial. You know when you buy refrigerated biscuits with "flaky layers"? This step is what will give your apple biscuits that same flaky, pull-apart texture.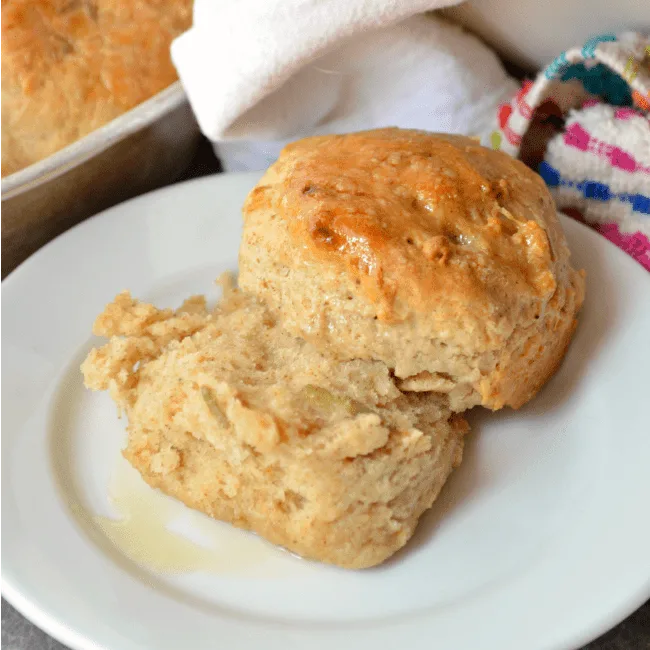 Ingredients
Biscuits
4 1/2

cups

All-Purpose Flour

plus more for dusting the surface

1

tablespoon

Baking Powder

Plus 1 teaspoon

1

teaspoon

Baking Soda

2

teaspoons

Sugar

1

teaspoon

Salt

1

teaspoon

Ground Cinnamon

1/2

teaspoon

Nutmeg

1/2

teaspoon

Ground Ginger

1/4

teaspoon

Ground Cardamom

1/4

teaspoon

Ground Cloves

1

cup

Butter

Cold

1/2

cup

Apple

Grated

1

cup

Buttermilk

Chilled
Glaze
3

tablespoons

Unsalted Butter

Chilled

3

tablespoons

Honey

pinch

Salt
Instructions
Prep
Preheat the oven to 425°F. In a large bowl whisk together the flours, baking powder, baking soda, sugar, salt, and apple pie spices.

Cut in the butter and grated apple using a pastry cutter OR a fork OR your hands. Method is a preference thing. You'll know it's good when coarse crumbs have formed and if you grab up a fistful it sticks together pretty well.

Gently stir in the buttermilk. I sort of folded in mine with a rubber spatula.

Generously flour a clean work surface and keep your flour nearby to dust your hands and the dough regularly.

Scatter flour over the dough in the bowl — it will be obnoxiously wet and sticky!! Just do your best and make sure to incorporate any dry bits from the bottom of the bowl into the sticky dough mess.

Turn the dough out onto your prepared surface, flour your hands, and knead it a few times. It will get easier to work with.

Pat it out into a kind of oblong oval shape that's about an inch thick. Fold the short sides toward the middle, sort of like you're folding an envelope. This is what gives your finished biscuits their "layered" texture. Smack the folded dough down and press it back out into the oval shape.

Repeat this process a total of 7 times.

Cut the biscuits into 3- to 4-inch circles and place them on an ungreased baking sheet or 2 round cake pans.
Glaze
While the biscuits bake, make the honey butter glaze. Melt the butter in a medium saucepan over medium heat. Stir in the honey and salt.

When the biscuits come out of the oven brush them with the honey butter glaze.
Notes
You can substitute 2 teaspoons apple pie spice for the cinnamon, nutmeg, inger, cardamom, and cloves.
Nutrition
Serving:
1
g
|
Calories:
183
kcal
|
Carbohydrates:
36
g
|
Protein:
4
g
|
Fat:
3
g
|
Saturated Fat:
2
g
|
Polyunsaturated Fat:
0.2
g
|
Monounsaturated Fat:
1
g
|
Trans Fat:
0.1
g
|
Cholesterol:
6
mg
|
Sodium:
235
mg
|
Potassium:
63
mg
|
Fiber:
1
g
|
Sugar:
9
g
|
Vitamin A:
75
IU
|
Vitamin C:
0.2
mg
|
Calcium:
81
mg
|
Iron:
2
mg
Love Biscuits? Try These
Pulled Pork Breakfast Biscuits
Fried Chicken Biscuits with Mushroom Gravy
Recipes from Friends…
Milk Rolls from Or Whatever You Do
Bloomin' Garlic Cheese Biscuits from The Gunny Sack