Strawberry Butter is a slightly sweet and fruity whipped butter spread that is perfect for popovers, English muffins, and biscuits!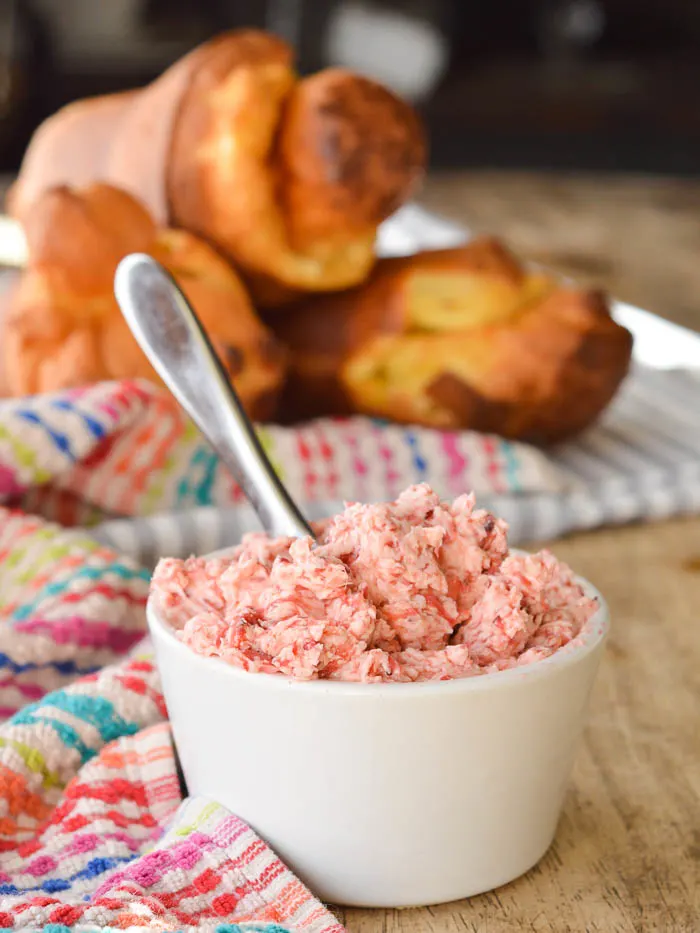 This recipe is so simple, but so satisfying – it's really gonna rock your butter loving friends.
Awhile back I told you all about me, my dad, and the Neiman Marcus popovers with strawberry butter, so it really only seemed fitting for me to develop a strawberry butter recipe. And before we get too far in here, I'll tell you that we are not churning our own butter or anything. That's next level, and though I have been home-bound for nearly 60 days at this point, we aren't there yet.
If you are a person that enjoys stories, you can read about me, my broke-a$$ parents, and one of my favorite memories about my dad, AND you can learn how to make the Biggest Fattest Fluffiest Popovers. You're going to need the popovers for this butter recipe because eating.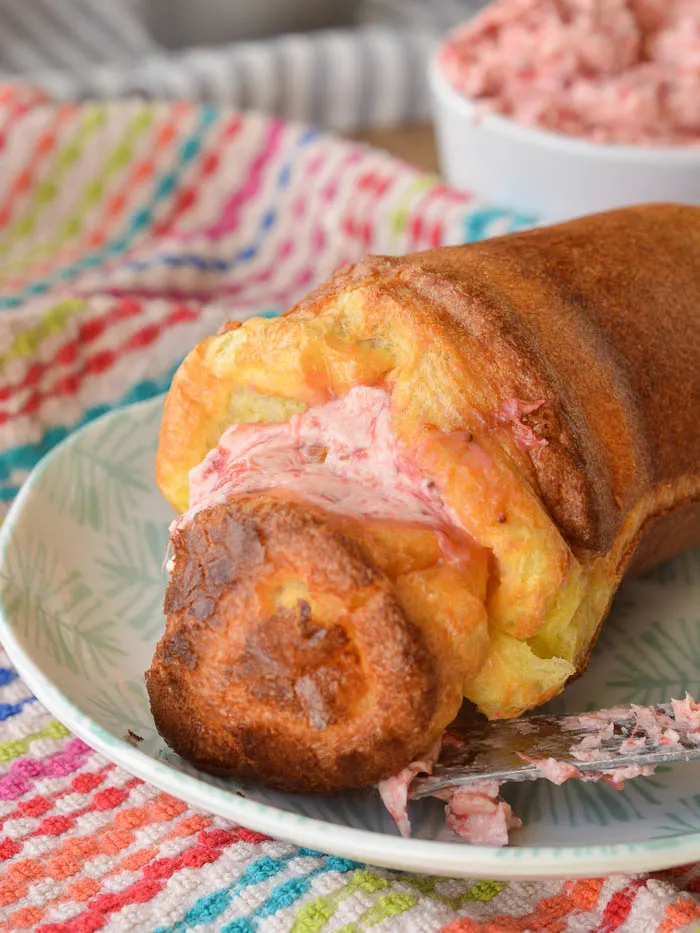 Roast the Strawberries
Roasted strawberries are what set this butter apart. I learned about the joys of roasting strawberries once upon a 2012 when I made Joy the Baker's Roasted Strawberry Buttermilk Cake, and the answer is YES you do need that cake in your life.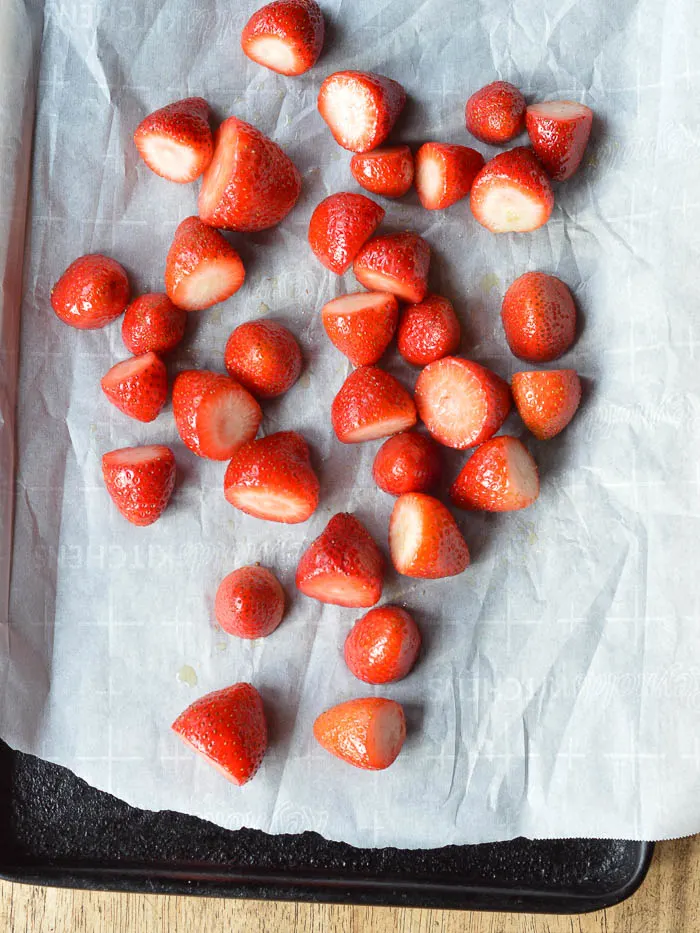 To roast strawberries you need just a few ingredients, and they are important! Because these + the strawberries are what's going to give your butter all of its flavor.
2 cups hulled strawberries
1 tablespoon olive oil
1 tablespoon maple syrup
sea salt
Do I have to use sea salt?
Nope. This isn't a place I am a real stickler for the rules. But! use a coarse salt. So if you don't have sea salt hanging around, use kosher salt. Iodized table salt should be like a serious last resort, and if you have to use it because that's all you've got, use it sparingly.
If you're looking for a good salt recommendation, I am literally obsessed with this Redmond's Real Salt. It's mined in Utah if you are into fun salt facts.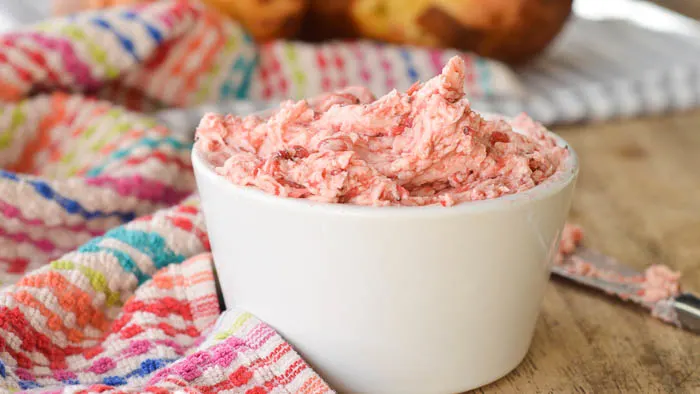 Let's Talk Butter
Okay so here's where I'm gonna get a little boujee on you because I am going to tell you that THE QUALITY OF THE BUTTER YOU USE MATTERS IN THIS RECIPE.
When you are making something with just a few ingredients, the quality of said ingredients makes a difference. So while I normally have no shame in my Aldi-butter game, this is a place where you'll be able to tell the difference.
My faves are Cabot Butter (unsalted so you can control the amount of salt and use it for all the things!), as well as this Amish Roll Butter. Caveat on the Amish Roll Butter: if you are using it in recipes you'll want to have a food scale. This one can handle a larger capacity if you'll use it fairly often.
The reason for the scale is that it's literally just a giant 2 pound roll of butter. There are no sticks with little cheater lines for measuring. Also note that IT IS salted, so use salt on the strawberries sparingly.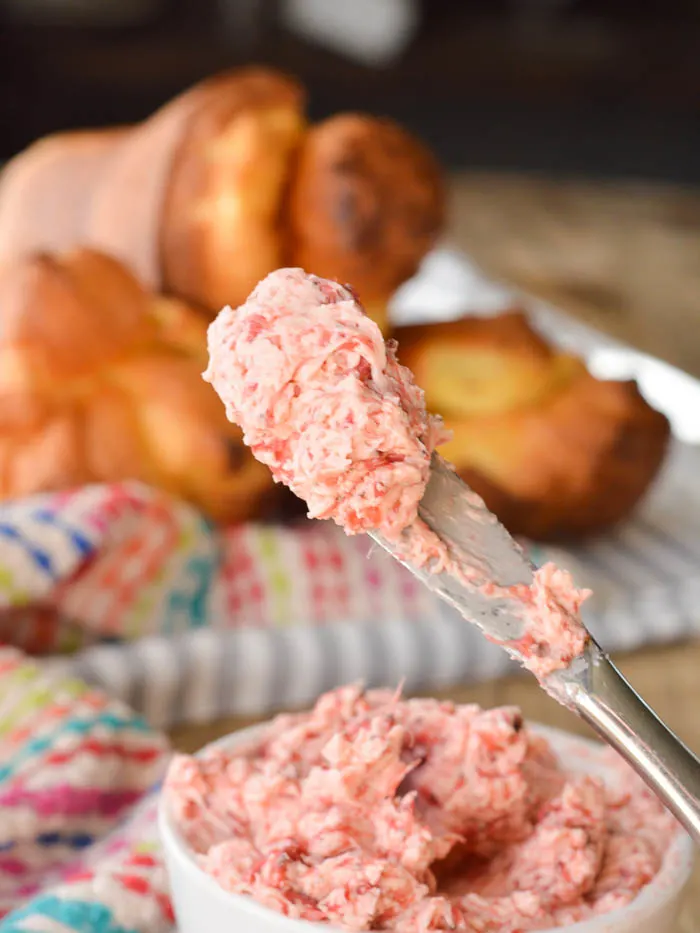 What Can I Do with Strawberry Butter?
Smear it all over the aforementioned popovers, obviously. That's my top choice. But also!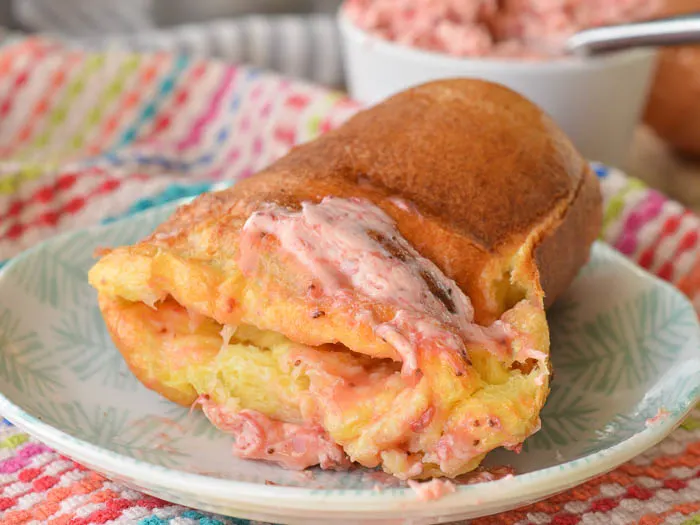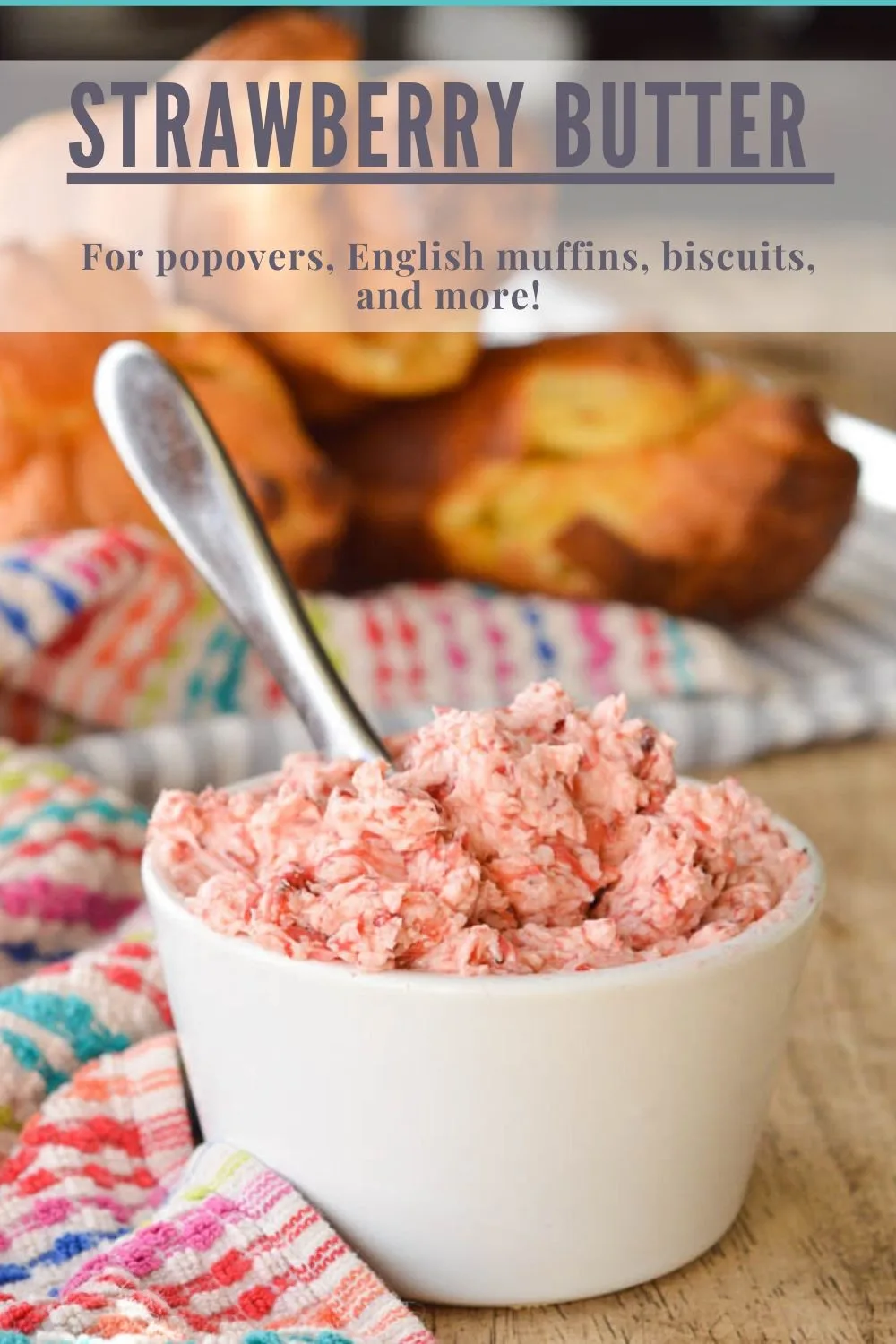 Ingredients
2 cups hulled strawberries
1 tablespoon olive oil
2 tablespoons maple syrup
1/4 teaspoon sea salt
1 cup unsalted butter, softened
2 tablespoons water
Instructions
Preheat the oven to 375°F and line a baking sheet with parchment paper.
In a medium bowl, whisk together the olive oil and maple syrup. Add the strawberries and toss to coat. Spread them out in a single layer on the prepared baking sheet and sprinkle with about 1/4 teaspoon sea salt.
Roast the berries for 30-40 minutes. The juices will thicken; be sure to remove the strawberries from the oven before the juices begin to burn. Scrape the berries and juice into a bowl while it's still warm.
Using the whisk attachment on your hand mixer or your stand mixer, beat the butter with the 2 tablespoons of water and 1 tablespoon of the reserved strawberry liquid. Beat until fluffy, about 3 minutes.
Smash the roasted strawberries using the back of a fork and add them to the whipped butter. Beat again for 2-3 minutes until everything is evenly combined. Add more salt to taste.
Serve immediately or wrap tightly in plastic wrap and refrigerate until you are ready to serve.
Recommended Products
As an Amazon Associate and member of other affiliate programs, I earn from qualifying purchases.
Nutrition Information:
Yield:
16
Serving Size:
1
Amount Per Serving:
Calories:

123
Total Fat:

12g
Saturated Fat:

7g
Trans Fat:

0g
Unsaturated Fat:

5g
Cholesterol:

31mg
Sodium:

35mg
Carbohydrates:

3g
Fiber:

0g
Sugar:

3g
Protein:

0g