Banana Cinnamon Oatmeal is like banana bread in a bowl! Easy to make from scratch oatmeal that's hearty and naturally sweet. You won't miss the microwave!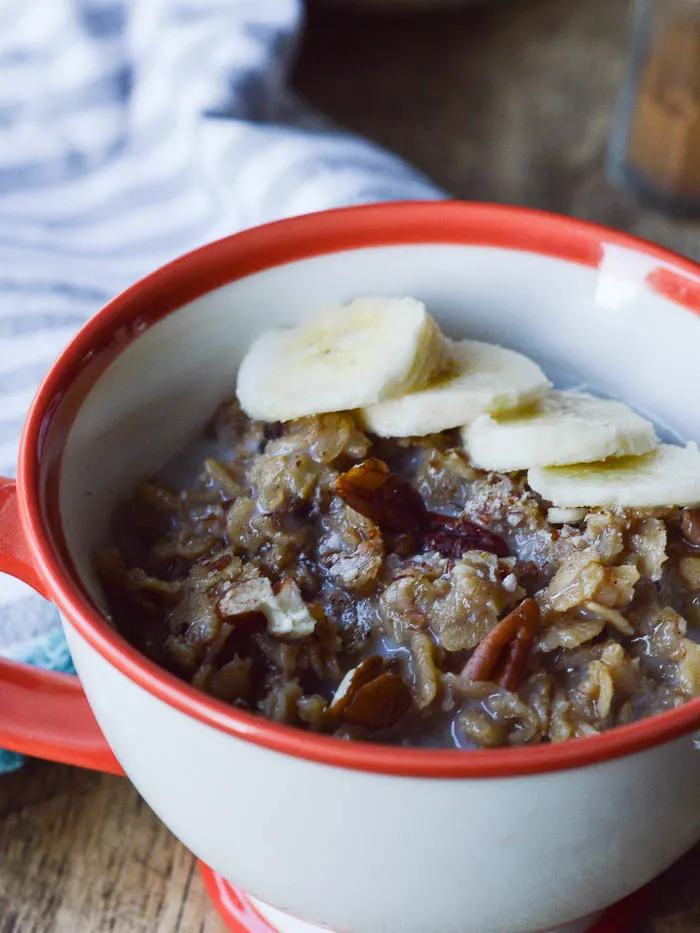 Once this guy I was dating tried to be cute and bring me oatmeal for breakfast while I was working. He was trying to follow the instructions on some generic carton of oats, and for some reason added nothing sweet, but gave me like an entire of teaspoon of salt. 😒
I didn't eat that ish and obviously we are no longer together. So don't be like him and learn to make actually good oatmeal.
ACTUALLY GOOD bowl is earthy and slightly sweet, and the salt brings out the other flavors. It's not always the thought that counts is what I am saying. Hungry people are not super forgiving, so what you need is something like this banana cinnamon oatmeal. It will NOT disappoint.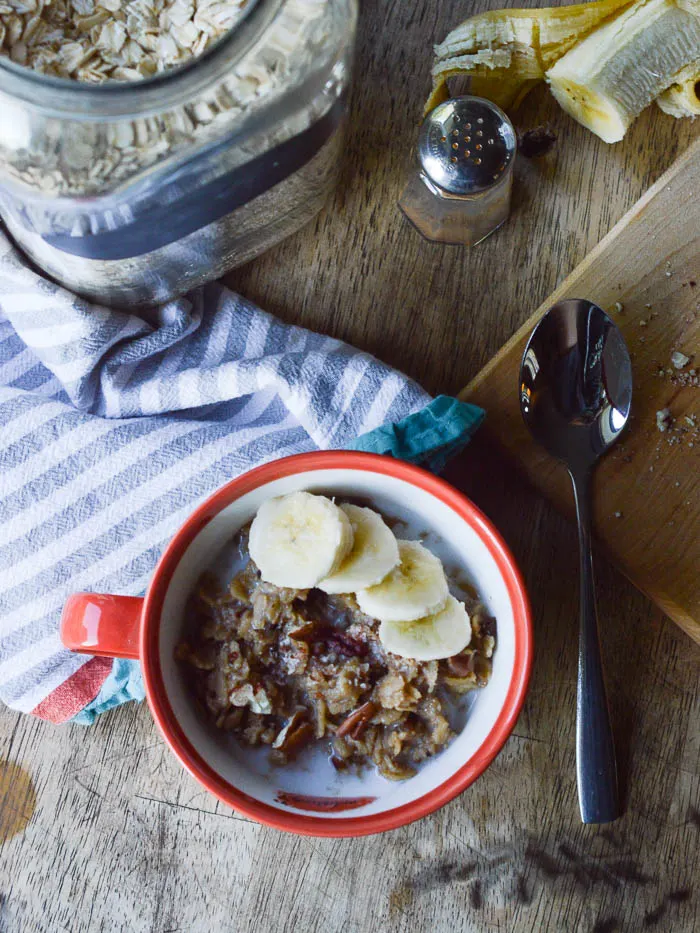 If you are not a person that makes oatmeal from scratch very often (or maybe never?!), have no fear! It's super simple, and will actually only take a few minutes more than instant oats. You won't miss the microwave, I promise!
What kind of oats should I use?
My preference for homemade oatmeal is to use old fashioned oats, but it's not a hard and fast rule. So let's talk about some of the differences between the different kinds of oats you might have lurking in your cabinet.
Old fashioned oats or rolled oats – my favorite. They will offer you the best texture and will take just a little longer to cook.
Quick oats or instant oats – this is basically what happens when you put old fashioned oats in the food processor. IN FACT! I have a recipe for homemade instant oatmeal where I explain this in a little more detail.
Steel cut oats – these will take the longest to cook and are basically the least processed of the three varieties here. You CAN use them for this recipe, but you will want to follow package cooking instructions because otherwise they'll be undercooked.
Can I use something besides bananas?
You can! I actually have a super popular recipe for Apple Cinnamon Oatmeal that is very similar to this. It calls for diced apples and there's definitely butter. I also made Blueberry Cinnamon Oatmeal that follows the same process, but you make it with fresh or frozen blueberries.
Blackberries or strawberries will also work!
How do I make Banana Cinnamon Oatmeal?
I lay out all the tips and tricks on making oats on the stove in the Perfect Stovetop Oatmeal Recipe, so if you need a good solid review you should hop over there, but let's cover the basics here, cause it's really really simple.
You're gonna heat the oil and lightly toast the pecans – careful not to burn them!
Add the banana and brown sugar and cook for juts a minute. The bananas will soften and cook down some.
Pour in water and bring it to a low rolling boil, and then add oats!
Reduce the heat to a simmer and cook, stirring frequently for 3-5 more minutes.
Portion into bowls and top with good stuff.
Mmmmmmm. Oatmeal.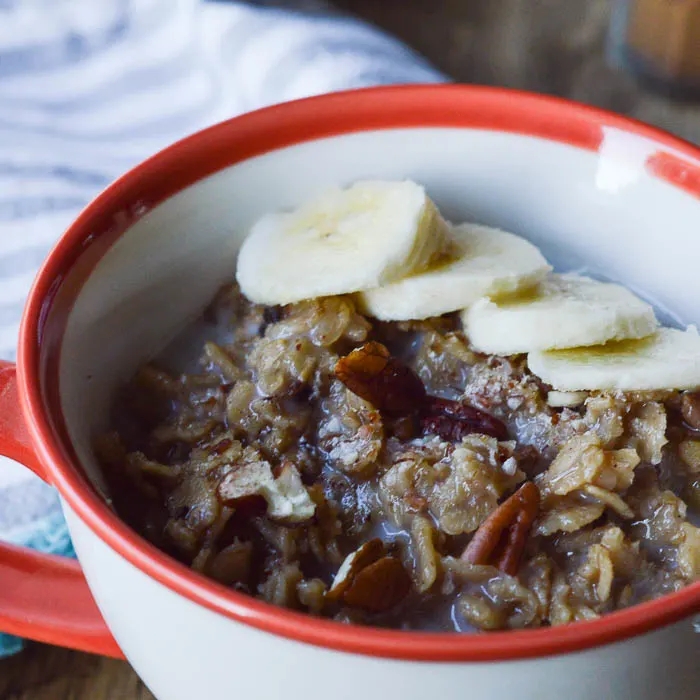 Yield:

2-3 servings
Banana Cinnamon Oatmeal
Ingredients
1 teaspoon coconut oil
2 tablespoons chopped pecans
half of a medium sized ripe banana, sliced
1 teaspoon brown sugar
1/2 teaspoon cinnamon
pinch of salt
2 cups water
1 cup old fashioned oats
milk or almond milk + more sliced bananas and chopped pecans for serving
Instructions
In a medium saucepan, melt the coconut oil over medium heat. Add the chopped pecans and toast for about a minute, stirring frequently. Then add the banana slices, brown sugar, cinnamon, and salt.
Cook for about a minute and then pour in the water. Turn the heat up to medium high and bring the water to a low boil. Add the oats and reduce the heat to medium/medium high.
Cook, stirring occasionally for 3-5 more minutes. Most of the liquid will be absorbed.
Portion the cooked banana cinnamon oatmeal into bowls for serving, top with more sliced bananas, chopped pecans, and a little sprinkle of cinnamon if desired. Float a little milk or almond milk across the top.
Recommended Products
As an Amazon Associate and member of other affiliate programs, I earn from qualifying purchases.
Nutrition Information:
Yield:
3
Serving Size:
1
Amount Per Serving:
Calories:

188
Total Fat:

7g
Saturated Fat:

2g
Trans Fat:

0g
Unsaturated Fat:

4g
Cholesterol:

0mg
Sodium:

53mg
Carbohydrates:

30g
Fiber:

4g
Sugar:

6g
Protein:

4g