Coconut Macadamia Nut Ice Cream is creamy and buttery, studded with toasted macadamia nuts, and pairs perfectly with summer cobblers and crumbles!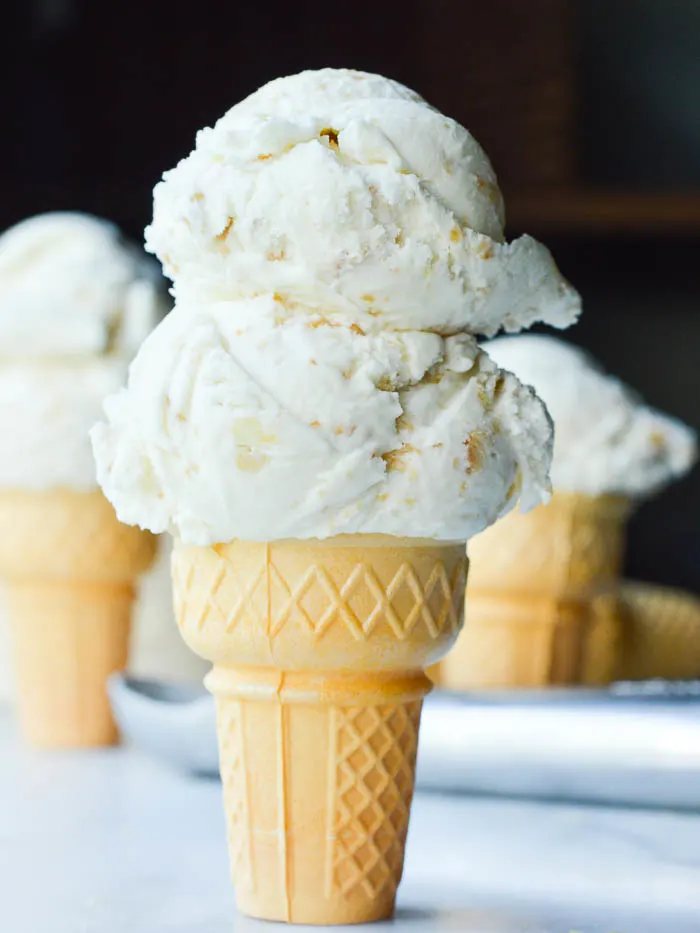 We've made it more than halfway through the summer and I am only just getting around to giving you ice cream. For this I owe you all 1,000 apologies.
Ice cream is legitimately my favorite dessert. I am sure that at some point I've also said that about Slow Cooker Blueberry Coconut Cobbler or any variety of cake … and also cookies. But about ice cream, especially when the sun is BLAZING, and there's a freaking Saharan Dust Cloud looming over, I MEAN IT.
I am really partial to ice creams that work well with other desserts; you need a good scoop to plant on the top of cobblers and crumbles and pies, with flavor that goes beyond just plain vanilla (sorry vanilla – I love you too, I promise). It's the whole reason I developed my Brown Sugar Cinnamon Ice Cream Recipe, and is also the reason I chose to make this Coconut Macadamia Nut Ice Cream.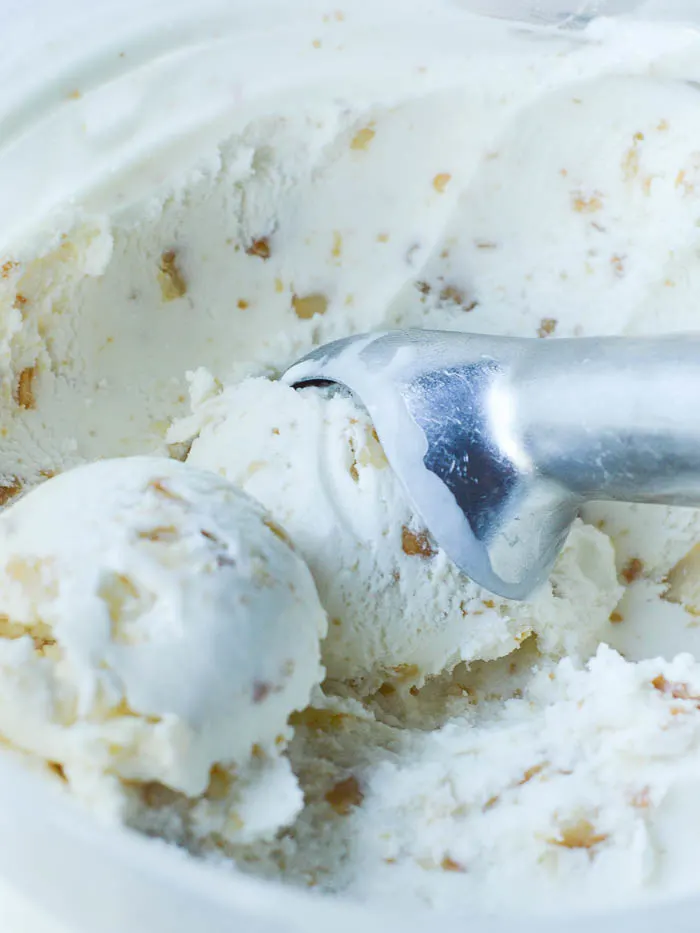 Y'all. This is not my recipe.
House of Nash Eats – a food blog
This recipe was developed by another food blogger named Amy, and can originally be found on her site, House of Nash Eats. Modern Comfort Food is her style and I am SO into it. She's got an American Eats Series where you can pick recipes state by state, which totally spoke to me since I lean heavily on my local Carolina recipes pretty regularly (Carolina Style Hot Dogs are calling for you).
I found this ice cream recipe under Hawaii along with some Kahlua Pork that I will definitely be making. It can be friends with my Mole Chili con Carne with Kahlua.
Anyway, all of this is to say that finding new food blogs is fun, and is the whole reason I got into blogging way back in olden times.
And before any of you get your britches all twisted and email me about sharing a recipe from another food blog (? internet food blog police – you know who you are) , it was WITH PERMISSION because it's part of a fun seasonal project set up by ANOTHER blogger at An Affair From the Heart, called Freaky Friday.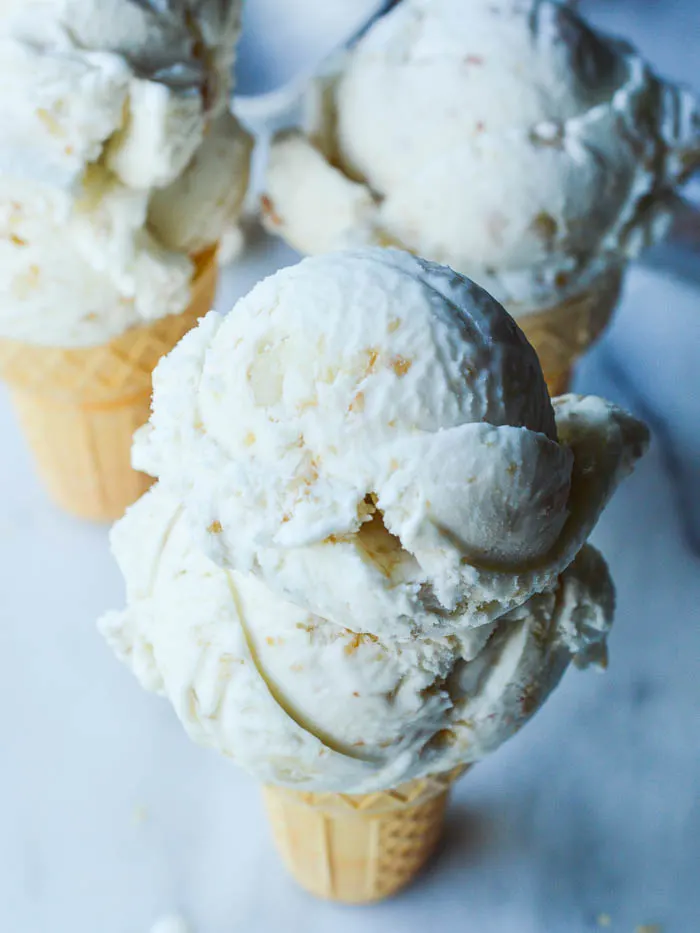 About the Macadamia Nuts
They are pricey. Don't skimp or substitute. TRUST ME. You should be able to find them in the aisle with all the almonds you are pretending to snack on to be healthy. I bought sea salted macadamia nuts and the salt was SO GOOD with the sweet, creamy coconut base.
You'll need a one cup, which for me was a whole 4 ounce bag. I bought this brand (affiliate link).
ALSO! You are gonna need to toast the macadamia nuts. If you are using salted nuts, go easy on the salted butter. Salty sweet is good, but you want the sweet to shine here. Take care not to burn
Other Macadamia Nut Recipes
I have a few!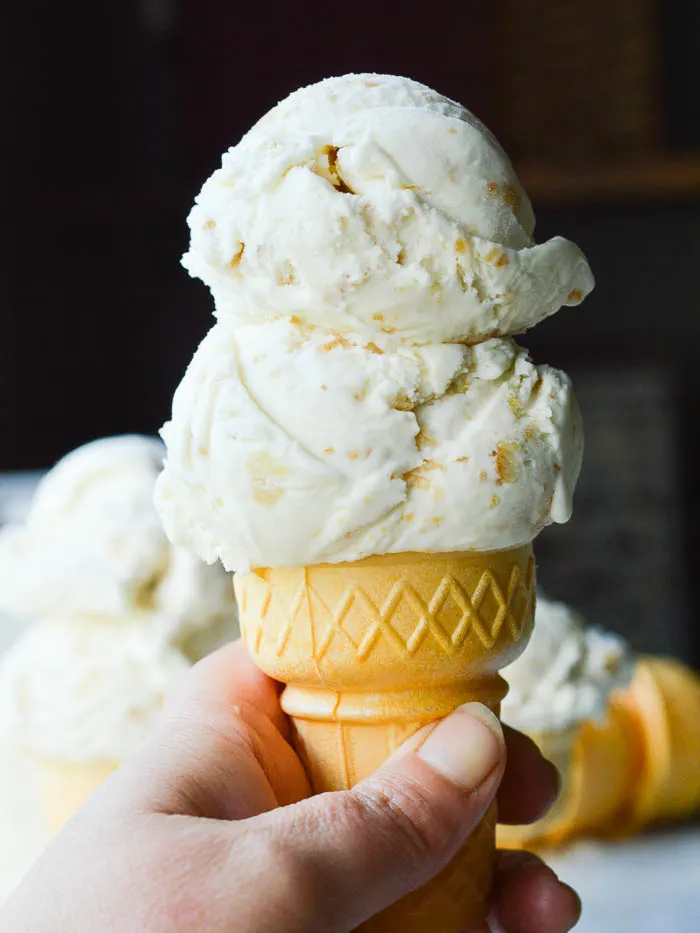 Creamy Ice Cream with no Eggs
USUALLY I make ice cream with eggs. Apple Butter Sweet Cream Ice Cream, Lemon Pie Ice Cream, and Strawberry Mojito Ice Cream ALL have eggs.
This Coconut Macadamia Nut Ice Cream though? NO EGGS. And it is still creamy!
You'll use cornstarch to make a slurry and thicken things while they are still on the stove. There's also cream cheese that adds to the thick creaminess. Full fat coconut milk also does not hurt (if you were considering using lite coconut milk STAHP! Save that for your next curry. It does not belong here).
Tips on Ice Cream Makers
My lil ice cream churn is one of my very favorite kitchen gadget purchases. I am always glad I have it, so if you are looking for a good one, here are my thoughts.
Summer Recipes You Should Definitely Try!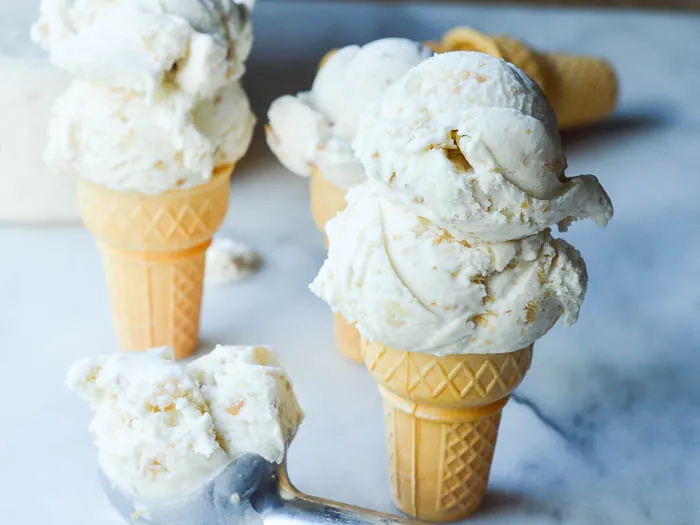 Yield:

serves 8
Coconut Macadamia Nut Ice Cream
This Coconut Macadamia Nut Ice Cream Recipe is sweet and buttery and perfect for scooping into a cone or adding to all your favorite summer cobblers, crumbles, and pies.
Ingredients
1 tablespoon plus 2 teaspoons cornstarch
2 ounces (4 tablespoons) cream cheese, softened
1 cup roasted and unsalted macadamia nuts, finely chopped
2 tablespoons butter
1 cup whole milk
1 1/2 cups heavy cream
1 can coconut milk (1 2/3 cups)
3/4 cup granulated sugar
1/4 cup light corn syrup
1/2 teaspoon fine sea salt
2 teaspoons vanilla extract
Instructions
Get set up. Measure the 1 cup of whole milk into a liquid measuring cup. Then pour 2 tablespoons of that milk into a small bowl and whisk it together with the cornstarch to make a slurry. Set aside. Put the softened cream cheese into a large bowl and set that aside. You can also set aside a medium bowl to let the nuts cool after toasting. If you want to speed up the ice cream making process you can also fill a second large bowl with ice and place it in the fridge. It will aid in fast-chilling the ingredients prior to churning.
Melt the butter in a large saucepan and add the nuts. Toast them over medium heat until they are golden, taking care not to let the nuts or butter burn. It'll take about 5 minutes. Stir frequently and once they are toasted scrape them into the medium bowl you set out to cool.
In the same buttery saucepan, pour the remaining whole milk, the heavy cream, coconut milk, sugar, corn syrup, and sea salt. Slowly bring the mixture to a rolling boil, stirring occasionally so the sugar doesn't stick to the bottom of the pan before dissolving. Milk has a tendency to boil over, so watch it CAREFULLY! Boil for a bout 4 minutes, remove from the heat, and whisk in the cornstarch slurry you made. Put the pan back on the heat but reduce it a little, and cook for 1-2 more minutes, stirring constantly to help thicken.
Remove the pan from the heat and stir in the vanilla. Pour 1/3 of the hot liquid over the cream cheese and whisk until smooth. Add 1/3 more and whisk until smooth and then repeat with the last 1/3. COOL COMPLETELY.
You can speed up the cooling process by placing the bowl with the hot mixture on top of the large ice filled bowl you set up and stirring. Replace the ice as needed. You can also place it in the fridge and stir every few minutes. Once the liquid has cooled to a place that you aren't worried about melting a plastic freezer bag, you can pour the liquid into gallon size Ziploc bag and submerging that bag in the ice bath you made. Then put the whole thing in the fridge. This takes about 3 minutes, as opposed to just chilling in the fridge which can take several hours.
Once cooled, pour the ice cream base into your churn. Churn until thick (20-30 minutes). Add the buttery toasted macadamia nuts right at the end. then transfer to an airtight container. Freeze at least 4 hours or overnight.