The EASIEST way to serve fun brunch to a crowd! Prosciutto and Provolone Baked Egg Breakfast takes just 4 ingredients and a muffin tin, and you are well on your way to an outstanding breakfast or easy fun lunch. Serve with a light salad or fruit and you are done in 20 minutes or less.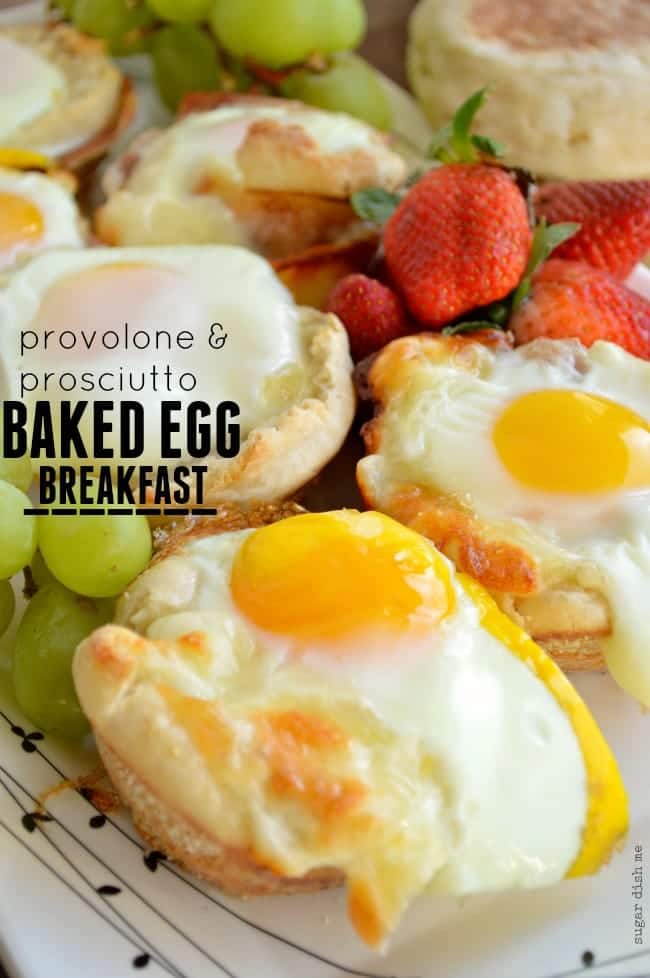 So. It took me thirty years of life to figure out baking eggs is a thing.
I mean… I knew I could whisk eggs and cheese and spinach and things together to make little baked mini quiche or those South Beach Diet muffins that my mom and I pretended to love for like 3 months one spring. But just cracking an egg and stuffing it in the oven? It was totally 2011 before I figured that out.
It's okay. You can laugh.
This recipe was originally part of a Surprise Recipe Swap group that disbanded a couple of years ago. I reworked it, took some photos that were not entirely humiliating, and decided to share it again because OMG this is the best brunch ever.
You just stuff English muffins down in a muffin pan, top it with prosciutto and provolone cheese, crack an egg over the whole thing, and bake. You can get fancy and add seasoning, but WHY? It's totally perfect as-is. The prosciutto is salty and the provolone is smoky. Egg yolk and English muffins are always fabulous.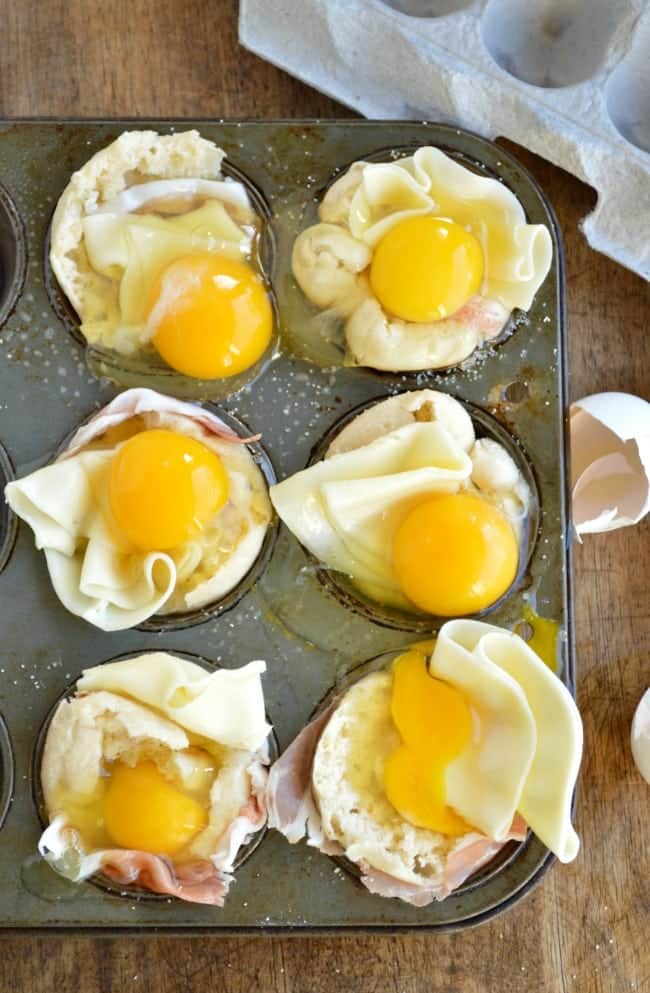 Some Cook's Tips:
If you have a jumbo muffin pan, use it!! You can see in the photo above that the eggs were spilling out of my standard muffin cups a pretty good bit.
It can be fun to fold up the cheese so it sticks out; when it melts in the oven it does that fabulous browning thing you get with mozzarella on pizza. So delicious.
You can add veggies! Onions, peppers, spinach, tomatoes — anything you like with eggs.
Sometimes I wrap the prosciutto around the edge of the muffin cup before stuffing the English muffin in. It makes a nice crispy crust.
For an over-medium egg, 15 minutes is perfect. You can adjust one way or the other to your liking.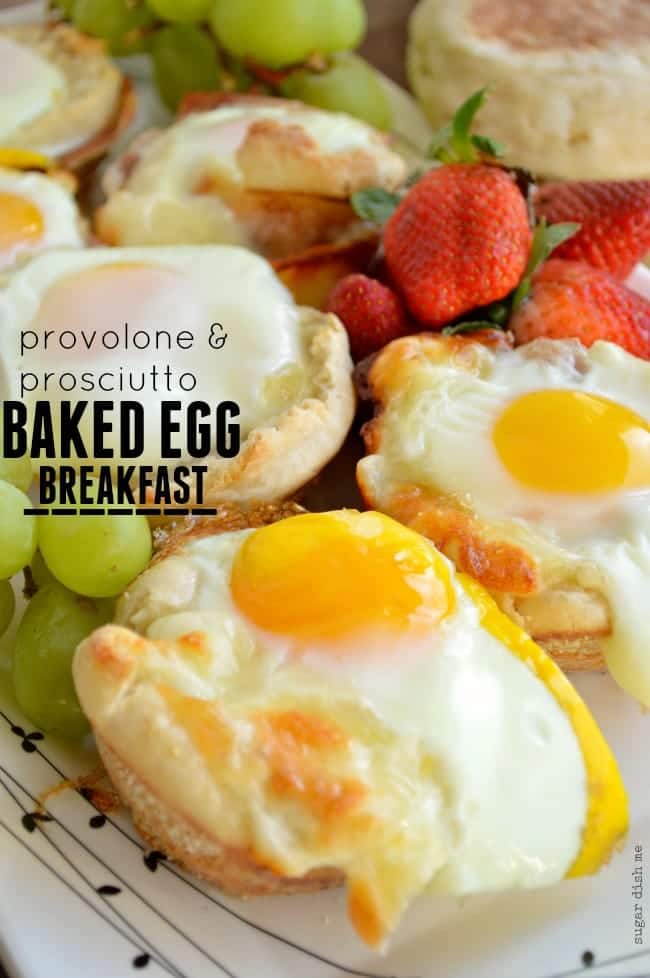 Yield:

4
Prosciutto & Provolone Baked Egg Breakfast
A simple brunch recipe ready in 20 minutes or less! Great for feeding crowds. Great for getting all the hot food on the table at once!
Ingredients
2 whole wheat English muffins, halved
2 thin slices prosciutto, halved
4 thin slices provolone (or other smoky cheese)
4 eggs
Instructions
Pre-heat the oven to 375. Spray a muffin pan with non-stick cooking spray (**see note**).
Gently push one half of each English muffin, nooks & crannies side up, into 4 of the prepared muffin cups. Lay 1/2 a slice of prosciutto over each muffin half. Top the prosciutto with the cheese.
Crack an egg over each slice of cheese (you may need to use your fingers to press the cheese down in the pan a little; in a standard muffin pan the egg WILL spill out a little- mine did. It's fine.)
Bake for 15-20 minutes. 20 minutes will give you a baked egg, "over well". I lean more towards a runny yolk so 15 minutes was perfect for me.
When the baked eggs are done, gently use a fork to lift them from the muffin pan(you may need to use a knife to loosen them around the edges, especially if you had lots of egg overflow).
Notes
I used a standard-sized muffin pan. The smaller halves of the English muffins fit nicely but the larger halves weren't so cooperative. I made it work and loved the results, but it was imperative that I sprayed the WHOLE muffin pan (so the eggs that spilled out didn't stick to everything). If you have a jumbo muffin pan it would work great here!
Recommended Products
As an Amazon Associate and member of other affiliate programs, I earn from qualifying purchases.
Nutrition Information:
Yield:
4
Serving Size:
1
Amount Per Serving:
Calories:

264
Total Fat:

14g
Saturated Fat:

7g
Trans Fat:

0g
Unsaturated Fat:

6g
Cholesterol:

215mg
Sodium:

818mg
Carbohydrates:

14g
Fiber:

2g
Sugar:

3g
Protein:

20g
This adapted recipe comes to you from Bibi's Culinary Journey , whose blog I was assigned to sift through for my original recipe swap post. To read Bibi's original recipe for her
Prosciutto & Provolone Baked Eggs Breakfast Sandwich
, take some time to visit her blog.