Buttery rich pound cake with white chocolate in the batter and drizzled over the top! This White Chocolate Cranberry Pound Cake has fresh cranberries tucked inside and sugared cranberries all over the top for a gorgeously delicious holiday treat!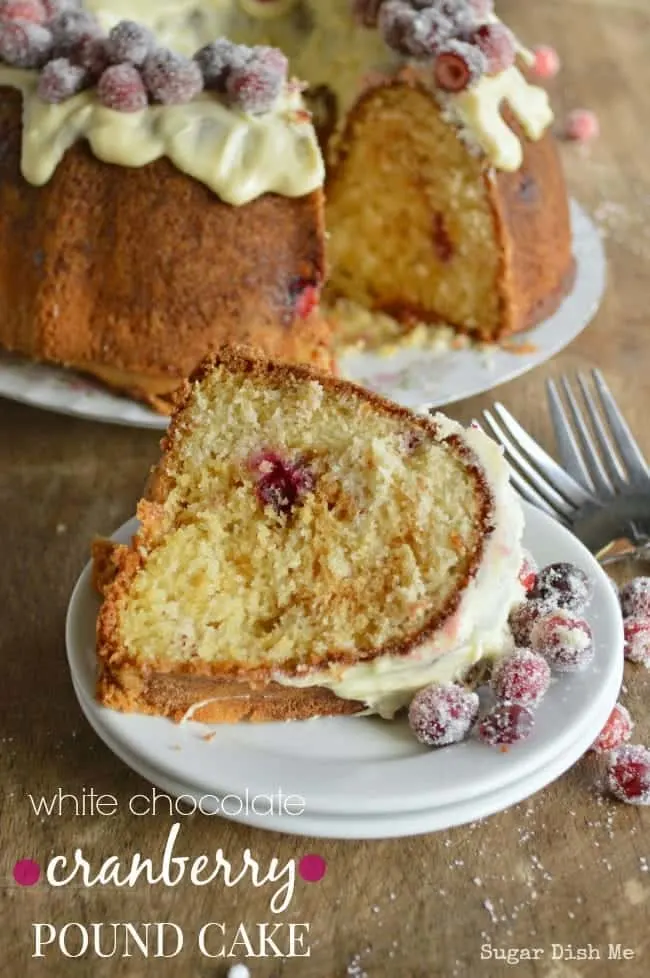 Save This Recipe for Later
Saved!
A buttery delicious and festive looking pound cake recipe with white chocolate and fresh cranberries folded right in the batter. Topped with white chocolate ganache and sugared cranberries for holiday table perfection!
I was compensated for this post by I Can't Believe It's Not Butter via Clever Girls Collective. All opinions, photos, and the recipe are my own.
This is an ironic cake.
Let's start with the fact that I don't like white chocolate. I never use it for anything! Except I used to sell white chocolate raspberry cheesecakes to a local restaurant and I added it to the batter — but in my defense they loved that cake. It was not my favorite because of the what? Yes. The white chocolate.
This festive White Chocolate Cranberry Pound Cake is a lesson in making exceptions because besides the white chocolate there are even more surprises.
In baking, in cooking, just in general, I am normally an all-butter girl all the way. I may turn out some calorie-laden treats on this site, but I nearly always use real whole ingredients because that matters to me. I like using fresh fruits and quality chocolate. I am unapologetic about buttercream frosting.
Along with the white chocolate though, something else crazy happened with this cake. Before I tell you, I need to give you this disclaimer that White Chocolate Cranberry Pound Cake is "AWESOMMMMMMMMMME" <<– Oprah voice.
It really is.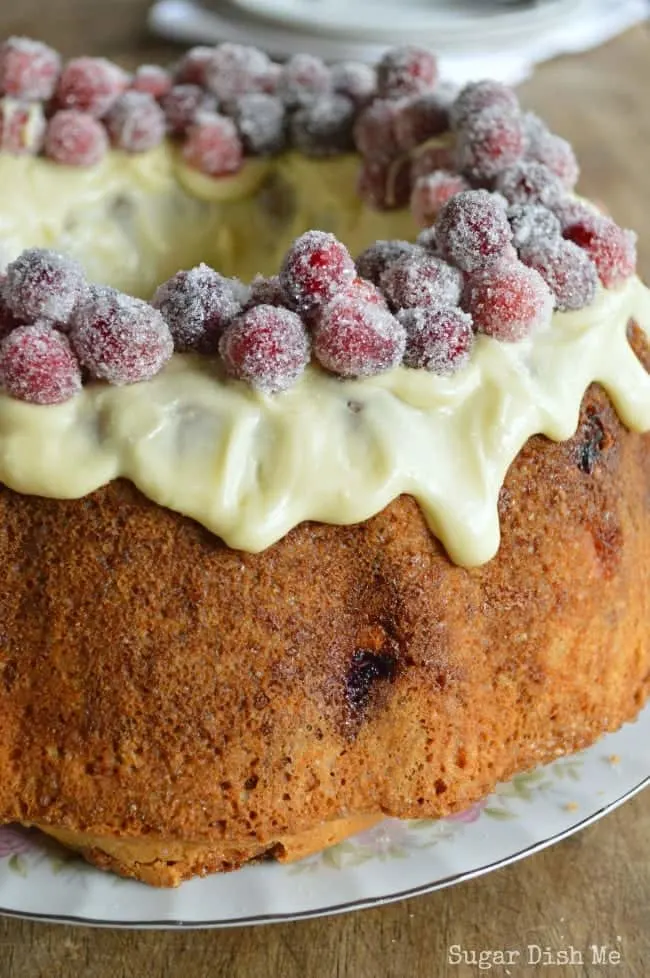 It's rich and buttery like a pound cake should be. I folded melted white chocolate into the batter which gives it a depth of flavor I am really into! It's like I don't even know me.
The fresh cranberries pop while the cake is baking, giving every single slice a a gorgeous jeweled cranberry red with just the right amount of tart to the sweet. I topped the cake with – gasp – white chocolate ganache and then mounded sugared cranberries all over that. It's such a party cake! And the taste + texture is spot on.
So far I am sure you are thinking that none of this seems really crazy except that I am picky about chocolate. So let's get to the crazy:
I made this all-butter pound cake with I Can't Believe It's Not Butter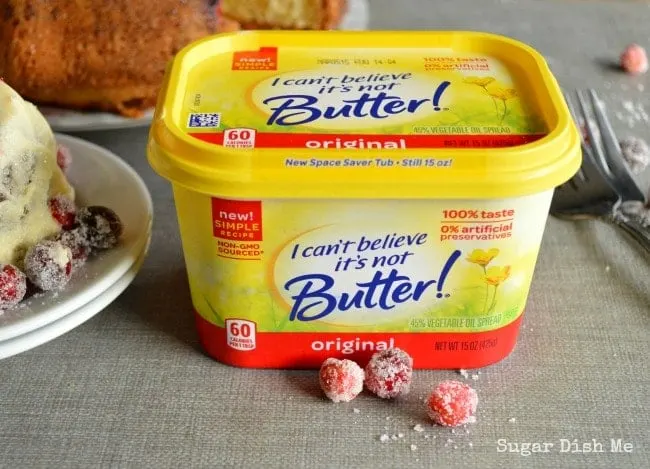 I Can't Believe It's Not Butter has recently undergone something of a makeover. The new I Can't Believe It's Not Butter!® is made from real, simple ingredients you can recognize — it's a delicious blend of plant-based oils, purified water and a pinch of salt. I can get behind that. It's the first spread from Unilever in the U.S. to be made from non-GMO ingredients. I know I don't talk about this much, but what's IN food is really important to me. I'm a label reader and I love my local farmer's market. I buy organic when I can, avoid high fructose corn syrup when possible, and try to make good decisions with my purchases. This made over product hit all those points for me, plus it comes in at 40% fewer calories and 70% less saturated fat than regular butter.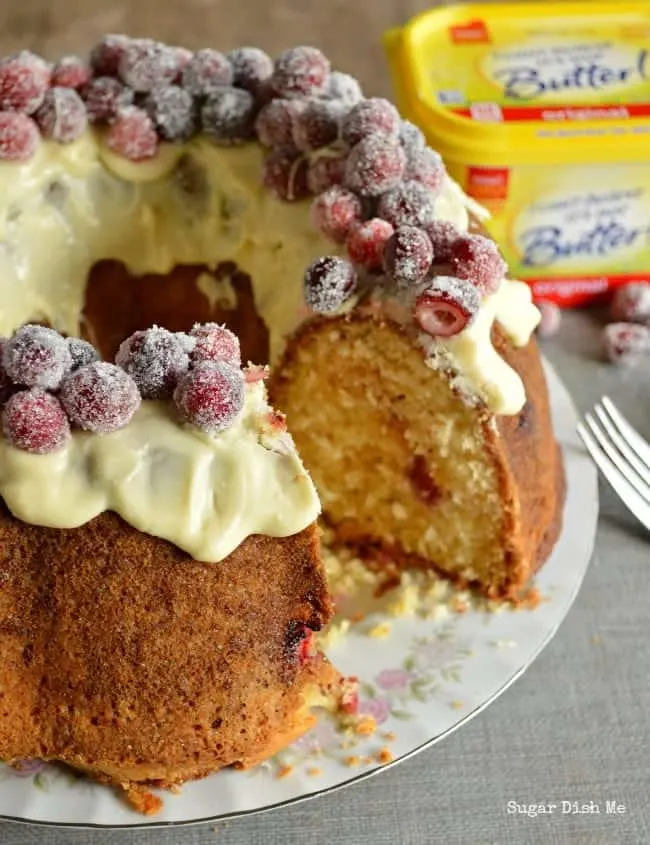 In theory I was sold with all that information, but what about the taste?!
I figured there was no better way to put it to the test than to go all in and use it in a pound cake. A big 'ol pound cake recipe that normally calls for a whole cup of butter. And you know what?! I Can't Believe It's Not Butter passed this test with flying colors.
You have to try it to see.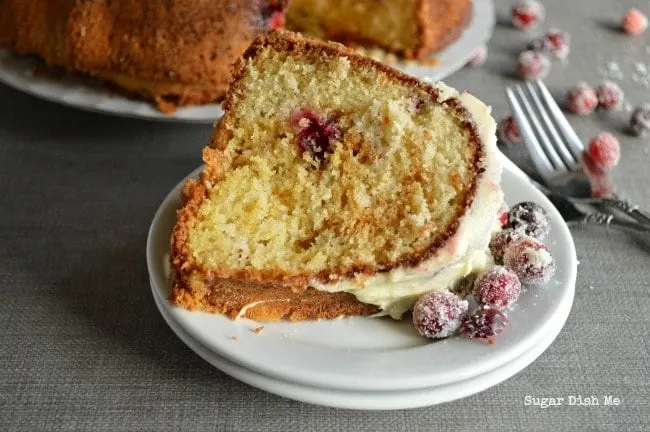 If you decide to make this cake and try I Can't Believe It's Not Butter, they would love to know what you think! Click here to leave a product review.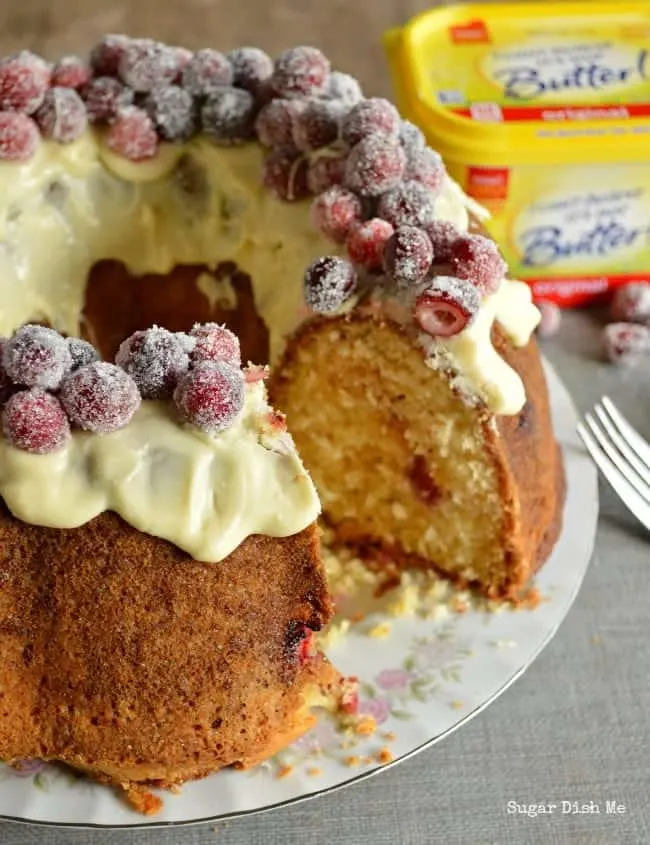 Ingredients
8

ounces

white chocolate

chopped

1

cup

margarine

2

cups

granulated sugar

5

eggs

2

teaspoons

vanilla extract

1

teaspoon

almond extract

3

cups

all purpose flour

1

teaspoon

baking powder

1/2

teaspoon

salt

1/2

teaspoon

baking soda

1

cup

Greek yogurt

1

cup

fresh cranberries

For the Sugared Cranberries:

1

cup

granulated sugar

divided

1/4

cup

water

1

cup

fresh cranberries

For the White Chocolate Ganache:

8

ounces

white chocolate

chopped

2

teaspoons

shortening
Instructions
Melt the white chocolate over low to medium low heat -- careful! It burns easily. I stir the whole time the chocolate is melting. Remove it from the heat and let it cool slightly.

Preheat the oven to 350°F. Grease a 10" bundt (fluted tube) pan.

In a large bowl beat together the margarine and granulated sugar until fluffy. Add the eggs one at a time, beating well after each addition. Then mix in the extracts. Gently fold in the white chocolate.

In a smaller bowl whisk together the flour, baking powder, salt, and baking soda. Add it in thirds, alternating with the yogurt or sour cream, starting and ending with the flour mixture.

Fold in the cranberries and pour the batter into the prepared pan.

Bake for 50- 55 mins. Check for doneness with a pick inserted into the center. Let the cake cool before turning it out of the pan onto a plate.

To make the Sugared Cranberries, add 1/4 cup of the granulated sugar and the 1/4 cup water to a small saucepan. Bring it to a simmer to let the sugar dissolve and then reduce the heat to low. Add the cranberries, stir to coat, and remove them from the heat. Use a slotted spoon to place them on a metal rack. Let them cool for a few minutes. Pour the remaining granulated sugar in a shallow dish. Roll the cranberries in the sugar one by one until each one is coated.

To make the white chocolate ganache, melt the shortening over low to medium low heat. Stir in the chopped white chocolate. Continue stirring and let the chocolate melt over medium heat until smooth. Drizzle it over the top of the cake.

Before the chocolate sets, stack the cranberries all over the top of the cake. Pile them up! You can dip a cranberry in the white chocolate to stack them and hold them in place.
Cake recipe adapted from Taste of Home's White Chocolate Pound Cake Recipe