I wrote a little bit last week about a project I'm working on that would offer educational and nutritional information as well as some really great resources to SNAP (food stamp) recipients in my community. THE RESPONSE WAS OVERWHELMING and HAPPY and HEART-WARMING. You guys are so great.
I've started outlining plans, listing resources, playing with standard pantry lists and menus and I am enjoying every minute of it. In the coming weeks I'm going to try to feed my family on a SNAP budget, which is about $31.50 per person per week. Could you eat 3 meals a day for 7 days for $31.50? This is gonna get tricky you guys!!
I had a really enlightening meeting last week with the woman in my area that is heading the effort to make the farmer's market here available to SNAP recipients. She is up to her eyeballs in a mess that is much bigger than it seems like it should be. We plan on collaborating in the future.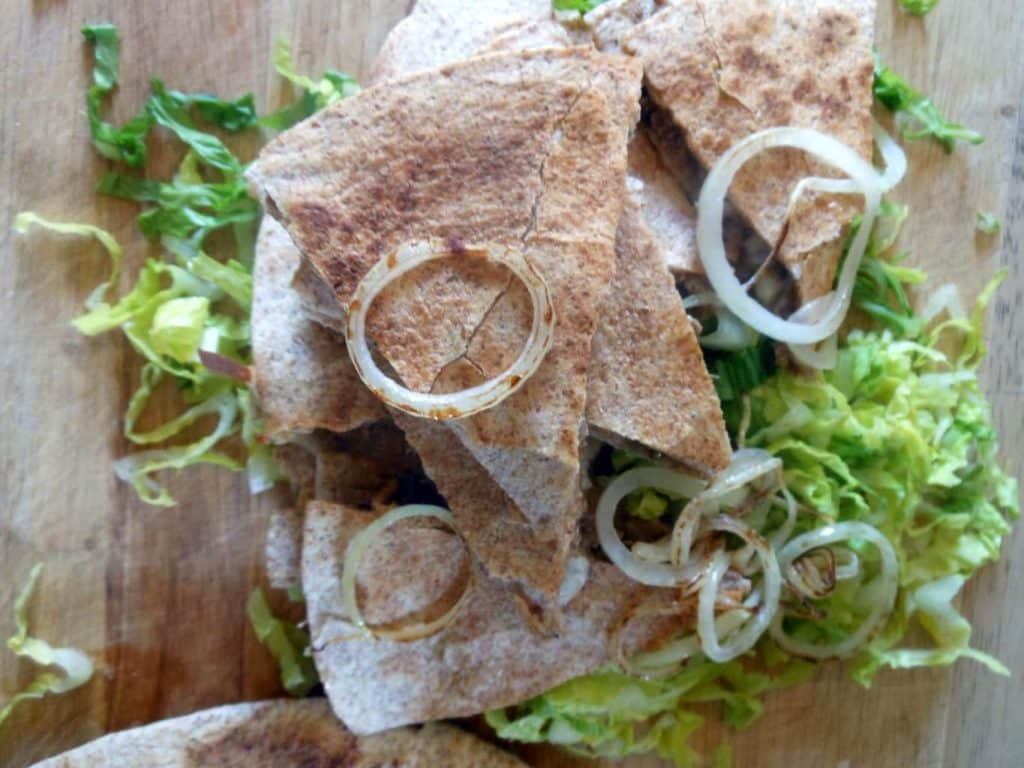 I have had a lot of you offer up help and for that I am so thankful because this is definitely not the kind of thing that would or could ever get accomplished alone. I hope the effort grows and grows — I hope to come up with a sustainable model that could be duplicated because everywhere there is need.
There are mission statements that have been drafted, ideas scribbled on all available surfaces, and lesson plan lists that just keep growing. But first things first: this baby needs a name!!! I've been mulling over acronyms and names and clever phrases that are probably not so clever for a couple of weeks now, but I've decided to tap into your collectively creative brains and ask for help with naming this initiative. I feel like awesome names are borne of caffeine (or wine) fueled conversations and silly dialogue that happens in the moment.
A name is something you have to bounce off of someone else (and Lucy doesn't count). I need your help!!! Lest we end up with another naming disaster like "Sugar Dish Me".
Crock Pot Philly Cheesesteak Quesadillas ARE NOT something that require a second opinion because everyone likes them. Eh-vur-eee-one. Unless you're vegetarian, in which case, I apologize and hope that this White Pizza with Cauliflower and Kale makes up for things.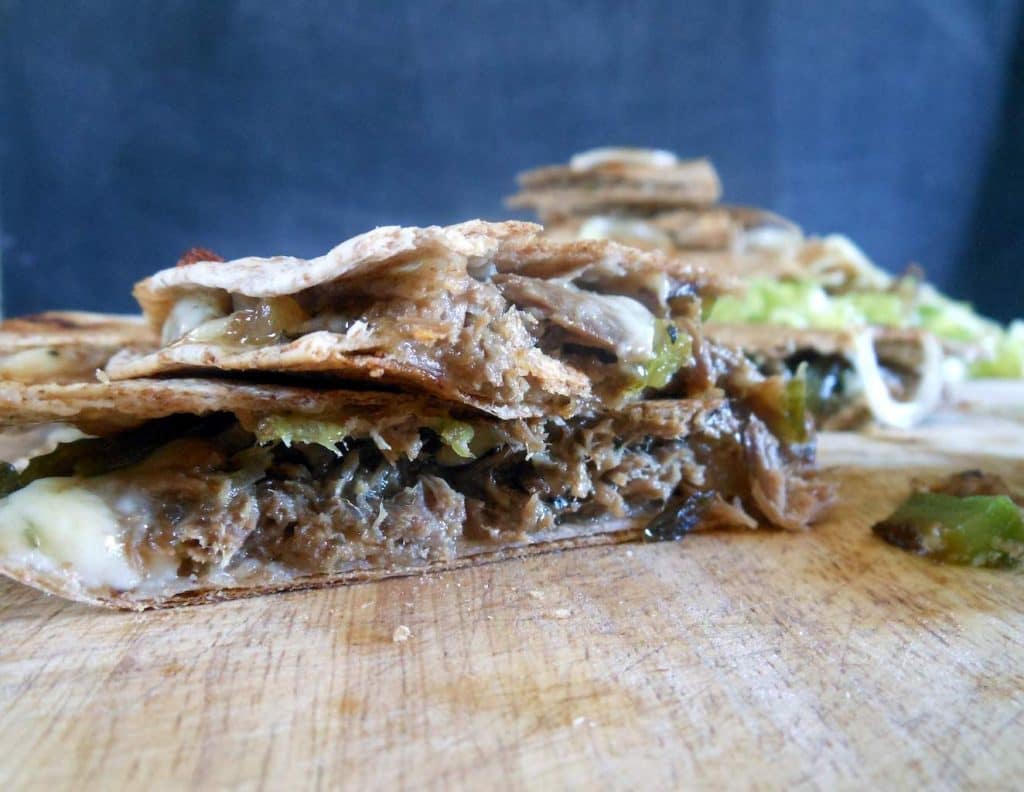 Crock Pot Philly Cheesesteak Quesadillas
Ingredients
1 large onion, thinly sliced
3-4 pound chuck roast
2 cloves garlic, minced
1 tablespoon dried parsley
1 teaspoon dried dill
½ teaspoon onion powder
½ teaspoon garlic powder
¼ teaspoon coarse ground black pepper
pinch of salt
⅓ cup distilled vinegar
¼ cup green onions, chopped
8 whole wheat tortillas
8 ounces provolone cheese
1 green bell pepper, thinly sliced
1 cup button mushrooms, thinly sliced
shredded lettuce and sour cream to serve
Instructions
Place the sliced onion in the bottom of the slow cooker crock. Nestle the chuck roast right on top. Sprinkle the garlic all over.
In a small bowl, whisk together the dried parsley, dill, onion powder, garlic powder, pepper, salt, and distilled vinegar. Pour it over the roast.
Sprinkle the green onions over everything, cover, and cook for 5-6 hours on high, 7-8 hours on low.
When the meat is fork tender, gently remove it from the crock pot and shred it. Return the meat to the crock pot and stir to evenly incorporate the meat, onions, and sauce.
Heat a large skillet or griddle (medium high heat or about 375 on the griddle). Place a tortilla shell down, cover with ⅛ of the cheese. Spread some of the beef over the cheese (about ¼ to ½ a cup). Add ¼ of the sliced bell peppers, ¼ of the sliced mushrooms (you can heat these in a small skillet with a little bit of non-stick cooking spray before-hand if you like your peppers and mushrooms to be a little more cooked and tender), and another ⅛ of the cheese.
Continue cooking until the cheese is good and melty, place another tortilla on top, flip, and cook until the second side is toasty.
Remove to a cutting board.
Repeat with the other 3 quesadillas.
Slice them like pizzas and serve with shredded lettuce and sour cream.
Notes
You'll have plenty of beef leftover. I am a huge fan of leftovers. You can use it for amazing philly cheesesteak sandwiches (as seen in the original recipe @ The Tasty Fork), serve this over rice (my kids were really into it), top a baked potato (who loves McAllister's?), make philly cheesesteak fries (why didn't I think of that until now?)– the possibilities are pretty endless.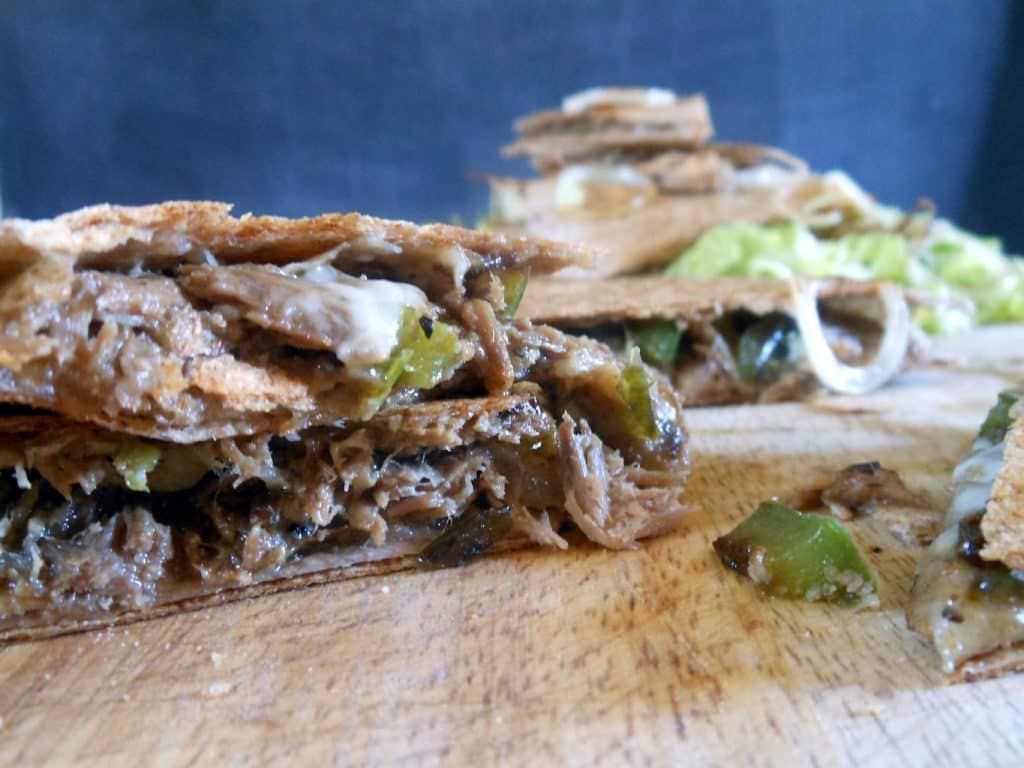 Leave your clever suggestions in the comments or shoot me an email. Forward this to a friend, tell me whatcha think on
Facebook
, or find me on
twitter
. If I choose your suggestion you just might get a batch of cookies in the mail (this definitely motivates my children. If I'm way off base with the cookie bribe then sorry; it's what I know).