A quick, no-bake cobbler that is perfect for last minute get-togethers or extra guests! This 10 Minute Fruit Cobbler is a hassle free, simple solution to your sweet tooth!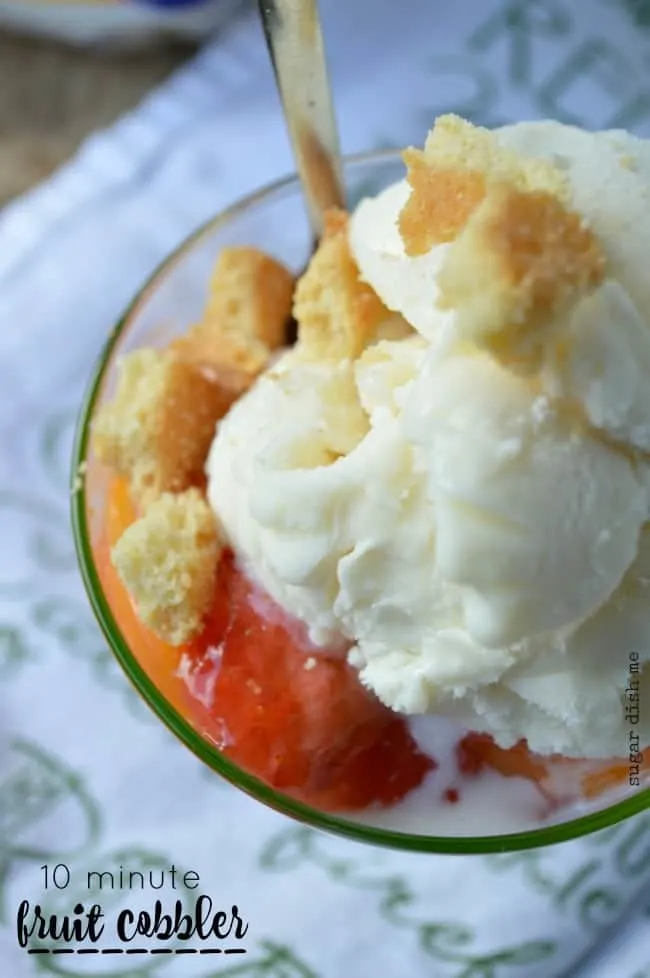 This post is sponsored by DOLE® Frozen Fruit. All opinions, photos, and the original recipe are my own.
Ya'll know I love my fast solutions (check out 10 Minute Pizza Dough and 5 Minute Cinnamon Sugar Waffle Bites), but you probably did not know that they were a product of necessity. Just like these 10 Minute Fruit Cobblers.
See, we have a few friends/family members that like to pop in with no notice. Or with like 10 minutes notice. Sometimes they show up to things uninvited, and sometimes they show up with extra people.
I'm pretty easy-going you guys. I'm okay with changing plans or taking a trip on a whim. I'm even usually okay when my 16-year-old son decides to last minute come home with 3 extra friends that will make the dogs bark for half the night. But if you want to see my stress level go through the roof, let me think for just one minute that there will be extra mouths I hadn't planned to feed.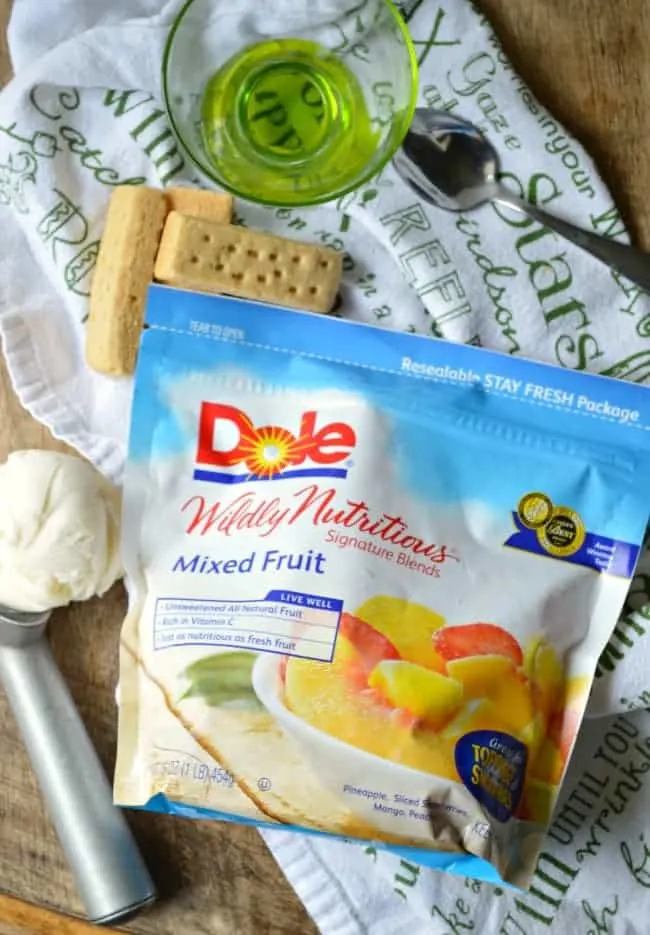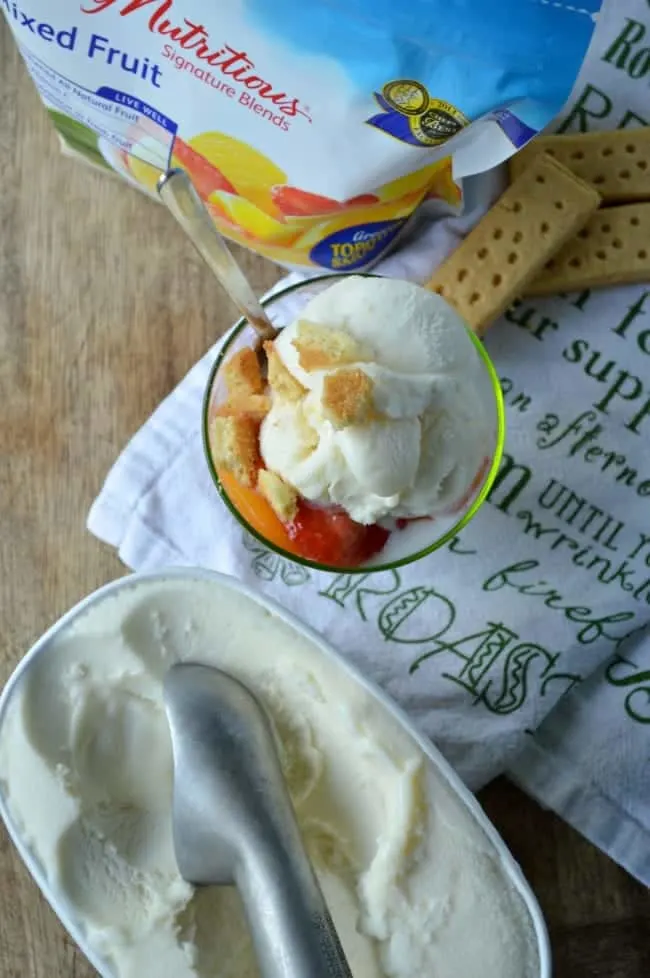 Not having enough food is a major pet peeve, so I have my handful of super fast fall-back recipes for the days when I need to be prepared for anything.
**cue Chad's grandma plus 3 extra people just in time for dinner**
I've taken to stocking my freezer with DOLE Frozen Fruit – it's available year round with no washing, no cutting, and no mess. I add it to smoothies in the morning, it makes a delicious fruit salsa for tacos, it's perfect in sangria, and it nails this 10 Minute Fruit Cobbler Recipe.
You don't need to thaw anything, it only takes 5 minutes to cook on the stove, and it's super simple to feed a crowd. Disaster averted.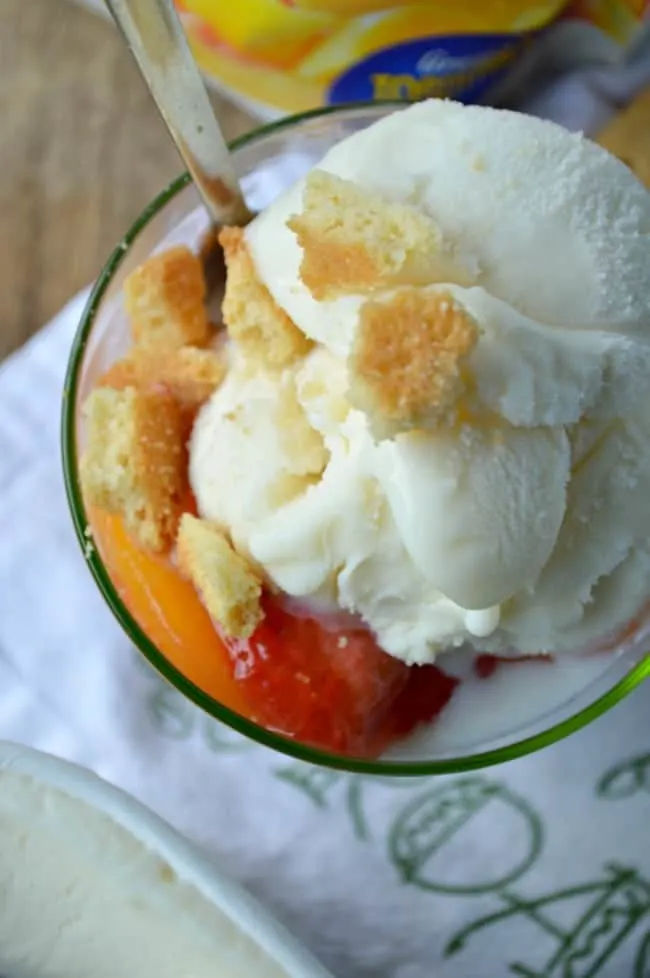 (you can find all of DOLE's quick fix frozen fruit recipes HERE)
I used DOLE Wildly Nutritious Mixed Fruit for my cobbler, but this would also work well with the Strawberries and Blueberries Mix, the Whole Strawberries, the Mango Chunks, or the Pineapple Chunks. Add a dash of cinnamon or nutmeg to spice things up.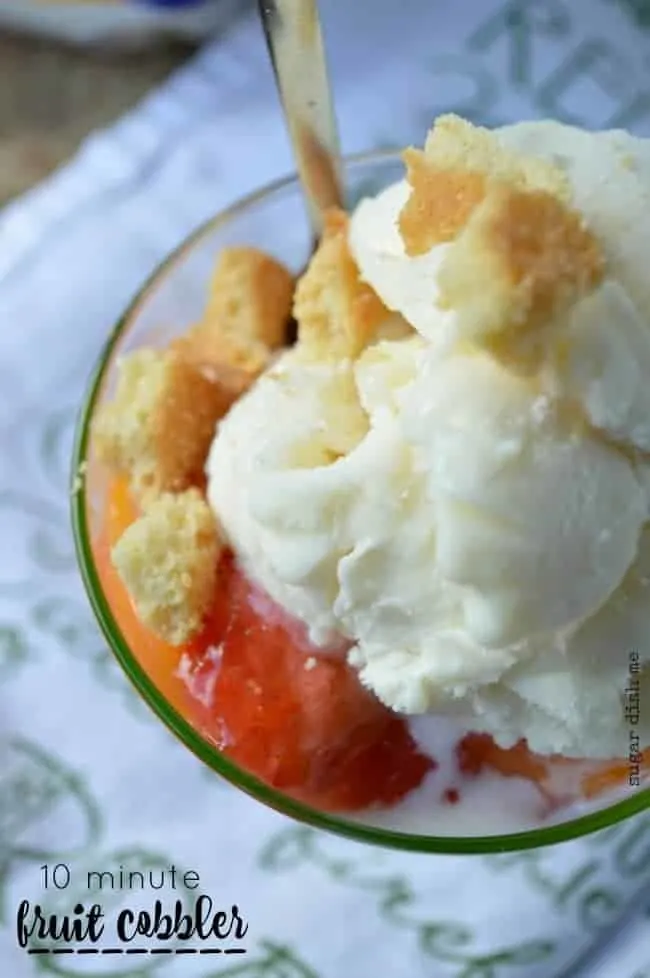 Yield:

serves 4
10 Minute Fruit Cobbler
Ingredients
8 shortbread cookies
2 1/4 cups DOLE Wildly Nutritious Mixed Fruit (frozen)
3 tablespoons cold water, divided
2 tablespoons granulated sugar
1 tablespoon cornstarch
4 scoops vanilla ice cream
Instructions
Break the shortbread cookies into small (pea - grape size pieces). Set aside.
Add the DOLE Wildly Nutritious Mixed Fruit, 2 tablespoons of the water, and the 2 tablespoons of sugar to a medium saucepan. Cook over medium high heat for 1-2 minutes while stirring to combine the fruit with the sugar.
In a small dish, whisk together the remaining 1 tablespoon of cold water with the 1 tablespoon of cornstarch. Slowly pour the cornstarch slurry into the saucepan and stir to combine. Continue cooking the fruit for 2-3 minutes, until the liquid begins to thicken. Remove from the heat.
To serve, place some of the broken shortbread cookies in the bottom of each dish. Top with the warm cooked fruit, add a scoop of ice cream, and garnish with a few more pieces of shortbread.
Serve immediately.
Nutrition Information:
Yield:
4
Serving Size:
1
Amount Per Serving:
Calories:

314
Total Fat:

14g
Saturated Fat:

6g
Trans Fat:

0g
Unsaturated Fat:

6g
Cholesterol:

29mg
Sodium:

137mg
Carbohydrates:

45g
Fiber:

2g
Sugar:

29g
Protein:

4g
For more unique recipe ideas using DOLE® Frozen Fruits check
HERE