A simple, refreshing cocktail perfect for cooling off on hot days. Cherry Peach Punch is made with peach cider and whipped cream cherry vodka; you'll love it!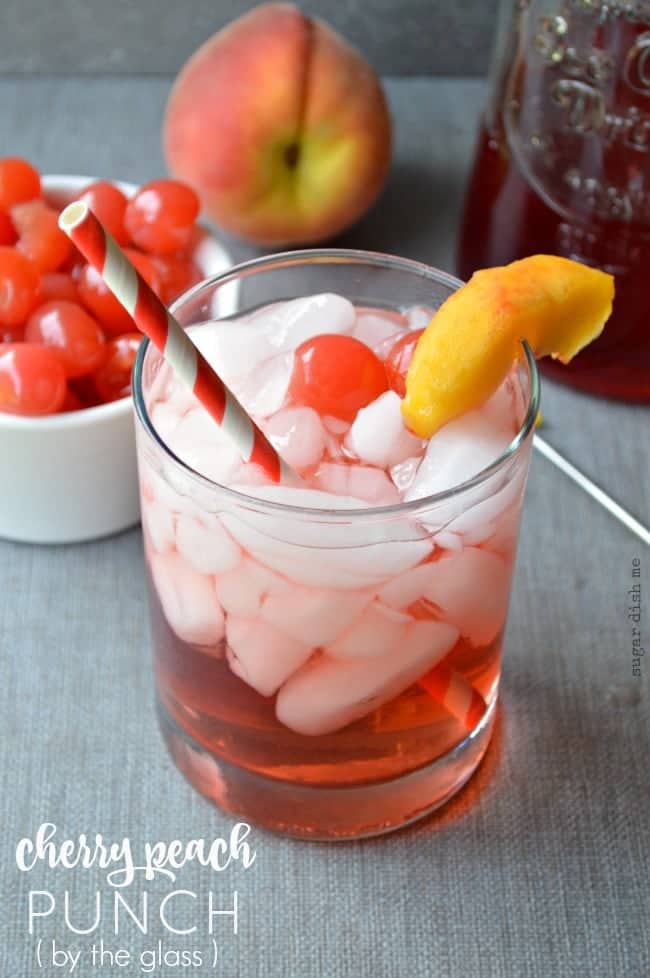 It's the last day of August! (which by the way is my least favorite month) This calls for celebrating.
With a cocktail.
You're into it, right?
Thought so.
I made this happy little beverage with peach cider. I'm in North Carolina so we get pretty overloaded with South Carolina peaches in July and August. No complaints from me! Except that this year the weather is so miserably hot that the pumpkins are already being picked. Two days ago I passed a peach stand on one side of the road and a pumpkin stand on the other side. I imagine the farmer's market is all kinds of confusing.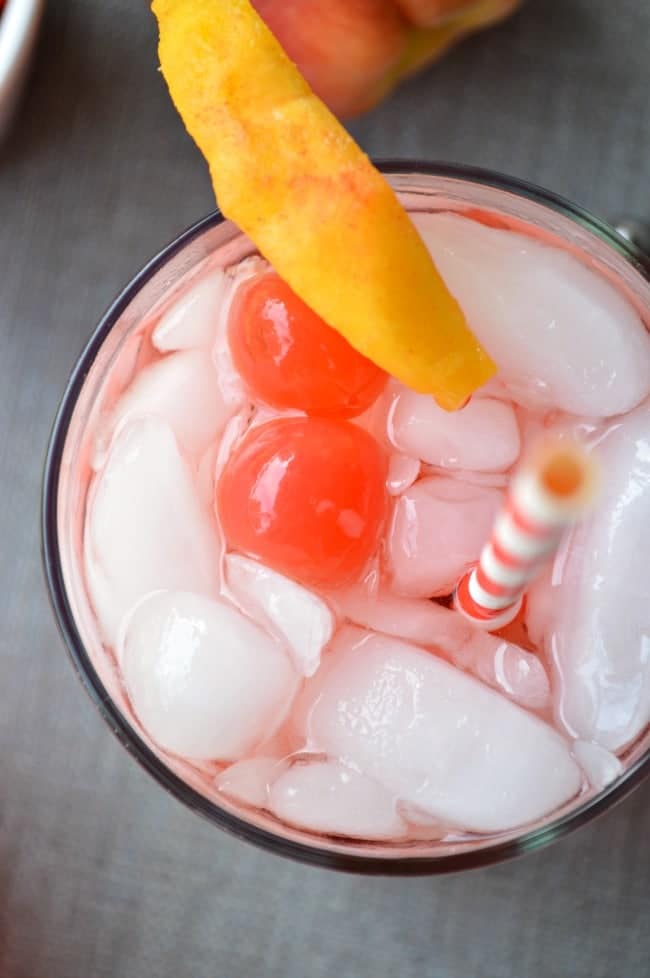 Peach cider is still largely available through the fall in markets and grocery stores alike, even long after the last of the summer peaches has gone.
I should take a second to explain the vodka. You can't BUY whipped cream cherry vodka (at least not that I'm aware of. If you find some let me know!). You're gonna make it. So if you are planning cocktails for Labor Day celebrations or something, get the vodka rolling a couple days ahead. Back in July I made these Buzzed Cherry Bombs (amazing). My liquor stores had no vanilla vodka to be found though, so I compromised with whipped cream vodka. After soaking the cherries and doing my candy-coating/sprinkle thing, I was left with a whole bunch of cherry flavored whipped cream vodka.
It's pretty great on the rocks in case you were wondering.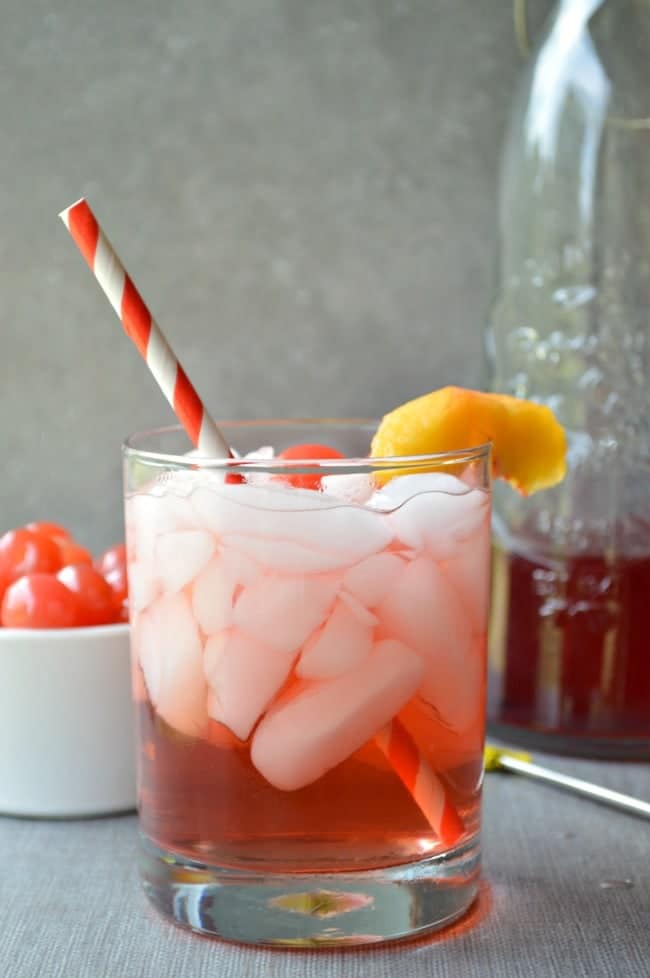 In an effort to put it to some good mixed drink use, this super easy cocktail recipe is what I came up with. It's pretty, it's festive, and it goes down REALLY easy.
Make a drink and celebrate what I hope is an end to summer weather! Cheers to upcoming pumpkin and apple-ing.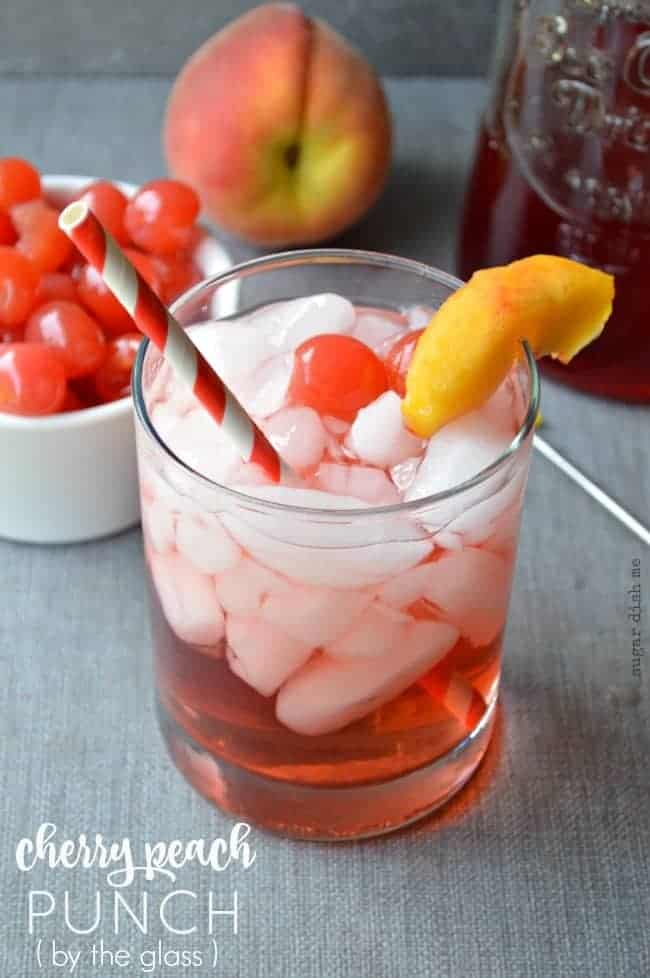 Yield:

makes 1 glass
Cherry Peach Punch by the Glass
Ingredients
To Make the Cherry Whipped Cream Vodka
3 cups whipped cream vodka
1 (10 ounce) jar maraschino cherries
To Make the Cherry Peach Punch
3 ounces whipped cream vodka
2 ounces peach cider
Splash of Sprite
Vodka cherries and fresh peach slices to garnish
Instructions
To make the vodka (and the vodka cherries), drain 1 (10 ounce) jar of maraschino cherries. Pour the cherries into a bowl and cover with 3 cups of whipped cream vodka. Let the cherries soak for at least 24 hours. 48 is best.
To make the Cherry Peach Punch, fill a highball glass with ice. Pour in the whipped cream cherry vodka, then the peach cider, and then top with just a splash of sprite. Pour into a shaker and shake to blend. Pour the drink back into the glass and garnish with a couple of the vodka cherries and a slice of peach
Notes
Make sure you prepare the vodka a day or two ahead!
Nutrition Information:
Yield:
1
Serving Size:
1
Amount Per Serving:
Calories:

458
Total Fat:

19g
Saturated Fat:

12g
Trans Fat:

0g
Unsaturated Fat:

6g
Cholesterol:

65mg
Sodium:

19mg
Carbohydrates:

46g
Fiber:

1g
Sugar:

37g
Protein:

4g
If you love cocktails you'll also want to try…