A dreamy Jewish apple cake with a spicy chai-inspired twist! This Apple Chai Cake is fall dessert perfection.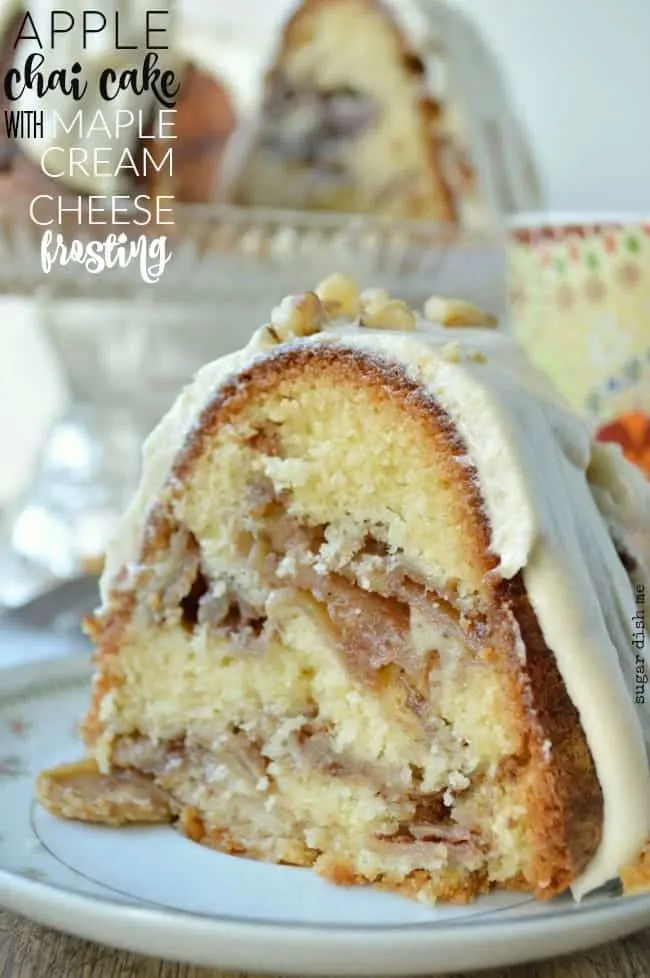 This recipe is from the book Sweet Noshings written by Amy Kritzer. If you dig this cake recipe, you will love love love this book.
Here's lookin' at you, apple desserts!
Apple is for sure my favorite fruit to bake with. In years past I've shared Peanut Butter Apple Cheesecake, Apple Pie Pancake Muffins, Chewy Apple Peanut Butter Bars, Iced Apple Butterscotch Oatmeal Cookies... the list seriously goes on and on.
Soooooo … when I got my friend Amy's cookbook in the mail, this Apple Chai Cake with the freaking amazing Maple Cream Cheese Drizzle was ABSOLUTELY the first thing I had to make. And anyway it's apple season. This cake seemed like the perfect place to start.
I feel like I should tell you some things about Amy in case you don't know her (why don't you know her?!!). 1) Amy is one of the very first friends I made when I started posting recipes and my really terrible cell phone photos on the internet. SHE WAS MY FRIEND EVEN THOUGH MY FOOD LOOKED LIKE BARF. (P.S. I'm really sorry I just typed 'barf". Twice.) That counts for something. 2) Amy made both Rainbow Challah AND Rainbow Bagels which makes her instantly and infinitely awesome. 3) She is super good at taking traditional Jewish recipes and spicing them up a little bit.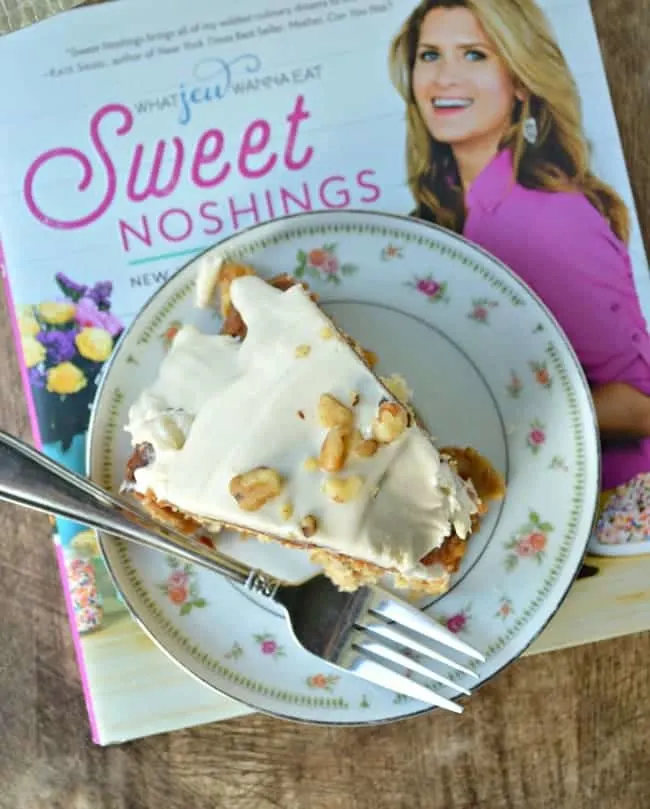 This Apple Cake is based on her Bubbe's recipe, which – can I just say I wish I had my grandma's recipes hanging around somewhere? There is something special about having family recipes as a place to start. There are beautiful clusters of baked apples layered all throughout this cake. Setting them off though, is the heavy dose of homemade chai spice. Heavy on the cardamom, and enough cloves to really set it apart from just plain old apple pie spice.
THEN!!! There's the frosting. It's Maple Cream Cheese Frosting. FYI: we are adding it to everything from now on.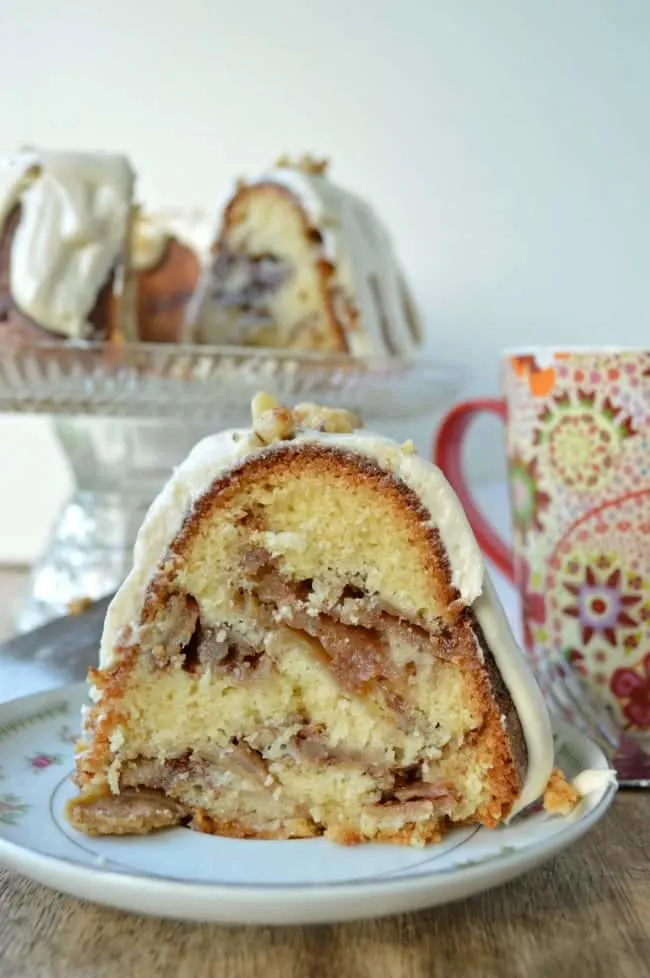 Sometimes the frosting : cake ratio is wrong with bundt cakes. Not this time, though. It's totally perfect.
If you love this recipe as much as I do, you will ADORE this book. It's loaded with easy to follow recipes for things like Pumpkin-Pecan Cinnamon Roll Strudel, Peanut Butter and dark Chocolate Babka, and Tex-Mex Chocolate Rugelach. You can grab a copy of Sweet Noshings <<— HERE.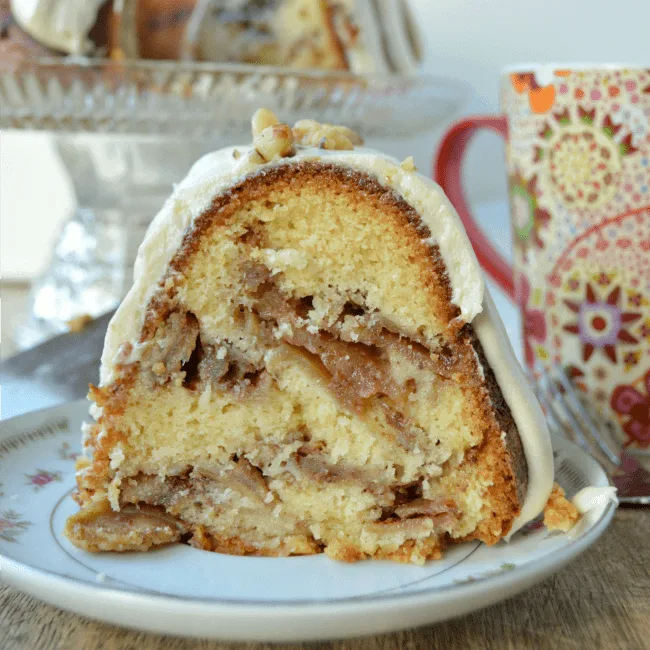 Yield:

serves 12
Apple Chai Cake with Maple Cream Cheese Drizzle
Cook Time:
1 hour
10 minutes
Total Time:
1 hour
40 minutes
This Apple Chai Cake is an easy, buttery, traditional apple cake with a chai spiced twist! It's covered in a Maple Cream Cheese Drizzle and a sprinkle of chopped walnuts for a deliciously easy fall dessert!
Ingredients
3 cups all purpose flour
1 tablespoon baking powder
1 teaspoon kosher salt
1 cup neutral-flavored oil (canola, vegetable, etc)
4 eggs, at room temperature
1/4 cup orange juice
1 tablespoon vanilla
2 cups granulated sugar, plus 5 tablespoons for the apples
4-5 Granny Smith apples, peeled, cored, and sliced into 1/8" wedges (3 1/2 cups sliced)
1 tablespoon cardamom
1 teaspoon ground cinnamon
1 teaspoon ground ginger
1 teaspoon ground cloves
For the Maple Cream Cheese Drizzle:
4 ounces cream cheese, softened
2 tablespoons unsalted butter, softened
1 cup powdered sugar
3 tablespoons maple syrup
a pinch of kosher salt
1 tablespoon milk (plus another 1-2 teaspoons as needed)
Instructions
Preheat the oven to 350°F. Butter a 12-cup bundt pan and lightly flour. Set aside.
In a large bowl, whisk together the flour, baking powder and salt.
In another large bowl (the bowl of your stand mixer or a large bowl + a hand mixer), mix together oil, eggs, orange juice, and vanilla. Then mix in the 2 cups of sugar. Add the dry ingredients to the wet ingredients and mix until JUST combined. Careful not to over mix! Batter should be thick but pourable.
Combine the apples in a large bowl with the remaining 5 tablespoons of sugar, cardamom, cinnamon, ginger, and cloves.
Spoon 1/3 of the batter into the pan. Add half of the apple mixture in an even layer, then add another 1/3 of the batter. Follow with the remaining apples and the last 1/3 batter.
Bake for 1 hour 10 minutes, or until a toothpick comes out clean. Let the cake cool in the pan for 15 mins, then carefully turn it out onto a rack to finish cooling.
To make the drizzle, beat the cream cheese and butter until light and fluffy. Then beat in the powdered sugar, maple syrup, salt, and enough milk to get a thick but runny glaze. Keep beating until smooth. Drizzle all over your cooled cake.
Garnish with walnuts for an extra pretty finish!
Notes
Recipe written by Amy Kritzer and published in her book Sweet Noshings
Nutrition Information:
Yield:
12
Serving Size:
1
Amount Per Serving:
Calories:

568
Total Fat:

26g
Saturated Fat:

5g
Trans Fat:

0g
Unsaturated Fat:

19g
Cholesterol:

77mg
Sodium:

366mg
Carbohydrates:

79g
Fiber:

3g
Sugar:

51g
Protein:

6g