Apple Pie Scones are buttery, tender, and loaded with fresh apple pie filling. These are easy to make and taste just like fall!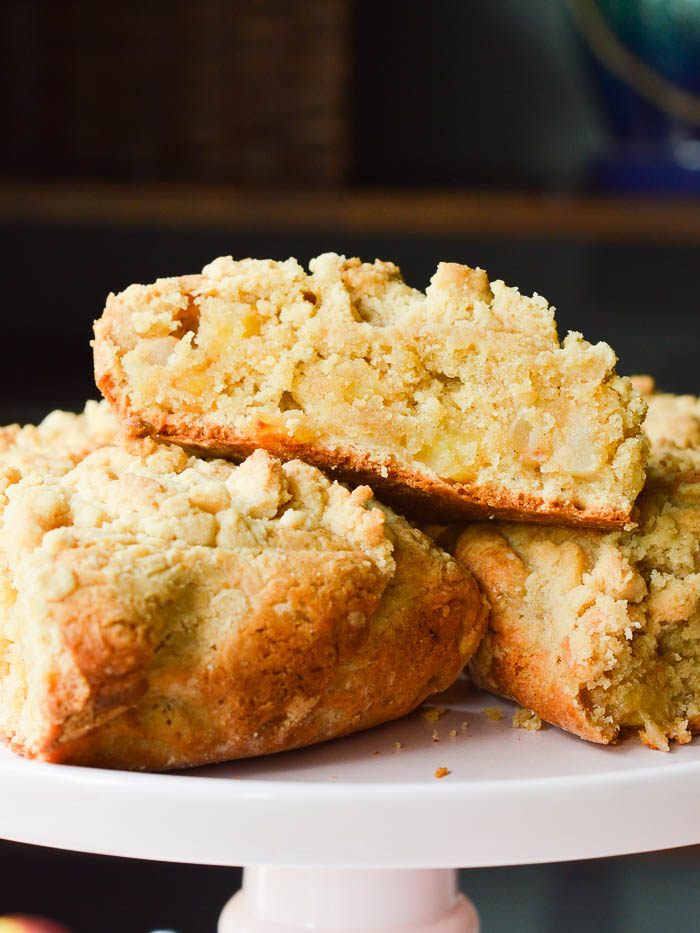 These scones are an excuse to slow things down.
Make an extra pot of coffee. Brush buttermilk on things. Stay in sweats until 2:30pm.
Eat Apple Pie Scones for breakfast. Or brunch. Or for snacking. Heck – LET'S JUST GO ALL IN AND DO ALL THREE.
Just kidding, that's probably excessive, but who am I to judge? Also – don't judge me if I ate three. ?
What's the secret to making good scones?
When I started this blog, I was on the quest to make the perfect biscuit. It took me MANY MANY TRIES. I made Apple Biscuits with Honey Butter Glaze and Greek Yogurt Cheddar Biscuits one day when I was feeling like I needed to cut some carb calories.
I finally nailed THE PERFECT BISCUITS when I made The Biggest Fattest Fluffiest All Butter Biscuits (MAKE THEM OMG), and over the course of that journey, I learned a lot about making scones as well. So I have some good tips.
Keep your ingredients COLD. Specifically the butter. Cold butter makes tender scones and biscuits. Refrigerating between each step is my best tip.
DO NOT OVERMIX. It's the difference between tender and tough. You want scones that are buttery and with a crumb that just pulls right apart.
Use real butter! Always. Butter substitutes are too soft and won't mix up as well and the flavor is never as good.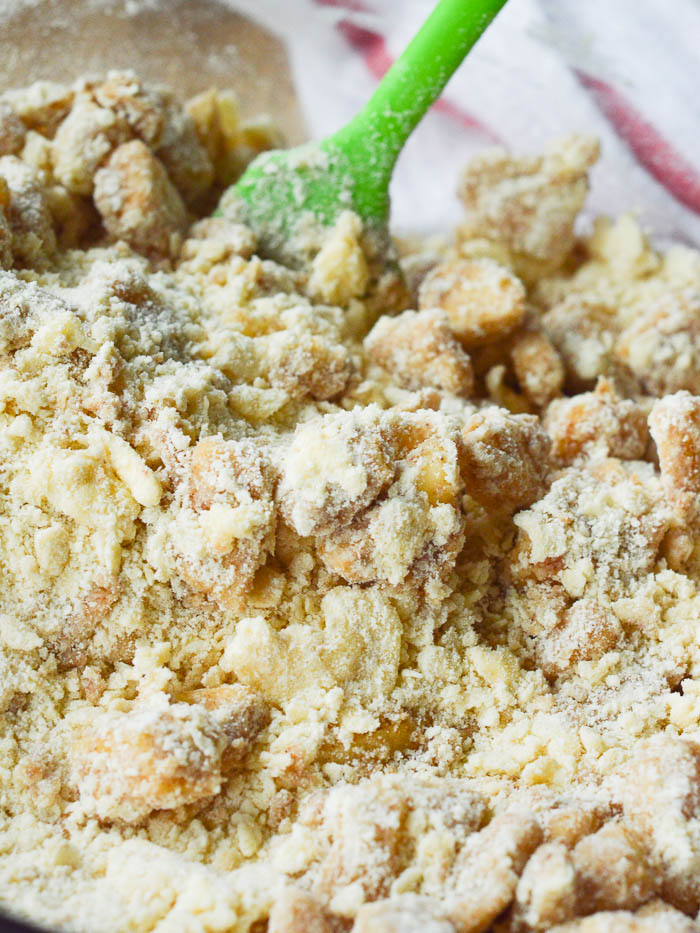 The Best Apple Pie Filling
I have VERY FEW actual pie recipes published on the site. It's a flaw. I love pie. I am happy to eat pie. You should totally make this Atlantic Beach Pie.
All my pie-eating (and holiday pie-making) has made me an expert on Apple Pie Filling. So let's talk about how to make the BEST apple pie filling for these scones.
There were Carrot Cake Oatmeal Cream Pies, which I could ACTUALLY eat my weight in without a shred of remorse. But those aren't really pies either. They are just cream-filled cookie sandwiches that count as vegetables because there are carrots in them.
We are hurling into pie season full speed ahead, ya'll. I'll give you real pies, don't worry. Because today all we need to worry about is breakfast.
Or brunch. You could call these brunch. You could also call them a snack. And dessert would be quite fitting.
I really like that I can have these at 7 a.m. though, warmed with a hot cup of coffee, and scones don't warrant early morning judgement or scorn. Try that with a big fat slice of real pie on a plate and see what happens.
When I figure out how to make ice cream acceptable at 7 in the morning you will be the first to know. That's a promise.
I'm sure that by now you must think I'm a bit bi-polar with my breakfast tendencies. Last week I was all stressed about Kashi labels and high fructose corn syrup and I must have gone off on a cereal tangent, because Rachael reminded me that she needs some toasty warm sugary things in the morning. And frankly, lots of mornings I do, too.
Especially when I look ahead to the craziness that is about to be this week.
We have costumes to finish. The boys are out of school tomorrow which means that for the third day in a row they will be all cute and laughing and giggling rightundermyfeet. They also have complete control of the TV which totally hinders my cleaning abilities. Then we have wrestling practice. Lots of driving. We still need to find a proper location for trick-or-treat. I have to feed us nutritional food sometime in the middle of all this. Oh! And let's not forget Evan's cookie requests for school.
Apple Pie Scones. Pie for breakfast. No apologies.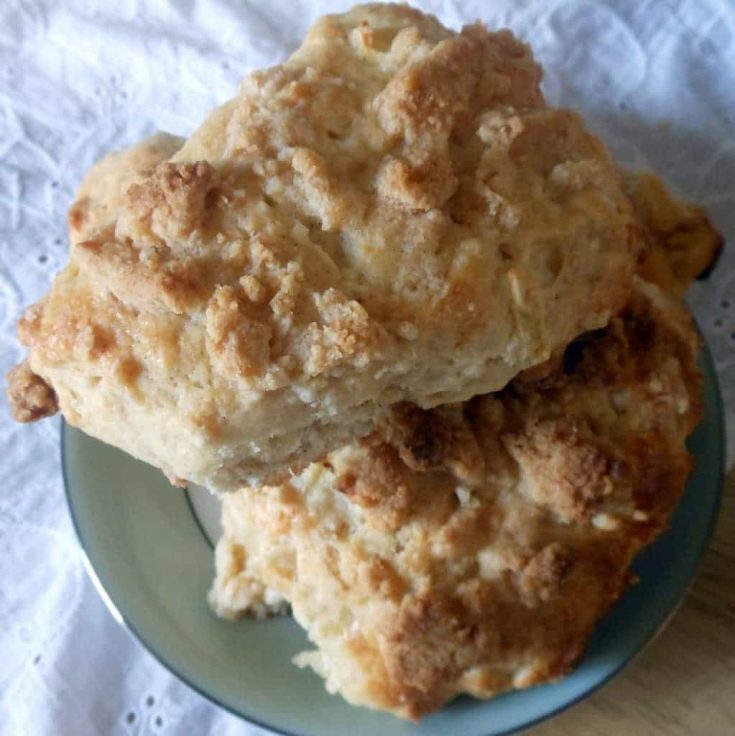 Yield:

8 scones
Apple Pie Scones
Made with fresh apples and spiced like the best apple pie, these Apple Pie Scones are buttery, full of flavor, and perfect for autumn!
Ingredients
For the Apple Pie Filling
1 1/2 cups chopped apples
3 tablespoons light brown sugar
1 tablespoon flour
1-2 teaspoons lemon zest
1 tablespoon lemon juice
For the Scones
2 cups all purpose flour
1/3 cup granulated sugar
2 teaspoons baking powder
1/8 teaspoon salt
6 tablespoons COLD unsalted butter
1 egg, lightly beaten
1 teaspoon vanilla
1/2 cup buttermilk, plus a bit more for brushing over the scones before baking
For the Streusel Topping
3 tablespoons butter
1/2 cup all purpose flour
3 tablespoons brown sugar
Instructions
Pre-heat the oven to 400 and line a baking sheet with parchment paper or grease lightly.
In a medium bowl stir together the chopped apples, light brown sugar, 1 Tbsp flour, lemon zest, 1 Tbsp lemon juice, and set aside.
In a large bowl whisk together the flour, granulated sugar, baking powder, and salt.
Cut in the cold butter until coarse crumbs are formed.
Fold in the apple pie filling. In a liquid measuring cup stir together the beaten egg, vanilla, and buttermilk. Pour the liquid into the buttery crumb/ apple mixture and mix until JUST combined. DO NOT OVER-MIX or the scones will be tough.
Turn the scone dough out onto a well floured surface and with floured hands knead 4 or 5 times. The dough will be wet and pretty sticky.
Pat it into a circle, 7-8 inches across, 1 1/2 inches thick. Cut the circle like a pie: in half, then in quarters, and finally into eight pieces. Using the flat side of a knife gently scrape and lift each triangle from the work surface, and place on the prepared baking sheet, spacing them each a couple of inches apart. Brush the scones with buttermilk.
Cut together the streusel topping ingredients ( 3 Tbsp butter, 1/2 cup flour, 3 Tbsp brown sugar) until you have nice buttery crumbles. Sprinkle the crumbles over the top of each scone.
Bake for 18-22 minutes; a toothpick inserted into the center of the scones will come out clean and the tops will be a pretty golden color.
Let them cool for a couple of minutes on the baking sheet before moving them to a wire rack to cool completely.
Notes
Scones are best eaten the same day, with plenty of hot coffee or tea.
Recommended Products
As an Amazon Associate and member of other affiliate programs, I earn from qualifying purchases.
Nutrition Information:
Yield:
8
Serving Size:
1
Amount Per Serving:
Calories:

403
Total Fat:

16g
Saturated Fat:

9g
Trans Fat:

0g
Unsaturated Fat:

6g
Cholesterol:

59mg
Sodium:

304mg
Carbohydrates:

58g
Fiber:

2g
Sugar:

20g
Protein:

7g