Baby Bella mushrooms are filled with a blend of lean ground beef, onions, garlic, and cream cheese. Topped with melted Swiss cheese, crumbled bacon, lettuce, and tomatoes, these Cheeseburger Stuffed Mushrooms taste like a Bacon Mushroom Burger in every single bite!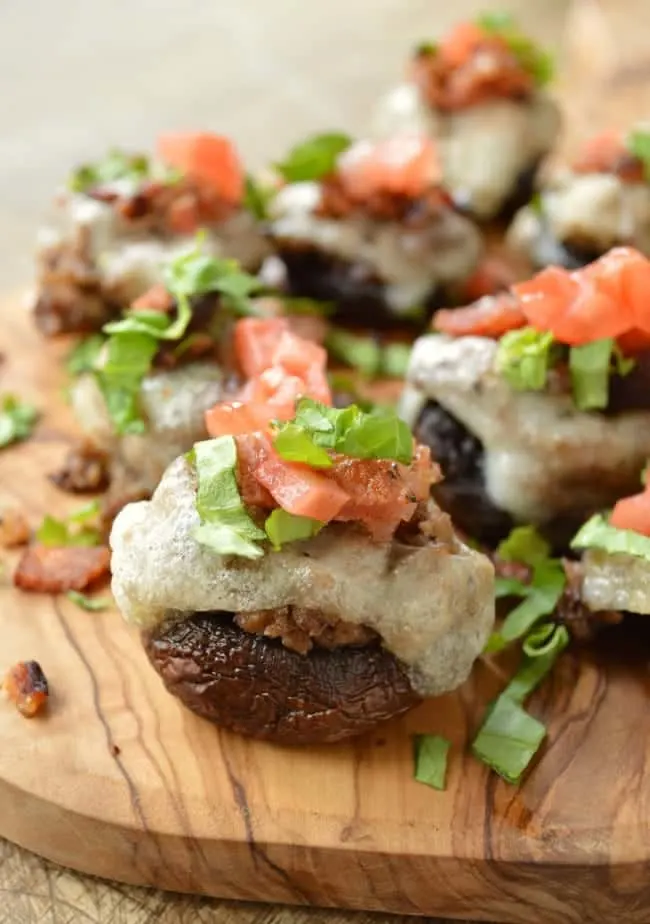 So these happened. And I have been DYING to share! So much good stuff going on here. Let's talk about it.
A few weeks ago I picked up some bacon from a delivery service I use sometimes and now I have bacon for life. Not really. But we have bacon for a nice long while (side note: my drawer freezer in the bottom of my French door refrigerator is holding all this stuff like a serious champ). Of course the first thing I wanted was a bacon cheeseburger, but I have this hard and fast kitchen boycott rule on Fridays.
It is the one day a week that I flat out refuse to cook because I spend all week in the kitchen and by Friday I just don't wanna. I usually scrub it down really good in the morning and then abandon ship. In other words, Friday is the only acceptable day for visitors. On all the other days you guys would know messy I really am.
Anyway. There's this burger place we go to sometimes and while it's pretty good, it can be a little bit hit or miss. We had like 3 good visits over a couple of months and then BAM! It all kind of fell apart. I'll spare you the details, but basically our waitress was visiting here from another planet and then I ordered a Mushroom Bacon Swiss Burger, only to find out that the burger joint is out of bacon.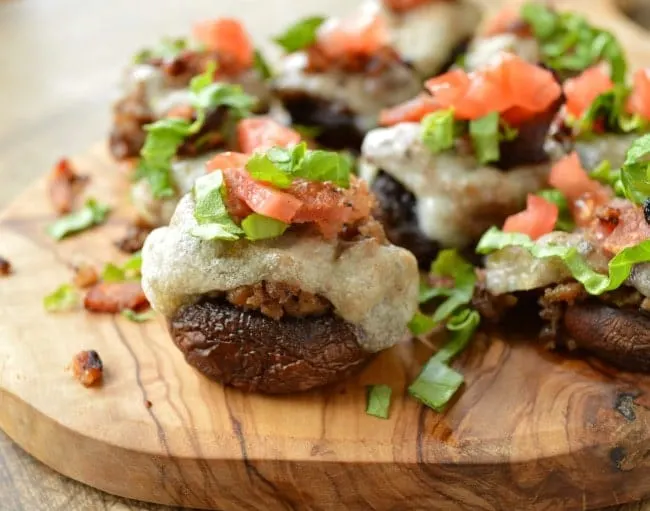 The whole time I was thinking, "I have 36 pounds of bacon in my freezer!!!!," and, "How does a restaurant run out of bacon?!," and, "What foreign land has this chick traveled here from?!"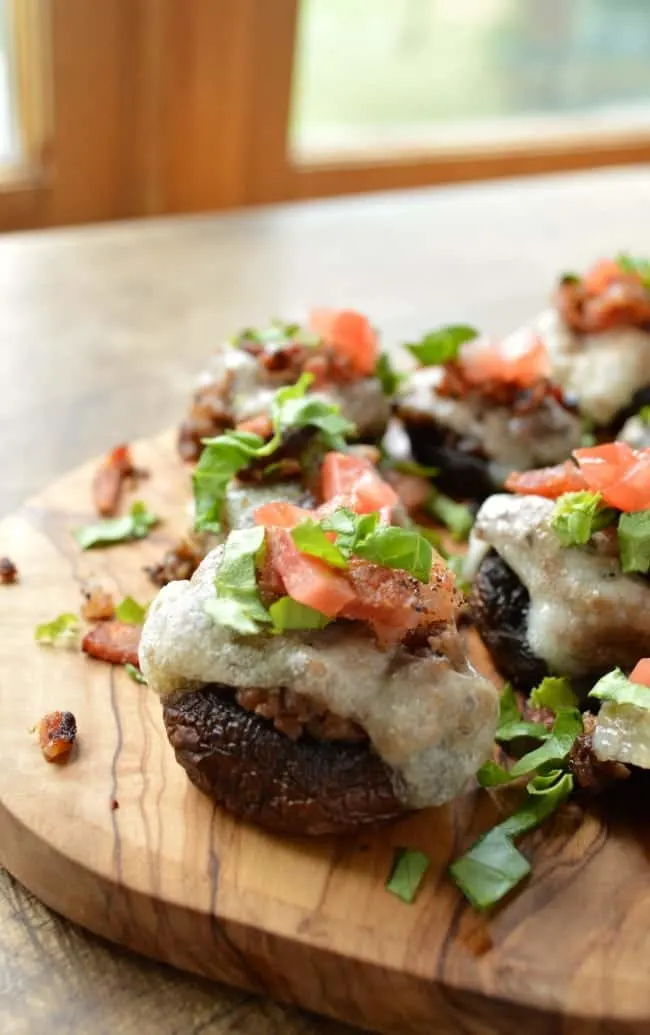 I did not find the answers to my questions, but I DID make the best stuffed mushrooms in the history of ever. If Mushroom Bacon Cheeseburgers are your thing I think you might agree. The filling is a blend of sauteed mushrooms, onions, garlic, and lean ground beef. There's a little cream cheese in the mix to hold it all together and to help do the stuffed mushroom thing RIGHT.
After a little baking you melt cheese over the top, add the ever-important BACON, and dress 'em up with lettuce and tomato.
Easy!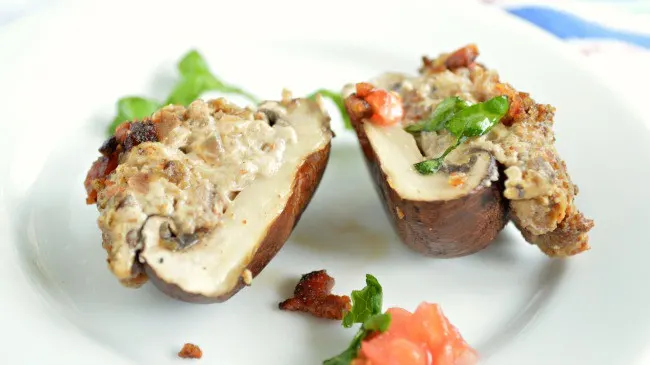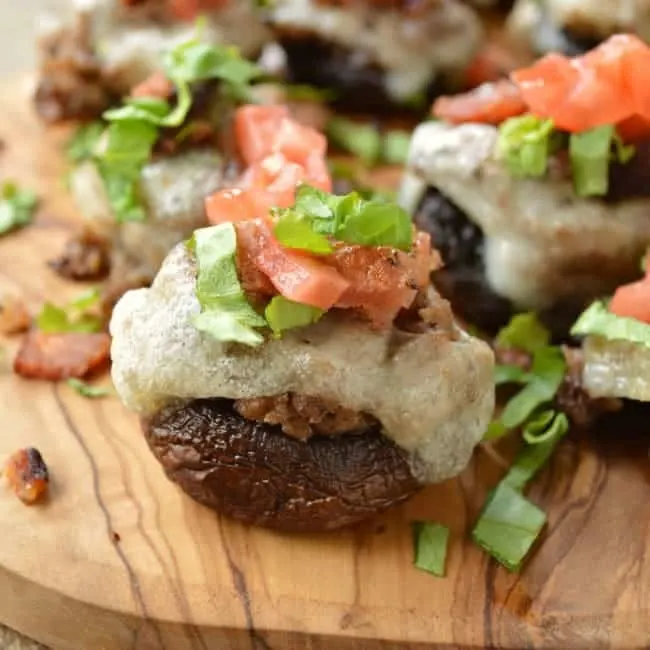 Bacon Cheeseburger Stuffed Mushrooms
Baby portobella mushrooms are stuffed with a delicious blend of ground beef, onions, garlic, and cream cheese. Topped with cheese, bacon, lettuce, and tomato, you have the flavor of a bacon mushroom cheeseburger in every bite!
Ingredients
20 baby bella mushrooms, stems gently removed
6 ounces lean ground beef
3 slices thick cut bacon
¼ cup red onion, minced
2 cloves garlic, finely minced
salt and pepper to taste
4 ounces low fat cream cheese
5 slices Swiss cheese, each slice cut into quarters
shredded lettuce and diced tomatoes to garnish
Instructions
Preheat the oven to 350F. Rinse the mushroom caps and stems and pat dry. Place the mushrooms stem-removed-side-up on an ungreased baking sheet. Cut the woody ends off the stems and then finely chop the
Brown the ground beef, chopping it as finely as you can. Set aside.
Cook the bacon until crisp and then place on a paper towel to drain any excess grease. Remove all but 1 tablespoon of the bacon grease. Add the chopped mushroom stems, minced red onions, and garlic, sprinkle with the salt and pepper, and cook for about 3 minutes.
Add the cream cheese and continue cooking and stirring over medium heat until the cream cheese melts completely. Stir the ground beef back into the pan and cook until everything is evenly combined.
Spoon the beef mixture into the mushroom caps -- you want to pile the filling in there. Bake for 11 minutes. Place the quartered cheese slices on top of each mushroom and then bake for 11 more minutes.
Crumble the bacon and sprinkle it over each mushroom. Top with shredded lettuce and tomato. Serve warm.
Notes
If you are serving these as an appetizer, you can top them with the bacon and then keep them in the oven set to warm until you are ready to serve (up to an hour). Garnish with the lettuce & tomato AFTER you take them from the oven.
You might also like…