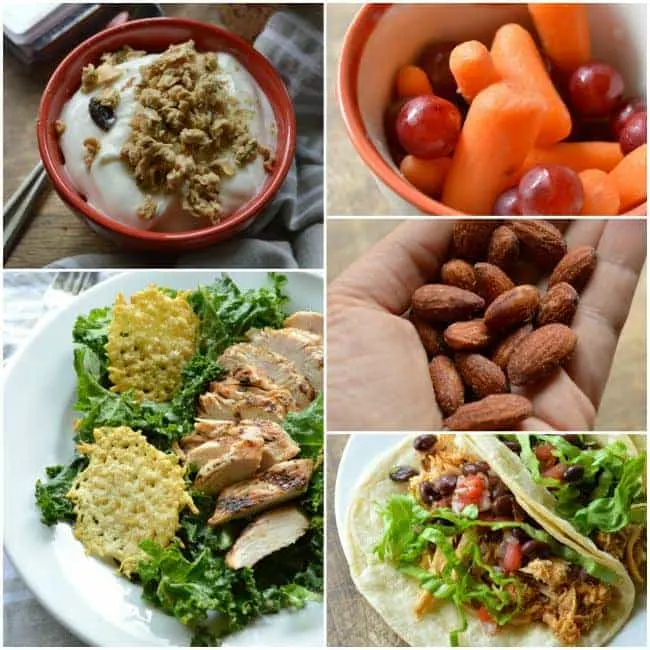 Deep breath.
Okay. So here goes.
Today we are talking weight. And weight loss. And my 10000 failed attempts. And trying to get right with it all in my head.
Halfway through this past May I joined Weight Watchers. After a lifetime of trying to do this thing on my own, I finally decided to ask for help. It was motivating and humbling and a little bit embarrassing all at once. I've been counting calories since 2012. I am armed with all the knowledge about what to eat, what NOT to eat, hidden sugars, added proteins, and healthy diets. But knowing what to do or even how to do, putting it all into practice, is easier said than done. Every single food decision I make is an awful internal struggle of stress, guilt, and second guessing. I hate that it takes up so much of my brain space, I hate that it eats away at me.
I've always struggled with my weight, although looking back, I think when I was younger I struggled more with body image than anything. As an adult you can look back on those photos from years gone by and think,"I was so small!!! So cute!!! What was I worried about?!," but being in the thick of all the feelings and insecurities skews perspective.
I'm tall, standing at 5'10", so I'm fortunate in that respect because it's easier to hide extra pounds on a bigger frame. I'm also lucky to have curves because sometimes that's where the extra calories land – although curves make it infinitely more difficult to buy a freaking pair of jeans. When you add curves to a tall girl though, and then tack on some extra weight, what you get is a person that feels like a giant. Since I was a kid I have tried to make myself smaller. Being taller than everyone in your class is not fun when you are 10. Feeling like a giant all the time for your whole life? For me it has been like awkward, shameful, torture.
So I decided to try this Weight Watchers thing out, to see if this would be the thing that makes the difference. I signed up for the Points Plus program, put the app on my phone, and got to it. To lose 1 – 2 pounds a week, Points Plus gives me 36 points per day. I also get 49 extra points to blow each week on treats, if I choose. Some weeks I don't even touch those extra points and come in under, still feeling full and satisfied. Sometimes I plow through those points, mostly in the form of margaritas and cheese dip. It's a learning experience, and for the sake of being able to look back at thoughts and feelings, it was one I thought worth documenting. This is what 36 Points Looks Like.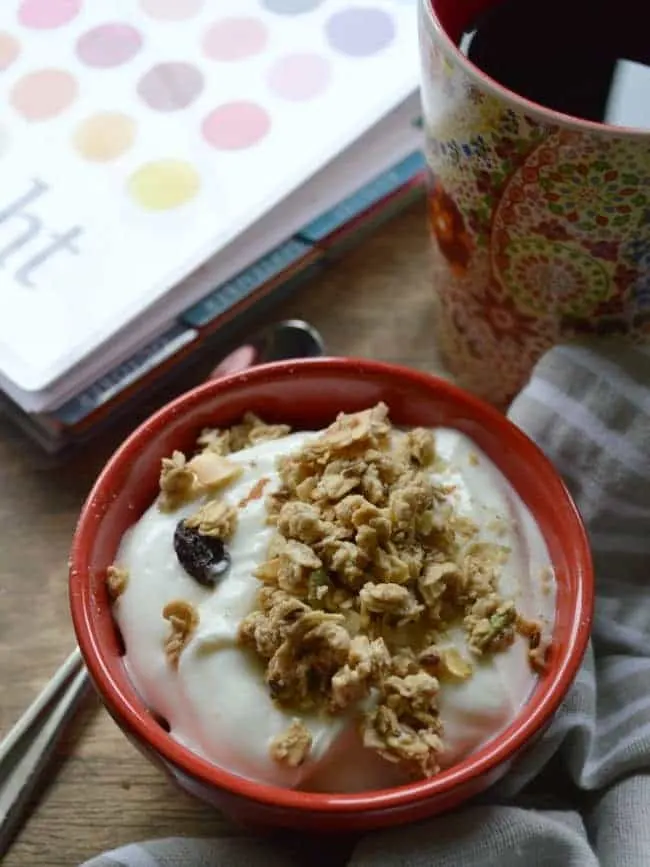 1/2 cup Vanilla Greek Yogurt + 1/2 cup Granola = 6 points
I eat yogurt and granola almost every day. It is my favorite quick breakfast that does not require any stove-standing. It fills me up more than cereal and I love love love that granola crunch.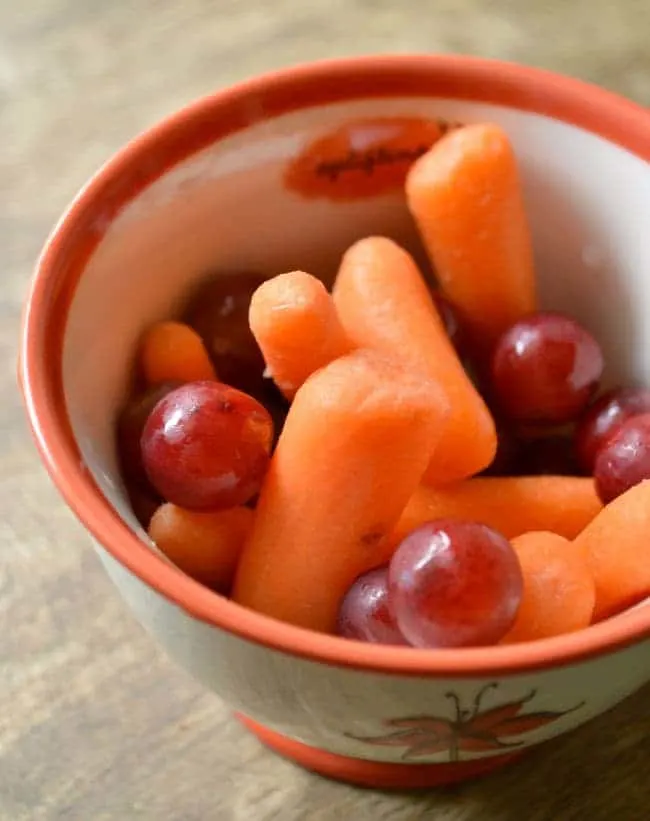 Grapes + Carrots = 0 points
This has, by far, been my favorite part of my experience with Weight Watchers. Fruits and veggies to infinity!!! I love to grab carrots, grapes, or an apple, and have had containers of cantaloupe and watermelon on hand for the last 2 months. I don't know what I'll do when summer produce comes to an end!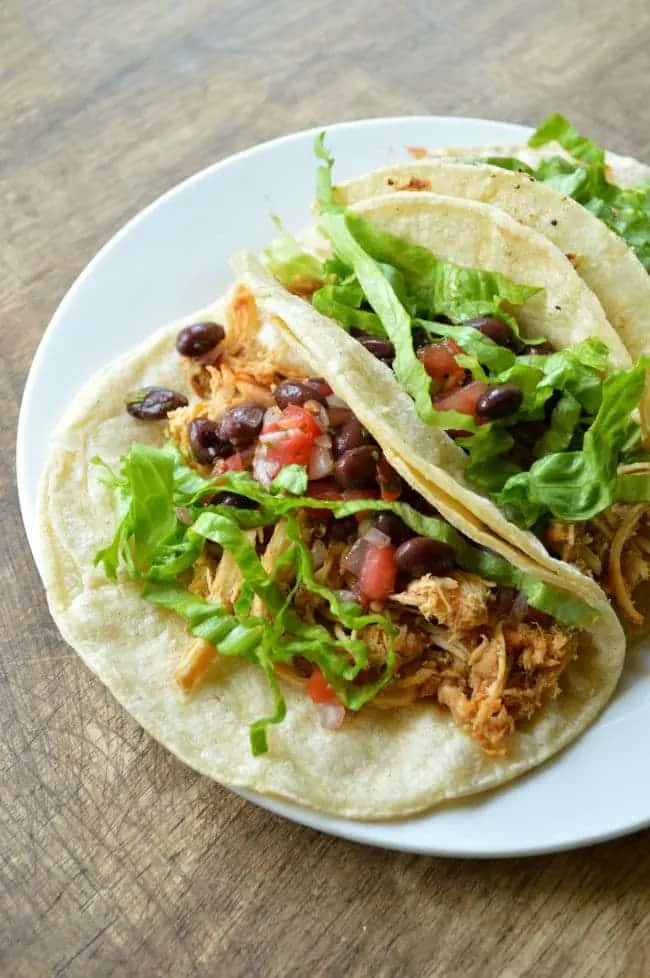 Quick Chicken Tacos = 9 points
My lunches usually consist of either leftovers or bits of whatever recipes I am testing. This week we have had taco fixin's in the fridge to infinity because we had a party over the weekend and I always make way too much food. The shredded chicken is a variation of this Crock Pot Chicken Taco Recipe that I almost didn't link to because EEEEEeeeeeeeekkkk scary photos from forever ago. I don't use packaged seasoning, but I looked it up and the count is the same as with a homemade blend. I topped these with this Black Bean Confetti Salad, another thing that I almost always have on hand. So good.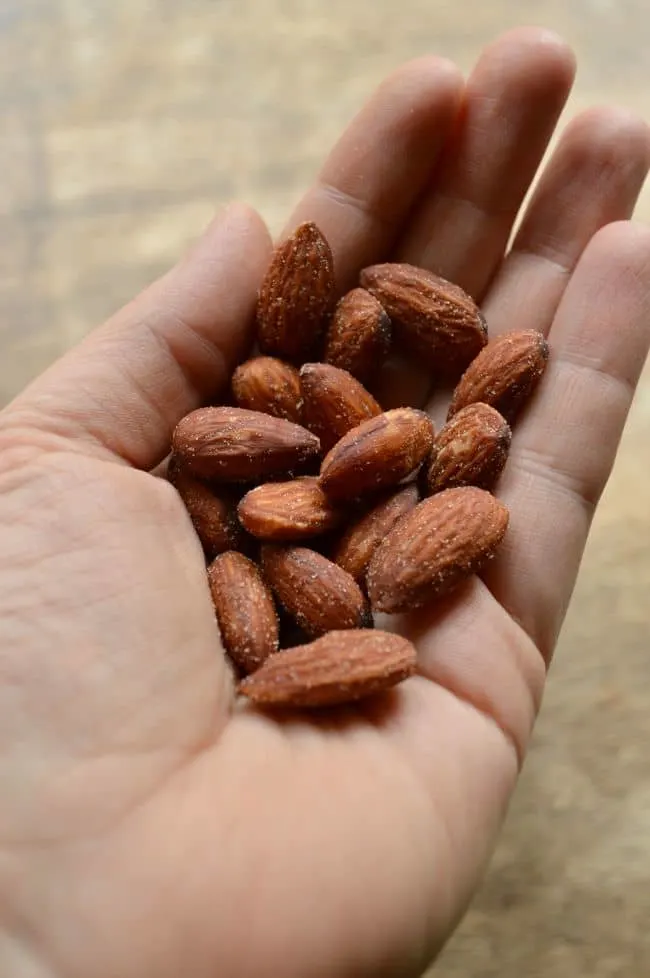 14-ish Sea Salt Almonds = 2 points
Lightly salted almonds are my favorite way to curtail a salty snack urge. I told you I eat almonds every day!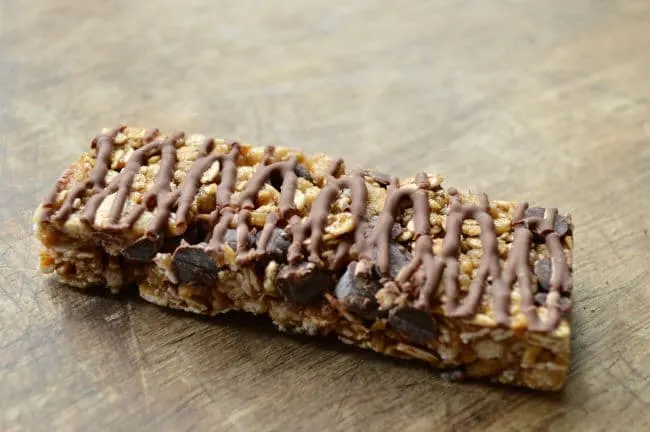 Fiber 1 Oats & Chocolate Bar = 4 points
Earlier this year, when I decided to put my foot down with myself and try with all my might to knock off the extra pounds that plague me, I asked my Nurse Practitioner if she had any tips or programs she recommends? After we talked about water with lemon, etc, etc, she told me that she always has a Fiber 1 Oats and Chocolate Bar in her purse. She said fiber is an important part of weight loss (probably part of the reason WW advocates all the fruits & veggies), but also the oats and chocolate are great for curbing that sweet craving that hits mid-afternoon. She is totally right.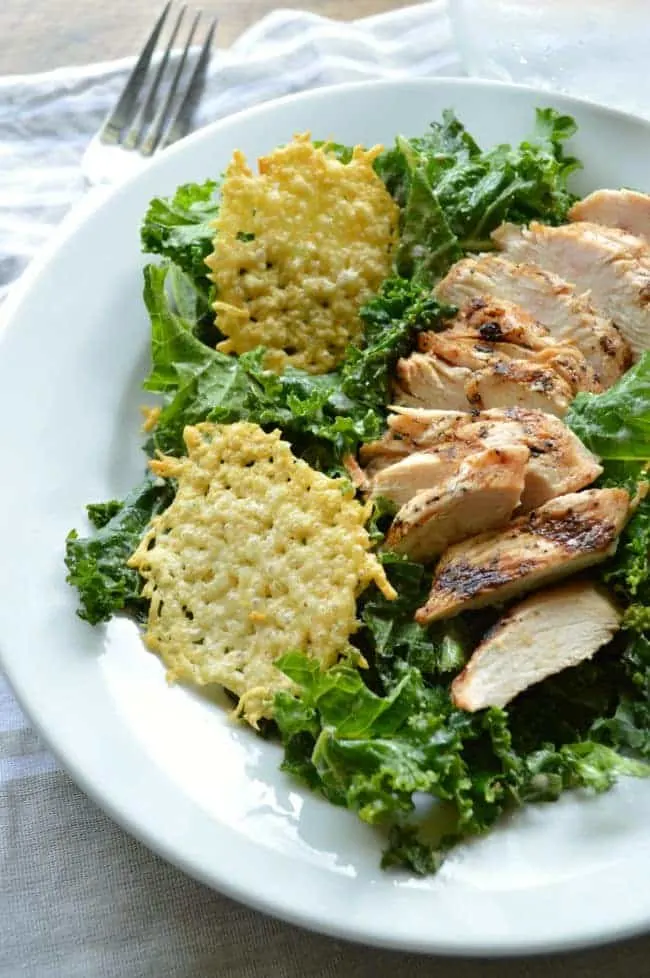 Copycat Panera Kale Chicken Caesar Power Salad = 8 points
This dinner is just a basic citrus-marinated grilled chicken breast (lemon juice, lime juice, olive oil, and garlic), lots of kale, and this Easy Homemade Caesar Dressing. Oh!! And the Parmesan crisps. Have you made these? All you have to do is bake Parmesan cheese. I didn't miss my croutons and I could eat this salad every. single. day.
Panera Bread got me good with their commercials for this salad, but Panera Bread is also 30 miles away from my house. So I worked it out. Is this a recipe you'd like to have? Maybe? Let me know.
Thoughts and Feelings
You'll notice that this does NOT add up to 36 points. I have been trying to leave myself some wiggle room because my job DOES require taste-testing. Myself requires dessert. The day I shot this little photo journal I was also working on Bacon Cheeseburger Stuffed Mushrooms. And if you are wondering, they add up to 2 points each. I learned very quickly that a soft serve vanilla cone is only 4 points. So is my favorite self-serve fro-yo topped with fruit.
I started this program really strong and am losing at a healthy slowed down rate. I knocked off 10 pounds in a little over a month, but this last week and a half has been excruciatingly slow for me. 3 pounds crept back on and it is affecting my psyche. I've been even more careful since the numbers stopped dropping and have been paying close attention to staying hydrated and getting enough sleep. Nothing is helping and I am frustrated for sure.
I am really enjoying this much, MUCH more than counting calories, though. Points Plus is a smart way to assign value to your food and has really helped me make better decisions. It's super easy to get your 5 servings of fruits and veggies, and I love that I can fill my plate with things I love.
I also really like that nothing is off limits, I just need to understand that a doughnut is going to rob me of half a day's worth of food. And sometimes, when you really want a doughnut? That is totally okay.
I'm gonna keep this up for another couple of months and see where I land. Hopefully the rest of this week will pull me out of this funk.
So tell me stuff.
Have you tried Weight Watchers? Do you have tips? Do you swear by another program? Are you stuck like me?
Also. Sorry for all the 1200+ words. Sometimes you just have to say things.