Lean ground beef rubbed with secret spices and grilled to perfection. Topped with garlic herb cheddar, honey habanero mayo, grilled onions, and shrimp, these Surf n Turf Burgers deliver tons of flavor in every bite.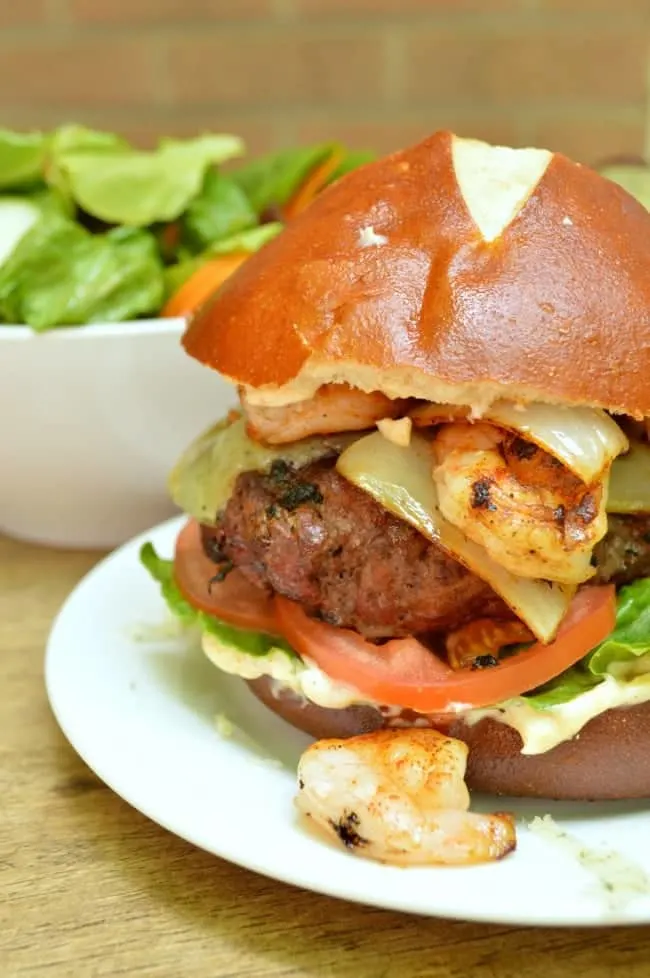 Yep. This happened.
Do you ever just want a big fat cheeseburger?
For me it was time.
I make a fair amount of burgers, but most of the time they are turkey or chicken masquerading as beef like with these flamethrower sliders or these buffalo turkey burgers. Or I go the veggie route ala all the beans and cheese and bbq sauce like with these cheesy bbq veggie sliders. All of those are great! Definitely worth trying. But these unbelievably gimantico juicy lean beef burgers topped with grilled onions AND shrimp are on another level.
I am also noticing that I make a lot of sliders. I like to feel good about having two, okay? Gah.
Anyway. I was really wanting beef burgers. And then somewhere along the line I got distracted by a shrimp craving, and I decided they would be best friends on a pretzel bun with the help of the magic ingredient I used on everything in the photos except the green stuff —
Wait for it.
SMOKY HONEY HABANERO RUB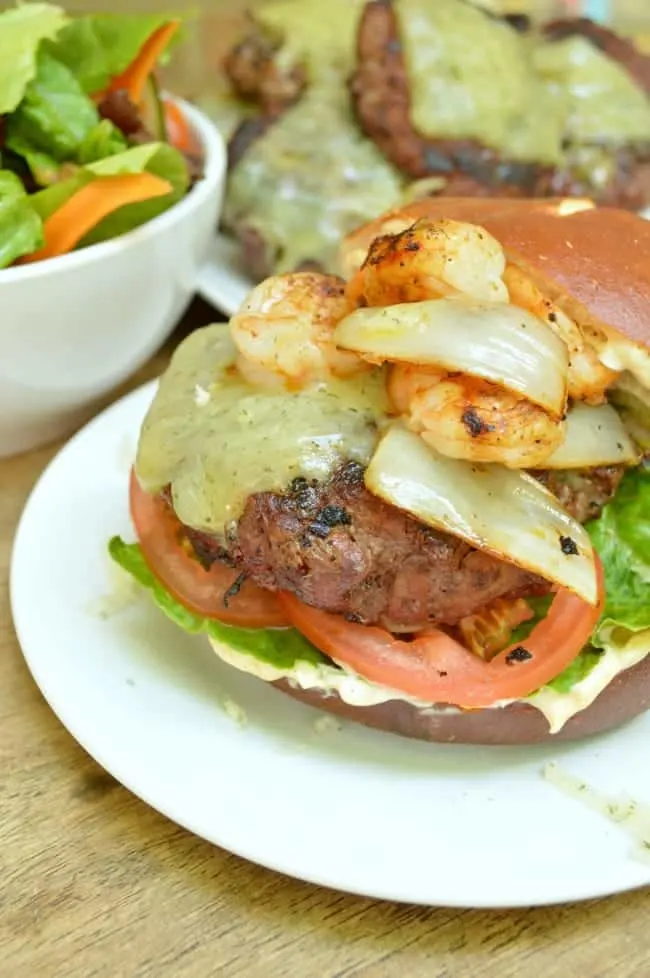 It's on the shrimp. It's on the onions. It's on the beef. IT'S IN THE MAYO!!
Remember that time we made sriracha aioli? Well I almost added it to these burgers but then I noticed my honey habanero rub still hanging around on the counter and knew then that we would be saving sriracha for another day.
The sweetly spiced mayo is SO GOOD. Totally perfect with the beef and shrimp, and gives the whole sandwich just enough creaminess.
If you think you don't like hot stuff or heat and the word 'habanero' scares you, have no fear! because Honey Habanero Rub has enough sweet complexity to balance out the heat, giving you all this amazing flavor — you'll want to sprinkle it on everything.
It's a seasoning mix created by Heather and a spicy chef named Pete with all your cooking needs in mind. They actually created a whole bunch of awesome all natural seasoning blends through their cool startup called Spiceologist – I even sent some to Tanya this past Christmas.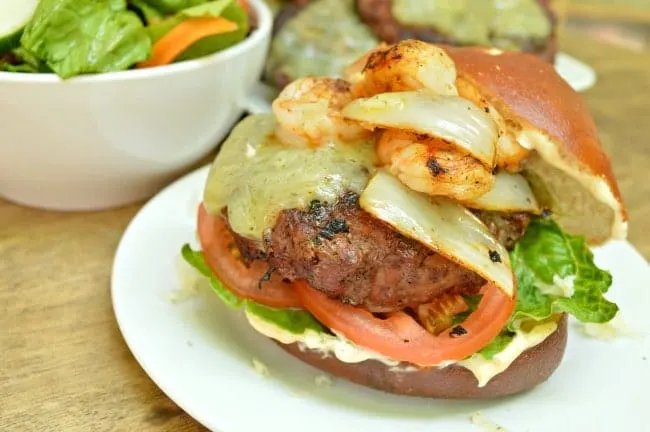 These burgers are major easy to put together. You're just gonna form the patties and sprinkle each with honey habanero rub. Coarsely chop an onion, skewer it with shrimp throw it all on the grill, and bam!
Surf n Turf Burgers.
Best burgers ever.
To get your hands on some of the Honey Habanero Rub you can find the whole big bad sample pack HERE. (We will have so much fun with these!!)
Surf n Turf Burgers
Ingredients
1⅓ pounds 93% lean ground beef
½ pound (41-50 count) shrimp, peeled and deveined, tails removed
1 medium onion, peeled, halved, and then coarsely cut into petals
2 tablespoons + 1 teaspoon Honey Habanero Rub, divided (more as needed)
salt to taste
⅓ cup mayonnaise
4-6 ounces cheddar cheese, sliced **See Note**
4 pretzel buns
lettuce and tomatoes to dress the burgers
Instructions
Heat your grill or broil pan. For the grill you are looking for at least 300F. Form the burgers into 4 (1/3 pound each) patties. The less you work with the meat the juicier it will be. Sprinkle each patty with the first tablespoon oh Honey Habanero Rub and salt.
Skewer the shrimp with the onion, alternating every few pieces. Then sprinkle the onions and shrimp with the second tablespoon of Honey Habanero Rub.
Put the burgers on the grill! (See notes for broil pan instructions)Close the lid and let them sizzle for 5 minutes.
Mix that last teaspoon of Honey Habanero Rub with the mayo.
After 5 minutes, flip the burgers and add the shrimp skewers to the grill. Close the lid.
Get your burger set ups ready! Spread each bun with the mayo. Put lettuce and tomato slices on the bottom buns.
Check your burgers. 5 minutes will give you a nice juicy medium well or well. No hockey puck burgers! But if your burgers are smaller you'll need to watch them.
Put the cheese slices on top and let them get all melty. Go ahead and put each patty on top of the dressed buns.
Check your shrimp. When it's pink and the onions are tender and a tiny bit charred around the edges it's done! Pull the shrimp and onions carefully off the skewers and top each burger with all that good stuff.
EAT.
Notes
1. I used Cabot's garlic and Herb Cheddar on these burgers! But your favorite cheddar of any variety will definitely do! Or Swiss. Or Havarti. Get crazy.
2. To broil your burgers you need to preheat the broiler to high. Place the patties on a foil lined broil pan and then position the pan about 3" from the broiler (in my oven it's the top rack). After 3 minutes, flip your burgers and add the shrimp skewers. 5 minutes will give you a more well done burger -- keep watch and check for your perfect temp preference. The shrimp are done when they are pink and plump.
3. If you are using wooden skewers, make sure to soak them thoroughly in water before cooking so you don't have a fire on your hands.