Lemon Poppy Seed Ricotta Pancakes with Warm Blueberry Syrup are fluffy and rich and not too sweet! This easy ricotta pancake recipe is perfect for breakfast or brunch, or even dessert!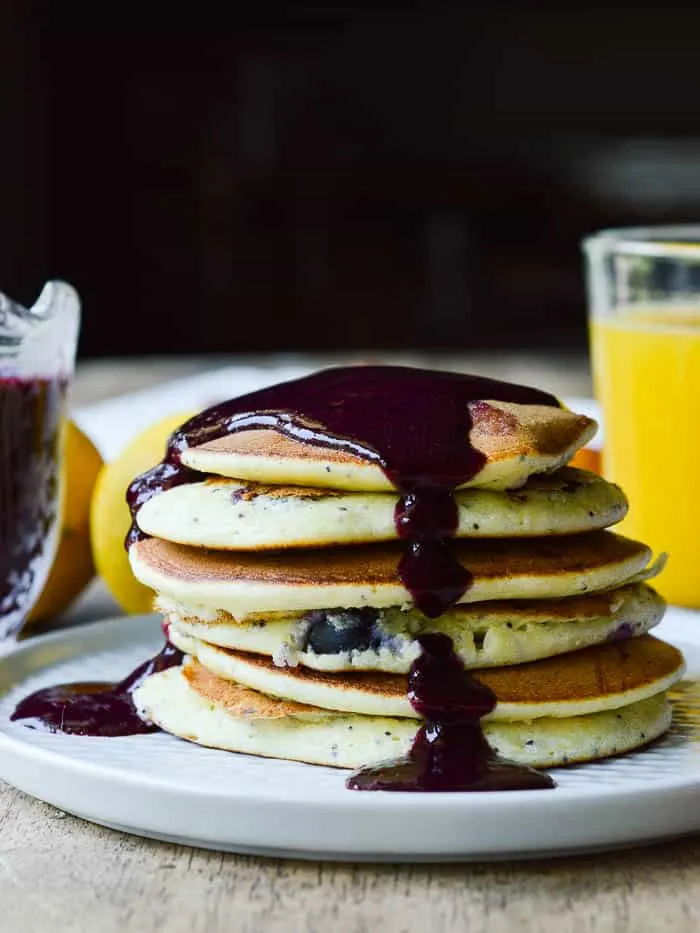 So. Let's get serious here. We need to talk pancakes.
When I initially developed this recipe, I put out a sort of all-points-bulletin on Sugar Dish Me's Facebook page, and I asked "What's your favorite pancake?" I didn't know what I was in for; the responses were plentiful! People are passionate about breakfast, y'all.
The KIND of pancakes that were suggested the most – because of the rich flavor and fluffy texture – were ricotta pancakes. And you know? I had actually never made them.
Why Ricotta in Pancakes?
That was honestly the first question I asked myself when ricotta pancakes were recommended by readers as a MUST-MAKE kinda thing. The answer is really the same with pancakes as when you add ricotta anywhere (my brain is screaming CHICKEN LASAGNA!) – you add ricotta because it's RICH.
Ricotta cheese doesn't make the pancakes taste cheesy. It adds a hint of luxury and some creaminess to every bite. It also adds moisture, and with the separated eggs takes the pancakes from a more traditional buttermilk pancake bready texture (you know, like you get with my Homemade Fluffy Pancake Mix), and gives them a sort of fluffy crepe feel.
I wanted to roll them up, stuff them with whipped cream, and call them blintzes. We can try that another day.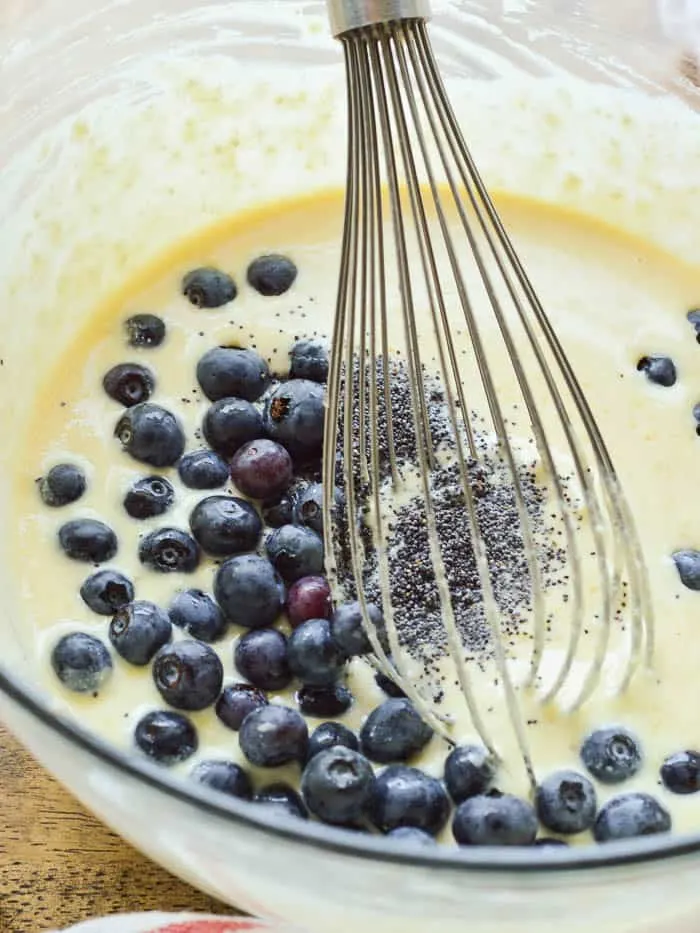 Do I have to Separate the Eggs?
I mean … yes? Yes.
Separating the eggs gives you the best of both egg worlds. The yolks lend richness and the beaten whites aid with lightness and leavening. This is true in baking as well; I promise it's not just because I like giving you extra work or gawd forbid more dirty dishes.
You want light, airy pancakes! In a traditional pancake recipe you are relying more heavily on the baking powder to do the trick. Here we only need a 1/2 teaspoon.
Using a stand mixer lets you beat the egg whites until they are stiff WHILE mixing up the rest of the batter. But a hand mixer is totally fine and will definitely do the trick. [Adding that I am slightly devastated because it looks like my FAVORITE OXO hand mixer is no longer available . It looks like this Cuisinart Hand Mixer is pretty highly rated in a moderate price range, and if you wanna get more fancy this Breville is pretty terrific.]
After you mix up the batter, add just a little bit of the egg whites and whisk.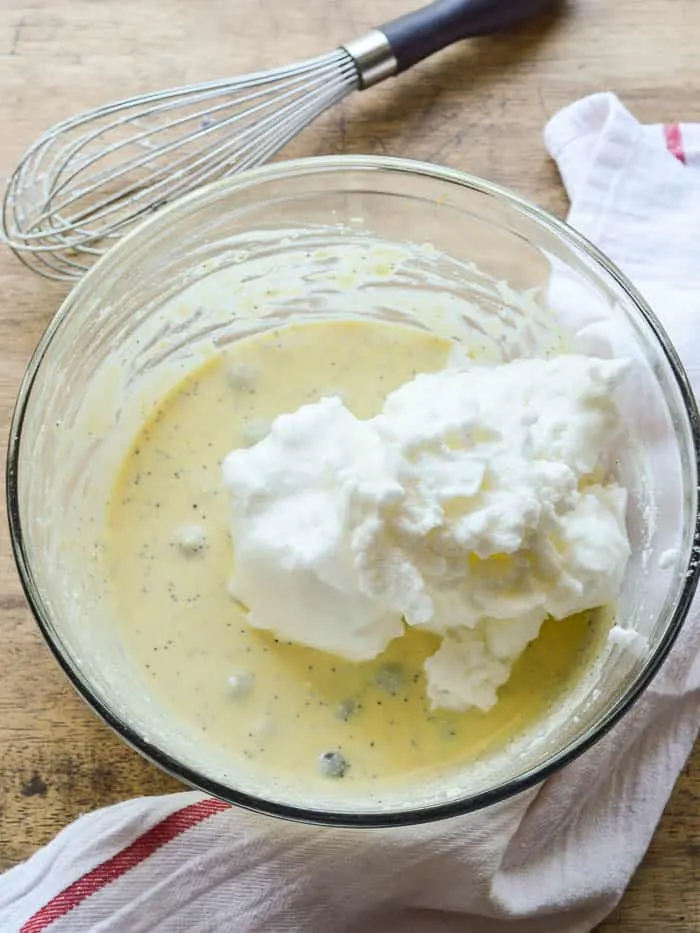 THEN you fold in the rest and the batter should look like this —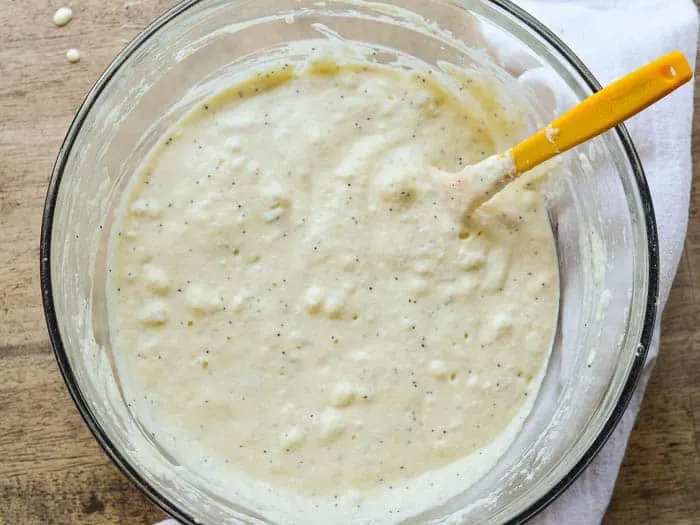 My Pancakes are Flat and Not Fluffy! HELP!
A reader that tried this recipe had less than fluffy pancakes, so her blueberries were making them lumpy. She said they still tasted delicious but they didn't look so great.
If your ricotta pancakes are not the fluffiest, here are a few quick troubleshooting tips.
check the date on your baking powder
don't use anything but all purpose flour! The proteins are different in different flours and produce different results.
try 1 cup of flour instead of 3/4 cup; it thickens the batter a little and will put you closer to a traditional pancake comfort zone
be sure you are just FOLDING in the egg whites at the end
What Do I Top Lemon Poppy Seed Ricotta Pancakes With?
WHATEVER YOU WANT! Seriously. The included recipe for the warm blueberry syrup is next level delicious, but if you want to just douse these in Aunt Jemima Maple Syrup I will not fault you. They are also great with things like lemon curd, or really good jam. Whipped cream. You can also just slather them with butter and eat them with your hands. No judgement here.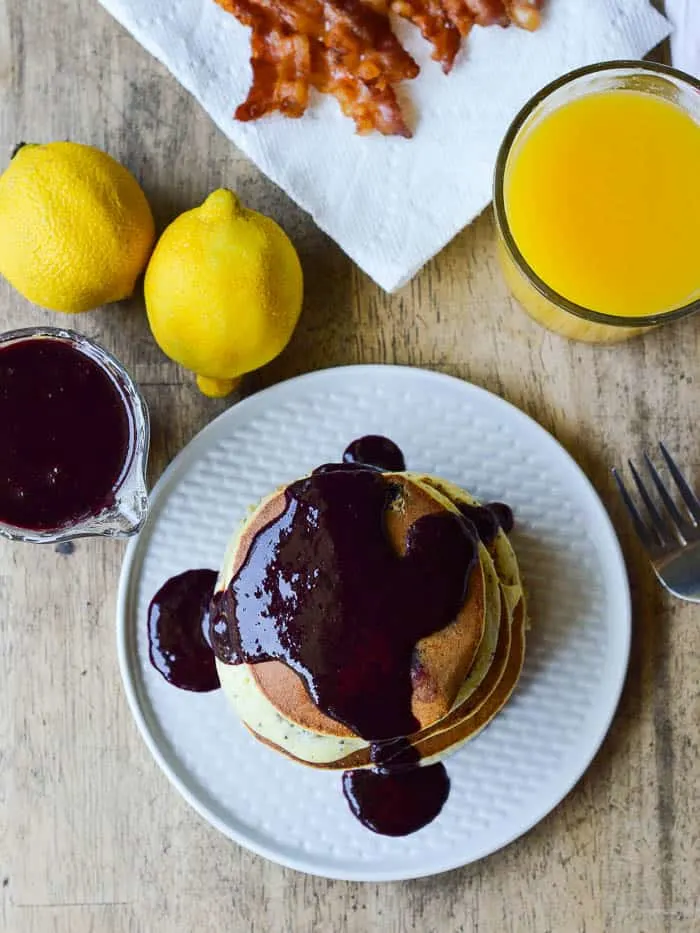 These pancakes were SO amazing and delicious… they were pretty much out-of-control. They made me feel just a teensy bit fancy and the best part was THEY ARE SO SIMPLE!! I'd say they are my favorite pancakes to date (I know I say that about everything but seriously). And that includes the man-cakes I made all full of bacon and bourbon. Go figure.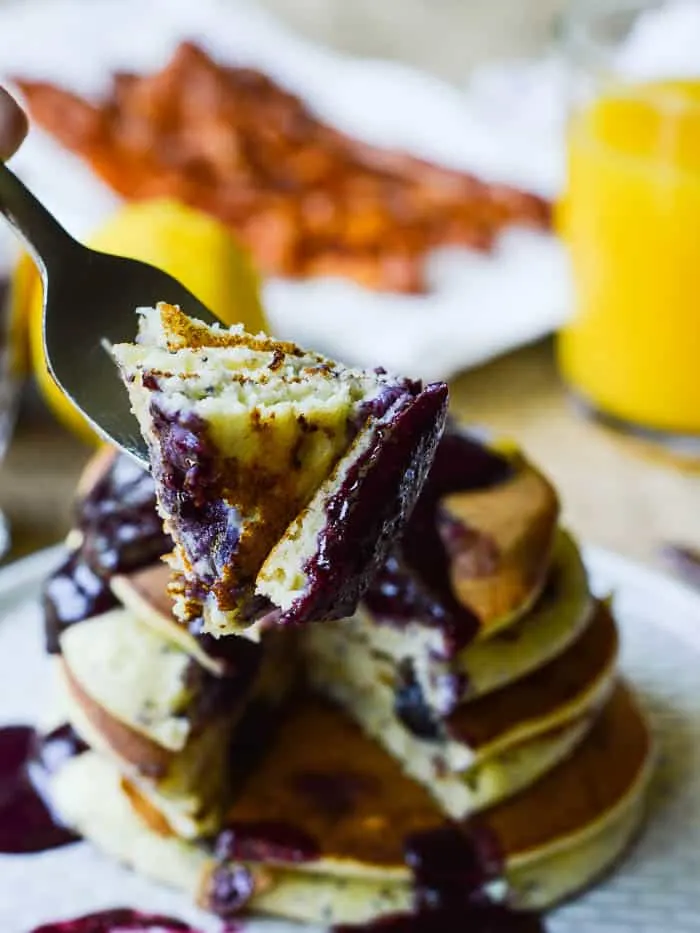 If you are looking for more rich and light blueberry breakfast recipes I have a few to try!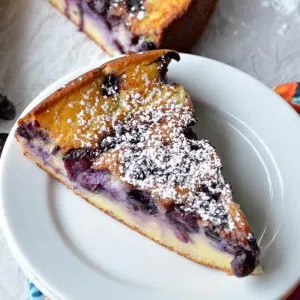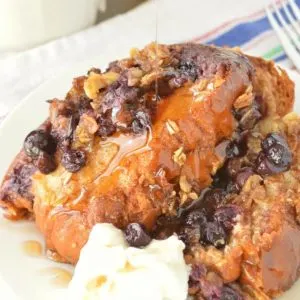 Blueberry Breakfast Cake has a similar richness and texture, and it's also made with a similar ingredient list and technique. There's ricotta cheese and you separate the eggs for a light cake with a custard-like texture. If you need a brunch dish you can just throw in one pan (or you just love cake), you'll love it.
Slow Cooker Blueberry Crunch French Toast starts with challah and is spread with cream cheese before an eggy batter is poured over and you let the crock pot do its thing. This is another great recipe! It'll also let you walk away and get some stuff done while breakfast cooks which is always a good thing.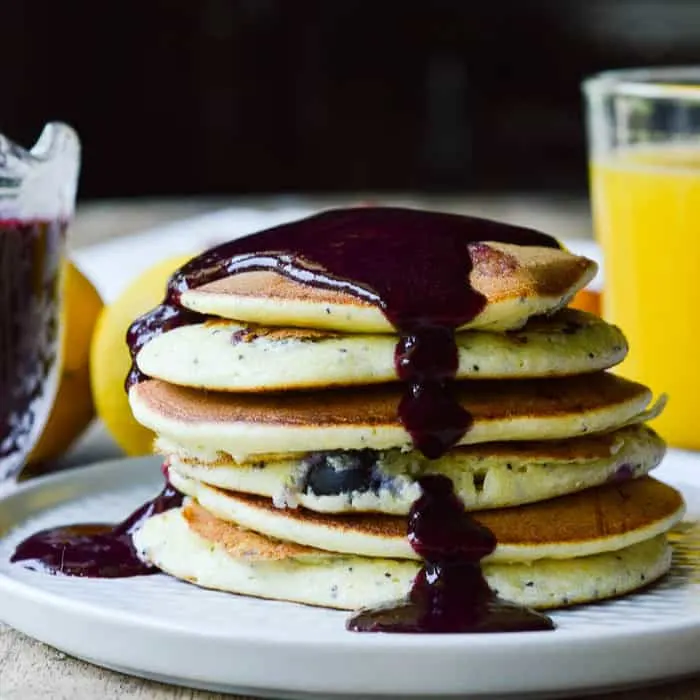 Yield:

serves 6-8
Lemon Poppy Seed Ricotta Pancakes with Blueberry Syrup
Lemon Poppy seed Ricotta Pancakes are a great break from traditional pancakes. Ricotta cheese and egg yolks lend a richness to the finished pancakes, and the separated egg whites make them super light and fluffy! Topped off with blueberry syrup, this breakfast is really something special!
Ingredients
Pancakes:
1 cup ricotta cheese
3/4 cup milk
3 eggs, separated
1 1/2 - 2 teaspoons lemon zest (the zest of 1 lemon)
3/4 cup all purpose flour
1/2 teaspoon baking powder
1 1/2 tablespoons granulated sugar
pinch of salt
1 cup fresh blueberries
1/2 tablespoon poppy seeds
butter for the griddle
Blueberry Syrup:
1 cup fresh blueberries
1 teaspoon cornstarch
1 teaspoon granulated sugar
1/2 cup water
Instructions
Heat a large skillet or pancake griddle to medium high.
Place the ricotta in a fine-mesh strainer to drain any excess liquid.
In a large bowl beat the milk, egg YOLKS, ricotta cheese, and lemon zest. Add the flour, baking powder, sugar, and salt and whisk until combined.
Stir in the blueberries and poppy seeds.
Beat the egg whites with a hand mixer until they are stiff and frothy-- 2-3 minutes.
Gently fold the egg whites into the batter.
Butter the hot skillet or griddle.
Using about 1/4 cup measure, dip the pancake batter onto the hot buttered cook surface.
While you wait for the pancakes to cook, add all the Blueberry Syrup ingredients to a small saucepan, stir, and bring it to a simmer. Let it cook down and thicken, stirring occasionally.
Flip the pancakes when bubbles appear and pop on the exposed surface. Cook for a little over a minute on the second side and remove to a plate. Repeat with the remaining batter.
When the blueberries have cooked down and are thick and sticky, scrape the mixture into a blender and puree. This makes a smooth pour-able syrup.
Pour the warm blueberry syrup over the pancakes and serve.
Recommended Products
As an Amazon Associate and member of other affiliate programs, I earn from qualifying purchases.
Nutrition Information:
Yield:
8
Serving Size:
1
Amount Per Serving:
Calories:

407
Total Fat:

22g
Saturated Fat:

8g
Trans Fat:

0g
Unsaturated Fat:

12g
Cholesterol:

693mg
Sodium:

361mg
Carbohydrates:

22g
Fiber:

1g
Sugar:

7g
Protein:

29g