Like banana pudding but better! This Banana Spice Icebox Cake in super simple, no bake, and full of flavor. If you love banana desserts this one is for you!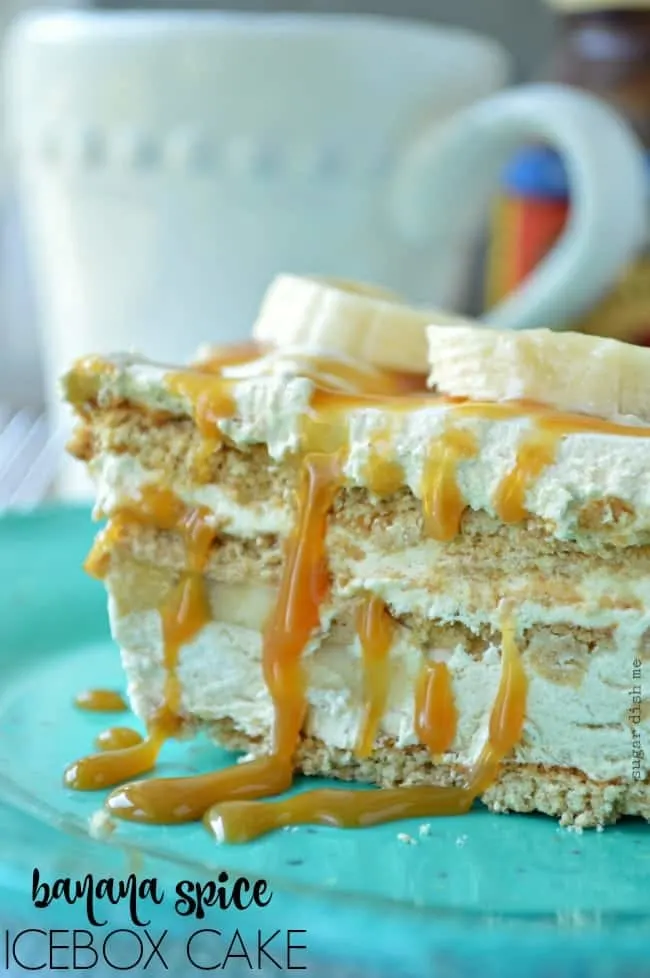 This post is sponsored by our friends at Musselman's Apple Butter! All opinions, the original photos, and the original recipes shared here are my own.
Real talk: when I was pregnant with my youngest son I was ADDICTED to banana milkshakes. It was the thing that got me through 8 hour restaurant shifts on my feet — B-A-N-A-N-A-S
and ice cream
and milk
in a blender.
Last year I made my non-pregnant-lady tribute to the all important banana milkshake with these Bananas Foster Milkshakes. They are go-ooooo-oood.
This year we are getting our cool banana treat fix with a fork. Banana Spice Icebox Cake!
It's pretty dang delicious.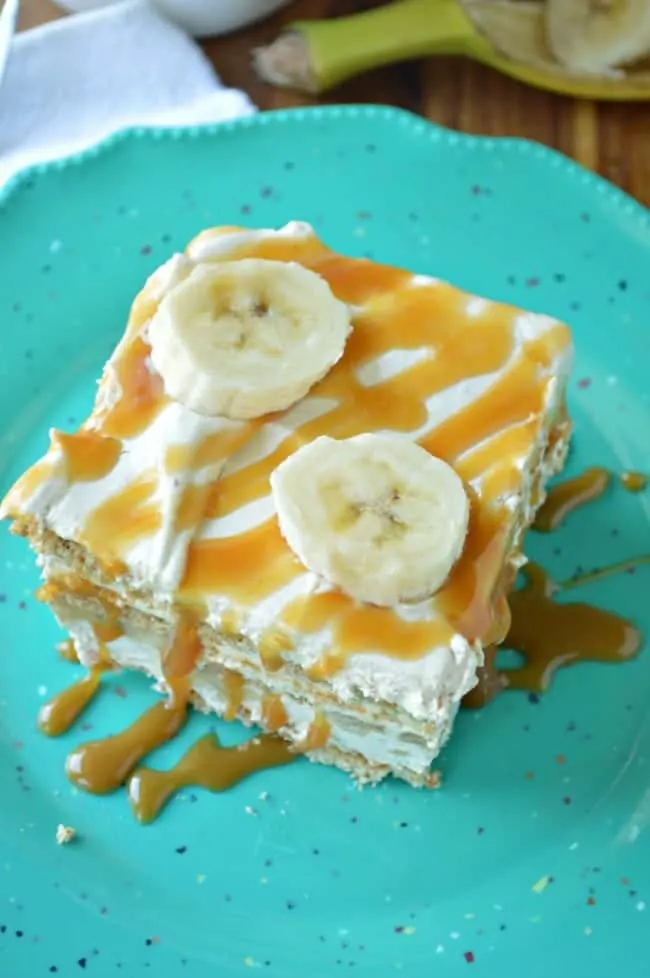 Since this is a post for Musselman's though, I bet you are wondering what all the banana fuss is about. Bananas are definitely the star here, but apple butter plays a pretty big flavor role, adding that cinnamon clove goodness to every bite. Cinnamon sugar grahams lend a hand, too.
If you've never made an icebox cake, the whole no-baking + graham crackers thing might be throwing you off right about now. What happens is like really delicious science – the creamy filling soaks into the grahams and softens them as everything chills.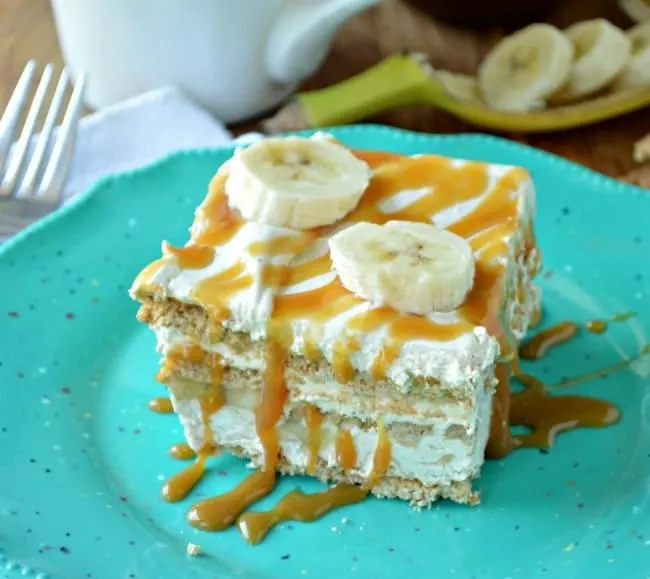 This is the perfect dish for backyard BBQ's!
Banana Spice Icebox Cake
Ingredients
14 - 18 cinnamon graham crackers, broken in half (into squares)
1 (8 ounce) package cream cheese, softened
½ cup Musselman's Apple Butter
1 (2.3 ounce) package vanilla pudding mix
1 (8 ounce) container of whipped topping, thawed
6 medium ripe but still firm bananas, sliced
Prepared caramel sauce to garnish
Instructions
Line a square baking pan (8 X 8 or 9 X 9 ) with parchment paper. Place the cinnamon graham cracker squares across the bottom of the pan, overlapping to cover if necessary.
Beat together the cream cheese, apple butter, and vanilla pudding mix until smooth.
Fold in the whipped topping using a rubber spatula, until the mixture is combined.
Spread ⅓ of the mixture over the graham crackers. Then top with sliced bananas. Add another layer of graham crackers, another ⅓ whipped topping, and another layer of bananas. Repeat a third time.
Chill at least 2 hours or overnight.
Serve topped with caramel sauce.
Notes
Remember to allow at least 2 hours for your Banana Spice Icebox Cake to chill!
Musselman's
is the brand I have worked with consistently since launching Sugar Dish Me in 2011. So I have LOTS of great apple butter recipes. You can also find more by visiting their
Apple Butter Recipes Page
. And follow along in social media for all the newest ideas!
Facebook
,
Twitter
, and
Pinterest
!
AND IF YOU WANNA KNOW WHAT ELSE TO DO WITH APPLE BUTTER…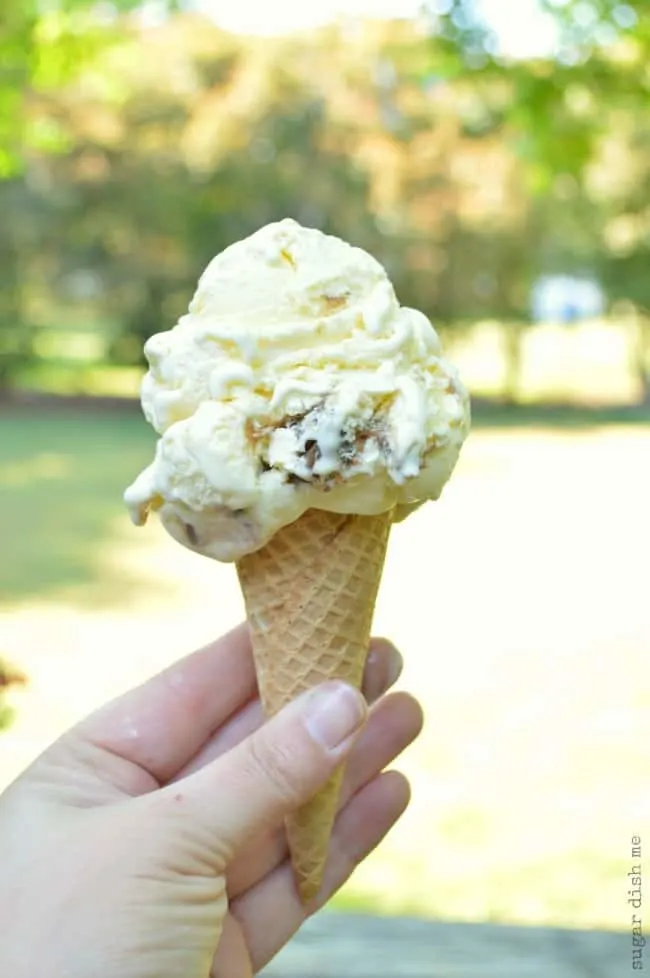 Sweet Cream Apple Butter Ice Cream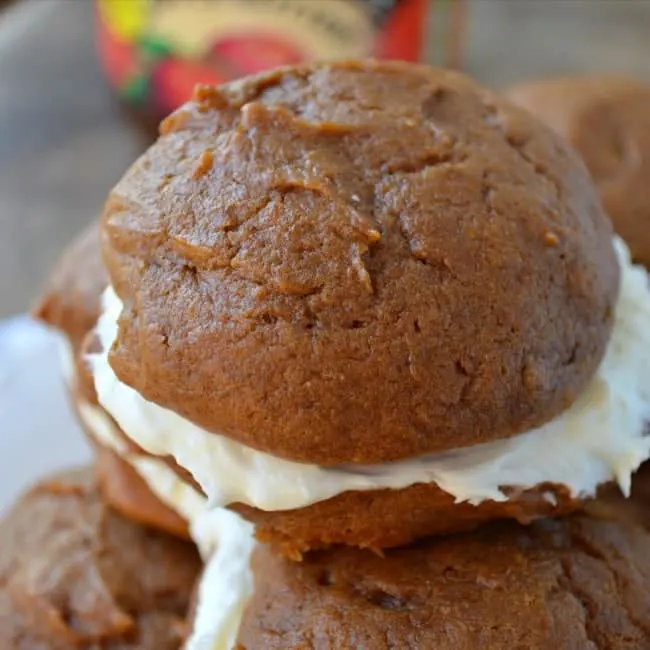 Or you can find ALL my Apple Butter Recipes <<<— HERE