Sweet and savory and super simple! This Apple Butter Breakfast Bake Recipe makes use of refrigerated crescent rolls, breakfast sausage, and of course, apple butter. Add this to your list of breakfast/ brunch must haves!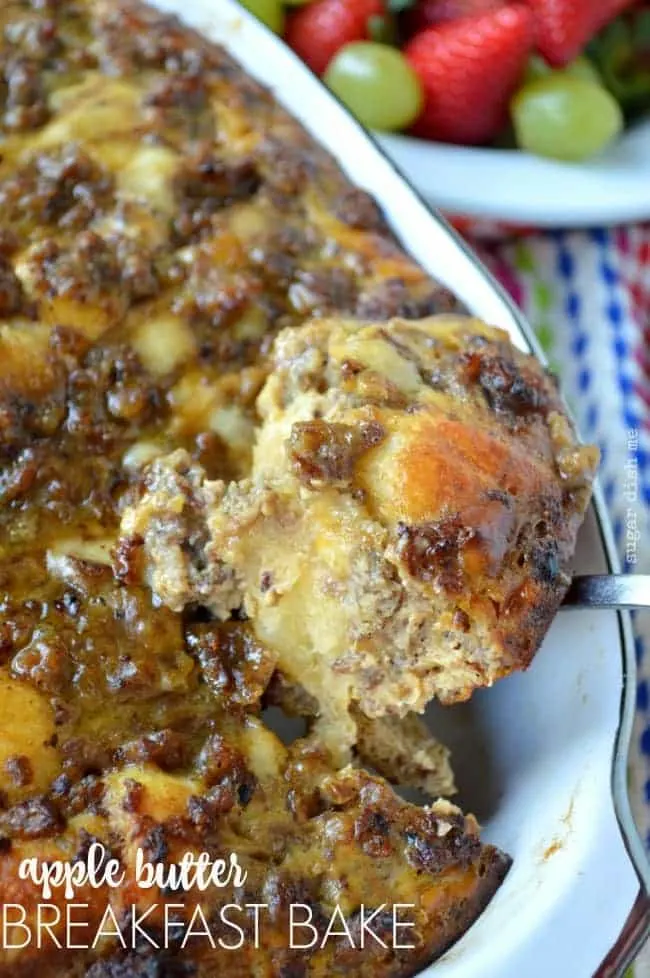 This post is sponsored by our friends at Musselman's Apple Butter! All opinions, the original photos, and the original recipes shared here are my own.
A breakfast casserole!!
You guys know how much I love a good breakfast bake. The obsession started waaaay back with this Bacon Spinach Breakfast Casserole recipe, and then snowballed into Christmas Morning Casserole, Crescent Roll Breakfast Bake, and even this super versatile Vegetable Strata. Those are all different but still share a lot of similarities. This Apple Butter Breakfast Bake comes together in pretty much the same way, but… the flavor is totally different than my now ultra-predictable bacon spinach combo.
Don't get me wrong, now. I do love my bacon + spinach. But this? Is like a whole other level of flavor.
It sort of tastes like fall, but in a I-can-eat-this-in-the-summer way. Not in a pumpkin spice way. Like it's 88 degrees at 9 am right now and pumpkin spice sounds sort of terrible. But this breakfast bake with a big side of fruit?
Totally down with it.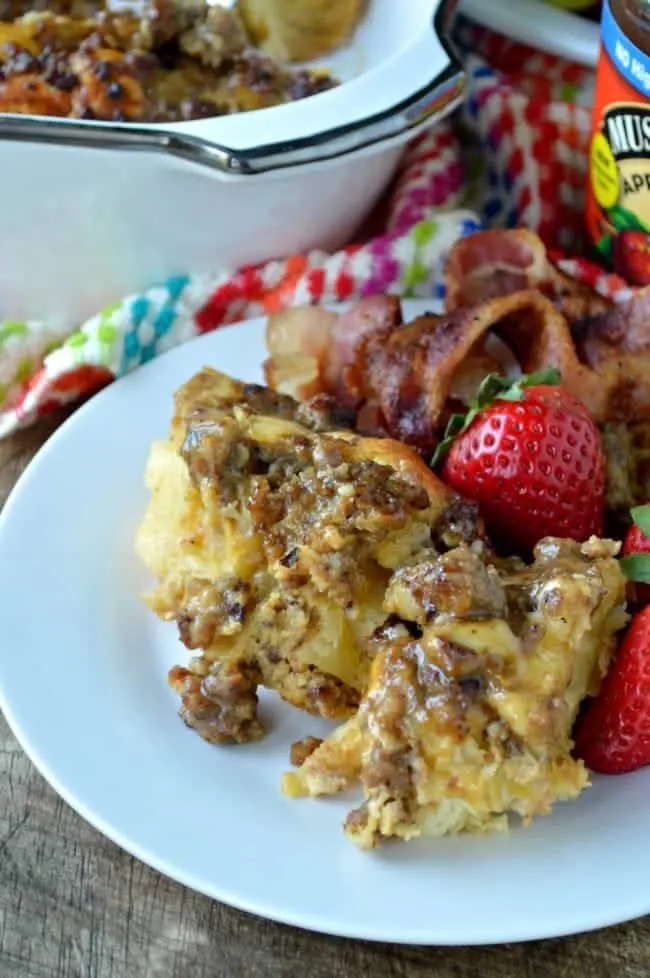 Let's talk cheese for a second. I listed it as optional because the eggs hold the casserole together. You don't NEED cheese.
Wait… did I say that?
Who even am I?
Cheese is not required. BUT but but… you'll like the cheese. In a cheddar apple pie kind of way.
And yes I am feeling ultra nostalgic for fall right now because I feel like my face is melting off for most of the day and my hair is a perpetual frizz fest.
So we are having this super good, perfectly spiced breakfast bake with berries and melons and some of the other things I like about summer on the side.
Apple Butter Breakfast Bake
Ingredients
1 pound breakfast sausage
2 packages crescent rolls
7 eggs
½ cup milk
½ cup Musselman's Apple Butter
½ cup shredded sharp white cheddar (optional)
Instructions
Preheat the oven to 375°F. Lightly spray a 3 quart casserole dish with nonstick cooking spray.
Brown the sausage and crumble it as it cooks. Remove to a paper towel to drain any excess grease.
Roll up the crescent rolls according to your package instructions and line them up in the casserole dish (They will touch and will be crowded in the pan).
Whisk together the eggs, milk, Apple Butter, and optional cheese.
Scatter the cooked sausage over the top of the crescent rolls in the baking dish. Then pour the egg mixture over the top.
Bake for 35-40 minutes or until the eggs have completely set in the center.
Musselman's
is the brand I have worked with consistently since launching Sugar Dish Me in 2011. So I have LOTS of great apple butter recipes. You can also find more by visiting their
Apple Butter
Recipes Page. And follow along in social media for all the newest ideas!
Facebook,
Twitter
, and
Pinterest
!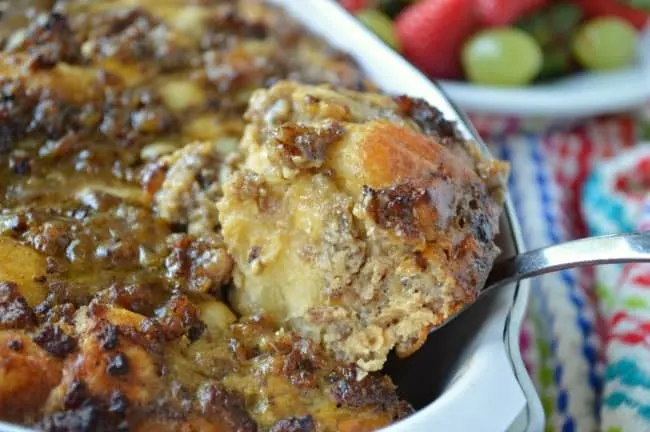 Wanna Know What to Do with Apple Butter? Here are some ideas…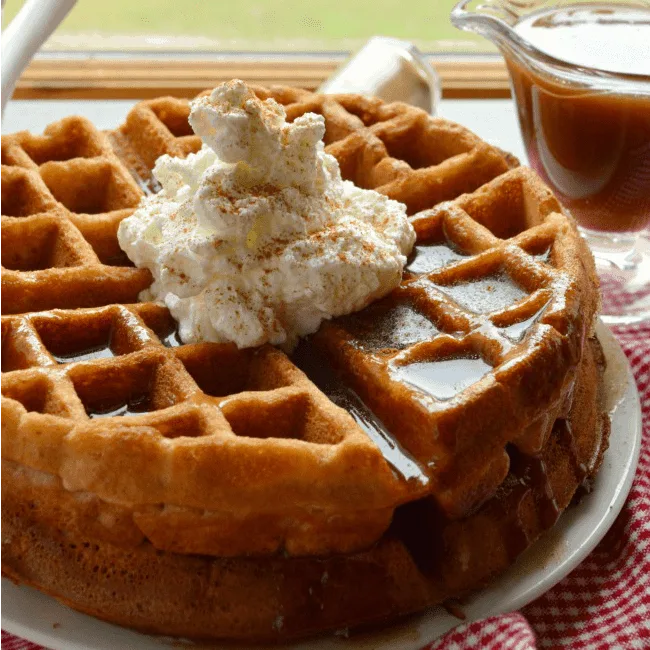 Apple Butter Waffles with Cinnamon Syrup