These Veggie Quesadillas will be your new favorite appetizer or easy weeknight meal! Large flour tortillas are loaded with my favorite veggies and a Creamy Garlic Cilantro Sauce that I have also been dipping all my chips in, thankyouverymuch.
This post is sponsored by Silk! We have partnered this month to take the #MeatlessMondayNight challenge with our football food and appetizer recipes.
So when I told Chad I was making a quesadilla without cheese there was silence on the other end of the phone.
I could feel the sigh/eyeroll through the receiver. We are cheese-eating people, ya'll. He is totally fine with me adding lots of plant-based meals to our menu every week – we all love our veggies – but I think he was ready to hit the Burger King drive-thru when I dropped the no-cheese bomb. Once I served up these Veggie Quesadillas though? He shoveled in the big toasty vegetable-loaded slices and asked for seconds.
It's the Creamy Garlic Cilantro Sauce! So much flavor, so much texture, you'll never miss the meat. Or cheese.
I made the sauce using Silk Cashewmilk which you might remember from this Creamy Egg Custard Pie and this Famous Peanut Butter Pie. It is an excellent non-dairy substitute, and I have successfully used it in lots of recipes that rely heavily on the creamy factor of dairy milk.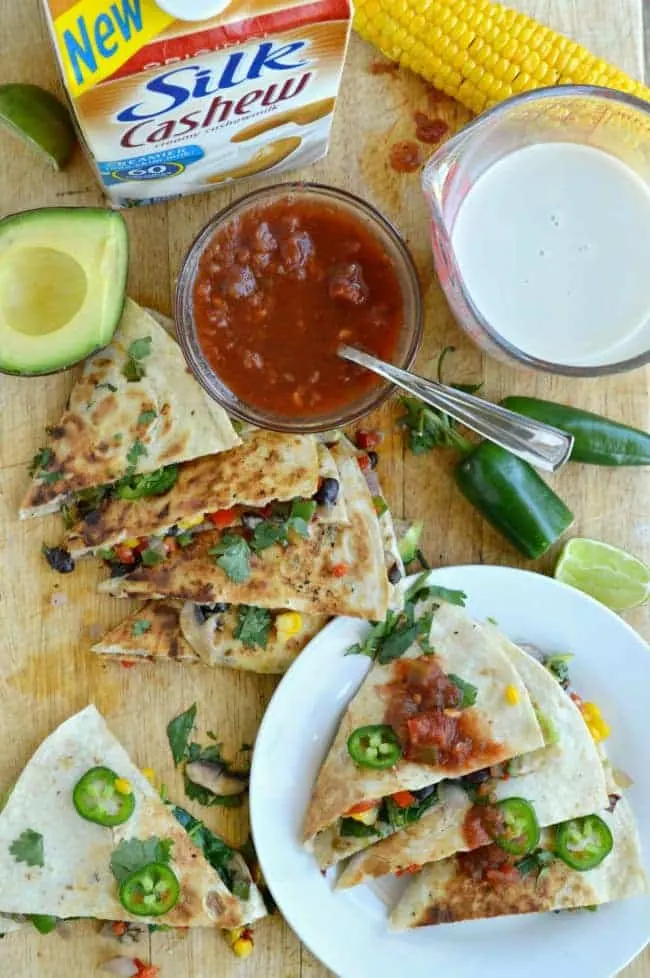 To make the Creamy Garlic Sauce, you just need a little olive oil, some garlic, Silk Cashewmilk, and cornstarch. I also added cilantro, but if cilantro is not your thing know that this sauce is still totally amazing without it. (Learn why some people hate cilantro!)
You can use any vegetables you'd like, but take note: MAKE EXTRA. These go fast!
They make the perfect appetizer, are great for game days, and we love them for a fast dinner on #MeatlessMondayNight !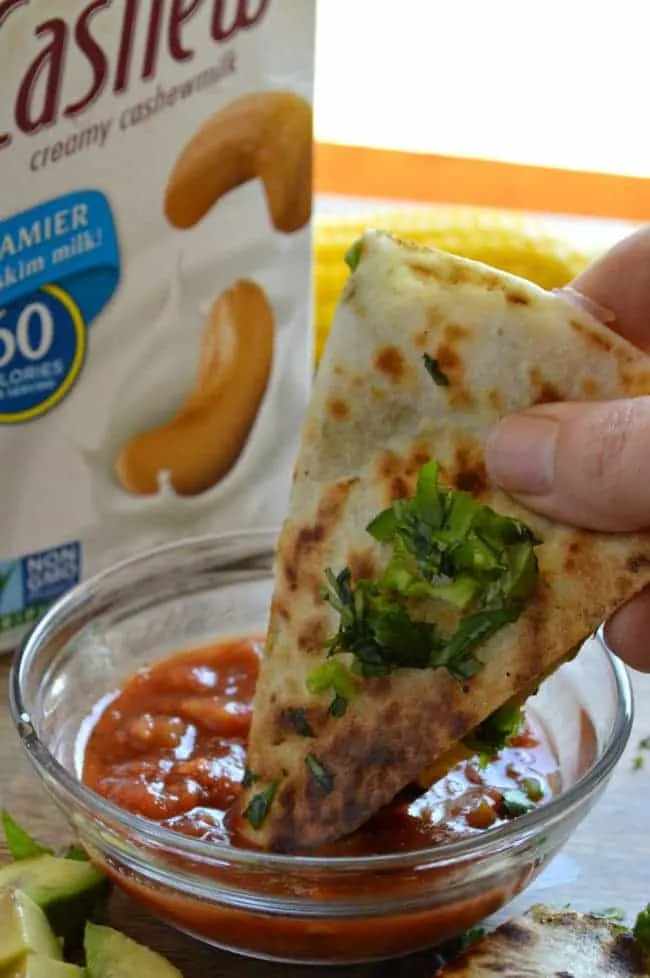 Be sure to visit www.silk.com/sidelinemeat for more really great recipes and a chance to win a giveaway!
Veggie Quesadillas with Creamy Garlic Sauce
A 25 minute recipe that is LOADED with veggies! You'll never miss the meat or dairy in this awesome appetizer/easy meal.
Ingredients
For the Creamy Garlic Sauce:
1 tablespoon olive oil
3 cloves garlic, finely minced
½ teaspoon kosher salt
1 cup Silk Cashewmilk
3 teaspoons cornstarch
3 tablespoons very finely chopped cilantro (optional)
For the Quesadillas:
1 tablespoon olive oil
1 medium red onion, diced
½ red bell pepper, diced
½ green bell pepper, diced
1 cup sliced mushrooms
2 cups fresh spinach
1 cup corn kernels (see note)
1 cup black beans, drained and rinsed
2 large (burrito-sized) flour tortillas
chopped jalapenos, tomatoes, avocado, and salsa to garnish
Instructions
To make the Creamy Garlic sauce, heat the oil at medium high in a small saucepan. Add the garlic and salt. Reduce the heat to medium so the garlic cooks and becomes fragrant but does not burn. Whisk together the Silk Cashewmilk and cornstarch until smooth. Pour them into the saucepan and bring to a simmer. Stir in the cilantro if using. Remove from the heat and set aside. The sauce will thicken as it stands.
In a large skillet heat the olive oil. The add the red onion and bell peppers. Then add the sliced mushrooms and spinach. Cook for 3-4 minutes.
Scrape all the veggies into a bowl. Leave the large skillet on medium high heat. Place one of the tortillas into the hot skillet. Spread it generously with the Creamy Garlic Sauce.
Cover one half with the cooked vegetable mixture. add half the beans and corn. Fold the uncovered half on top of the veggie half. I like to place a grill press or heavy skillet on top while it cooks to keep everything together. (see note)
Flip and cook the second side. Repeat with the second tortilla. Cut each into quarters to serve.
Serve with the salsa, jalapenos, tomatoes, avocados, and cilantro.
Notes
You can use leftover corn or frozen corn that is thawed; I used roasted corn cut right off the cob. To roast corn, just place it in a preheated oven at 350F, still in the husk, for about 35 minutes.
Remember that in traditional quesadillas the cheese is what holds it together. The creamy garlic sauce does a good job, but pressing the quesadilla as it cooks is helpful.
This conversation is sponsored by Silk. The opinions and text are all mine.