When you are trying to be good but you JUST NEED CHOCOLATE. This Chocolate Banana Bundt Cake clocks in at just 161 calories per chocolaty slice — even with that rich fudge frosting on top!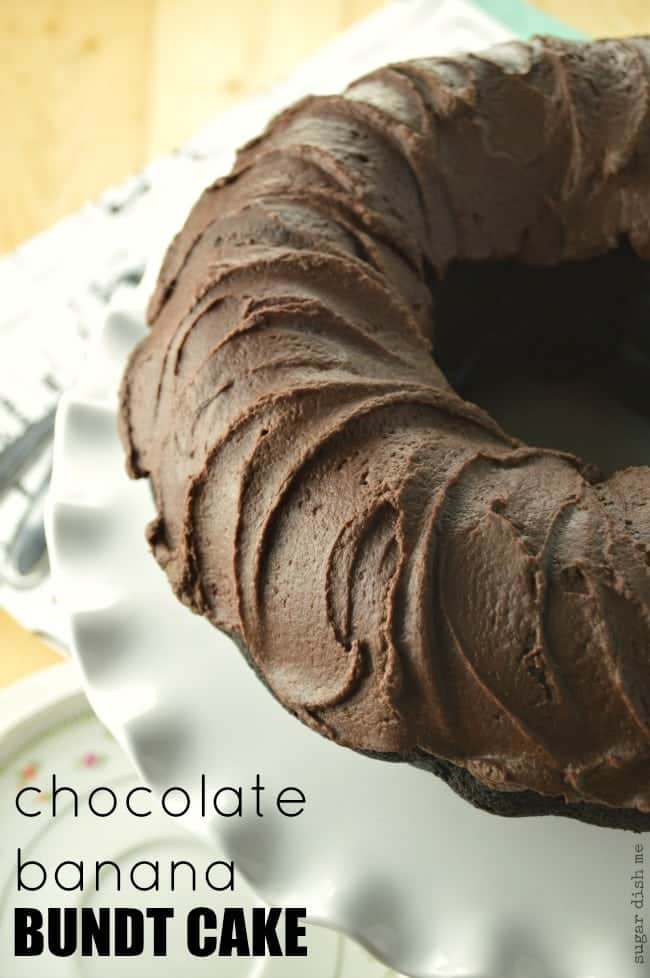 It's no secret that I love cake. But also — who doesn't love cake?
I *think* I forgot to announce it here – like officially – mostly because in my head I kept thinking that I was going to put together a bunch of really gorgeous photos for you and write something up, but… mostly I take pictures of dogs and food.
Chad and I got engaged. FINALLY!! It was in October, but yeah. (Remember those Marry Me Cookies? Well they work.)
So I am planning a wedding! And I WILL give you all those details, I swear. There's so much to think about!
We have knocked a bunch of stuff out — location, menu, photographer — I have put a good dent in things! However. In 2 weeks I have to try on a wedding dress.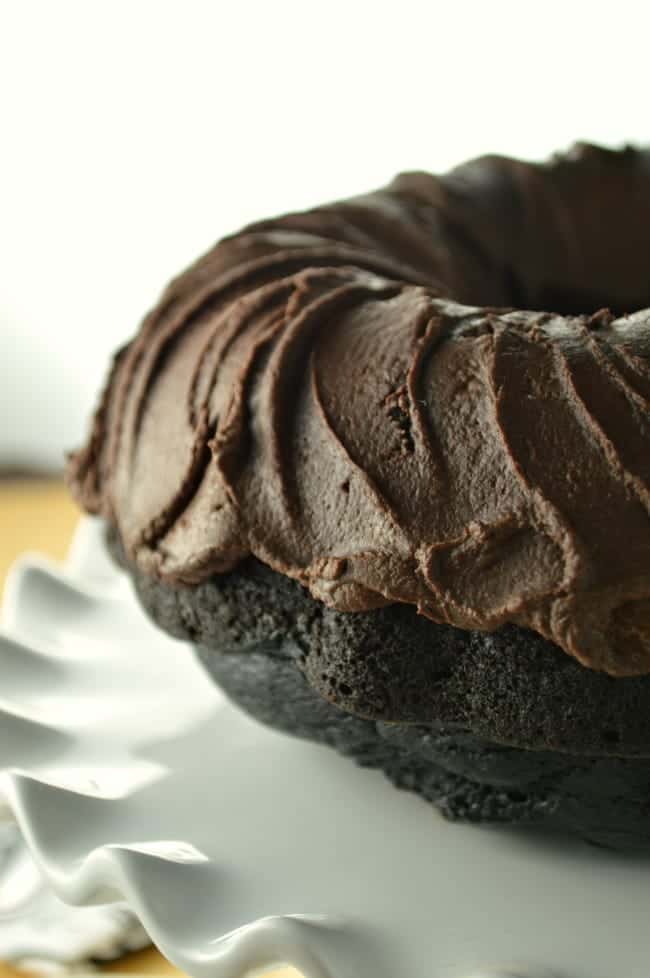 Trying on a wedding dress does not eliminate your love for cake. Or chocolate. In case you were wondering.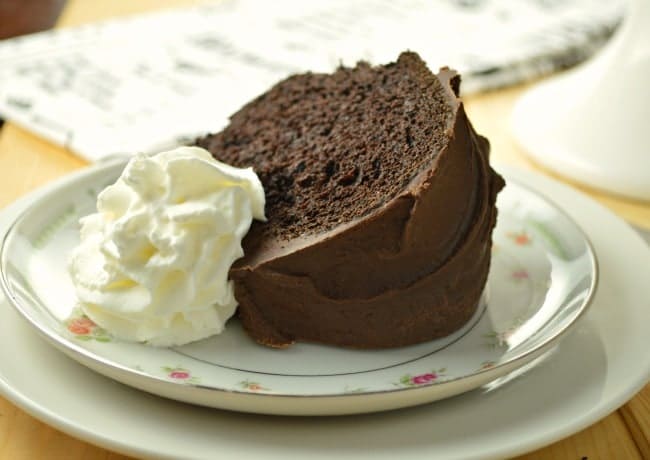 So I made us this Chocolate Banana Bundt Cake that has a fudge frosting AND it's only 161 calories a slice. No oil, less sugar, dark chocolate. The bananas are there in place of the oil so they don't have a huge role in the flavor profile. They mostly just add to the tender crumb and moist dense-ness of the cake.
Let's make it a goal to have our cake and eat it too in 2016.
Chocolate Banana Bundt Cake
Ingredients
2 cups all purpose flour
¾ cups granulated sugar
¾ cup dutch process dark unsweetened cocoa powder
2 teaspoons baking powder
1½ teaspoons baking soda
1 teaspoon salt
2 eggs
1 cup 2% milk
2 medium bananas, mashed
1 cup hot water
For the Fudge Frosting:
3 tablespoons heavy cream
1 cup semi sweet chocolate chips
Instructions
Preheat the oven to 350 and grease a 10-inch bundt cake
In a large bowl whisk together the flour, sugar, cocoa, baking powder, baking soda, and salt.
Make a small well in the center of the dry mixture and add the eggs, milk, and mashed bananas.
Mix until combined.
Gradually add the hot water stirring until incorporated, about 2 minutes.
Pour the batter into the prepared pan and bake for about 40 minutes or until a pic inserted into the center comes out clean.
Let the cake cool in the pan for at least 10 minutes (20 -30 is better!) before inverting onto a plate or cake stand to cool completely.
When the cake is cooled make the fudge frosting. Heat the cream in a small saucepan. Remove it from the heat and pour it over the chocolate chips. Let it sit for just a minute and then stir until smooth. Spread the fudge frosting across the top of the cake.