Triple Chocolate Peanut Butter Oatmeal Cookies are chewy chocolate perfection! Grab your glass of milk and get ready. These are my ACTUAL favorite cookies.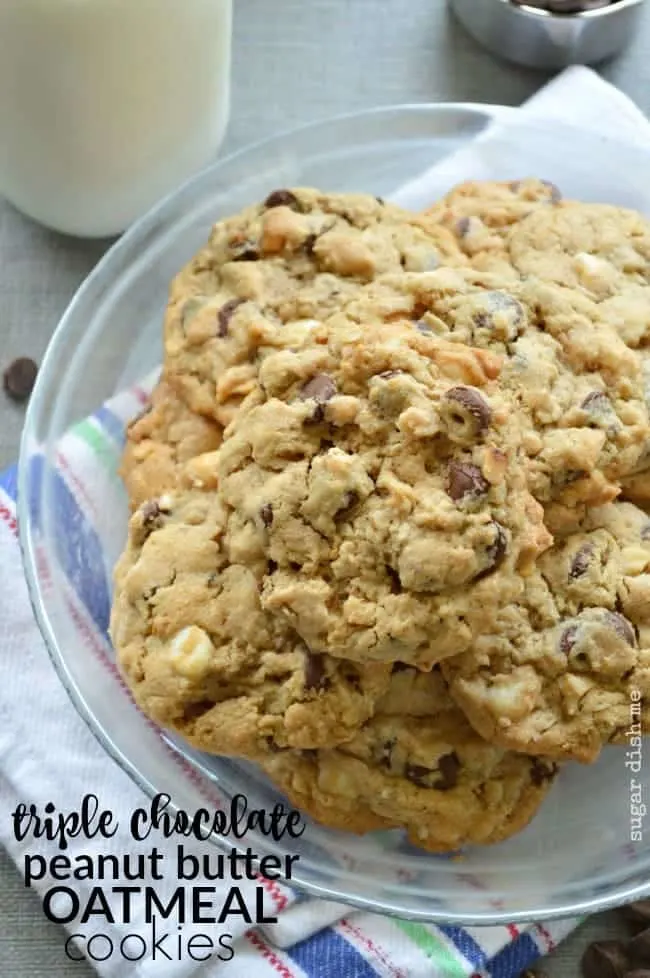 Two cookie recipes in a row! We are on a roll, y'all. And! yesterday my oven element arrived so we can really work out this cookie thing.
You might remember way back in the summer I made these White Chocolate Blueberry Oat Cookies and pretended like they were a breakfast recipe because oats. DUH.
These Triple Chocolate Peanut Butter Oatmeal Cookies are a variation of those, just more chocolate and less of me pretending they are acceptable for breakfast. They are great for cookie exchanges and they hold up in the mail (here's How to Ship Baked Goods in case you need it!). Cookie win.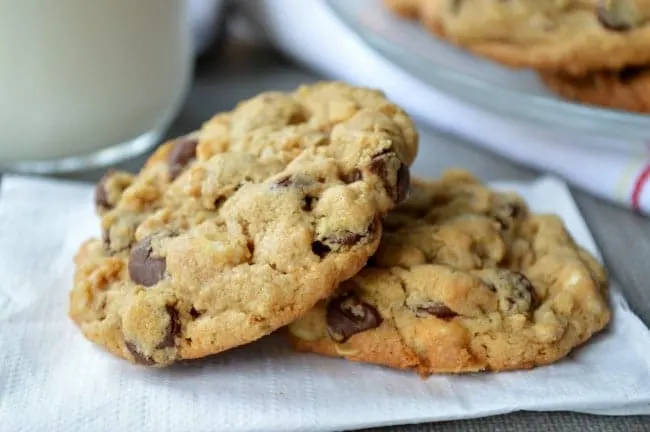 Oh and hey – I'm going to need lots of cookie wins because earlier this morning? I picked up 5 cattle dog/border collie puppies at the shelter. They are sooooo little! Only 4 weeks or so! The plan was to only foster 2 or 3; or none (because there are LOTS of puppy fosters and we usually foster adults).
But then the shelter called and they were like heyyyyy so we found the mama. And four more pups. Want 'em?
And of course we can't leave mommy or more babies. What kind of monster would say no?
So it's official – Chad and I are about to enter into a special realm of crazy. One where we are fostering a mama and nine babies for at least a couple of weeks until they are weaned and can go to other foster homes. Send more cookies. And all the wine, please.
If you wanna follow puppy love? I'll be sure to fill up Instagram with photos.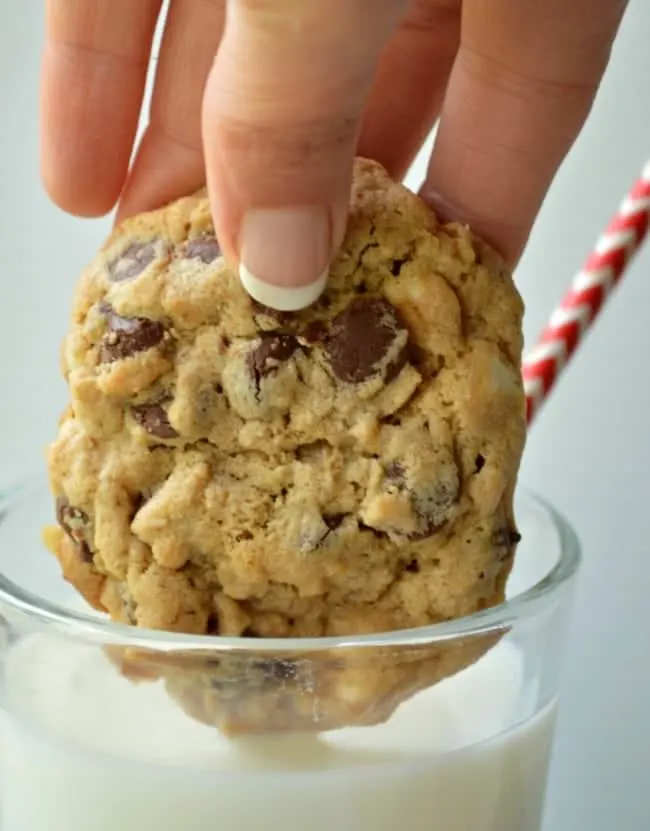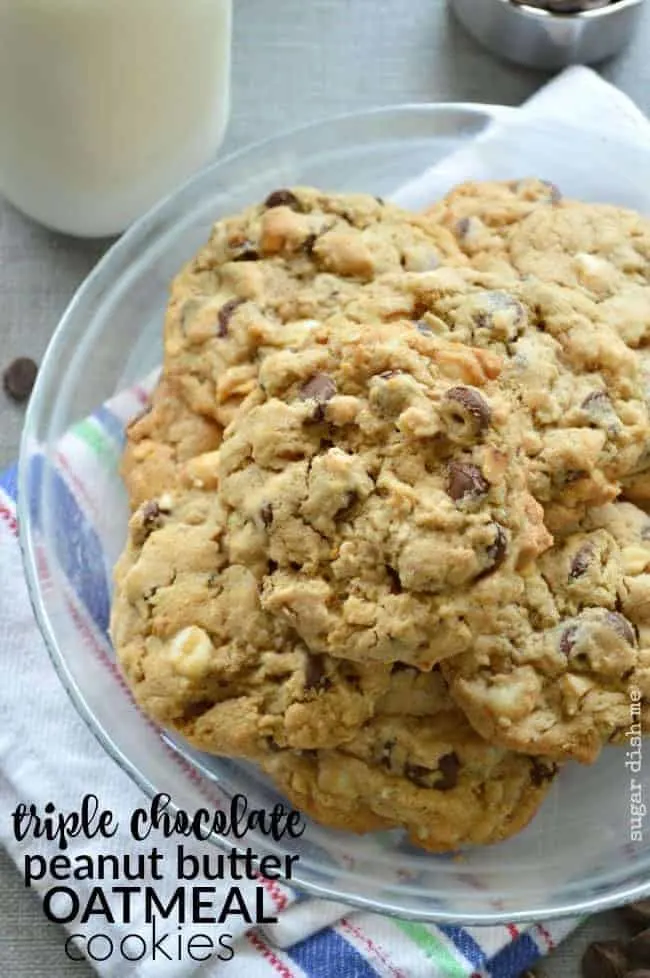 Yield:

4 dozen cookies
Favorite Triple Chocolate Peanut Butter Oatmeal Cookies
My ACTUAL Favorite Triple Chocolate Peanut Butter Oatmeal Cookies. They are the perfect amount of chewy, loaded with three kinds of chocolate chips, peanut butter chips, AND peanut butter in the batter.
Ingredients
1 cup butter, softened
1 cup creamy peanut butter
1 cup granulated sugar
2/3 cup packed light brown sugar
2 eggs
1 teaspoon vanilla
2 cups all purpose flour
1 cup old fashioned oats
2 teaspoons baking soda
1 teaspoon kosher salt
2/3 cup semi-sweet chocolate chips
2/3 cup dark chocolate chips
2/3 cup milk chocolate chips
2/3 cup peanut butter chips
Instructions
Preheat the oven to 350°F.
Beat together the butter, peanut butter, sugar, and brown sugar until fluffy. Then add the eggs one at a time, beating well between each addition. Then mix in the vanilla.
In another bowl, whisk together the flour, oats, baking soda, and salt. Gradually add it to the butter/sugar mixture, mixing well to combine.
Stir in all the chocolate and peanut butter chips.
Drop by rounded tablespoonfuls onto an ungreased cookie sheet. Bake for 10-12 minutes or until they are a light golden brown. Cool on the cookie sheet for at least a minute before removing to a wire rack to cool completely.
Recommended Products
As an Amazon Associate and member of other affiliate programs, I earn from qualifying purchases.
Nutrition Information:
Yield:
48
Serving Size:
2
Amount Per Serving:
Calories:

169
Total Fat:

10g
Saturated Fat:

5g
Trans Fat:

0g
Unsaturated Fat:

4g
Cholesterol:

19mg
Sodium:

165mg
Carbohydrates:

19g
Fiber:

1g
Sugar:

12g
Protein:

3g
If you love oatmeal cookies…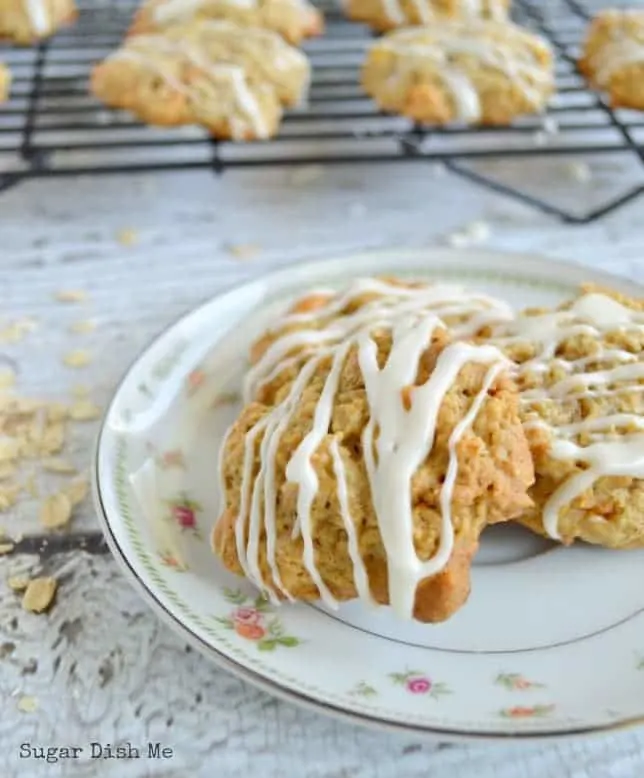 Iced Apple Butterscotch Oatmeal Cookies