Easy One Bowl Apple Carrot Muffins are a great morning staple to have handy! Make a batch on Sunday and grab one on your way out the door all week. Simple, filling, delicious.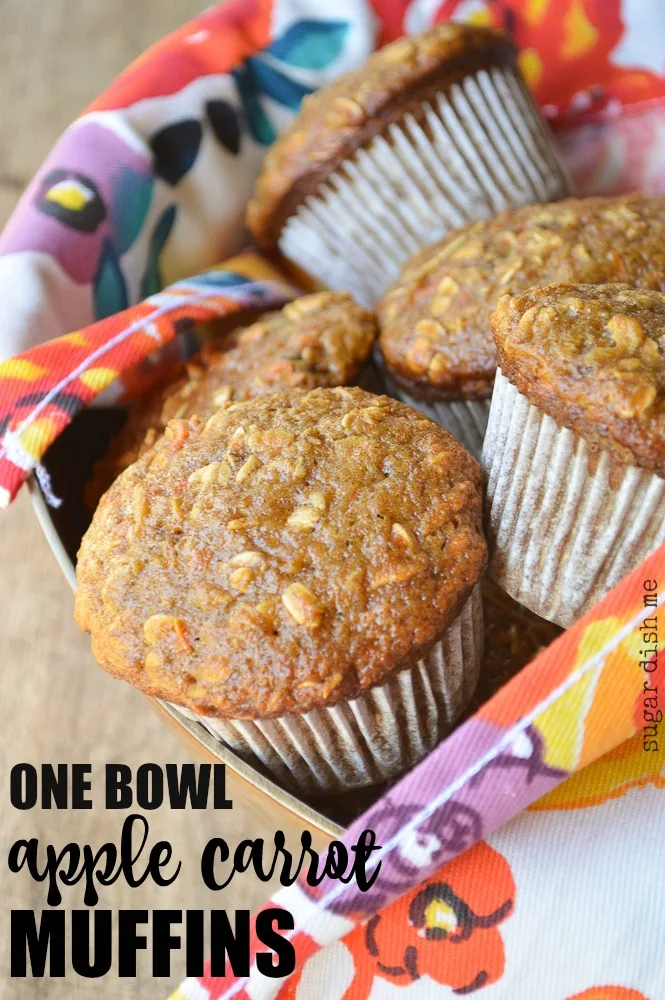 UPDATE September 2017. It's been 6 years since I launched this site! This was the 2nd recipe I ever posted. I've made these Easy One Bowl Apple Carrot Muffins so many times since then, always with great results. The photos here have been updates and I have added a printer-friendly recipe card, but the recipe is still the same tried and true reliable one I developed 6 years back!
It's always the most fun to watch your kids play when they don't know you're looking. Sunday mornings around here are lazy. Sometimes I get up, make coffee and then snuggle back into bed. This last Sunday was no different, so when I crept into the kitchen to start the coffee pot, the house was still quiet. I curled back into bed with a book, but I dozed off for a little while.
When we woke up we could hear the boys in the kitchen fussing with cereal. Except Andrew, who is 11 and totally knows better, decided that breakfast + sleeping mom = cookies.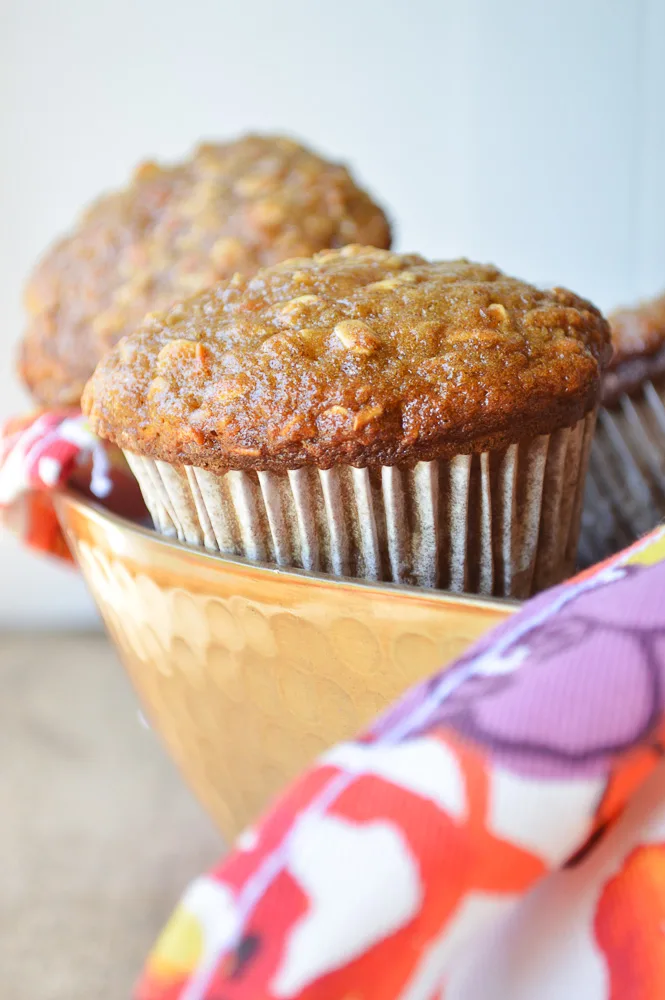 Evan, who is 8 and apparently the only one listening when I give directives, was not having it. As we lay quietly listening to the conversation in the kitchen unfold, I had to bury my face in the pillow so the boys wouldn't hear me giggling.
Evan: "Andrew!!! You can't eat cookies for breakfast!"
Andrew: "Why not? There's no good cereal in here and I'm HUNGRY. Gah."
Evan: "Andrew…" (this is where Evan's tone gets a little snarky and condescending) "… there's Berry Kix right HERE. Berry Kix ARE good."
Andrew: "I don't want Berry Kix."
Evan: (totally pissed) "Andrew!!! Just eat them! They're MOTHER APPROVED!!!!"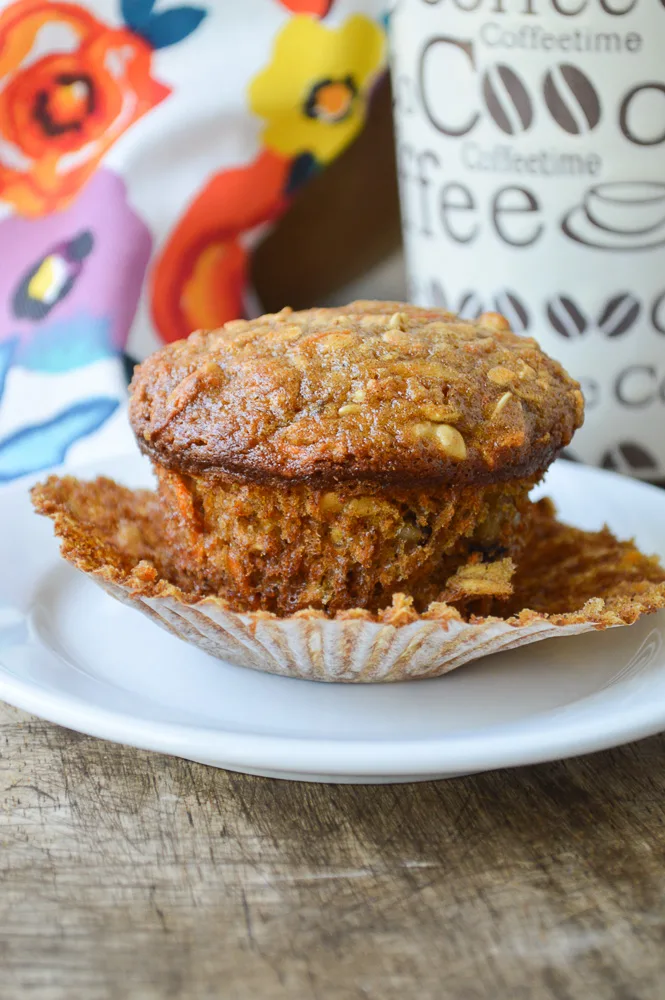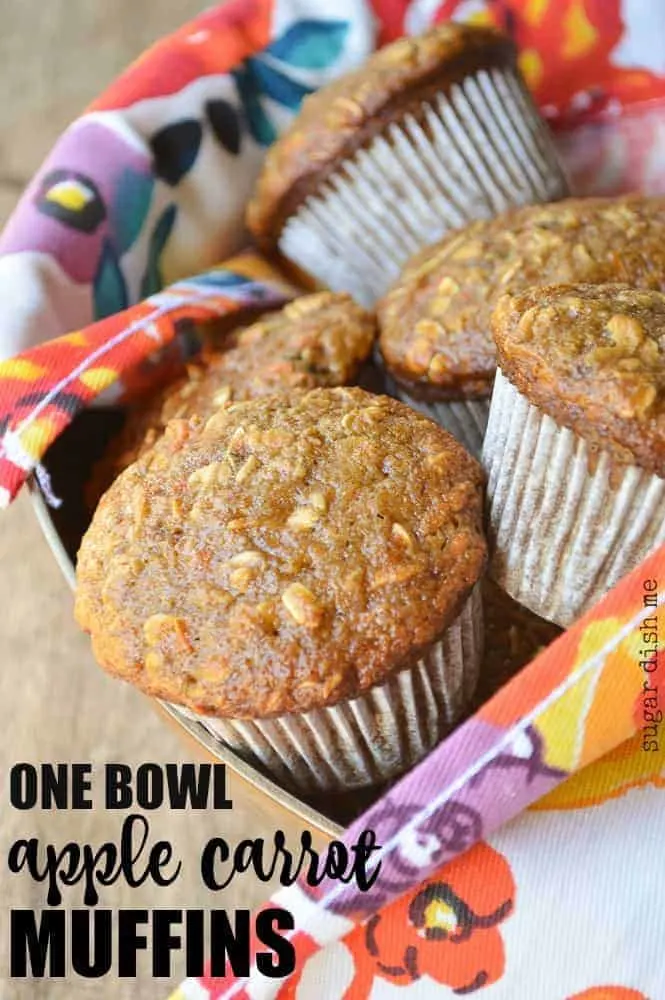 Yield:

18 muffins
Easy One Bowl Apple Carrot Muffins
Easy One Bowl Apple Carrot Muffins are awesome breakfast muffins full of grated apples, shredded carrots, and oats. Totally kid-friendly and mama approved.
Ingredients
1 1/2 cups all purpose flour
1 1/2 cups old fashioned oats
1 cup brown sugar
2 teaspoons baking soda
1 teaspoon baking powder
2 teaspoons cinnamon
1/2 teaspoon salt
3/4 cup milk
2 eggs
1 teaspoon vanilla
2 tablespoons vegetable oil
1 1/4 cups shredded carrots
1 1/2 cups shredded apples
1/2 cup chopped walnuts
Instructions
Preheat your oven to 350°F. Spray a muffin pan with nonstick cooking spray or line with paper liners.
In a large bowl combine the flour, oats, brown sugar, baking soda, baking powder, cinnamon, and salt.
Add the milk, eggs, vanilla, and oil and mix until combined.
Stir in the carrots, apples, and walnuts
Spoon the batter into the prepared muffin cups, filling almost to the top.
Bake for 15-16 minutes, or until a toothpick comes out clean.
Notes
Mini muffins need about 9 minutes to bake through.
Recommended Products
As an Amazon Associate and member of other affiliate programs, I earn from qualifying purchases.
Nutrition Information:
Yield:
18
Serving Size:
1
Amount Per Serving:
Calories:

160
Total Fat:

5g
Saturated Fat:

1g
Trans Fat:

0g
Unsaturated Fat:

4g
Cholesterol:

21mg
Sodium:

248mg
Carbohydrates:

26g
Fiber:

2g
Sugar:

11g
Protein:

4g
If you need more mother approved muffins you should try…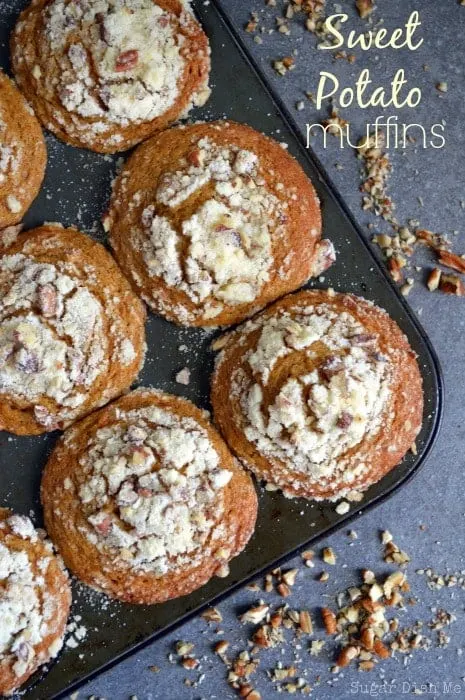 Sweet Potato Muffins with Pecan Streusel